British Airways (BA)
Flight: BA185
Class: First
From: London (LHR)
To: Newark (EWR)
Time: 7h50m
Aircraft: Boeing 777-300
Seat: 2A
Cost:

€1200 for DUB-LHR-NYC return in Business Class
20k Avios to upgrade to First Class on this sector

Flight date: August 2015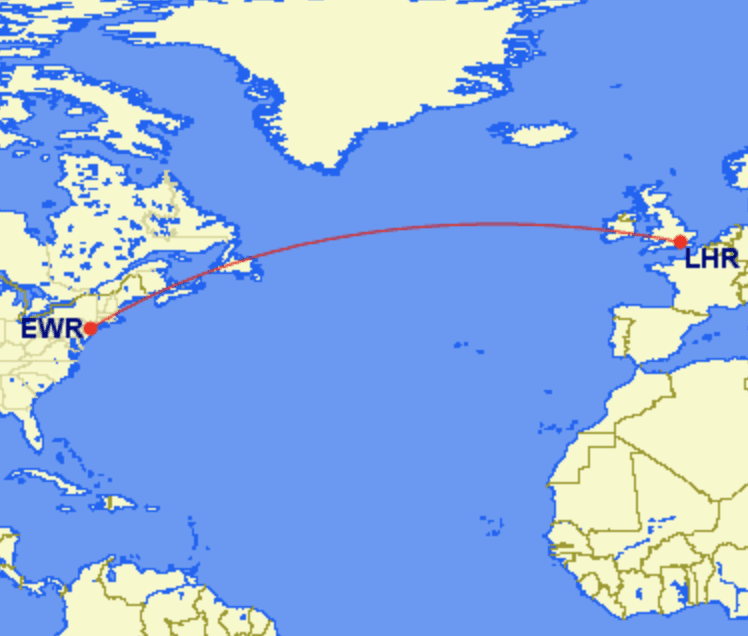 ---
Jump straight to the Conclusion
---
Gate A10 is a bus gate at LHR. I'm not kidding when I say we were on that bus for the better part of 15 minutes. People were joking that perhaps our flight had been moved to Gatwick! Of course, this is BA so we were all squashed together cheek-to-cheek, no separate buses for premium pax here.
Upon reaching the top of the stairs though, things took a turn for the better. K was warmly greeted by name and escorted to her seat by one of the two FAs that was checking people's boarding passes. The other apologised profusely for not being able to personally walk me to my seat too. Totally unnecessary given that my seat was immediately in front of K's but I appreciated the sentiment nonetheless.
The first impression that one gets of the F cabin aboard a BA 777 is one of size. Not only are the seats themselves much larger than on the 747 but the cabin itself is much larger. BA has 14 seats in F: 3 pairs in the middle and 4 window seats on each side. The window seats are at a sharp angle whereas the centre seats face forward. The result is that the 4 overlapping window seats occupy roughly as much room as 3 centre seats, placed end to end.
The nose of a 747 feels very private and is great if you snag the front two seats, otherwise it is very cramped, with ageing seat controls and IFE. This cabin feels like a much better option on the whole.
The view from Seat 2A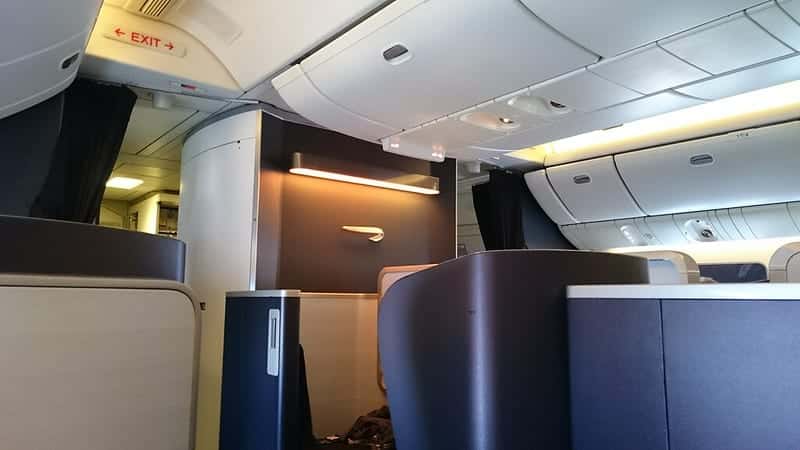 Upon sitting down I immediately began to explore the controls, familiarising myself with the various storage areas and deciding where would be best to put my laptop, phone, camera and GoPro. Before I'd had a chance to even start taking my jacket off, a super friendly FA offered to take it for me and hang it in the large cupboard, if I felt that my personal cupboard wasn't large enough. As it turns out, the personal cupboard was just about large enough (It is built into the back shell of the seat in front).I was also offered a drink and opted for a Kir Royal which was placed in front of me with the words, "that's lovely, Mr Marcos". After hearing the industry standard, "please enjoy" on every other airline (except for AA where it's, "there ya go"), it was awesome to get some true British service.
This FA almost single handedly made the flight for us. We still both talk about her to this day.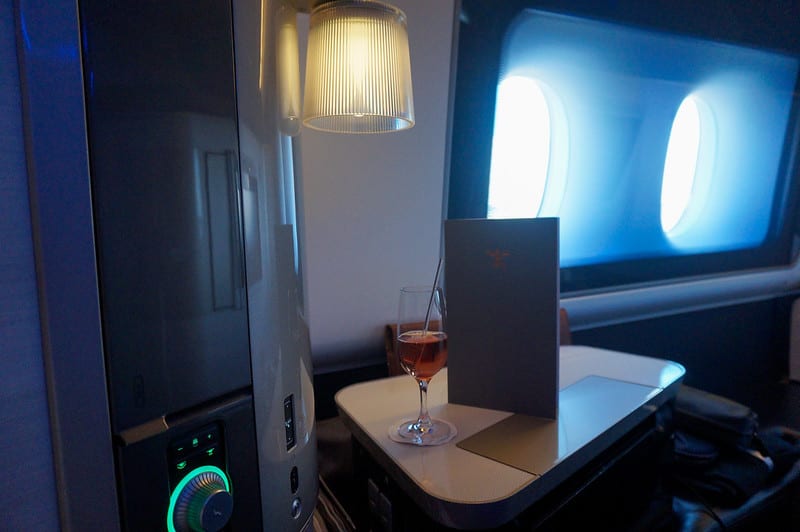 As I sipped on the Kir Royal a male Irish FA came over to offer PJs and amenity kits. I thought my Large PJs last time were a little large and told him I'd risk an M, "oh Mr Marcos, you'll be grand with an M I'm sure". Awesome, although perhaps he's not seen how much I eat and drink when I fly in First…

I then began happily snapping away. Here we have the IFE and seat controls. The lamp was kind of in the way on the 747 but here the design works a lot better; it is well away from anything that you put on the side table.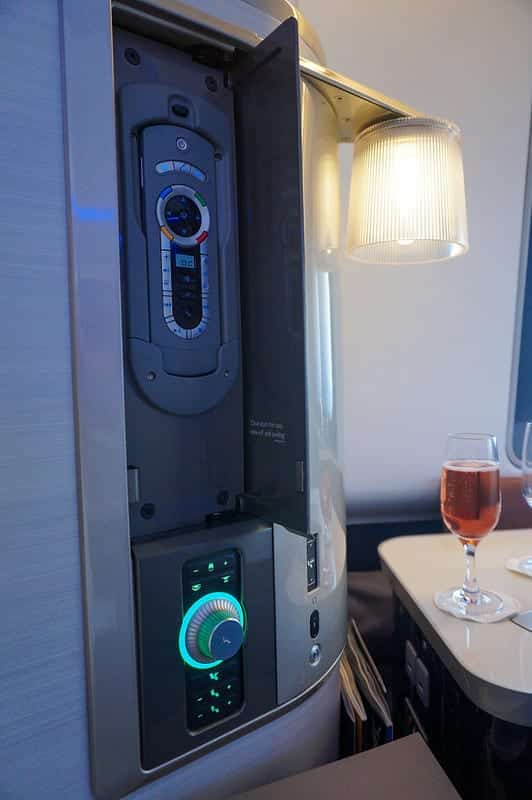 USB ports and magazines on the side table.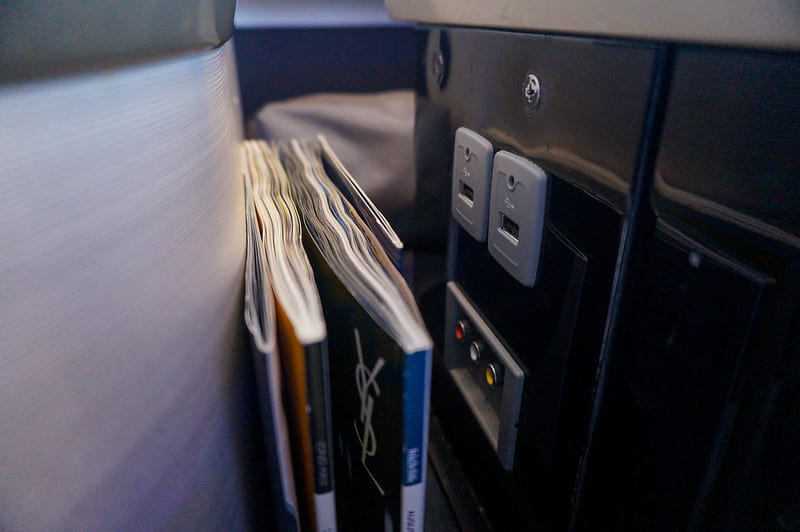 AC power in the footwell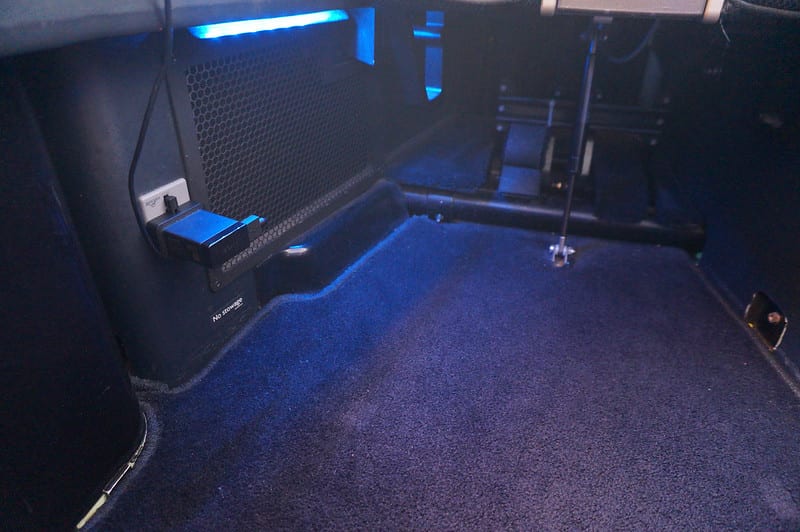 The BA slippers were much improved on this flight. They felt heavy and substantial, although I hope they weren't an indication of how wet we should expect the floors to be…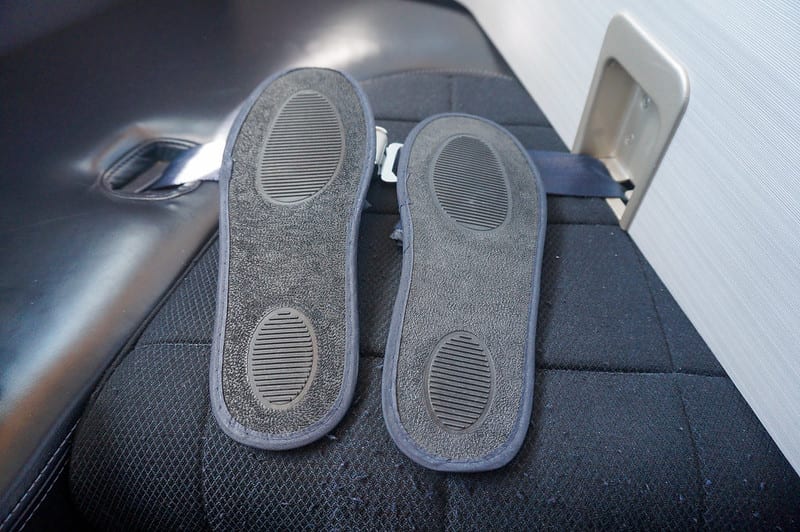 A huge difference between this and First on the BA 747, or indeed the reverse herringbone seats on American, Cathay, Eva Air, Qatar etc is that there is almost complete privacy. The way in which the centre and window seat are slightly offset and angled, means that you don't ever see anybody else. It is actually even more private than JAL or ANA First, for example.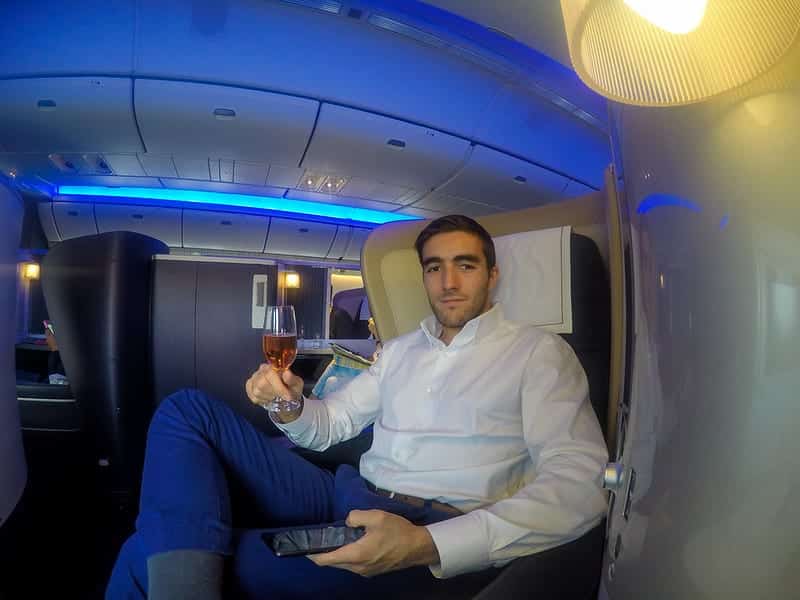 The finishes on the seats, beige leather and high gloss surfaces, as well as the lamp also set this product into a far superior league than all of the aforementioned products, with the exception of Qatar Business Class, whose finishes I would argue are equally sleek. However, you can see that aside from the staggering of the seats privacy is also afforded to passengers by the oversized leather surround, at the head level of each seat.

As I was midway through my first Kir the wonderful FA came over to ask if I would be needing another before takeoff. I said I wasn't sure we'd have time. She said, "don't worry about that Mr Marcos, you'll be fine" and rushed back with another for me. I managed to snap this pic in the 10 microseconds between finishing my drink and her immediately clearing the glass.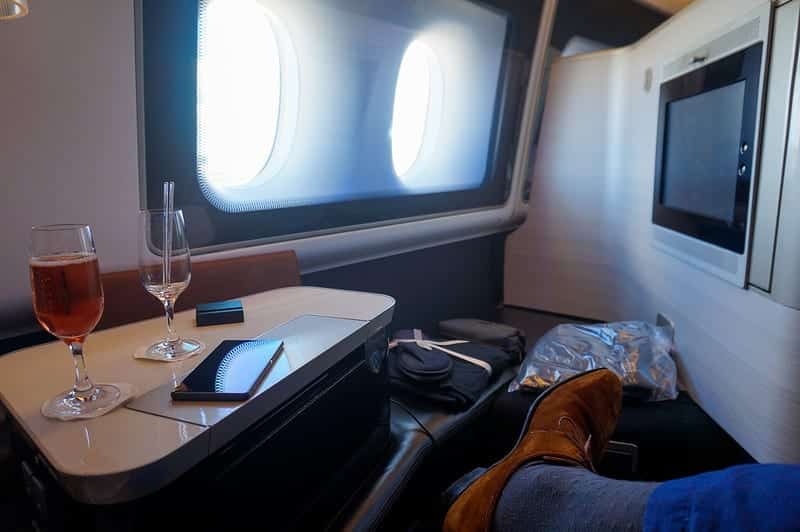 A few minutes later we were airborne and as is usual in these circumstances, a wave of deep happiness washed over me. Even though it was sunny on the ground, it somehow always feels sunnier up here.

Once airborne we were offered more drinks and were also asked if we'd like our picture taken. The way the FA asked it was almost like we'd be doing her a favour by accepting!
As a couple I think it always makes more sense to sit in two window seats like this. The centre seats on both the 777 and 747 are so much smaller, in addition to having no windows, that the possible upsides are totally overshadowed. We are still able to eat face to face which if anything is more intimate than eating next to each other through a small window anyway.

Our drinks came with warm mixed nuts. After leaving the hazelnuts the first time, the second dish came out with extra cashews in their place. Nothing was spoken of it. That is service.

Kamara fully stretched out in the buddy seat. As you can see, you're hardly squished in when dining as a couple.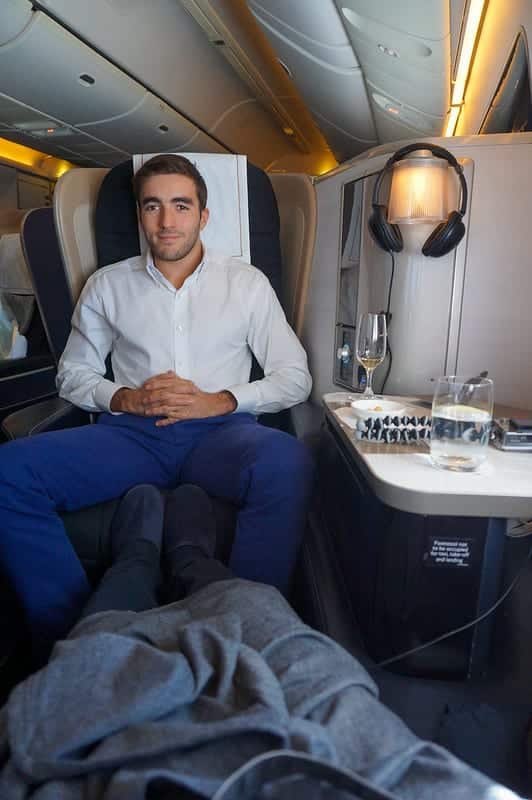 The meal service was wonderful, our FA was very attentive and paced the meal perfectly. I also love how she almost became a co-conspirator with us. Some gems:
"Go on have another bread, nobody's looking"
"If you're taking that long to answer it means you probably do want another glass of wine"
"I'll just leave these chocolates here, no one else is interested in them today"
The amuse bouche was a feta and watermelon salad. The presentation was great although the flavours weren't 100% to my liking.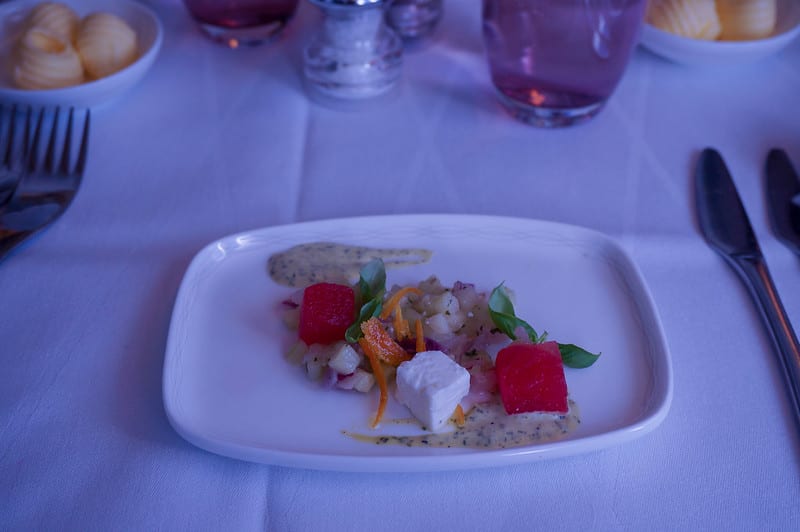 The best FA at in all of British Airways convinces me to eat more carbs. Bye bye abs, hello sleepy…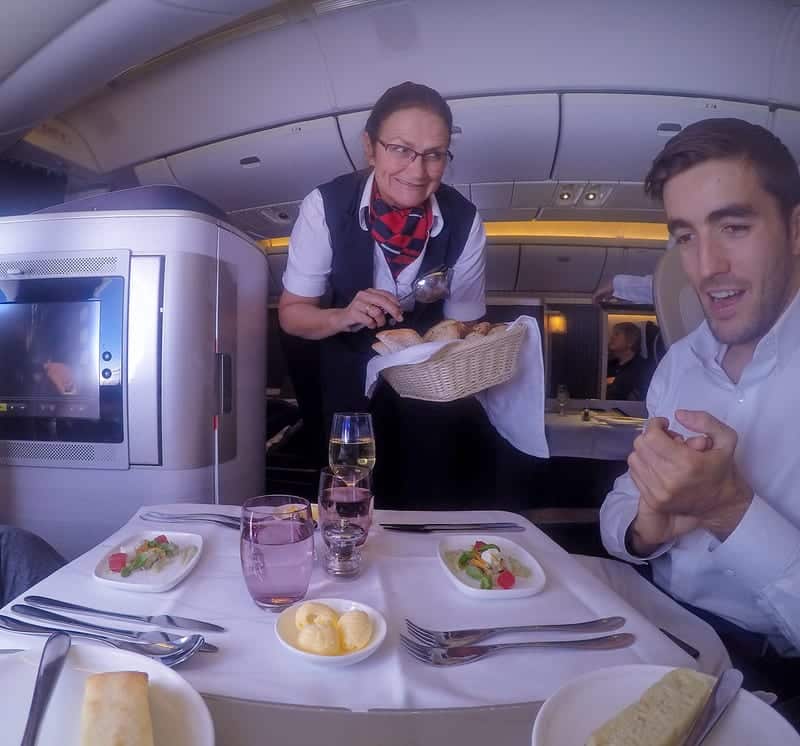 Next up Kamara went for the Sweetcorn, red pepper and chive soup. Which in the interests of trip reporting accuracy, I had to verify was indeed delicious.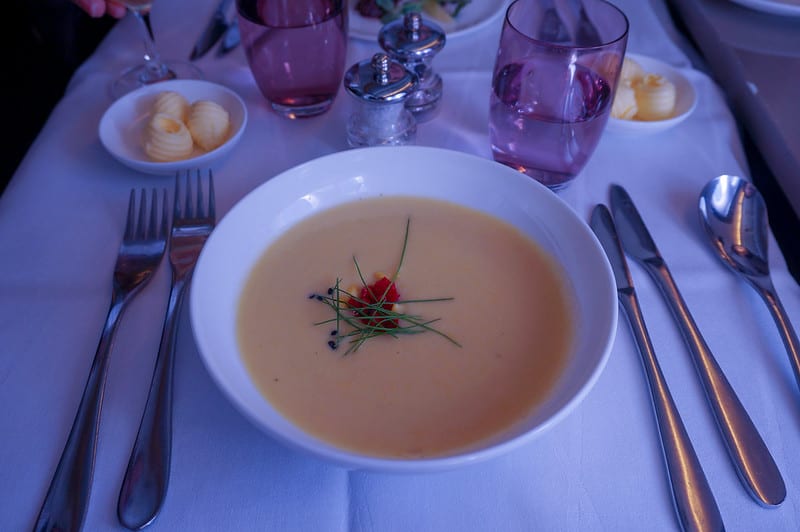 My Sesame seared tuna with a citrus salad and olive tapenade was great. The tuna had that clear freshness that somehow is more refreshing than drinking a glass of water. The accompanying foliage was more garnish than salad but worked well nonetheless.

Few restaurants on earth can compare to experiences like this.

K's main course was the warm seared tiger prawns on a sesame and fresh shredded vegetable salad with basil and ginger dressing. The presentation on this wasn't particularly memorable and the prawns were quite small. This wasn't necessarily a bad dish but not really First Class either.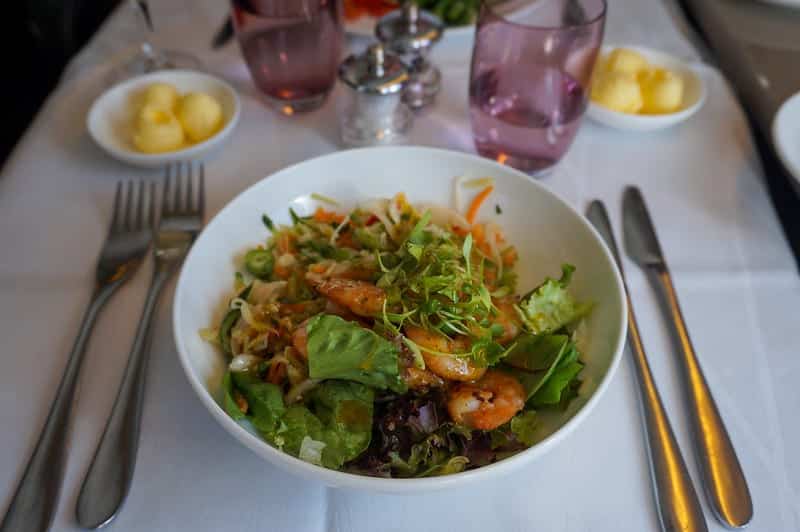 Having had run ins with the 'beef' on BA in the past, I erred on the side of caution and opted for the North Atlantic baked cod with orange and tarragon butter sauce and chervil creamed potatoes. The sauce was spectacular; the vegetables cooked to crunchy perfection; the fish was firm yet flaky, the only difference between this and a restaurant being the lack of a crisp skin. This is understandable though, given the lack of a directed heat source aboard.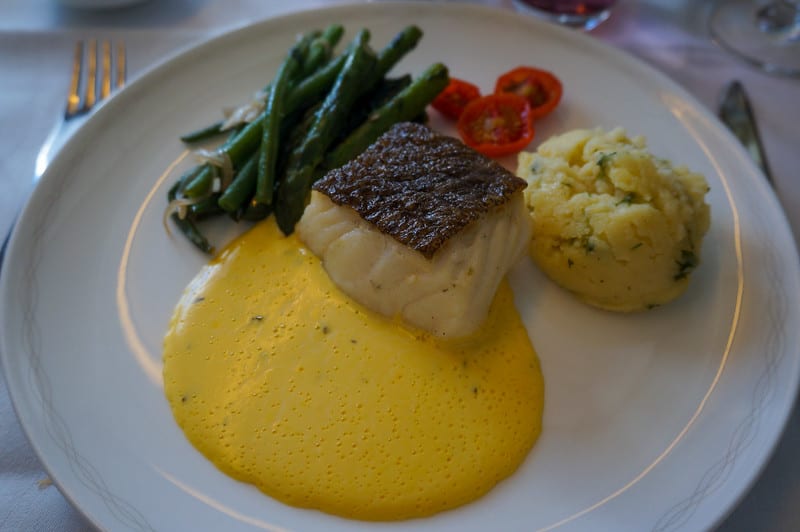 To finish, we shared the cheese. I loved the cranberry and pistachio crackers but feel that in F the cheese could be improved. One of the two hard cheeses could easily be replaced by a goat's cheese or perhaps upgraded to a Manchego or Comte (my real preference would be for Epoisses or Vacherin but I understand that others in the confines of an airplane cabin may not agree).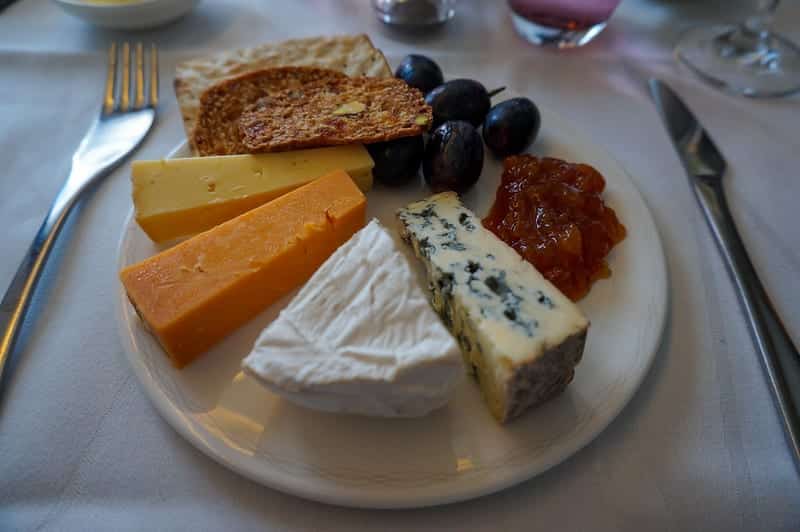 We also shared the Blueberry and nectarine crumble, which was insanely good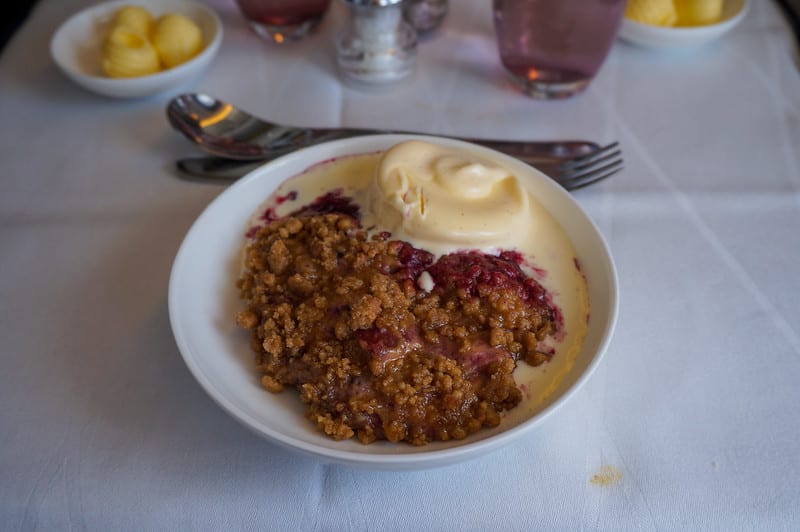 I then ordered a double espresso in an attempt to stoke the fires of my metabolism …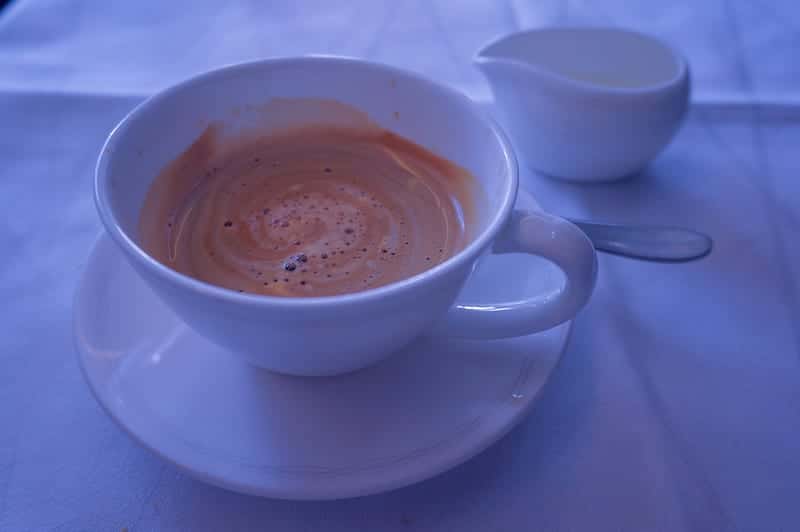 …which was accompanied by all the chocolates that the rest of the cabin didn't want. I'm glad to say that we didn't quite finish them all. Although it's fair to say that we gave it a good go.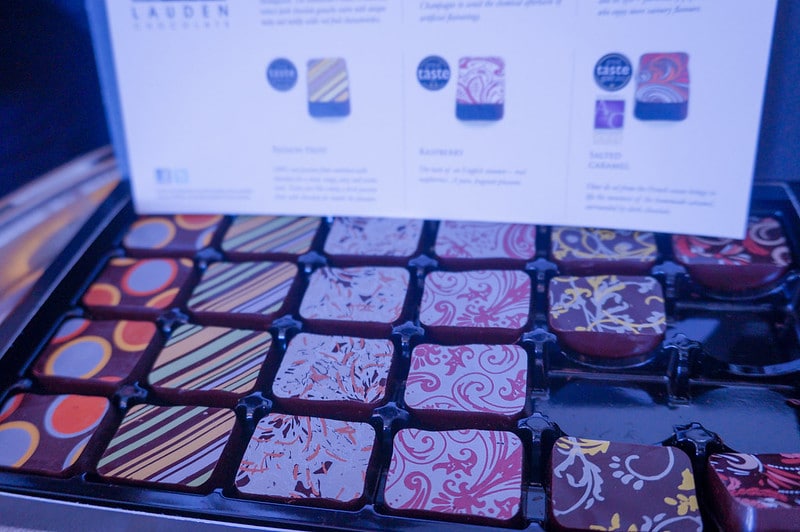 As 2pm UK time came and went, I was getting a little sleepy. I headed to the bathroom to get changed. My bed was already made upon my return, I didn't need to ask. You can see how I got the next shot by attaching the GoPro to my screen.

Belly full of food and booze. No concern more pressing than relaxing and having a nap. Satisfaction.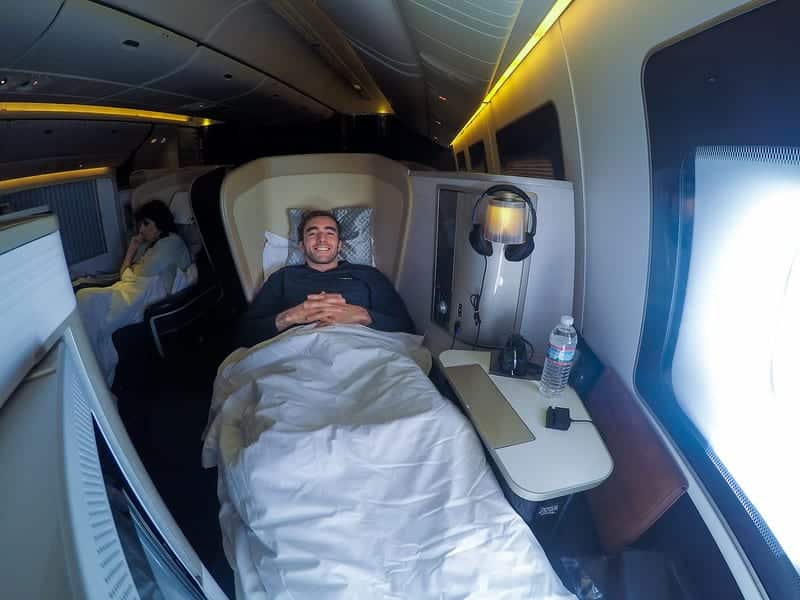 I awoke after around an hour and a half. I then spent a few minutes just enjoying the feeling of the sunlight on my feet.

The Jarvis position™ : In a flash of inspiration I sat at the far end of my seat so that I could look out of the windows whilst editing photos for one of my TRs. The FA was quite shocked to find me there when I called for another espresso. She said she had never seen anybody do this before. In future I intend to always do this, feeling the warmth of the sun on your face and being able to watch the world below is just about as perfect as it gets.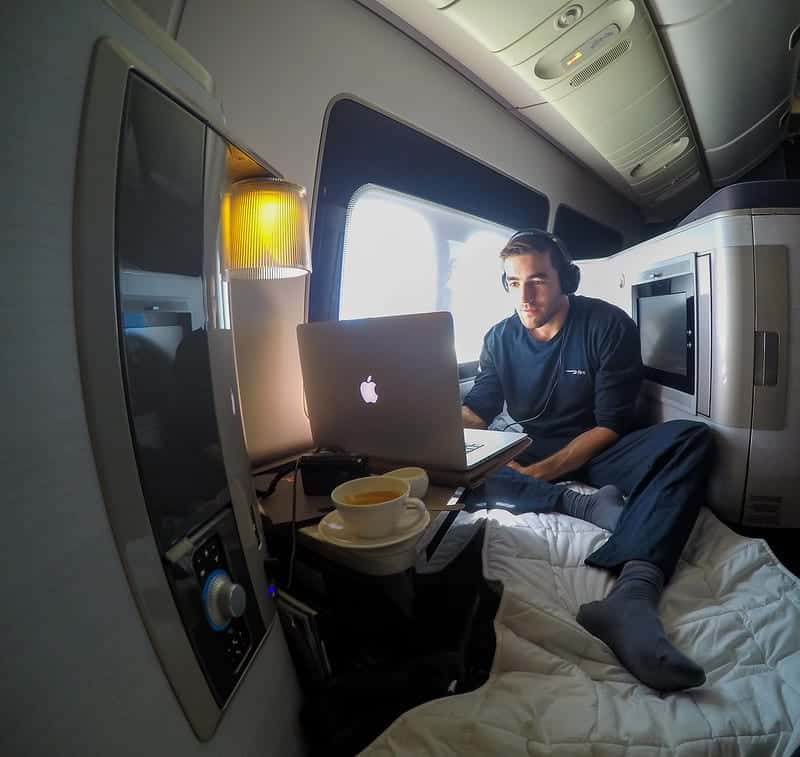 I wonder if I can buy an old seat and replicate this setup at home. I'm never as productive on Trip Reports as I am when I'm in the air (which of course only serves to compound the problem).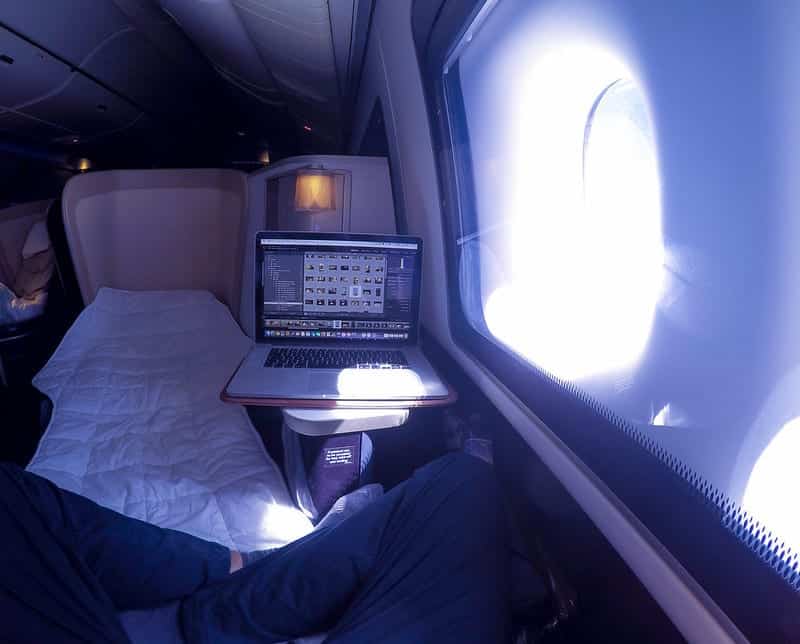 Given that our bodies had yet to rupture like those of a pair of French geese, we figured it was only polite to accept an offer of afternoon tea. The enticing aroma of warm scones was too much to resist.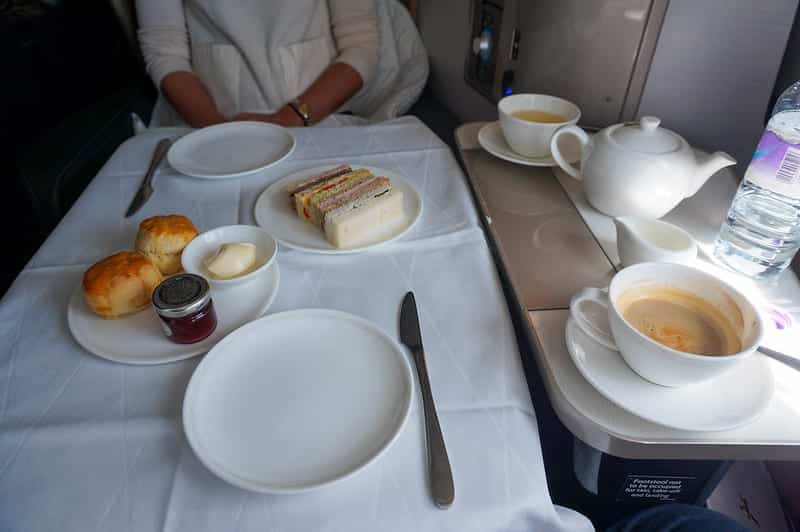 The scones, jam and cream were fantastic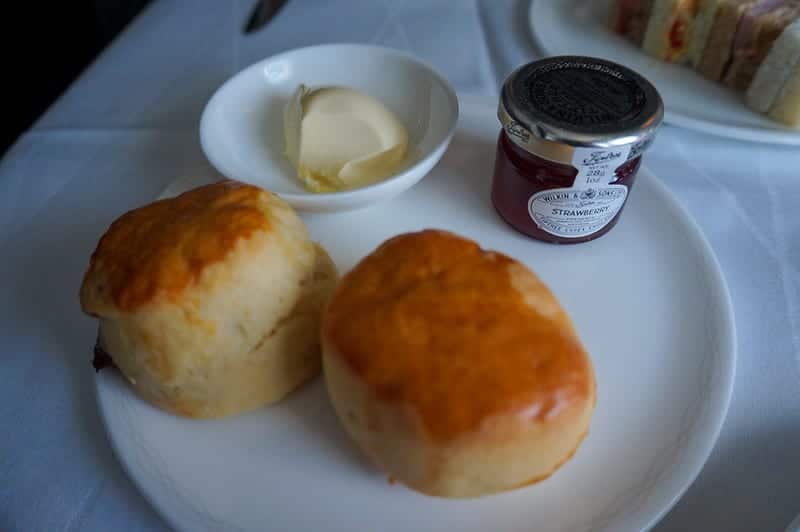 The sandwiches however left a lot to be desired. They are the exact same scrappy little things that are served in J, only they have been removed from the packaging and placed on a plate. Surely BA can do better.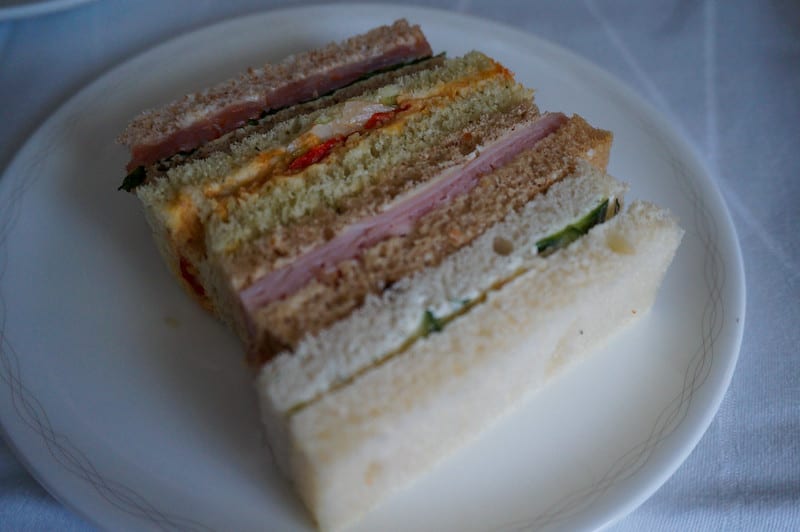 ---
Conclusion
---

Whilst I do love being in the nose of a 747 I have to admit that as a whole, this experience was a lot more well rounded and felt more like a true First Class product.
My order of priority in future would go as follows:
Seats in row 1 of the 747
Any window seat on the 777
Any window seat on the 747
Middle seats on the 777
anything but the middle seat on the 747 F cabin (I actually turned down an upgrade to First on this flight in order to stay in seat 64A upstairs!)
The crew on this flight were just superb. We obviously had one superstar but the rest of the FAs were great too, it's just that I didn't have as much interaction with them.
One astonishing moment came when I headed to the galley to ask for water, after waking from my nap. An FA who I had not even seen before asked "Mr Marcos, what can I get for you ?". He was within the confines of the galley so I doubt he could see which seat I'd left vacant, yet somehow he had managed to memorise my name based on description alone (I sleep with an eye mask so he hadn't even gotten a good look at my face before). I was blown away. I remember thinking to myself, is this BA or did I somehow wake to find myself at an Aman hotel?
The seat is vastly superior to any regular reverse herringbone seat that you would find in Business Class. I've flown American, Cathay, Eva Air, Qatar, Finnair, Air France and Air Canada versions and none comes close in terms of personal space and privacy. Qatar have the nicest finishes but the seat is definitely smaller and less private than BA First Class.
The food is decent and all that is really missing is caviar and a properly cooked steak. In fact if BA could just provide a steak which is even close to the ones found on Asian carriers, they'd be doing a lot for their reputation. As it stands, the Japanese and Singaporeans are running rings around the British when it comes to a British native food. That shouldn't be the case.
Otherwise, there are so many British luxury brands that I cannot fathom why BA provides such cheap amenity kits and PJs. Surely any Savile Row house would be delighted to provide the PJs, whilst an amenity kit made by Burberry, Hackett, Ted Baker, Paul Smith etc. would cost BA nothing and do a lot to elevate the perception of the First Class offering.
Also, the flight was great but the ground experience was sorely lacking. The Concorde Room needs a re-think. The bathrooms and 'cabanas' are quite frankly shameful and the decor and general ambiance are tired and drab. Elsewhere Cathay has the Pier, LH has its F terminal and Qantas has its spectacular F lounge in Sydney. Qatar has a significantly more impressive Business Class lounge with its Al Mourjan offering (with the First Class Al Safwa lounge being another notch above even that).
For a lounge with such selective entrance criteria the CCR shouldn't feel like such a ramshackle free for all.
Still, back to the positives. The flight was great and I'd do it again (and have done since). BA used to get hammered for offering a Tier 2 product whilst imposing outlandish surcharges on award tickets.
Flying BA on an award ticket is still terrible value. I'll happily pay surcharges for Singapore Suites but not for BA. However, given the prevalence of OW sale fares (not to mention Viking Fares) and the ease with which you can upgrade using Avios (20k per person on this flight), the BA F product is attainable at a price which is actually commensurate with the product you receive.
When the crew are willing and able they truly are some of the best in the sky. If you want consistency look elsewhere, if you luck out though you may just get to experience a flash of brilliance.
---