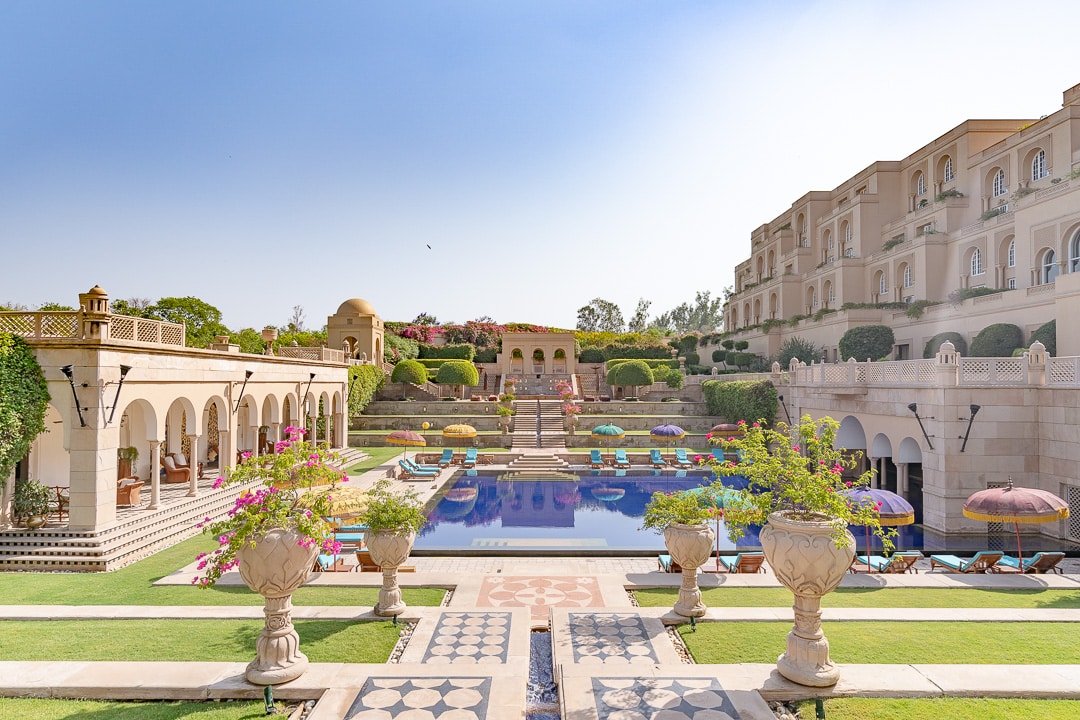 REVIEW – Oberoi Amarvilas (Taj Mahal)
November 6, 2021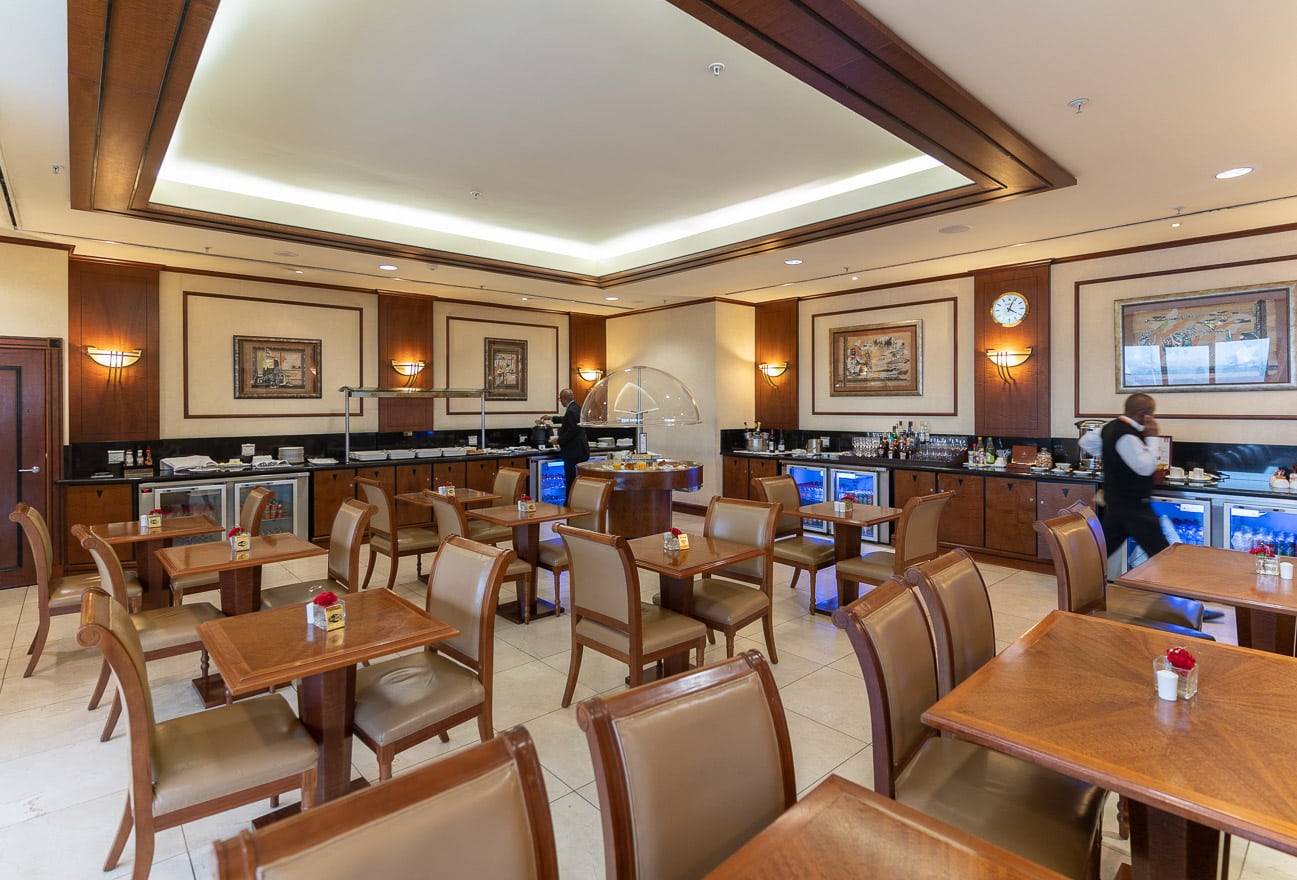 REVIEW – Emirates Lounge – Joburg (JNB)
December 27, 2021
Amanbagh
Location: Rambagh, India
Rate: $633 USD per night
Room Type: Garden Haveli Suite

Upgraded from Courtyard Haveli Suite

Loyalty Program: Virtuoso
---
Intro
---
After experiencing some two absolutely remarkable stays at Amanoi and Aman Sveti Stefan, I was very excited to try my third ever Aman hotel.
This was the stay that I had been planning our entire India trip around.
Having already experienced such stunning service at Oberoi New Delhi and Oberoi Amarvilas though, I was wondering how Aman could possibly top them!
---
Booking
---
I would always recommend booking Aman properties via the Virtuoso booking channel. Virtuoso bookings always match the best rate on the Aman website, but ALSO offer extras such as:
• Upgrade of one category, based on availability at time of check-in.
• Full breakfast for up to two in-room guests.
• $100 food and beverage credit.
• Early check-in/late check-out, subject to availability.
You can book a Virtuoso rate at Amanbagh for yourself (and at all other Aman properties) by using our online booking portal:
BOOK AMANBAGH WITH VIRTUOSO BENEFITS
If you are planning an itinerary across multiple Aman properties, you will be able to leverage some substantial further discounts and benefits.
EMAIL FOR AMAN MULTI PROPERTY ENQUIRIES
---
Arrival
---
We hired a driver for the entirety of our time in India, which is something I would highly recommend.
The drive from Agra to Amanbagh took around 4 hours (similar to the time taken to travel between Agra and Delhi). The drive was mostly on well paved highways and was relatively painless.
Amanbagh is located in a rather rural area, surrounded by hills and fields, many of which are filled with with wild monkeys and peacocks. Driving through here, there was zero indication that an outpost of the world's most luxurious hotel chain may be nearby, until suddenly, a pink sandstone monolith came into view, bearing the Amanbagh name.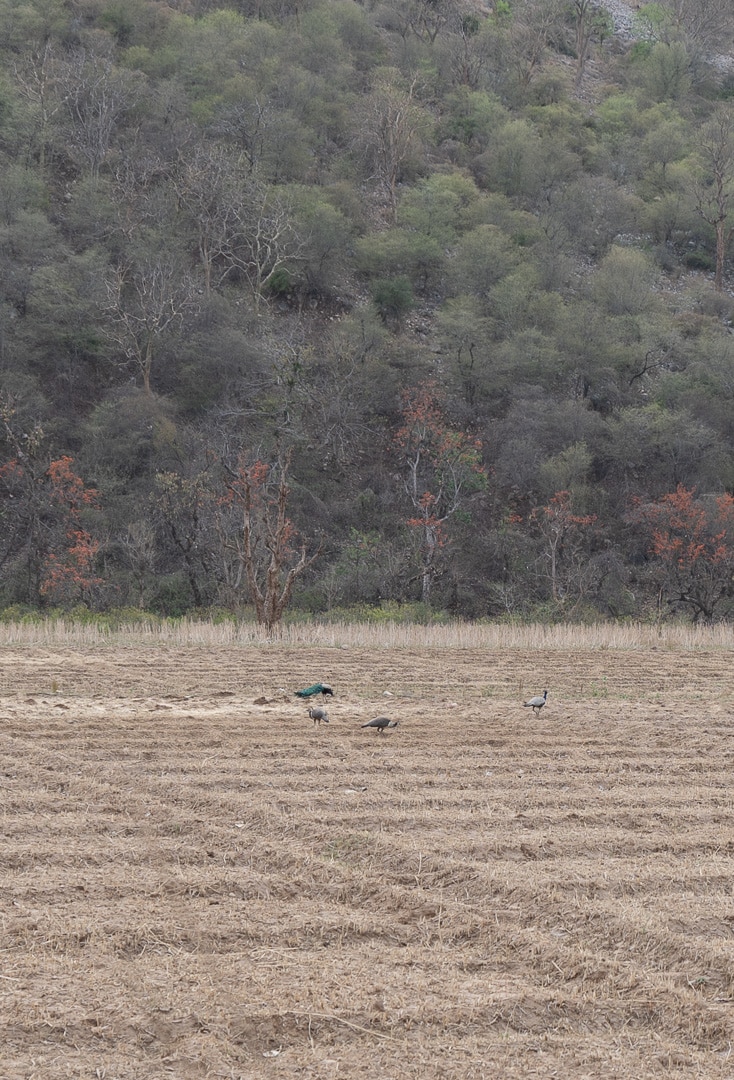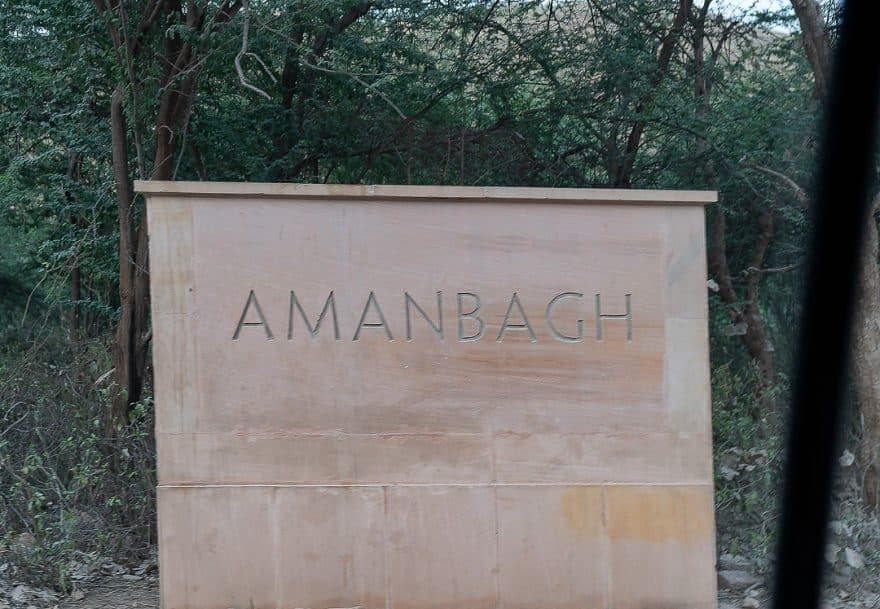 As we pulled up to the hotel grounds, we were met by a group of staff who performed a welcome ceremony for us, draping flowers over our necks, much like we experienced at the Oberoi properties on this trip.
As always with Aman, the immediate feeling when stepping inside was one abundant space, but not emptiness. The architecture at Aman hotels invariably treads this line perfectly, in much the same way as a grand cathedral or palace.
As we stepped into the main outside courtyard, we were serenaded by local musicians, who were shaded by the roof of the swimming pool colonnade.
Speaking of the pool; it was every bit as extraordinary to behold as the website images had led us to believe.
Either side of the pool were two large buildings, housing the three categories of suites at the property: Courtyard Haveli, Garden Haveli and Terrace Haveli.
The highest category rooms at Amanbagh are the Pool Pavilions; these are free standing villas, dotted throughout the hotel grounds.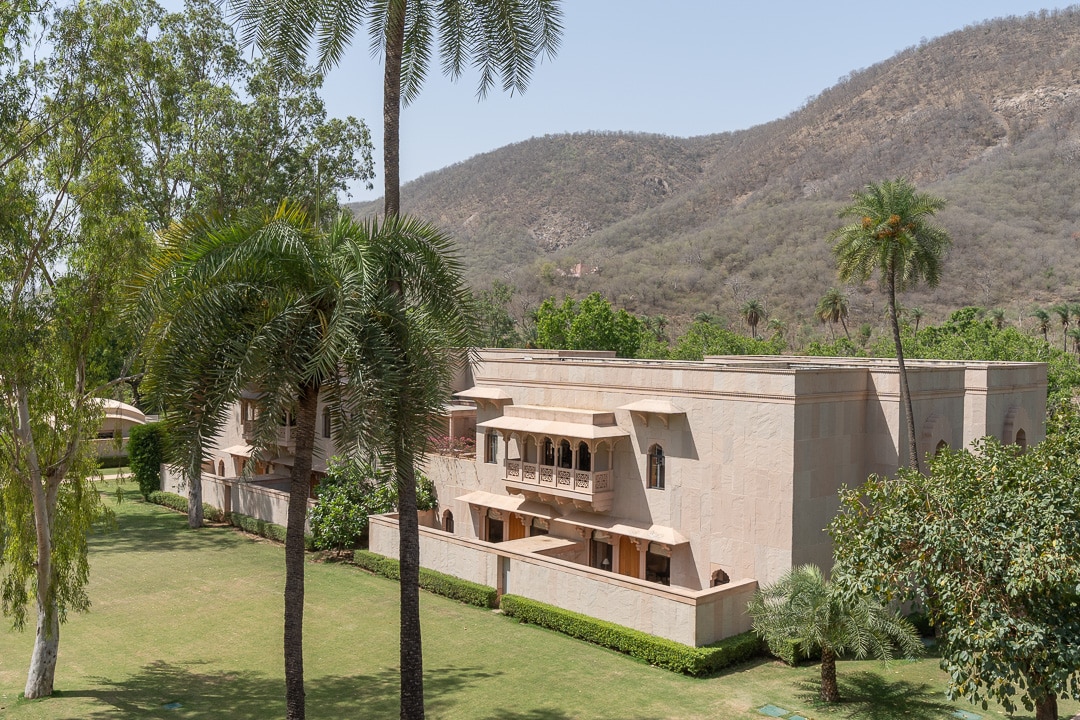 Our Garden Haveli suite was located on the near corner of the building, to the right of the pool.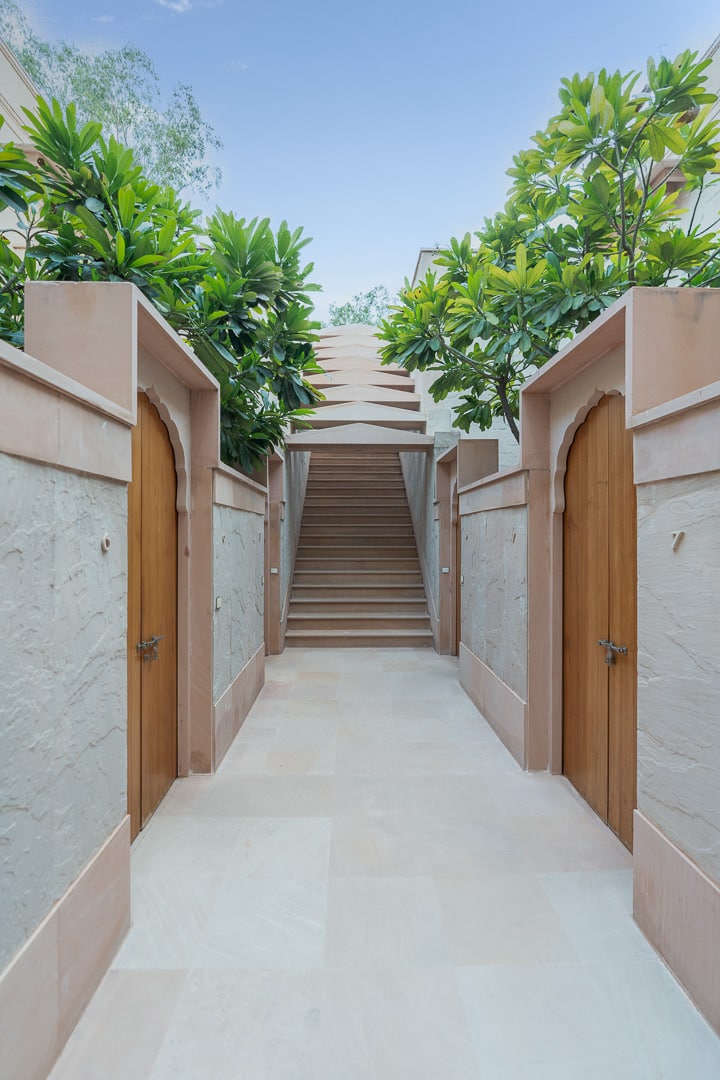 ---
Garden Haveli Suite
---
Video Room Tour
Entrance
The entrance to our suite featured a small outdoor courtyard, with a semicircular sofa and marble table. The shade and greenery was particularly welcome, as the courtyard was something of a sun trap during the day. This would have been the perfect spot for a quiet morning coffee, if only our suite came equipped with a coffee machine (more on that in a minute)!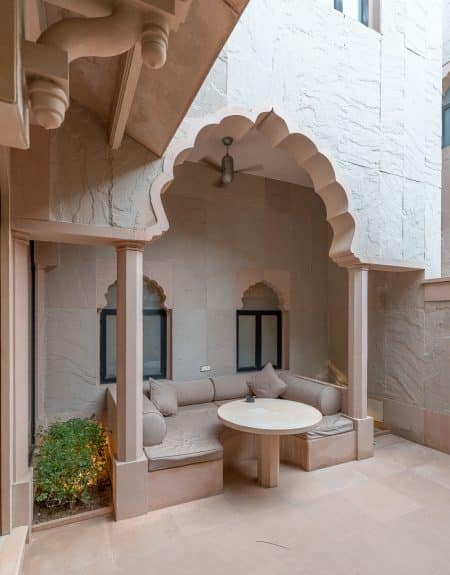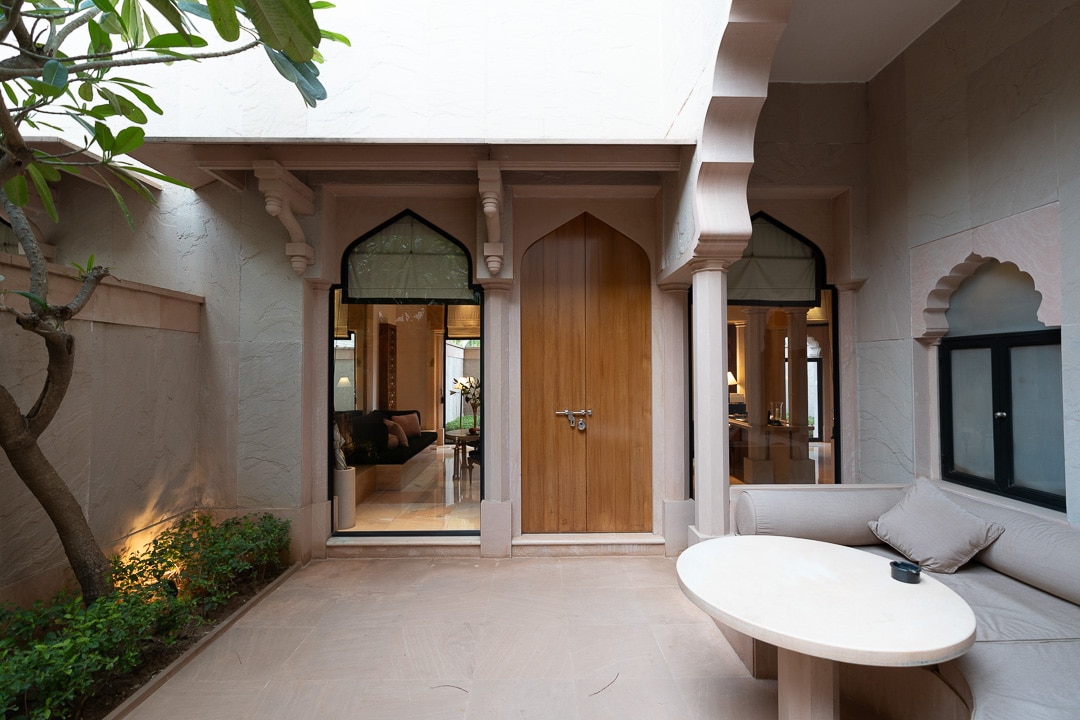 The door of the room was secured by a very robust locking mechanism with a large padlock. The do no disturb sign was equally old school: where a string of miniature elephants could be hung from the door.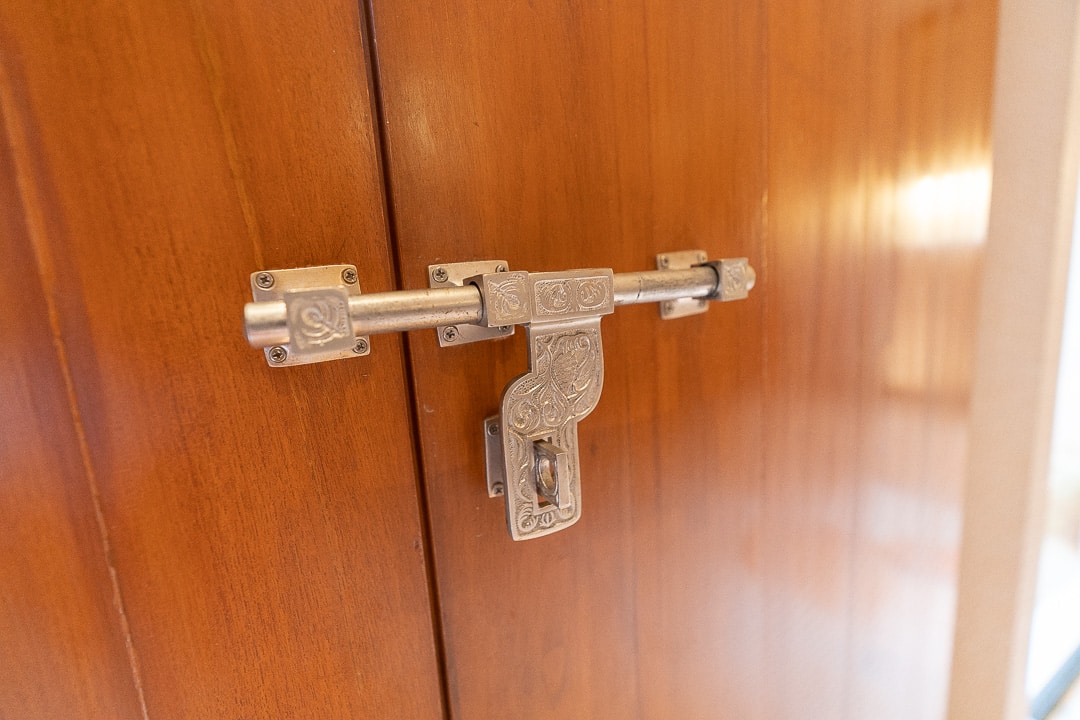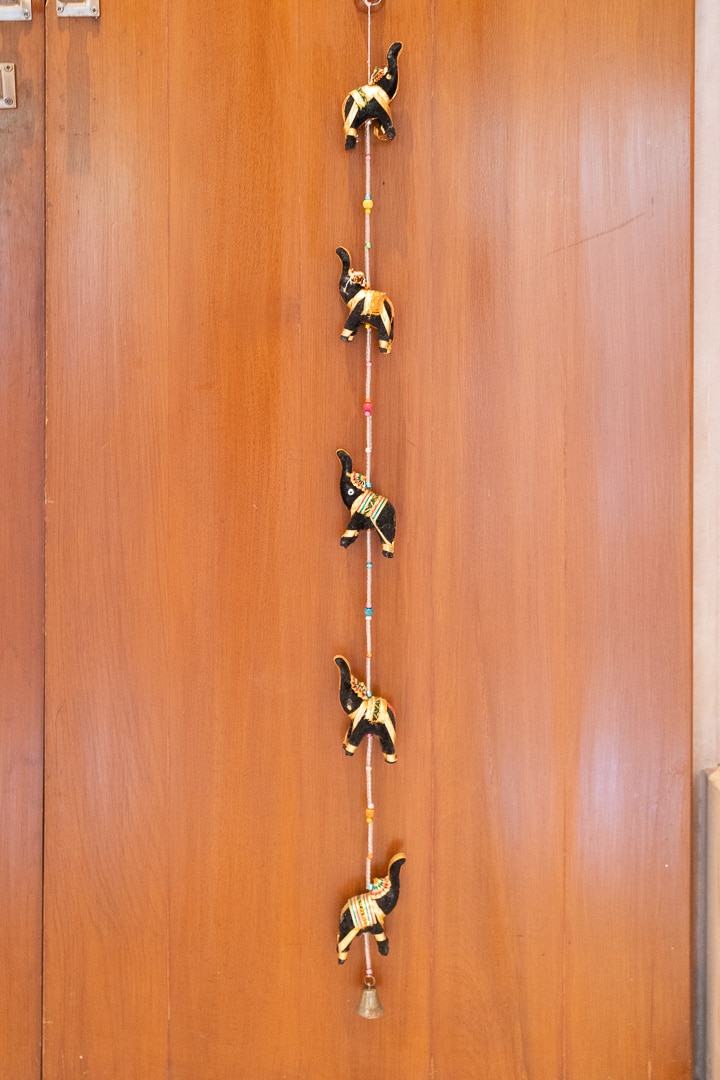 Bedroom
The suite was really more of a junior suite, since there was no dividing wall between the bedroom and the sitting area.
Much like our room at Amanoi, the design focused on creating a sense of space and of symmetry. However, the abundance of stone in the room gave it something of a cold feel, even though an effort had been made to offset this with soft furnishings.
There was a sofa style area at the end of the room but it wasn't particularly comfortable or inviting. The padding on top of the stone was quite thin and the circular cushions had a tendency to roll around.
Generally, when we were hanging out in the room, one of us would be sat at the desk and the other would be sat either on the bed or one of the dining chairs.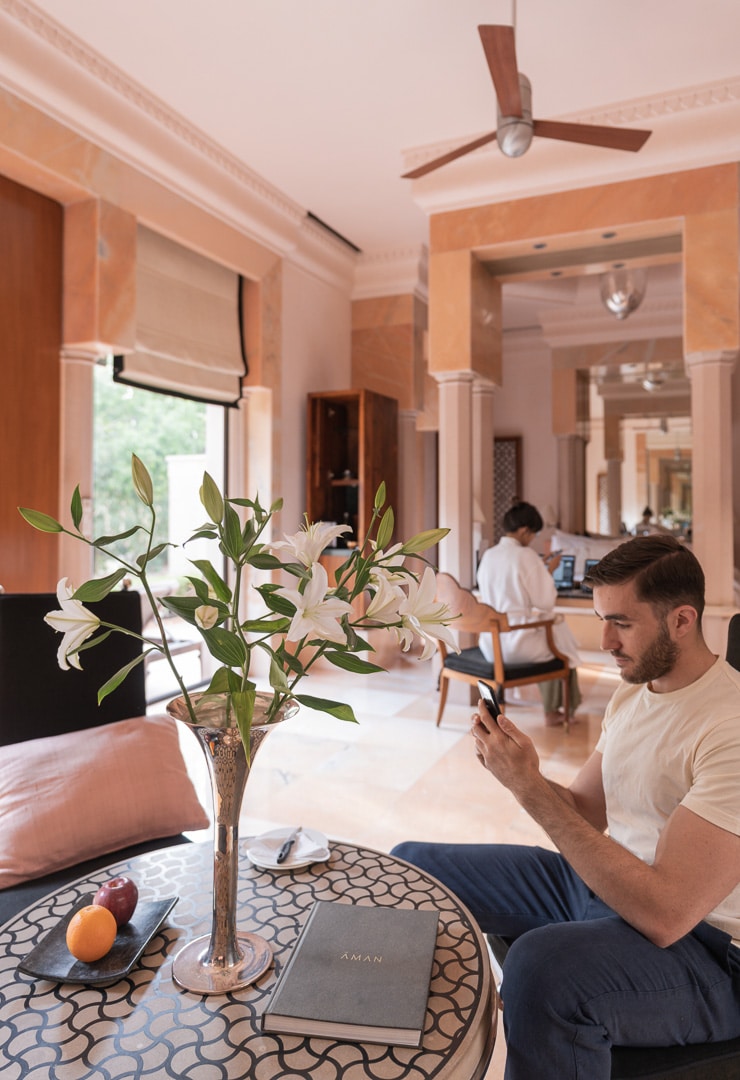 The desk was very large and featured a universal power socket where you could connect a laptop. More sockets would have been preferable, especially since there were so few to be found elsewhere in the room (this always tends to be a problem in rooms that feature stone walls).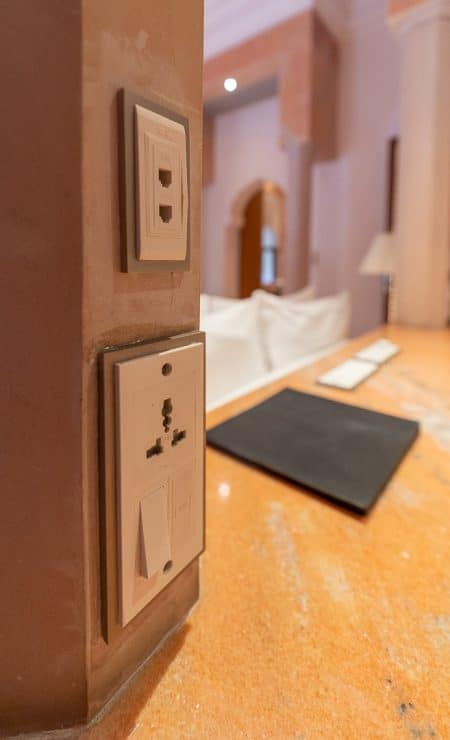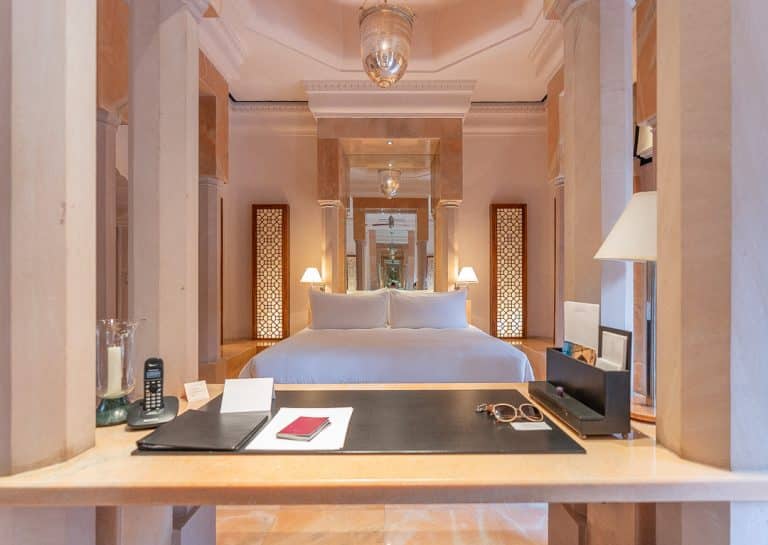 Either side of the desk were a pair of tall cabinets. One containing a Bose speaker and safe, the other housing the minibar.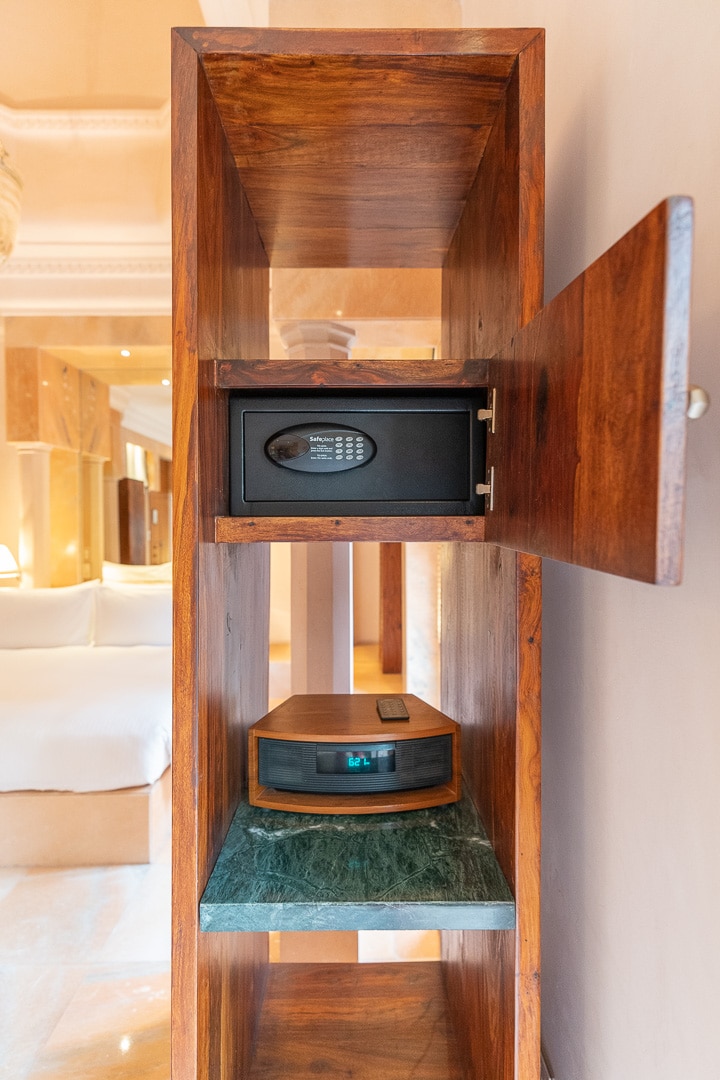 Remarkably for a 5* hotel, the room did not feature a coffee machine of any kind, or even a kettle!
These are basics at an airport Hilton; the fact that they weren't provided at a hotel that charges around $600 a night for an entry level room was astonishing.
After some insistence we were able to get a kettle delivered to the room but were told we'd have to drink powdered Nescafé if we wanted to drink coffee in the room. When you're jet-lagged and could be waking up at any hour, the last thing you want to do is to have to call up room service and wait to get coffee delivered at random hours of the morning.
Actually, the last thing you want to do is resort to drinking Nescafé but having to deal with room service to get coffee at 5am is a close second.
The electric socket that the kettle was plugged into didn't look particularly safe so we only ended up making tea a couple of times before deciding it probably wasn't worth running the risk of electrocution.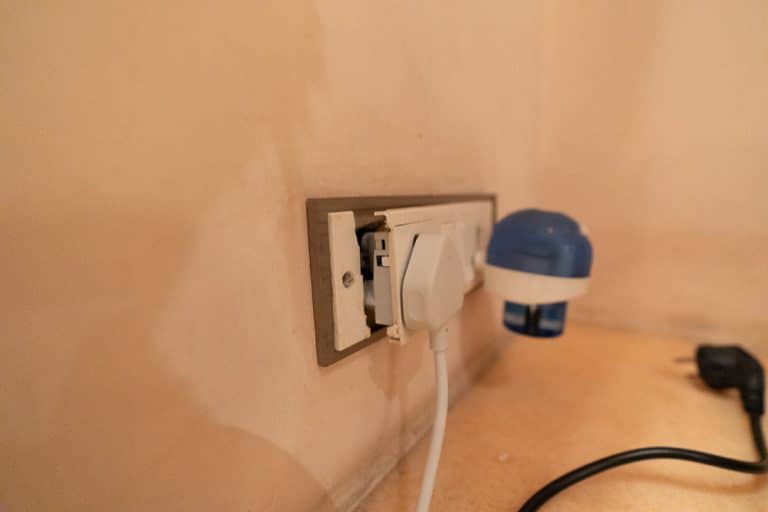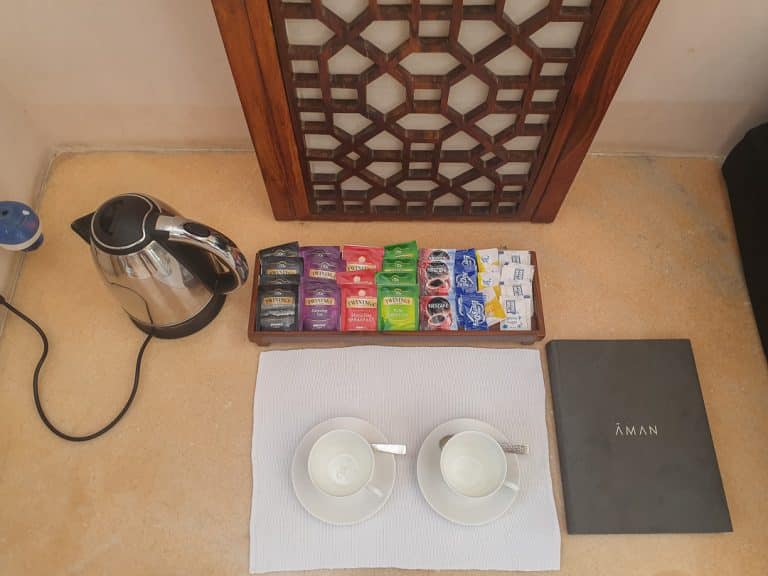 The bed itself had a very grand feel, given the pink marble surroundings and the dome ceiling above. There were no bedside tables though, so the area got cluttered quite quickly. There were also no power sockets near the bed at all. Kamara charged her phone by draining the battery on her Mac each night, whilst I used a rechargeable power pack.
Worse than the lack of bedside power was the air conditioning situation. The A/C only appeared to have one setting: ice cold. Even when set to 30c, there was an arctic blast that blew from a vent above the bathroom entrance, straight onto my side of the bed.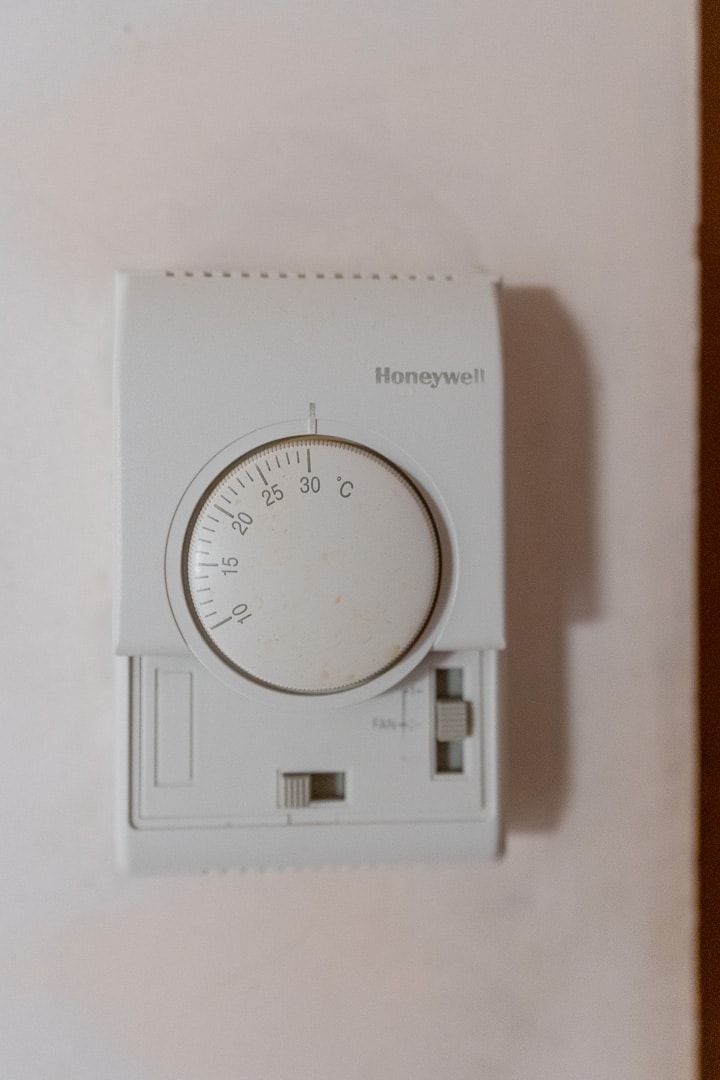 Bathroom
I loved the intricate archway of the door leading to the bathroom, it really gave the room a sense of place. Where the stone felt a little cold in the context of a bedroom, it felt very luxurious in the bathroom, particularly since the centrepiece was a hand carved bathtub cut from a single block of jade!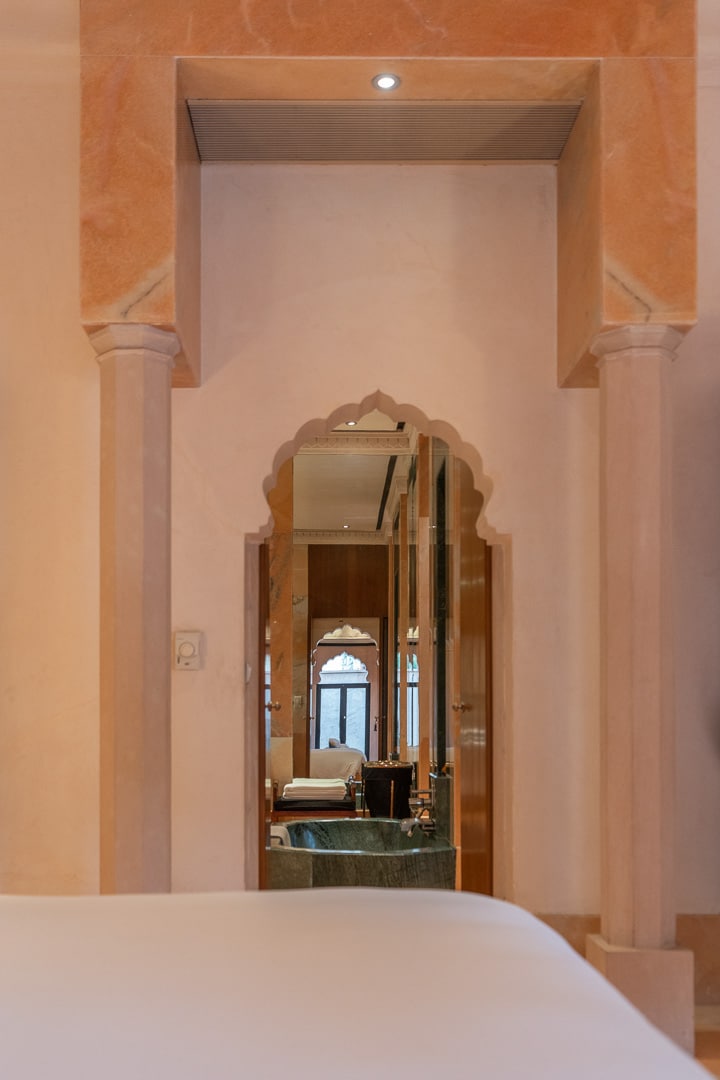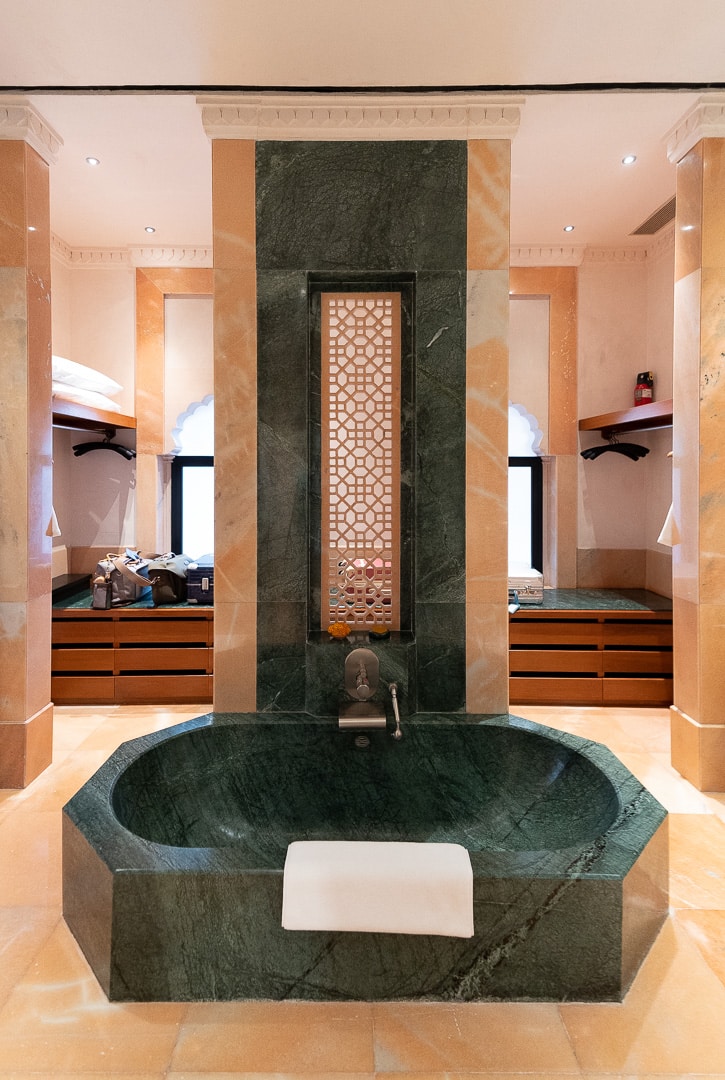 A jade bathtub is the kind of thing you expect to see when touring the palace of an ancient emperor, to actually have one of these in every guest room shows a level of audacity that is commendable in a luxury property.
Indeed, the use of jade was not constrained to the bathtub – both sinks were cut from equally enormous slabs of this semi-precious stone.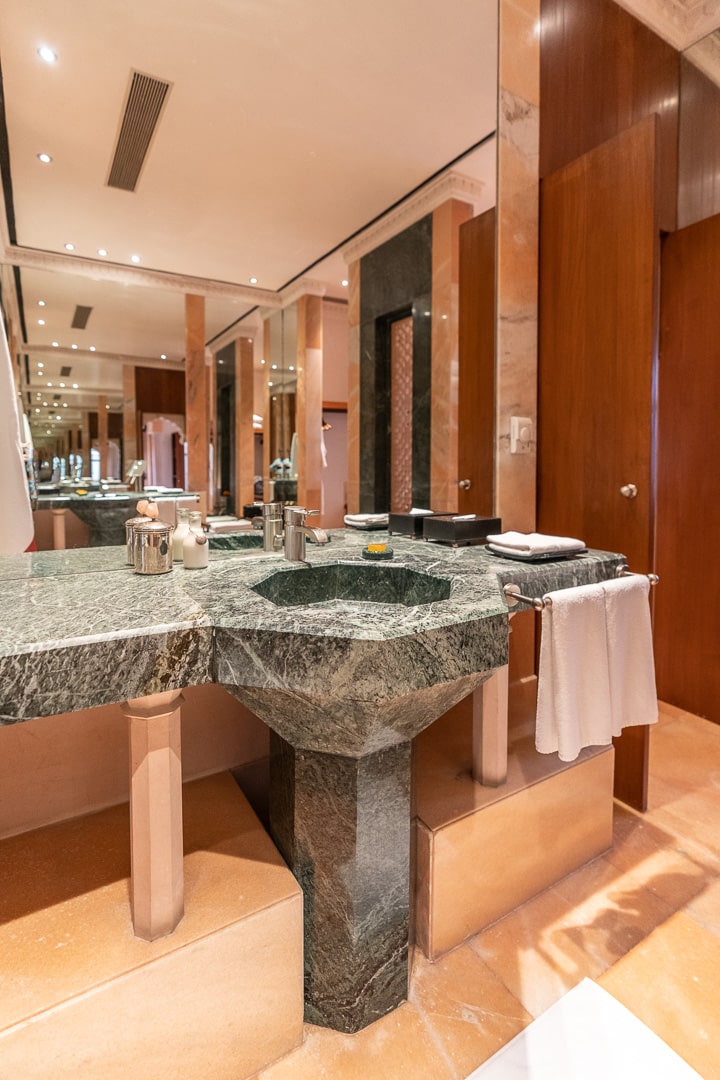 As with all Aman properties, the toiletries supplied were locally sourced and offered in refillable containers (many of which were also made of jade, naturally).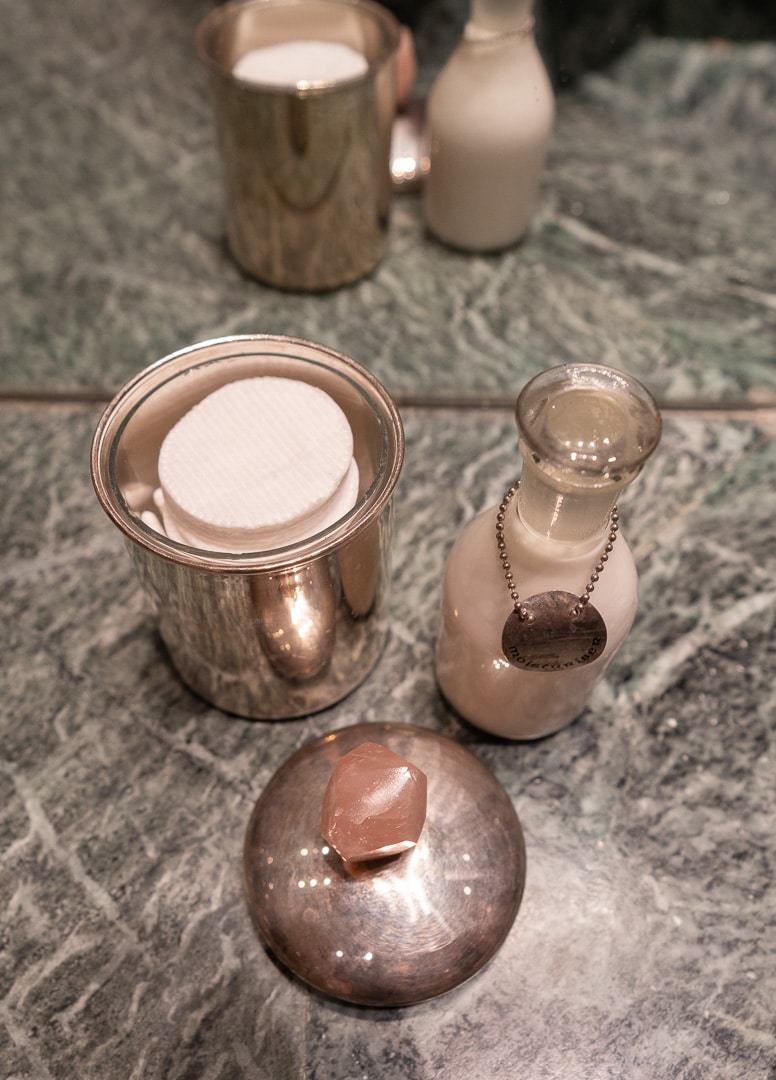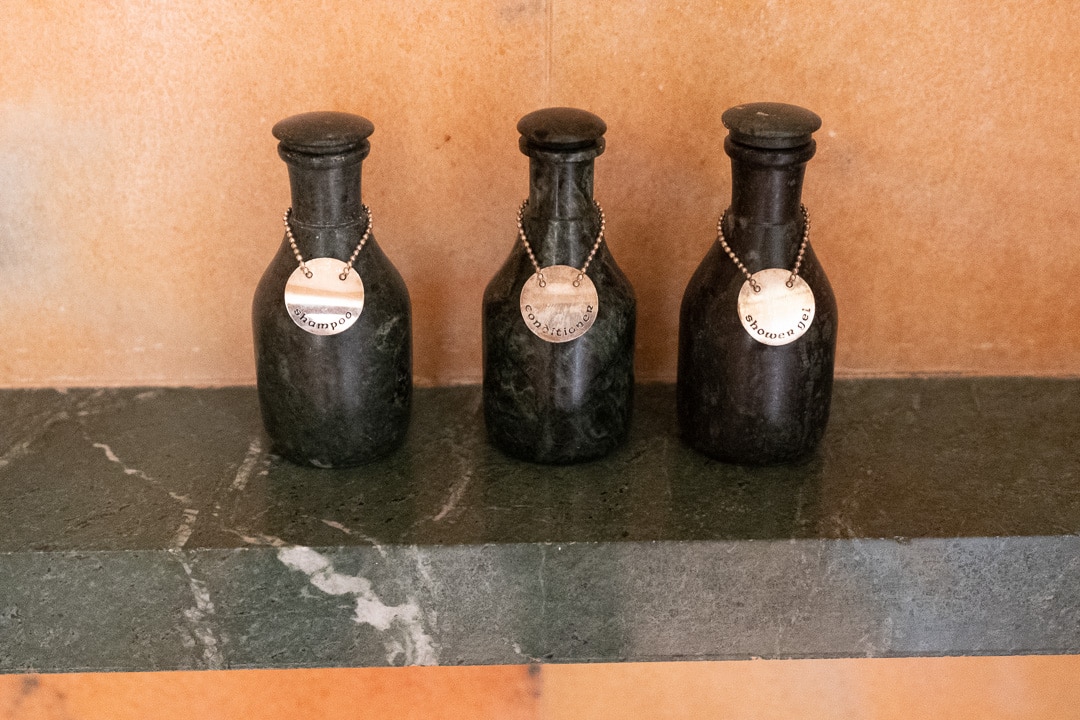 Between the two sinks was a set of two doors. One leading to the toilet, with a jade and silver side table and the other leading to a pink marble shower with excellent water pressure.
Housekeeping really shone in here, laying our fresh bath mats and hanging clean new towels, folded to a perfect point – every time that we left the room. They also ensured that all of our personal toiletries were arranged in perfect displays for us to admire.
Piles of extra towels were provided too and made the space feel more like a spa than a regular hotel bathroom.
The dressing area was located within the bathroom, rather than the bedroom. This is something that I tend to prefer in hot countries, where the temperature difference between the hot bathroom and icy cold bedroom can make getting dressed in the cold rather unpleasant.
The dressing area had ample space for at least four large suitcases, as well as twelve drawers and two rails for hanging clothes.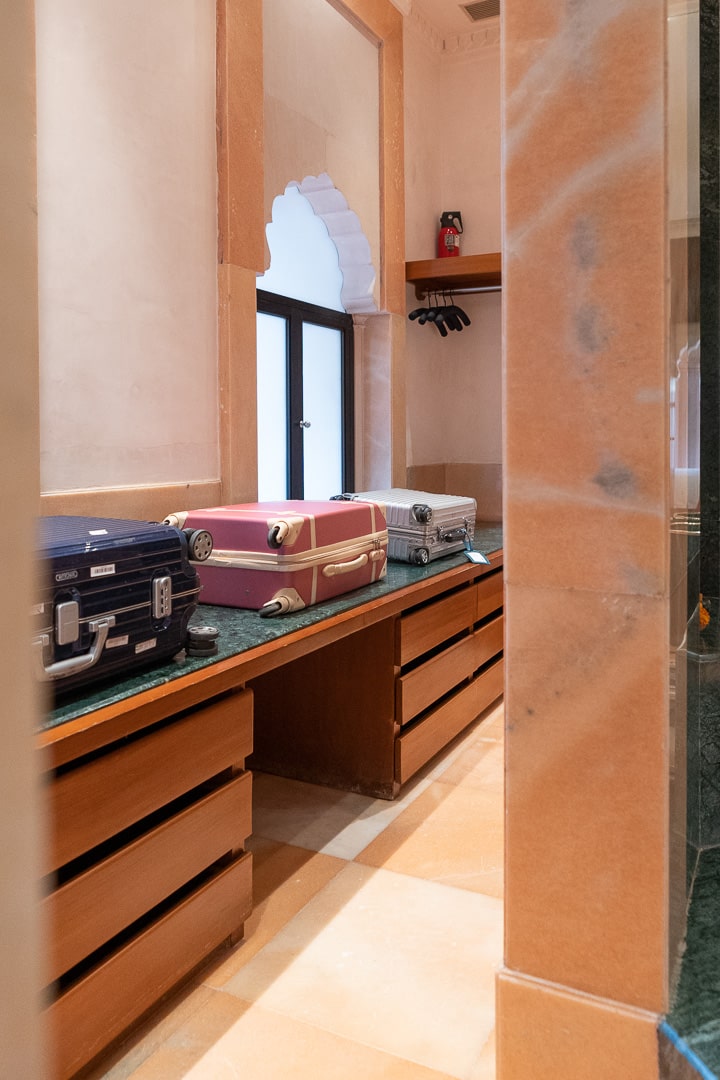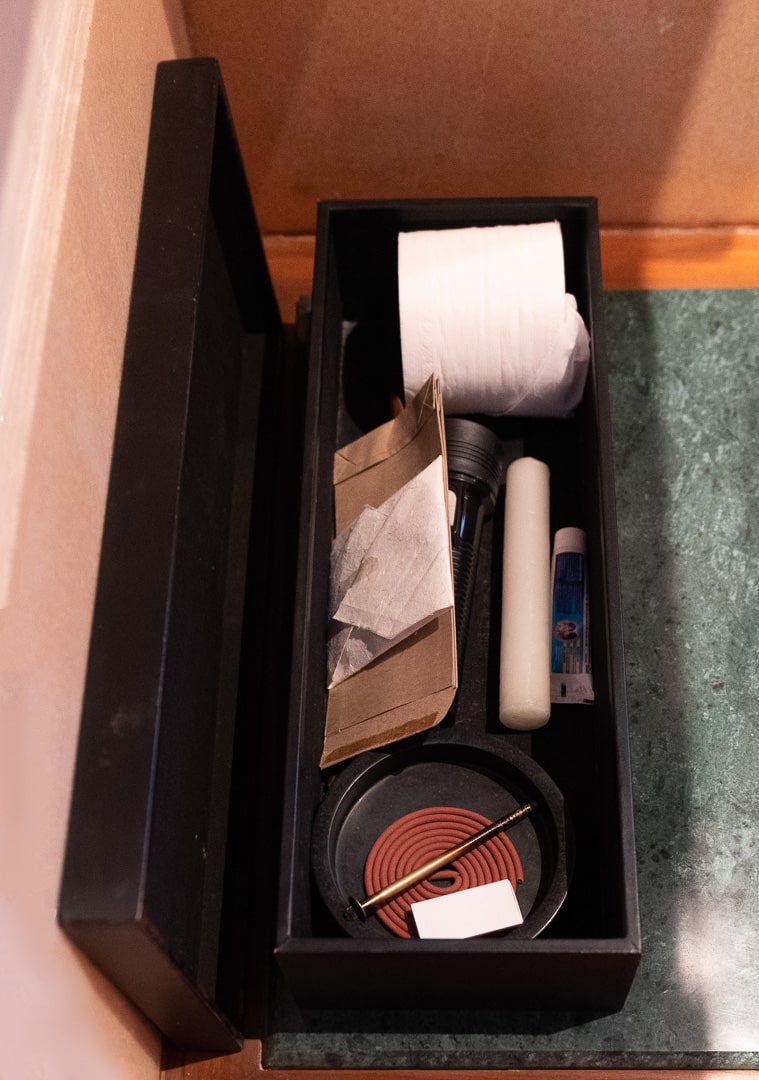 The dressing room also featured a box of random essentials including a candle, mosquito coil and an extra toilet roll…in case we got caught short between the four times a day that housekeeping came to refresh the bathroom.
Garden Terrace
Our suite featured a garden terrace running along the length of the bedroom.
Although I appreciate the use of traditional doors aesthetically, there was a rather pressing practical issue. The doors to the terrace were fine but the front doors to the suite did not properly meet the floor. This meant that mosquitoes and even a hornet were able to enter our room, with the doors closed! (I did my best to photograph the hellish creature as Kamara ran around the room, squealing.)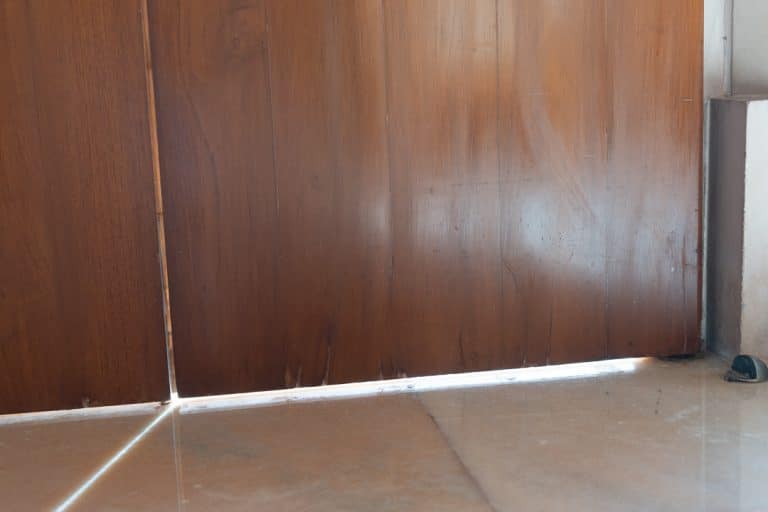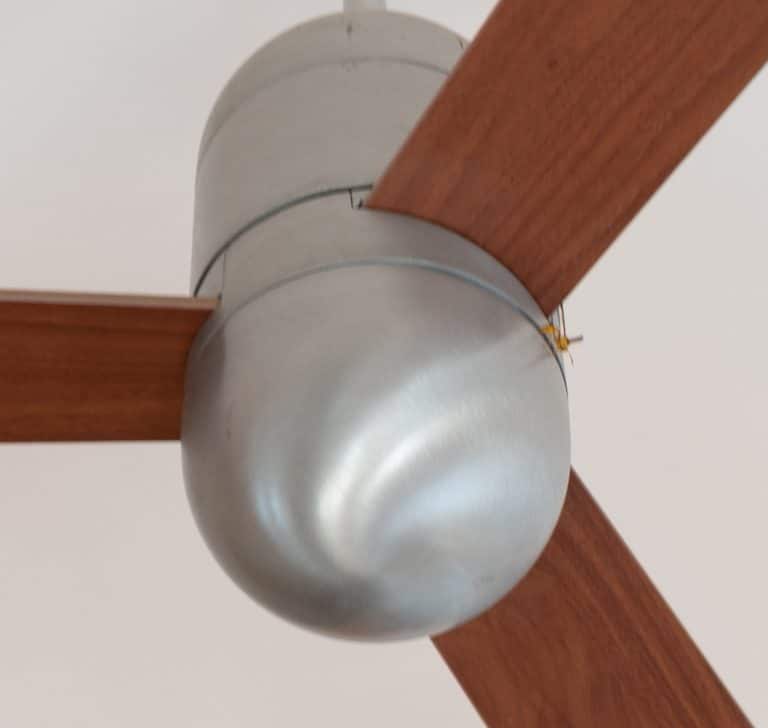 The outdoor area was very pleasant early in the morning before the sun got too hot, but unfortunately no parasol was provided, so it was impossible to spend time here after around 9am.
---
Service
---
So far, you'd be forgiven for thinking to yourself that there were quite a few hardware issues but at least the service sounded like it was at the usual Aman level.
Certainly, in some respects, this was true. As I said, housekeeping was great for the most part, particularly in the bathroom. You always knew that they'd been to clean the room, as the leaves leading to the room would have all been swept away.
However, we did catch the housekeepers on two occasions, something which rarely happens even once when staying at Amans.
As with other Amans, there were nightly gifts provided during turndown but these were definitely not at the level of what was generously offered during our stay at Oberoi Amarvilas.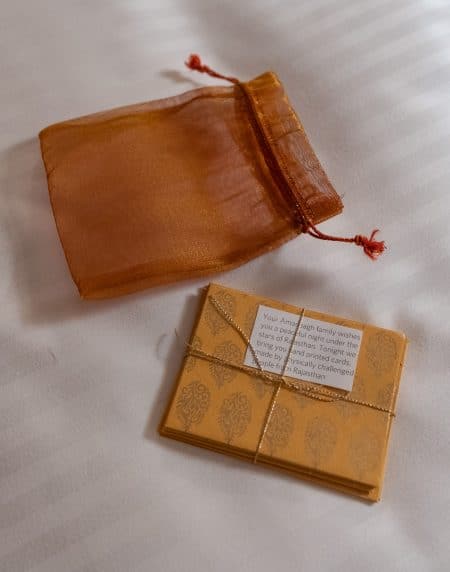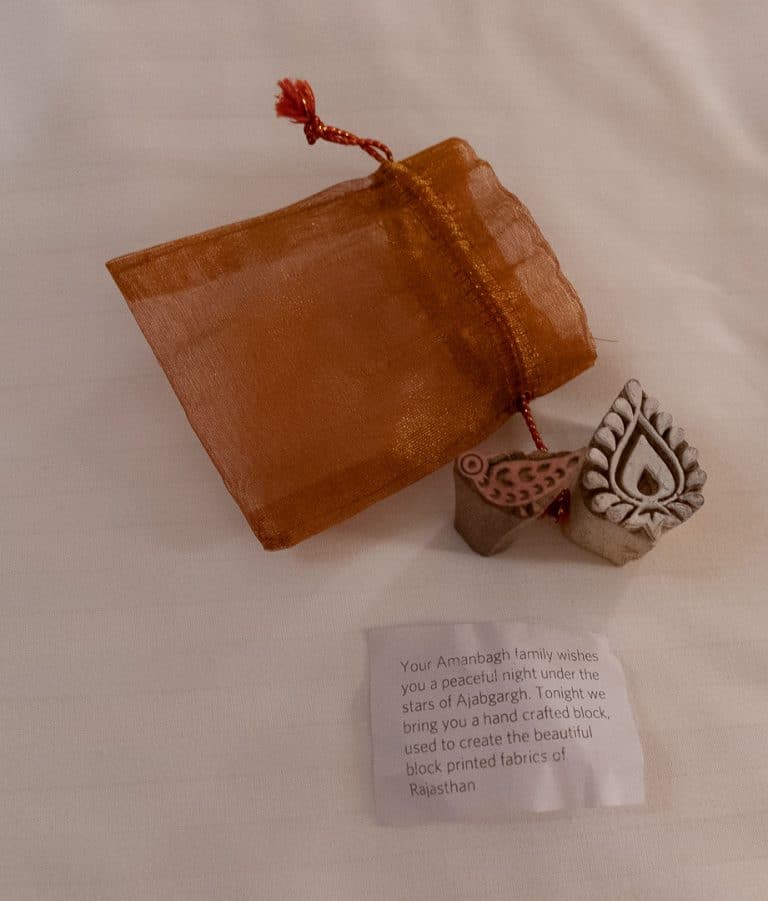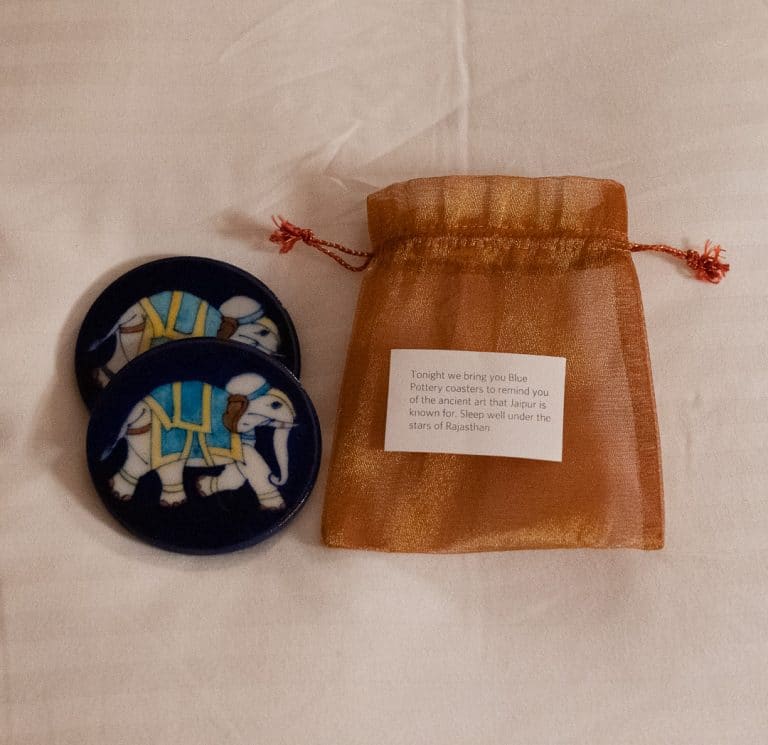 These turndown gifts are just small gestures after all, so not really a big deal if they're a bit cheap and cheerful.
I did however prefer Aman Sveti Stefan and Amanoi's approach, giving consumables with actual utility (coffee and honey) rather than small bits of clutter that will invariably end up in a drawer somewhere or, worse yet, in the bin.
To me, the defining moment of the stay came when we were presented with this printed itinerary of suggested activities:
We had not arranged for any specific activities prior to arrival, so found it strange that this full itinerary had been prepared for us, including a private dinner costing around $660 per couple.
Since we had a personal driver for the duration of our time in India, our plan had always been to take his recommendations for things to do in each local area. We had a vague idea about driving to the tiger reserve one day and Bhangarh fort another day, but that was about it.
However, from the moment that we were handed this itinerary almost every staff interaction at Amanbagh came with a sales pitch.
Whenever we ordered food at the restaurant, we were asked if we'd like to arrange a private dinner at the offsite Chatri. When we made it clear that we preferred the idea of enjoying the resort in the evenings, they then started pushing for an alternative where we could be served our dinner two floors above the restaurant, with a bird's eye view of the pool, for four times the price of ordering the same food at the restaurant.
Staff also kept insisting that it was much better for them to drive us all the way to the Tiger reserve (over an hour away) in an open 4×4, rather than being driven there in our air conditioned vehicle – then jumping into a 4×4 with a local ranger, once we arrived at the reserve.
Maybe I'm just cynical, but I couldn't help feeling that the Amanbagh approach was driven with financial recompense, rather than our comfort, in mind.
It honestly got to the point where we just avoided talking to staff if at all possible, since they were so pushy with the extras. This sales approach made us feel very unwelcome and was more akin to what you'd expect at a timeshare presentation, than an Aman hotel.
When we raised the issues with the A/C and the bugs coming into the room, the hotel responded by organising a blessing ceremony for us.
The courtyard of our room was decorated with candles and petals and three staff sung to us, as we returned from dinner.
The bathtub was also filled with rose petals.
This was a lovely gesture, which clearly took some time to arrange, but personally I found the experience of having three people surprising us in our room, pretty intense and slightly awkward. I would file this type of thing as one notch below being pulled out of the audience to dance at a 'cultural show'.
Although the bath looked pleasant, it was also lukewarm at best so we took this picture and drained the water before going to bed, with the A/C still not fixed and mosquitoes able to enter the room at will.
I feel like the property was more focused on giving us this 'experience' for free, rather than just fixing the underlying problems with the room.
---
Food and Drink
---
Although the hardware and the service were a real let down, the food was anything but. It's long been established that food and beverage are a weak point at Amans, with solid but uninspiring cooking being the order of the day.
We loved Amanoi but we had better versions of every dish, when visiting other hotels in Vietnam.
I was thinking that much the same would be the case at Amanbagh, since it is similarly remote. Remarkably though, the food here ended up being the best of our entire trip to India – by quite some margin.
Breakfast
Occupancy was low during our stay and we tended to have breakfast early. This meant that we had the entire place to ourselves and it truly felt like the property was our own personal palace. This is a unique sensation that only Aman hotels are able to consistently deliver.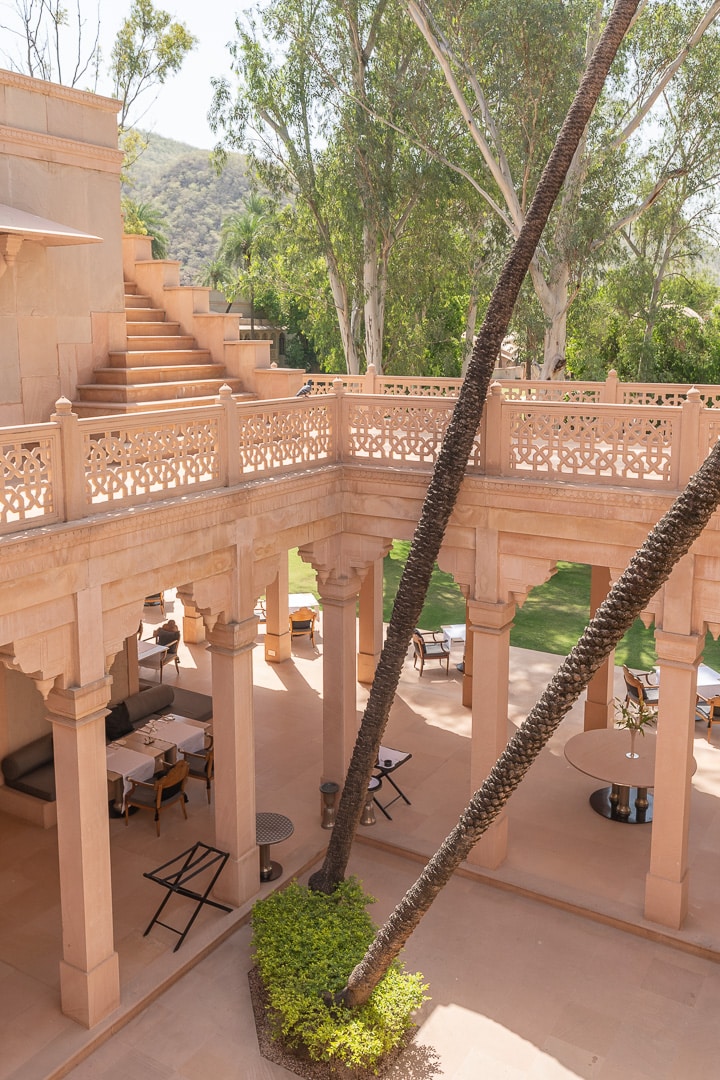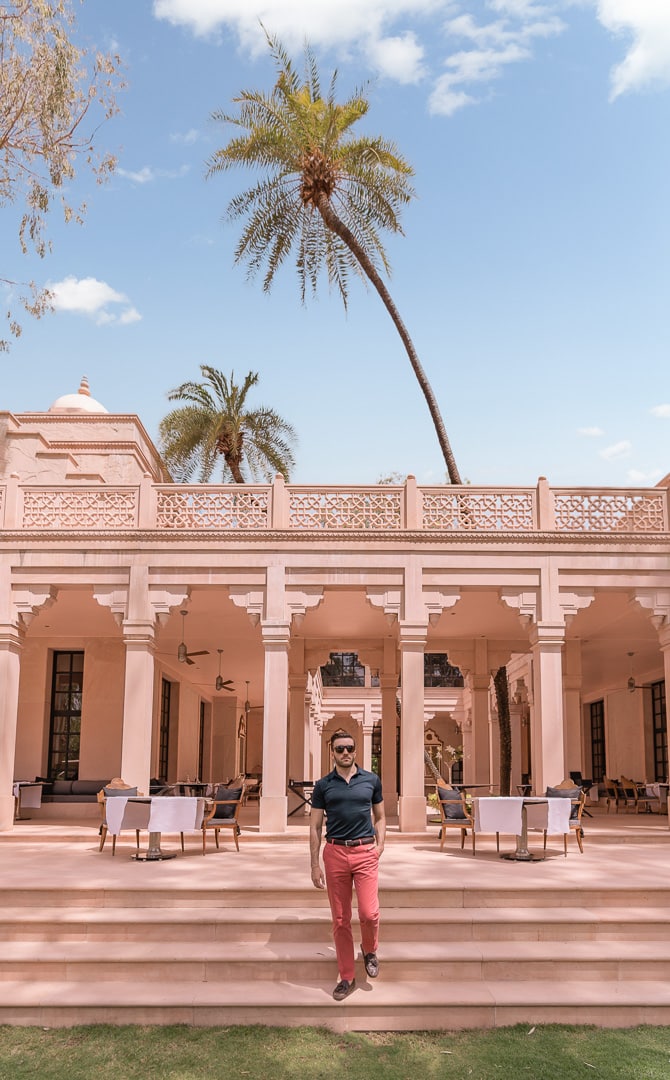 Staff quickly got to know our preferences and it goes without saying that we were always addressed by name and were never asked for our room number. Sitting down to breakfast with freshly cut flowers in front of us and a view of the serenely tranquil pool, we quickly forgot about the issues with the room.
Breakfast Menu
(click any page to open the menu as a gallery)
You know you're living luxuriously when you have three drinks on the go and this was the way that we started every breakfast: San Pellegrino, cappuccino and watermelon juice.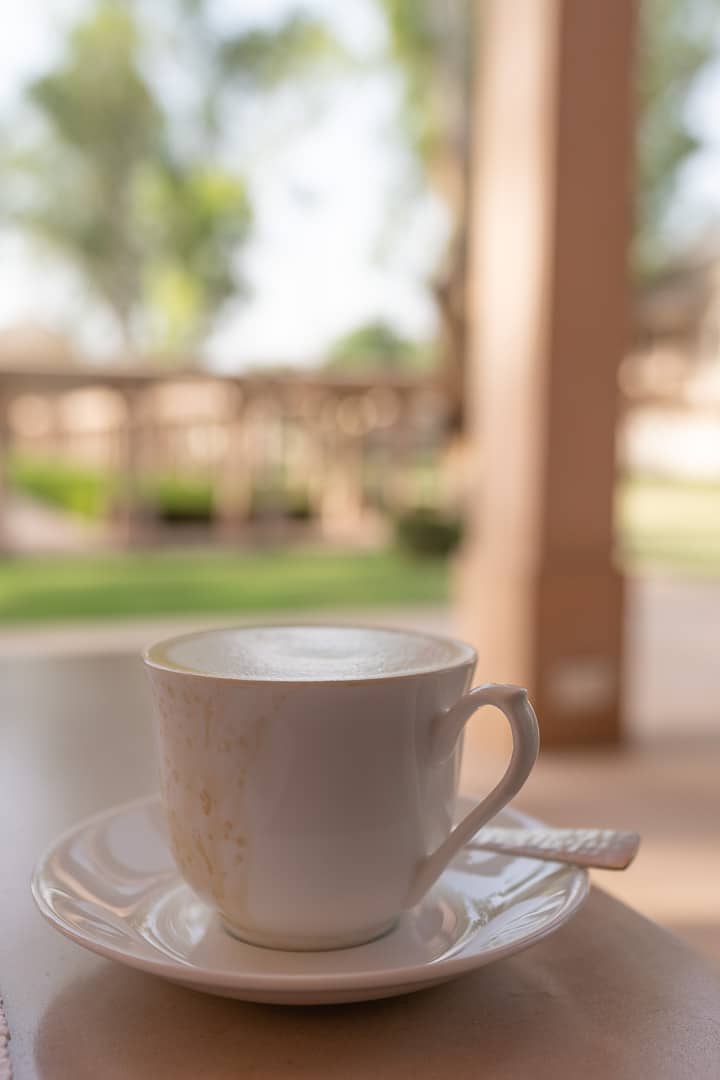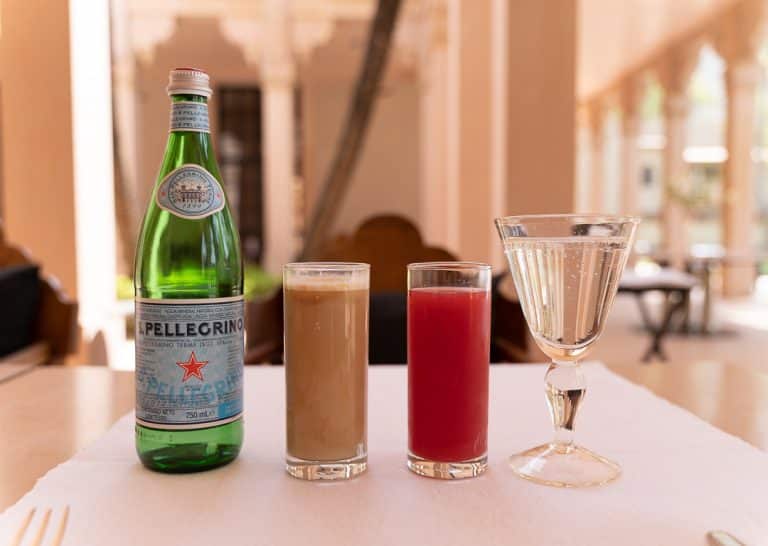 After the first morning, we opted for iced cappuccinos since the temperature was already in the low 30s by 9am.
I just remembered, looking at this photograph, my first morning coffee had been spilled down one side of the cup but was brought out to me without being cleaned. Not very Aman!
Anyway, sorry, back to focusing on the positives.
Breakfast usually began with some fruit and a delicious coconut and matcha chia pudding to share.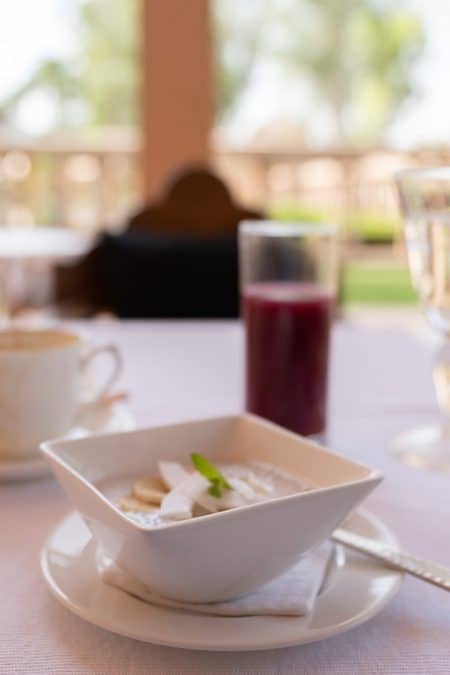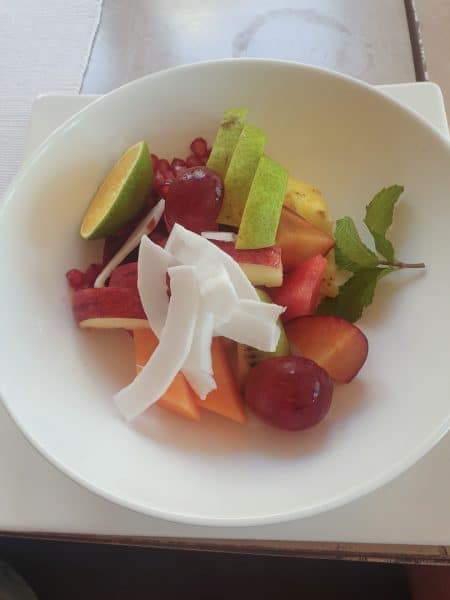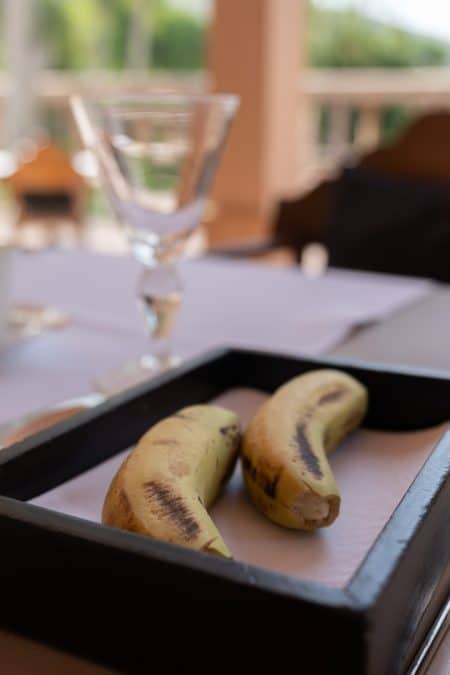 We then stuck exclusively to Indian dishes for our main courses. The dosas were very fresh and perfectly crisp, served alongside a superbly savoury sambar and a variety of pickles.
The Parsi Pav blended the flavours of turmeric and ginger into the eggs wonderfully but the overall dish was a little too heavy on the carbs for my personal taste.
Kamara's favourite was the puri bhaji…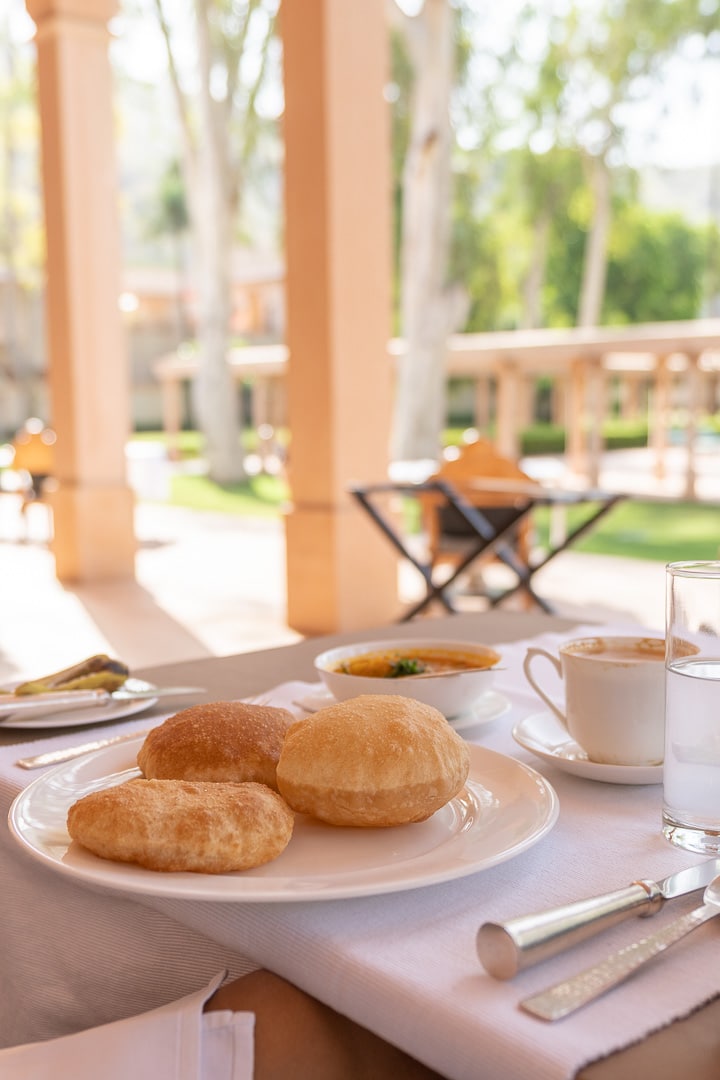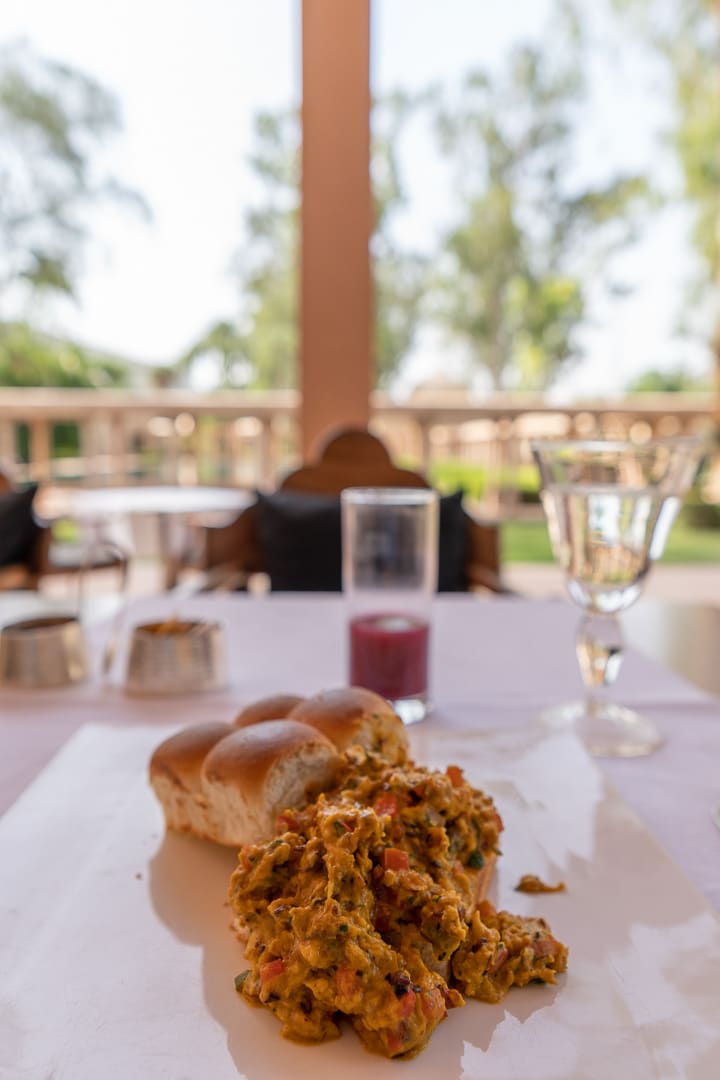 …so effusive was her praise, that the chef ended up sending the recipe to our room!
Despite a very strong selection of Indian dishes, my personal standout was the pain perdu french toast with crispy bacon. Without a shadow of a doubt, this is the single greatest French toast dish that humankind has ever known.
The balance of sweet, salty, tart and creamy was poetic in its effortless execution. Bear in mind that I'm somebody who tends to shy away from carbs in general, particularly desserts. If all French toast was this good, I'd be the fattest man in the world.
Lunch
At lunchtime, when temperatures soared above 36℃, the cool shade of the main courtyard (and its overhead fans) was most welcome.
All day dining menu
(click any page to open the menu as a gallery)
Given the heat (and the indulgent breakfasts!), we tended to keep lunch fairly light.
Bread and butter were served as soon as we sat down but the butter turned to liquid in under a minute. After the first day, we asked them not to bother bringing it out.
Since you can pretty much order whatever you want, whenever you want at Aman hotels, we ordered the crispy okra from the room service menu every day. This was a delightful combination of soft chickpeas, crunchy okra and vibrant citrus flavours.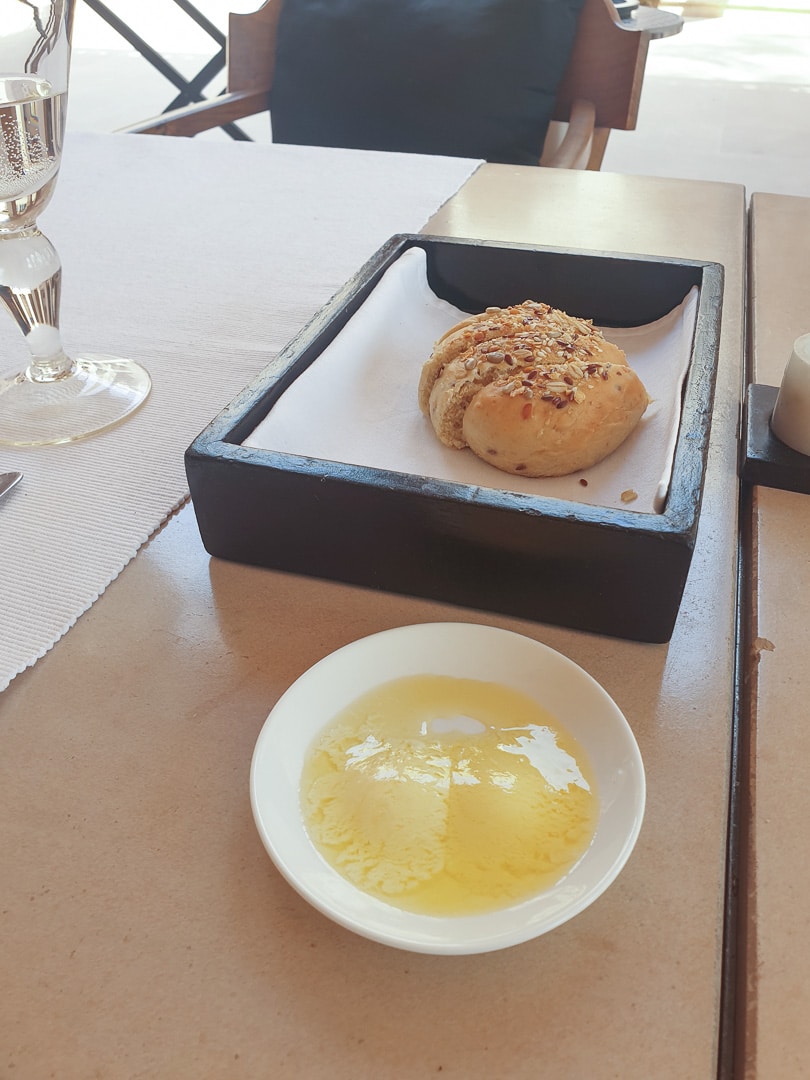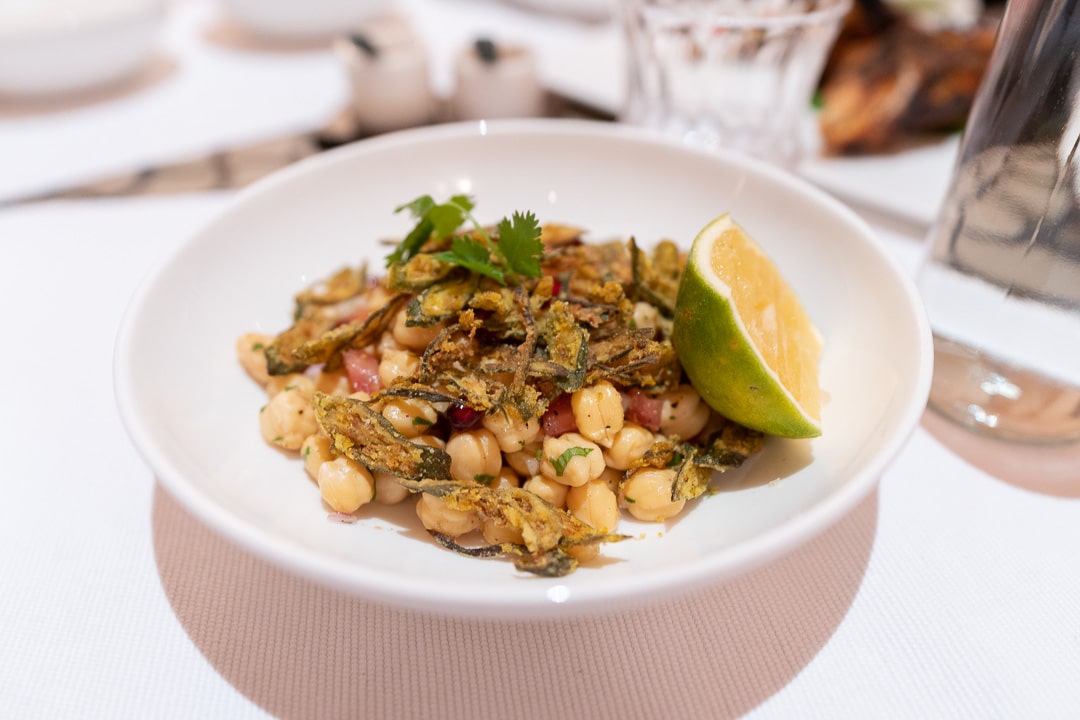 Where the okra was a bit beige, the heart of palm salad was a thing of true beauty. The plating was easily on the level of a Michelin starred kitchen and once again the ratio of ingredients was perfect.
Our favourite dish though was the truly stunning poached egg with asparagus and truffle oil. One of the best lunch dishes I've ever eaten anywhere. Alarmingly good.
The Bar
Although the property had a beautifully designed bar indoors (albeit one with unusually low chairs), guests tended to enjoy pre-dinner drinks at their tables in the courtyard. Live musical performances every evening made the bar seem a little sad in comparison.
After dinner, the bar was more appealing, although during our stay no other guests appeared to think so! Quite the contrast to the buzz that we experienced around the dining venues of Aman Sveti Stefan (which is located in a city and allows off-site visitors).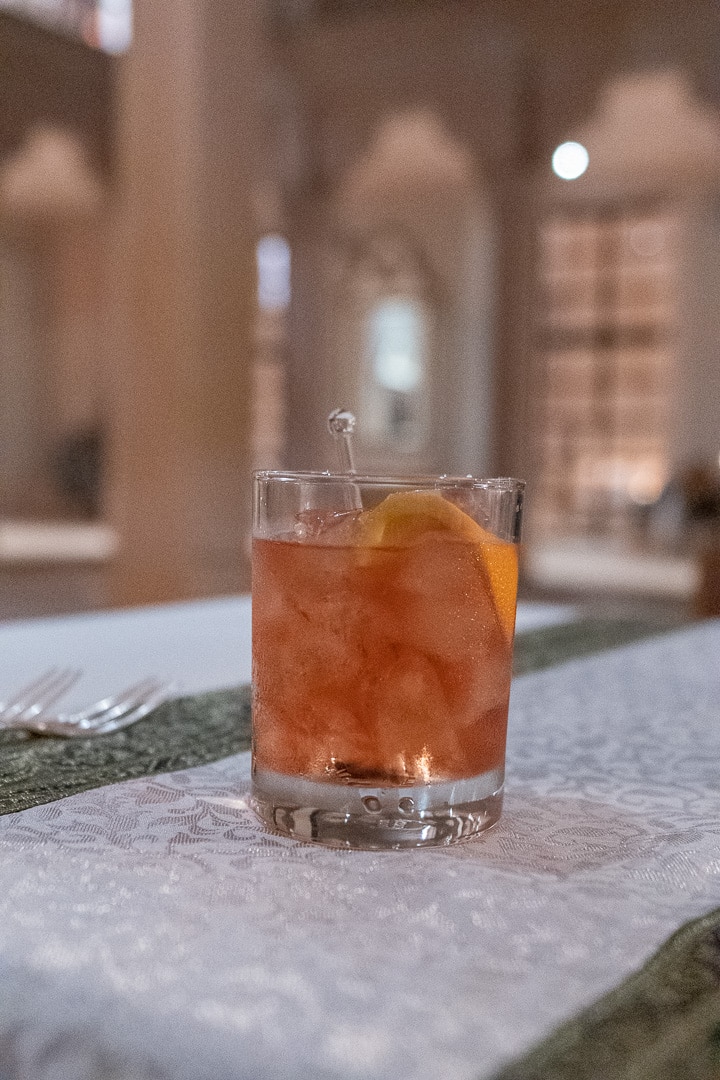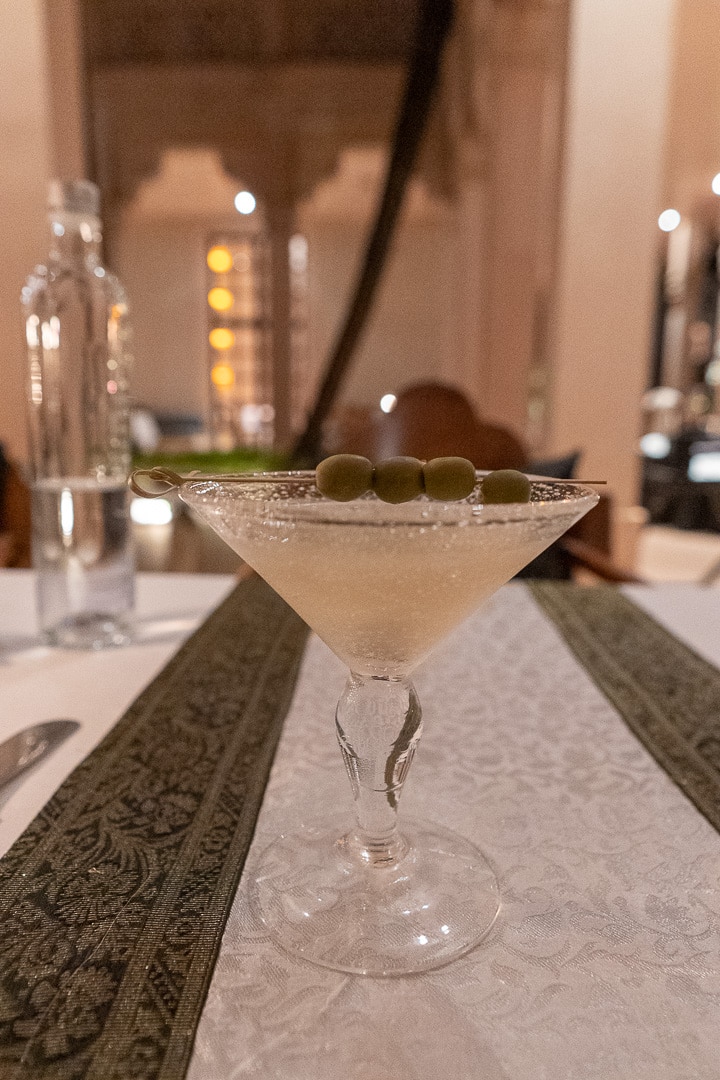 The drinks were passable but nothing special. Certainly not up to the standards of a modern, international hotel.
Honestly the only Aman that I've encountered with good cocktails is Amanoi. Sveti Stefan, Amanbagh, Amanjiwo and Amangalla all make cocktails that wouldn't have looked out of place in a 1980s bartenders' manual.
Dinner
The illuminated arches of the courtyard took on a very different feel at night, as darkness descended over Amanbagh.
Dinner Menu
(click any page to open the menu as a gallery)
The dinner menu was far more extensive than the offering at breakfast and lunch. It contained not only an a la carte section, but also several larger tasting menus.
We'd pretty much reached our fill of giant Indian meals at this stage in the trip (much to the chagrin of the staff that wanted us to partake in extravagant private dinners), so we stuck to the standard menu.
Dinner began each evening with a selection of poppadoms and chutneys, after which we were presented with the chef's daily amuse bouche. These were invariably excellent and beautifully presented.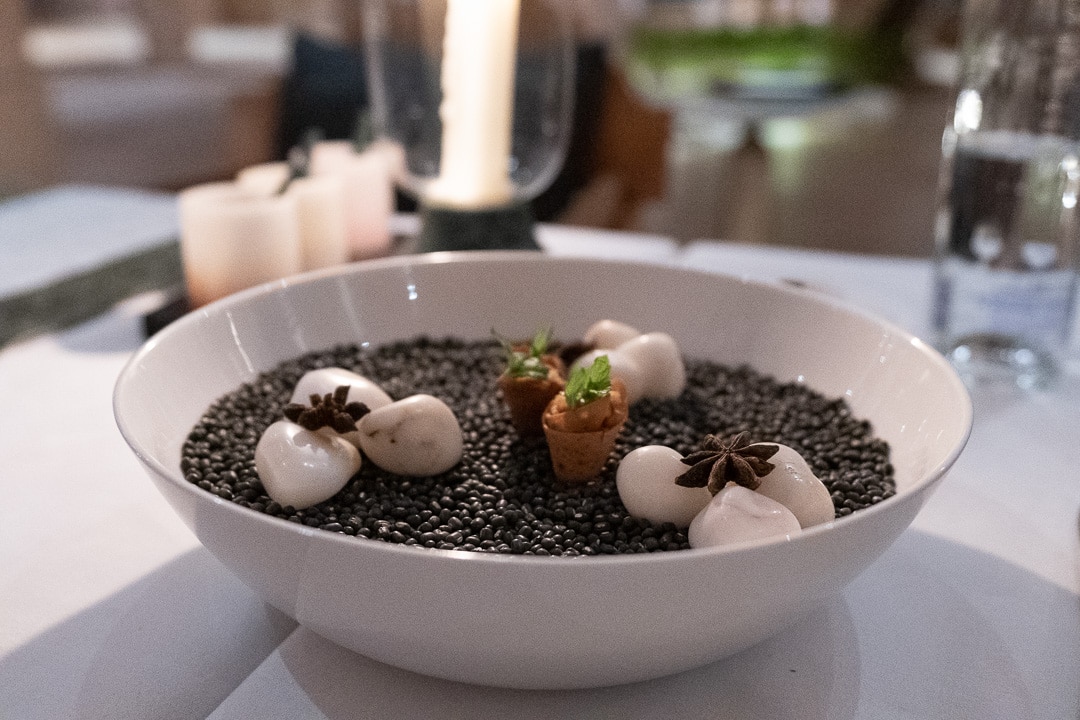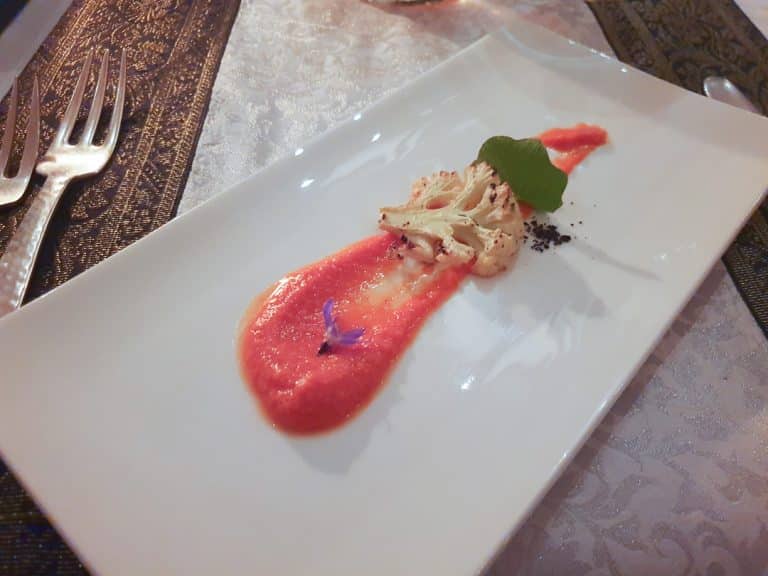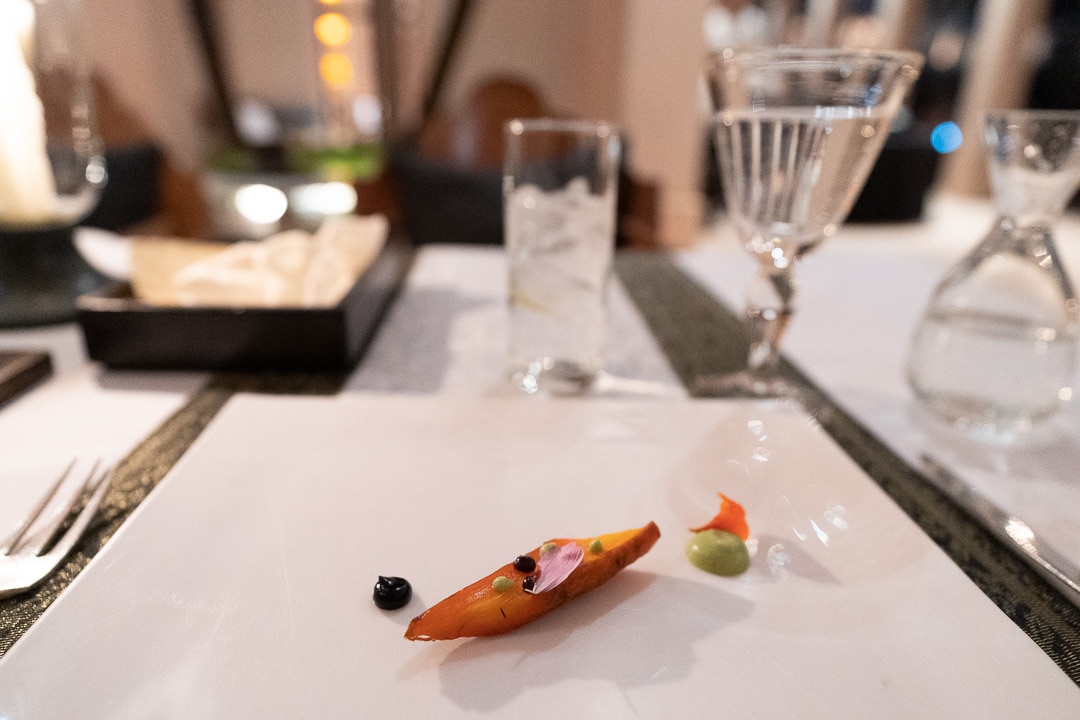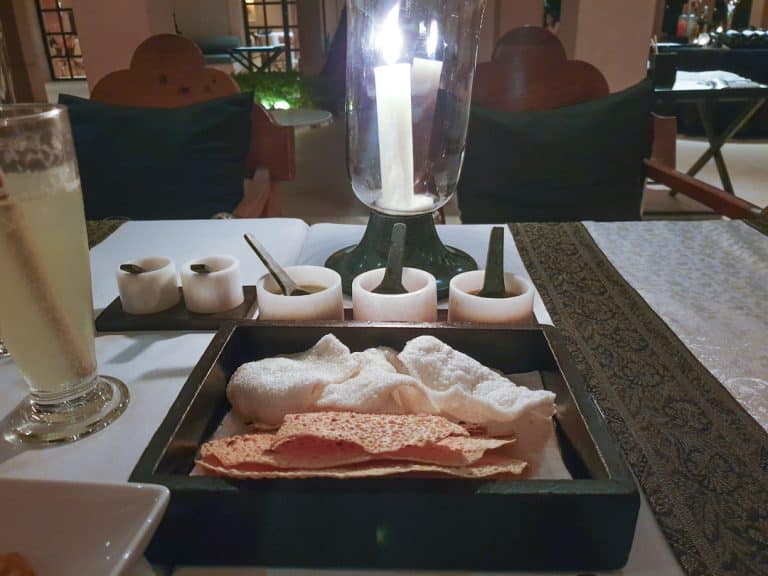 In the spirit of keeping it light, we tended to opt for either soups, scallops, or no starter at all.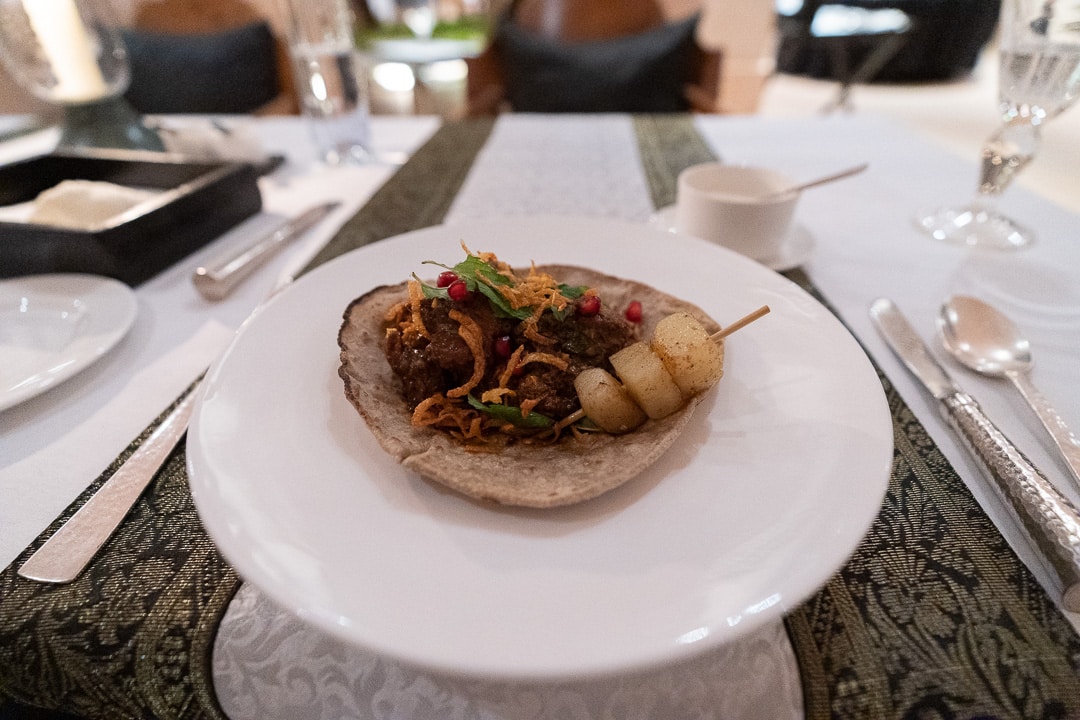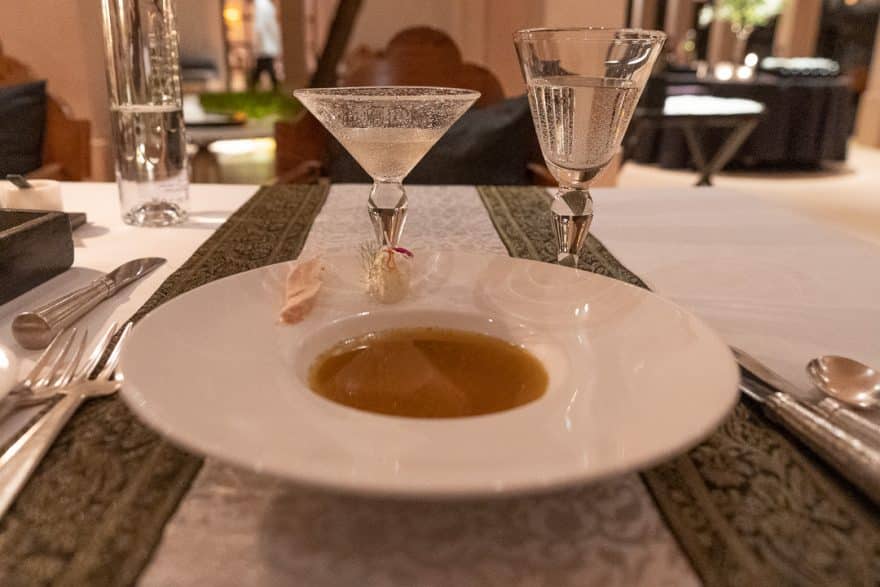 The main courses were all wonderful. Tandoori chicken, a supremely rich and buttery daal, lamb seared on a hot stone. Delicious, all of it.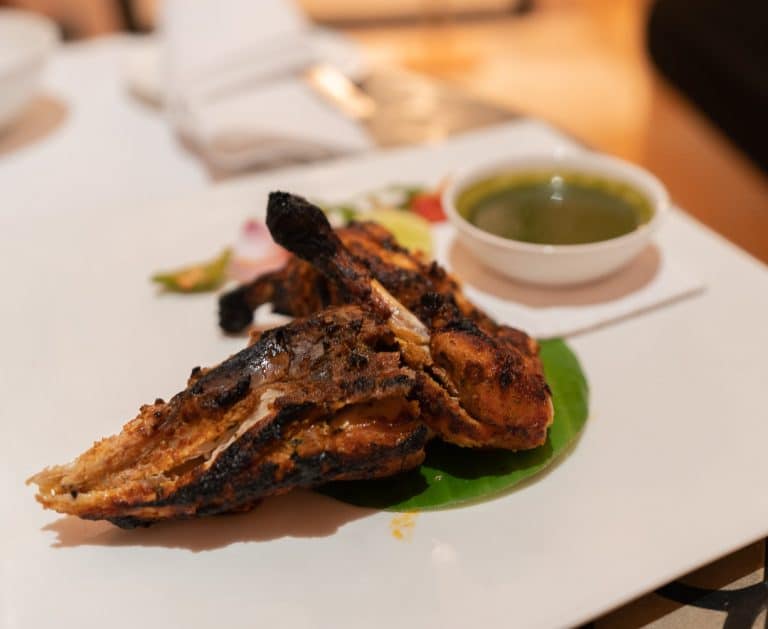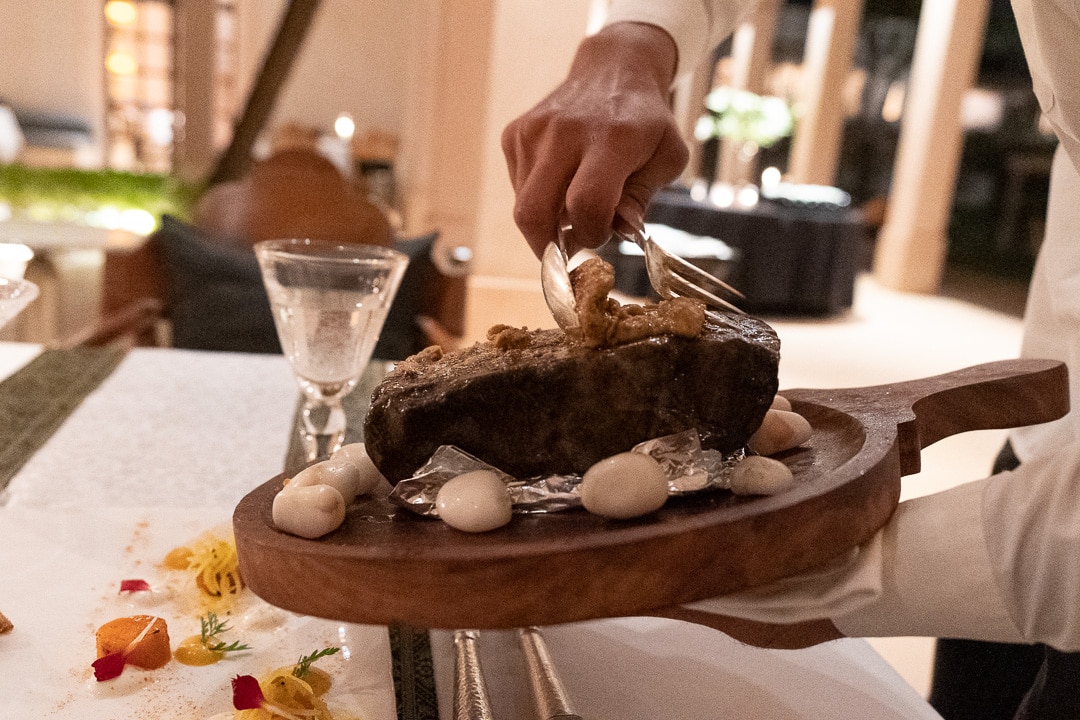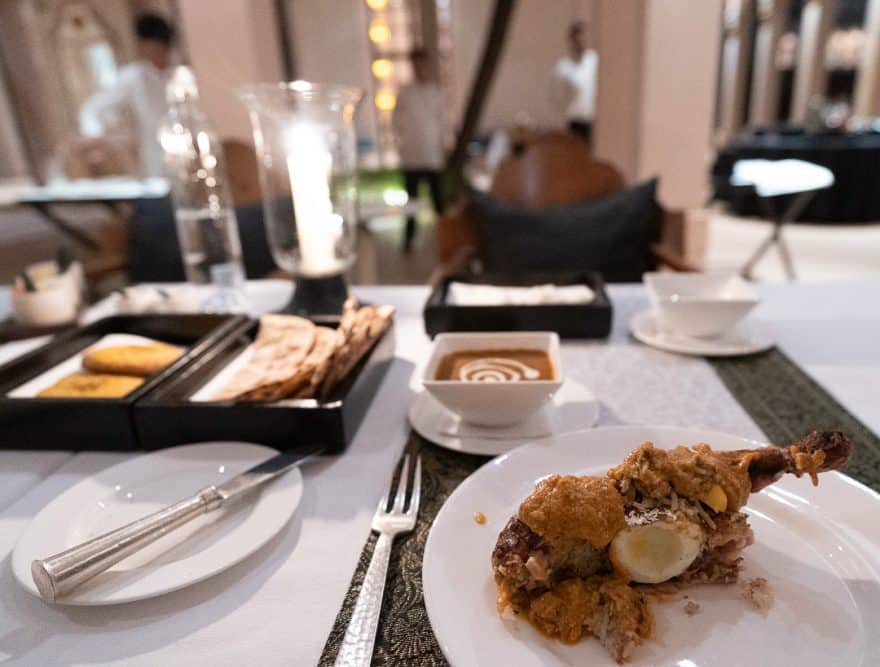 On our final night, we decided to go all out and order one of the special dishes: a whole deboned chicken, stuffed with pine nut pilaf and boiled eggs. It was amazing, but far too much food for just two of us.
My only complaint throughout these meals was that nothing was ever spicy enough for my taste. It turns out that Rajasthani food is very mild compared to that found in the rest of India. Even the large green chilies were more akin to a bell pepper in heat level!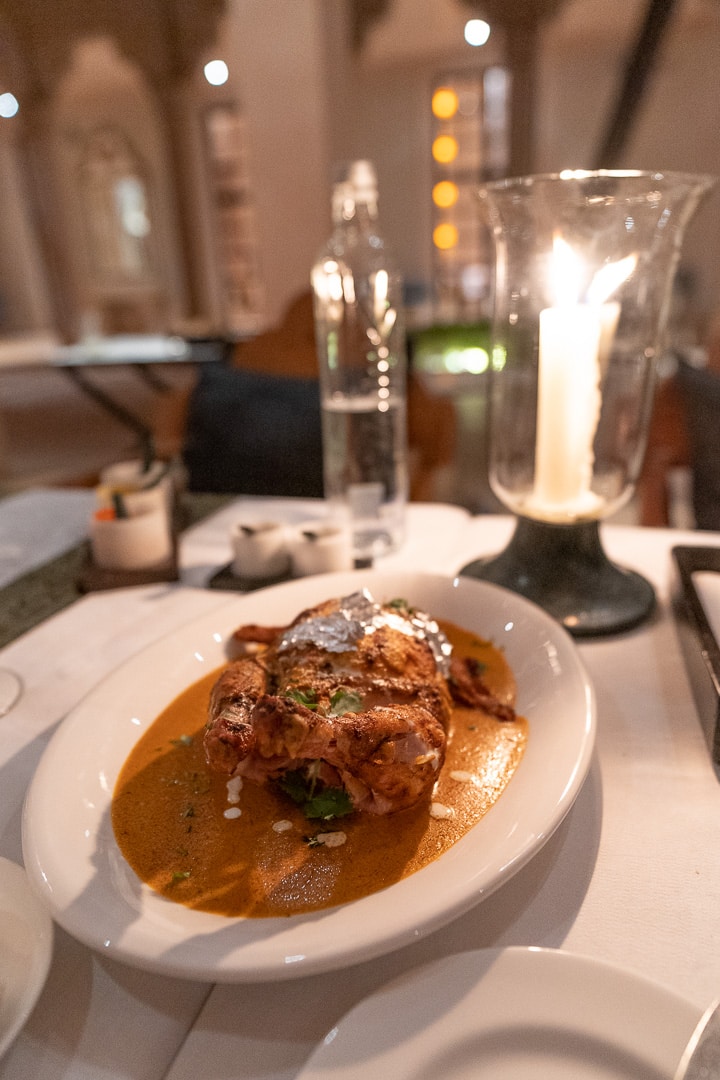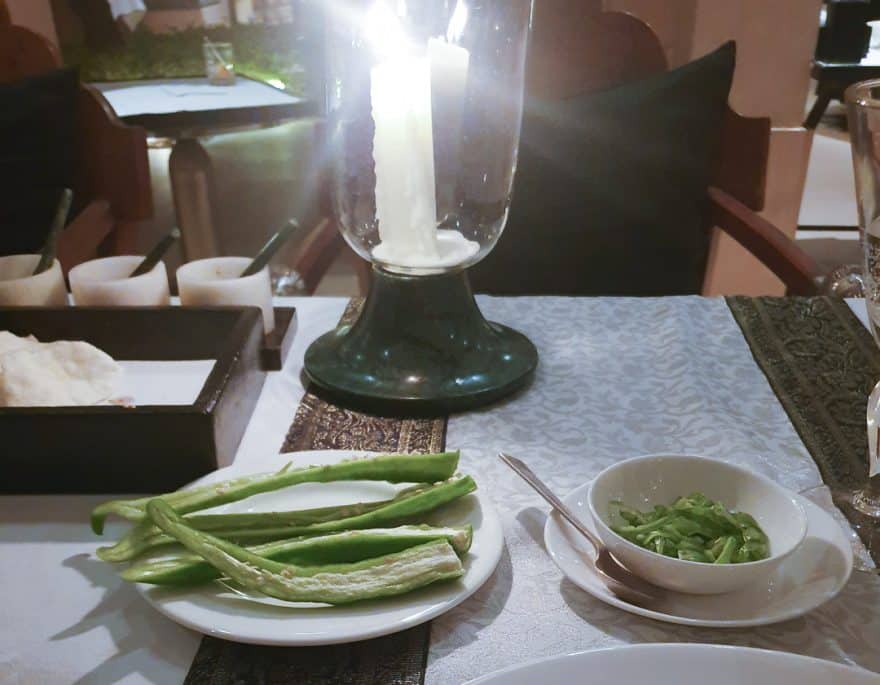 The desserts were every bit as delightful in flavour and presentation as the rest of the food.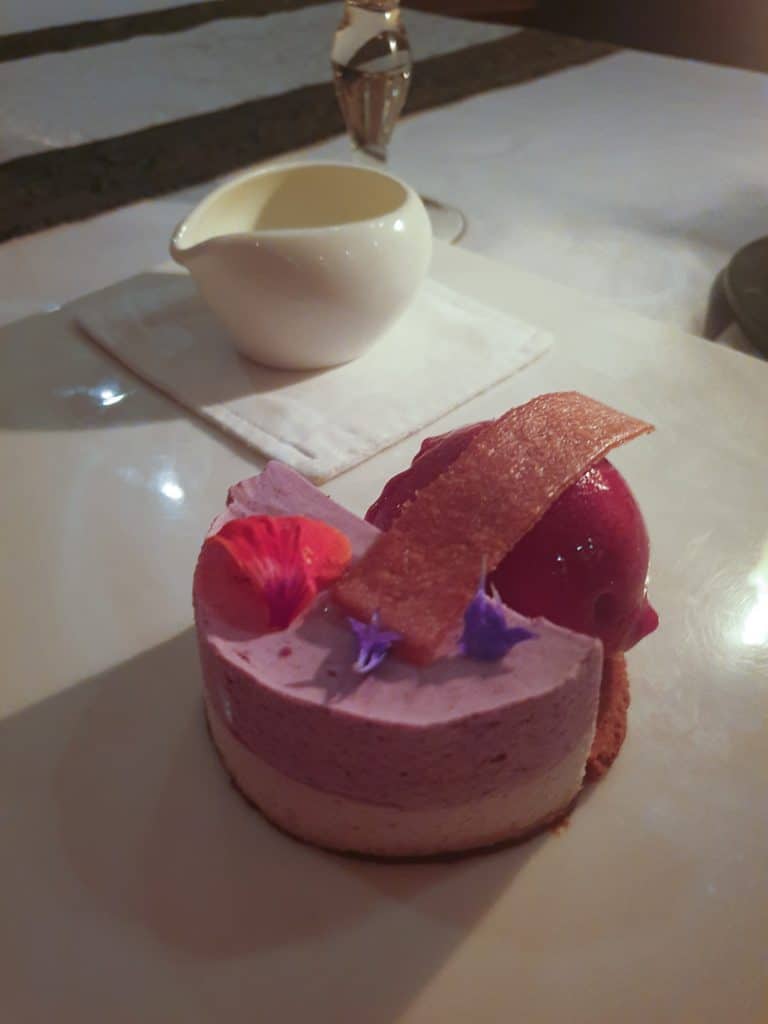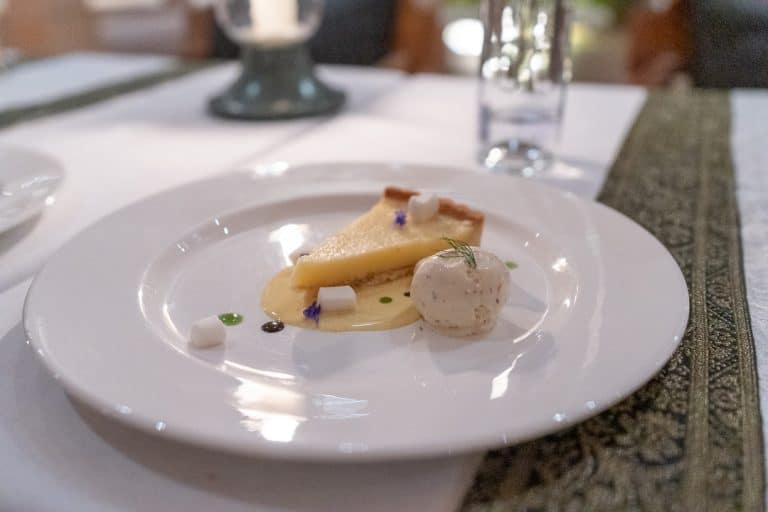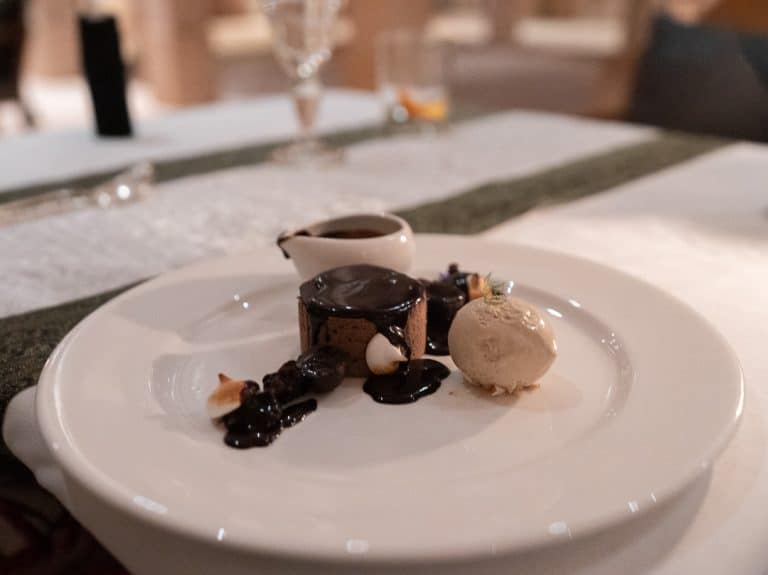 Room Service
Kamara wasn't feeling well on our first night at the property so we decided to order room service. The menu was the same all day dining menu, offered in the restaurant.
Staff were helpful in suggesting food that would be soothing to an upset stomach: rice porridge, plain chicken and a chicken consomme.
The food and service was great, although the table was quite low to eat from comfortably. I assume that the majority of guests will never order room service here though, so it isn't too much of an issue.
---
Leisure facilities
---
Library
All Aman hotels contain a library, a brand standard established early in the history of Aman by Adrian Zecha.
The Library at Amanbagh was located directly above the restaurant, overlooking the pool.
I was surprised to spot a book about Umaid Bhawan on the shelves. This enormous palace hotel was another of the properties that I was most looking forward to visiting, on our India trip.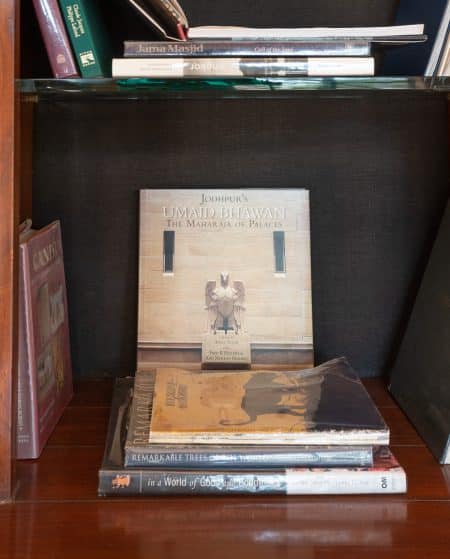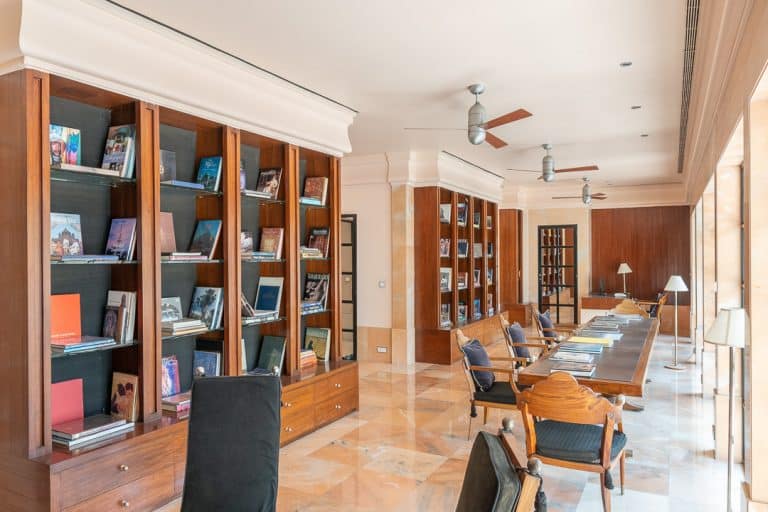 The best thing about the library though was the view on the walk up! (This is the spot where you can enjoy a private dinner for 4x the price of downstairs.)

Pool
Which brings us neatly onto the section about the resort's palatial pool.
If you've never visited an Aman hotel before, it can be hard to grasp just how tranquil and expansive the pools can be. Amanbagh is no exception.
Loungers were spaced well apart from each other and most of the time, it felt like this was our own private pool.
Our own, absolutely monumental lagoon of a pool.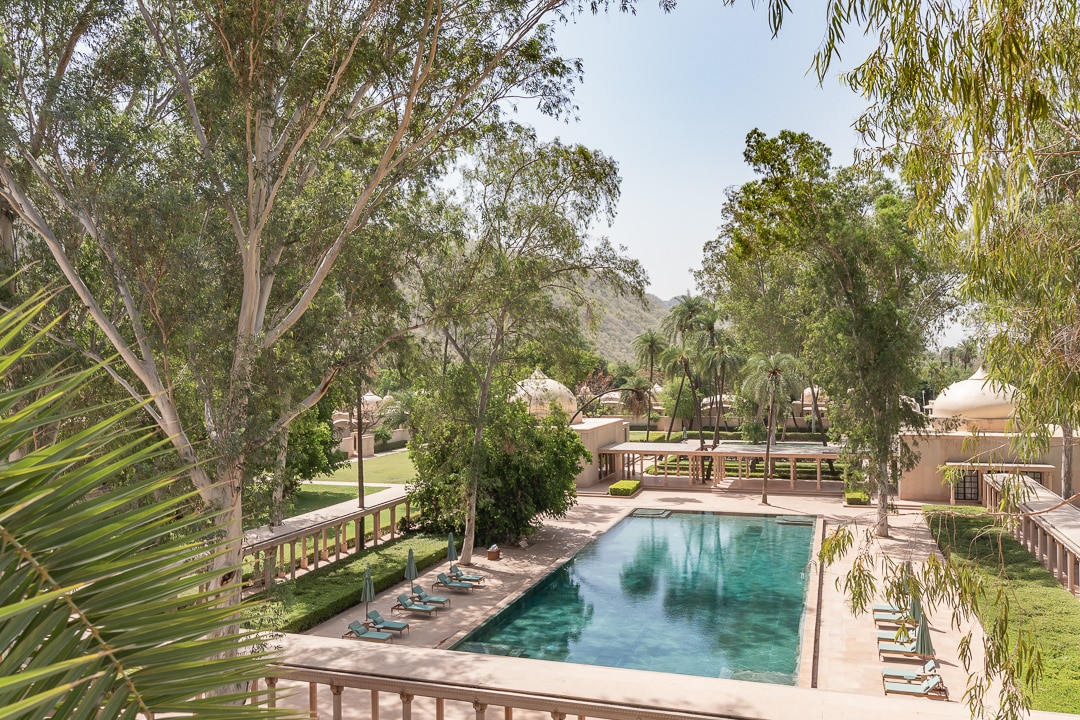 Service here was good, with loungers being set up for us as soon as we were spotted approaching. However the style was very different to Oberoi Amarvilas, where we were constantly plied with fruit and water.
The service here was attentive but reactive. If you looked in the direction of an attendant they came running over immediately, but otherwise you were left to your own devices.
Since nobody else ever seemed to use the pool, we took the opportunity to take some pictures together. It never ceases to amaze me how some properties still think that pictures like these, posted on social media, will attract more serious clients than a well written review…. but they can be fun to plan and edit.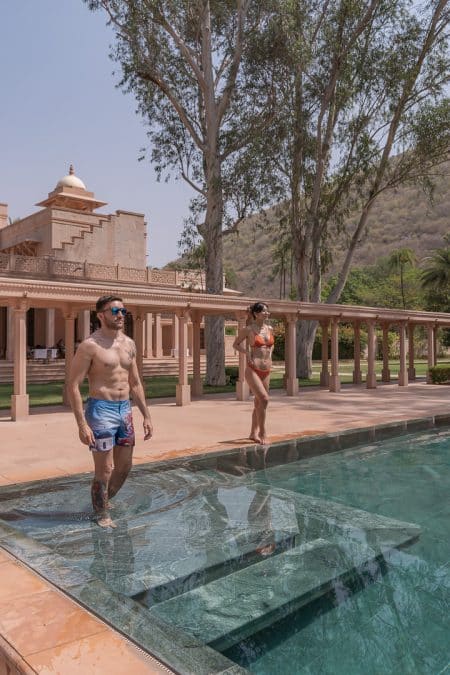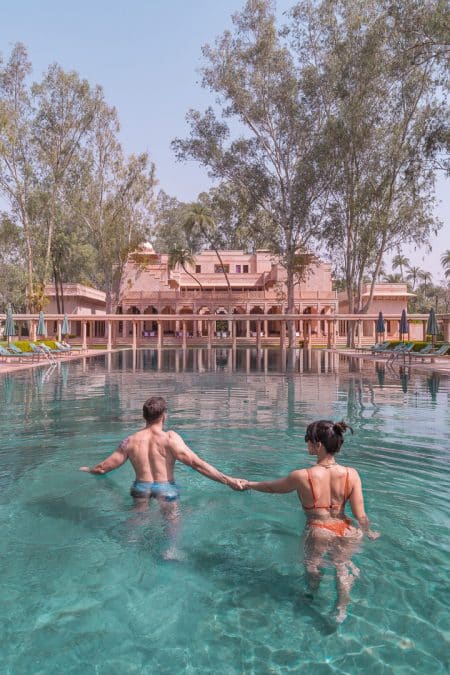 Gym
We visited the gym pavilion most days, in a bid to offset the thousands of calories of delicious food that we were consuming!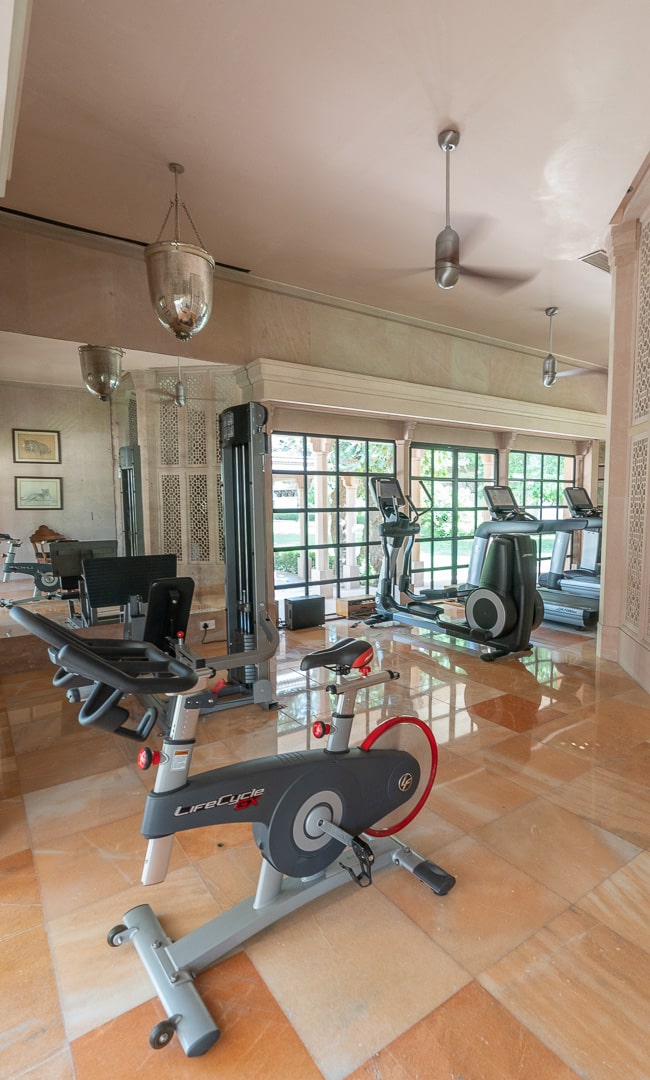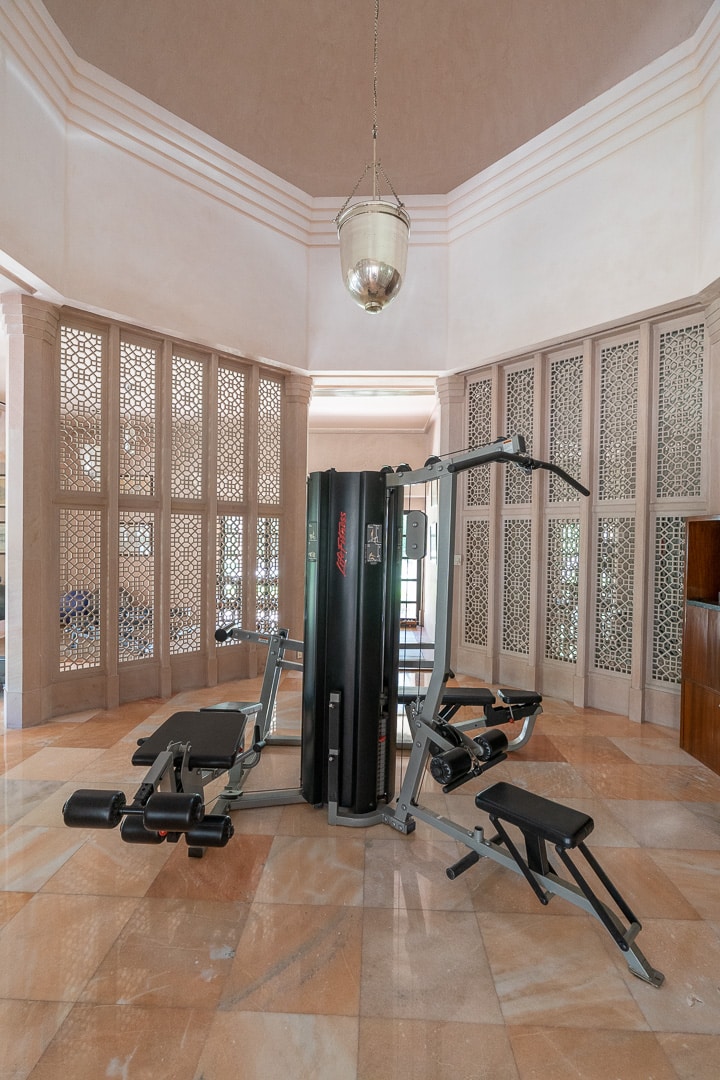 Unlike the very impressive facilities at Amanoi and Sveti Stefan, the gym here was very much an afterthought. One small multi-cable station, one leg press and a few cardio machines.
There were also a few small dumbbells going up to 20kg.
Basic equipment is something you can work around for a few days but the bigger issue here is that the A/C was woefully underpowered for a pavilion of this size.
Even a 5 minute weights session would leave you sweating profusely as the scorching sun streamed in.
Spa Pool
The gym pavilion was located at the far end of the main pool. On the other side of this was the spa pool. The spa pool was a little unloved and didn't seem to be cleaned of leaves as frequently as the main pool. There also appeared to be no poolside service there.
During our stay, a large family group basically annexed the spa pool and left the main pool to us…an arrangement which suited us perfectly!
We didn't have any spa treatments ourselves but did inadvertently walk past some treatment rooms. Bizarrely, the spa consists of converted Courtyard Haveli suites with massage beds placed in the middle of them. Personally, I had been expecting something more grand, akin to the spectacular spa at Four Seasons Tunis.
---
Activities
---
Cow Dust Tour
The Cow Dust Tour is one of the signature activities at Amanbagh and is priced at 6,000 INR ++ per couple (roughly $100).
We were really interested to see what this would be like, since it purported to give guests an inside look into daily life in the rural communities in the immediate proximity of Amanbagh. It is the kind of tour for which Aman is well known. Providing guests exclusive access to otherwise unusual or unique experiences.
We were driven around the local area in a private 4×4 by an Aman guide, just as the temperature was beginning to cool, in the late afternoon.
It was amazing to see how the landscape opened up once we got away from the hills and foliage immediately surrounding the resort.
We never saw much wildlife in the hotel grounds, but within minutes of leaving we saw this large troop of langur monkeys.
It was also interesting to see smaller 'everyday' temples, in contrast to the grand monuments which most itineraries in India understandably focus on.
At the end of the tour we were even taken inside to observe a ritual, which rather inventively used a drumming machine, to save the priests from praying the old fashioned way!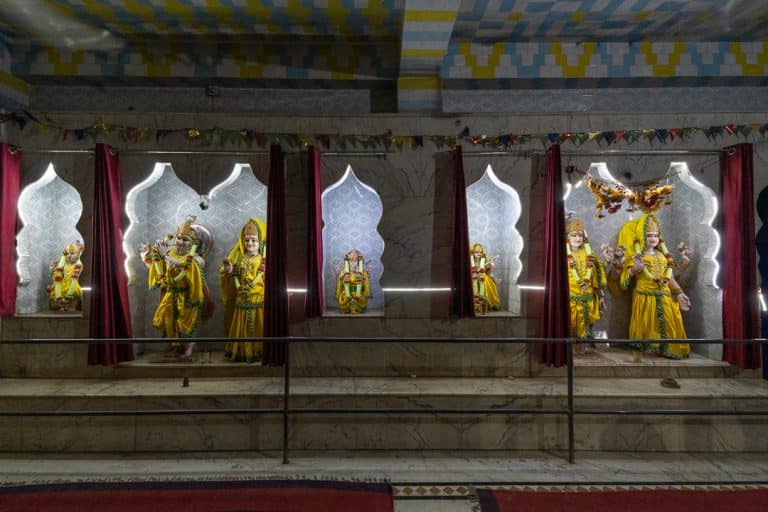 On our way to a nearby village we passed some beautiful chhatris…
…and acquired a few 'hop-ons' along the way.
Once inside the village, we stopped at a few different houses to chat with locals and take pictures.
Towards the end, we stopped to enter a couple of different homes and drink tea. The homes had been prepared by Aman in advance, so we were given special cups to drink from, whilst our Aman guide provided ice cold towels.
I get why Aman does this, but it felt a little weird having this extra level of fuss made for us. It certainly felt like it created a barrier between us and the people we were talking to. Equally though, I can see how some guests would complain if the Aman touch wasn't added to this kind of experience.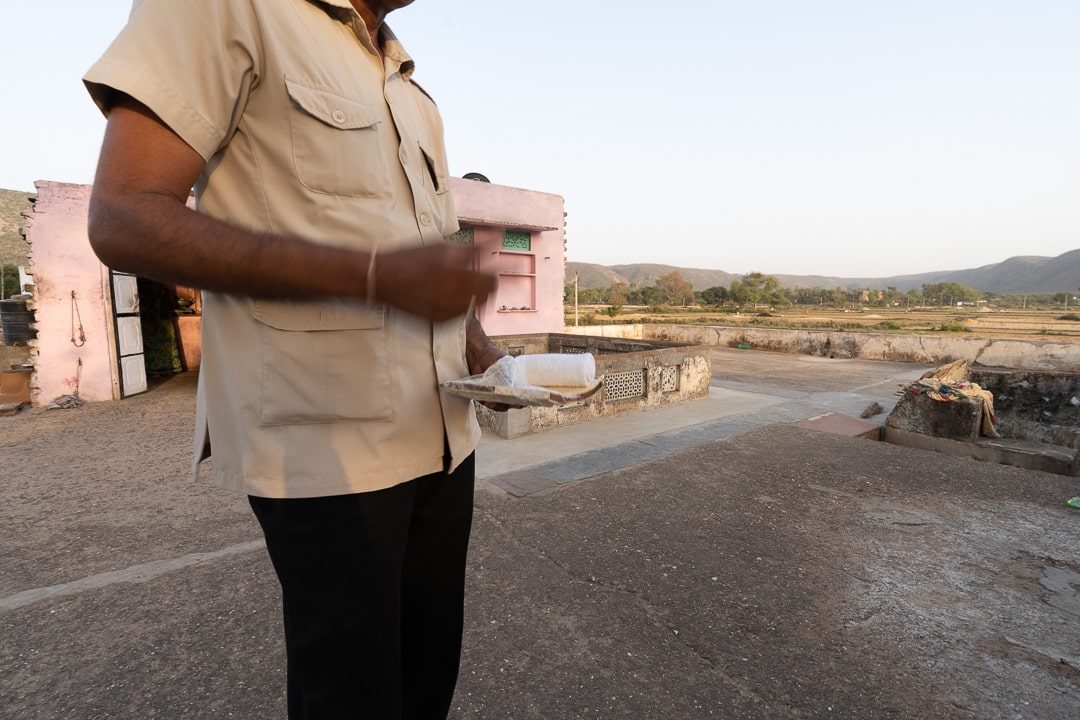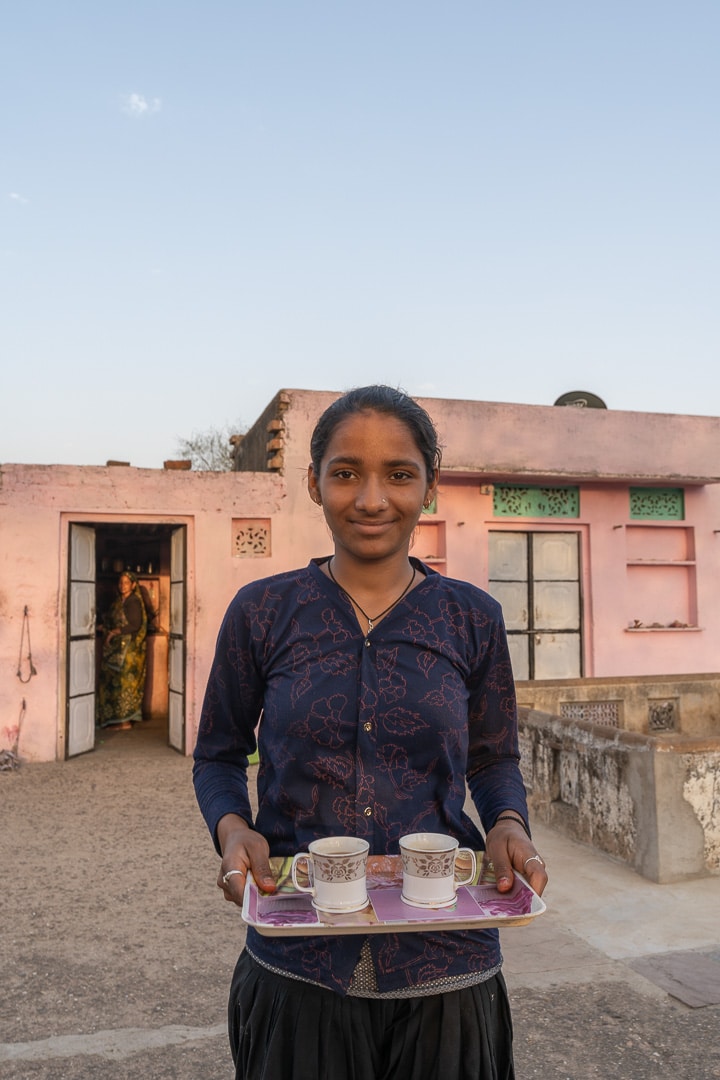 The last house we visited was super interesting. We had the chance to speak with a young bride who had recently moved in with her new family. Her room was covered in posters, as you'd expect from a teenager, and she was most proud to show us her A/C unit, which had formed part of her family's dowry payment to the groom.
Sariska Tiger Reserve
Amanbagh offers a tour to the reserve for around $350 per couple. This involves driving all the way to the reserve (over an hour away) in the same 4×4 that will take you on the trails.
We opted instead to make use of our driver, who drove us to the reserve in a comfortable, air conditioned car. We met with a local ranger at the gate of the reserve and he drove us around for two hours or so, in his 4×4. The price for this was 8,000 INR in cash (around $110).
If you've ever had the good fortune to go on safari in South Africa or Zimbabwe…this was rather different. The scenery was beautiful:
However, where an African safari can involve sightings of any number of incredible predators, a visit to Sariska Tiger Reserve is either made or broken by a chance encounter with a very elusive tiger.
We were not so fortunate on our visit.
We saw deer:
We saw peacocks:
We saw lots of monkeys: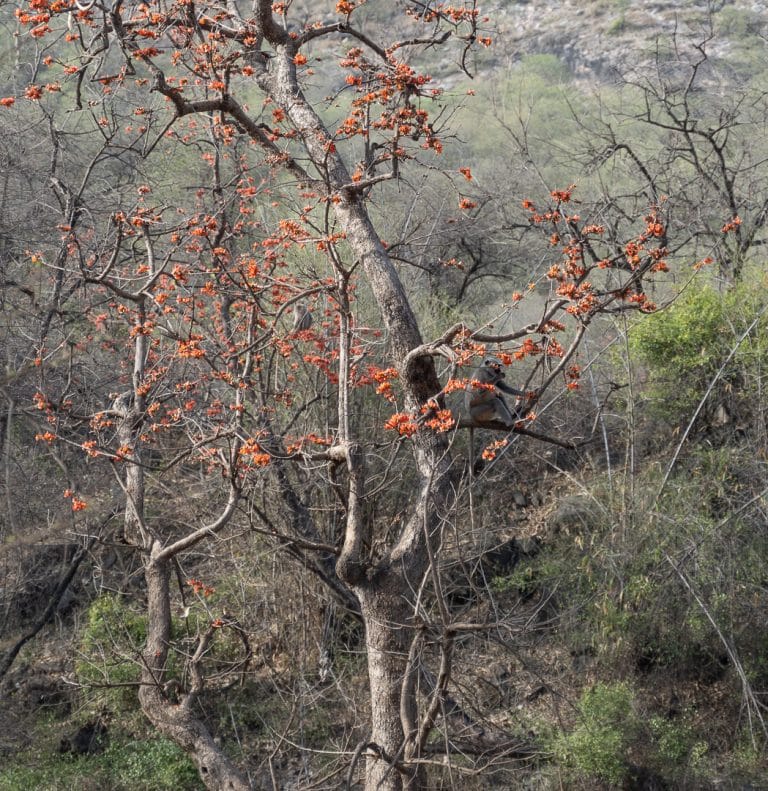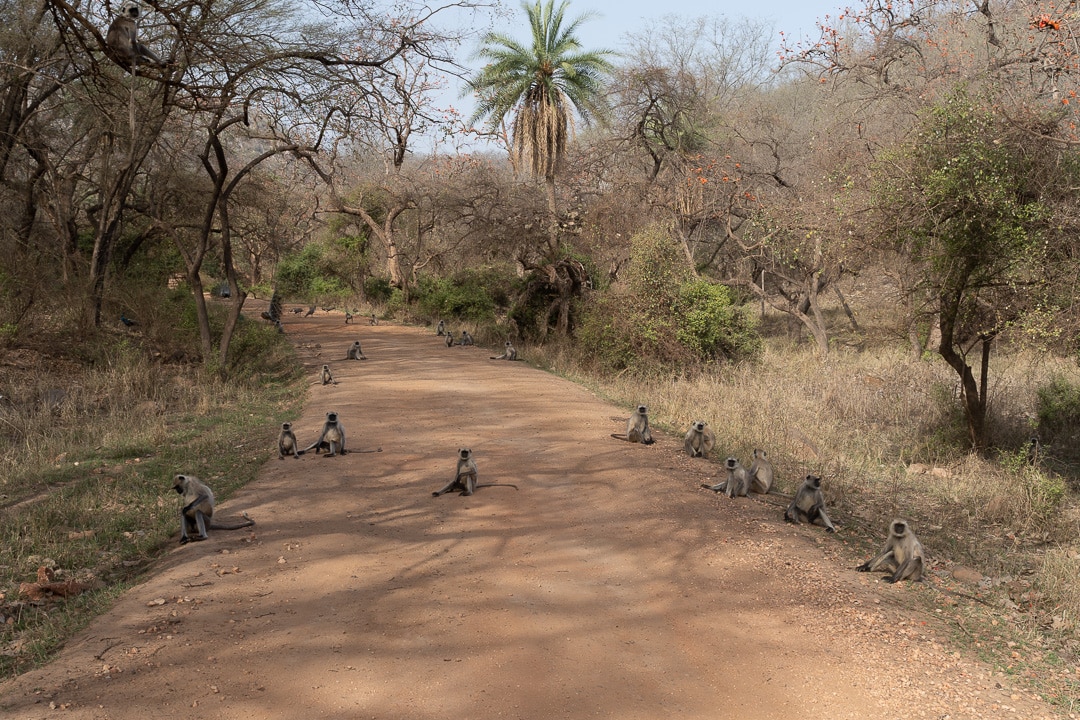 We even saw a few cool looking birds: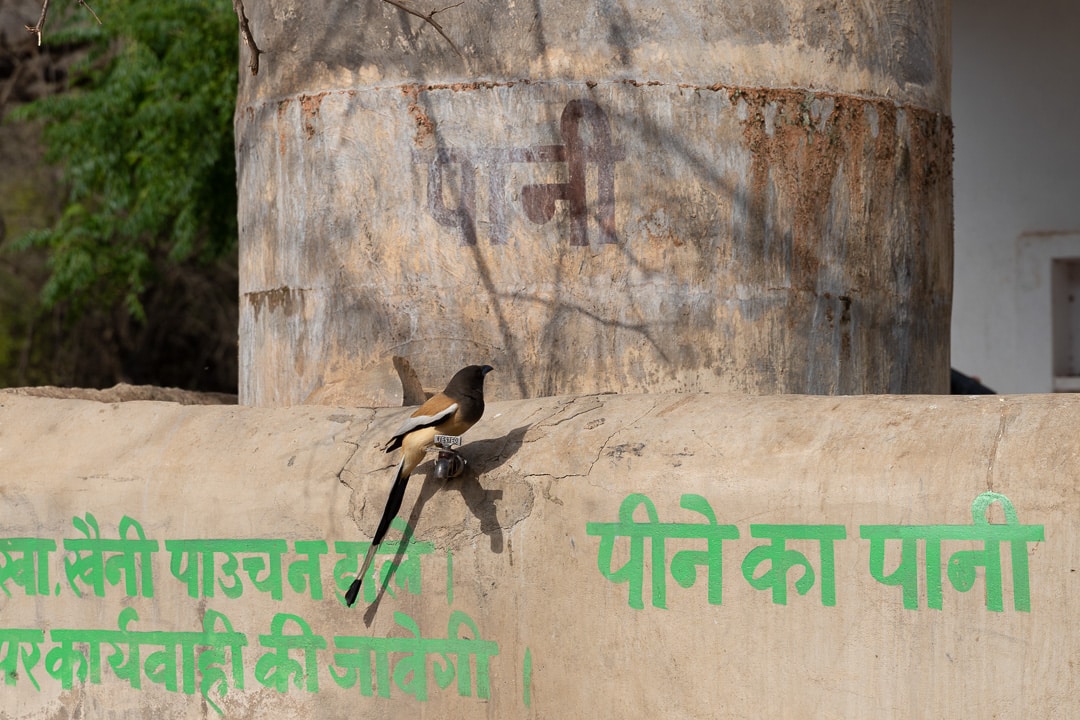 We did not, however, see any tigers. I guess we'll have to try again next time we're in India.
Bhangarh Fort Visit
Bhangarh Fort is an incredibly impressive site of historical significance, located very close to Amanbagh. It is not just a fort but really more of a walled city, containing various different temples and monuments within its walls. It is also apparently…haunted.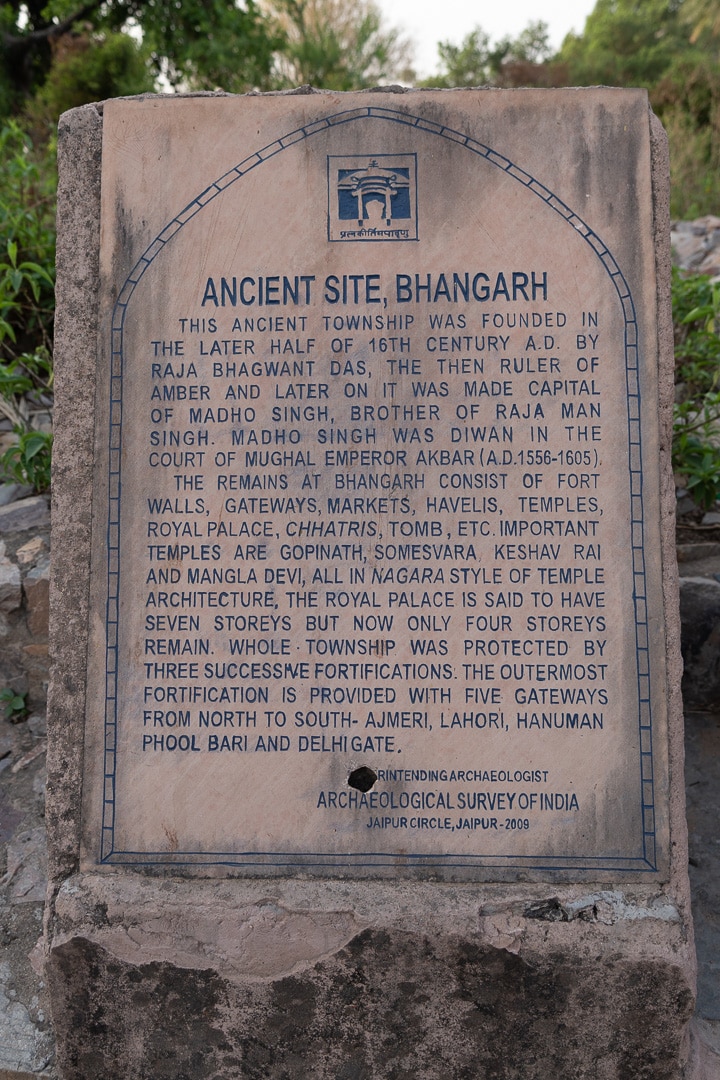 Visiting here reminded me of exploring the outlying temples beyond Siem Reap in Cambodia. There was a real sense that we had the place to ourselves, such a different feeling to braving the crowds at the Taj Mahal (or Angkor Wat).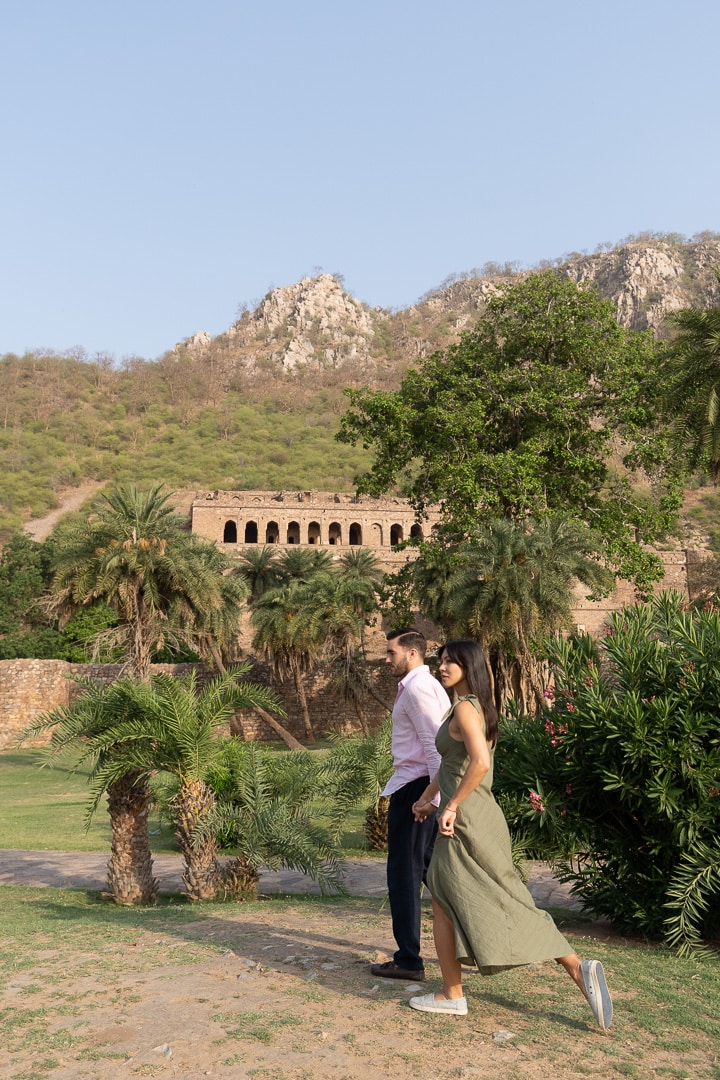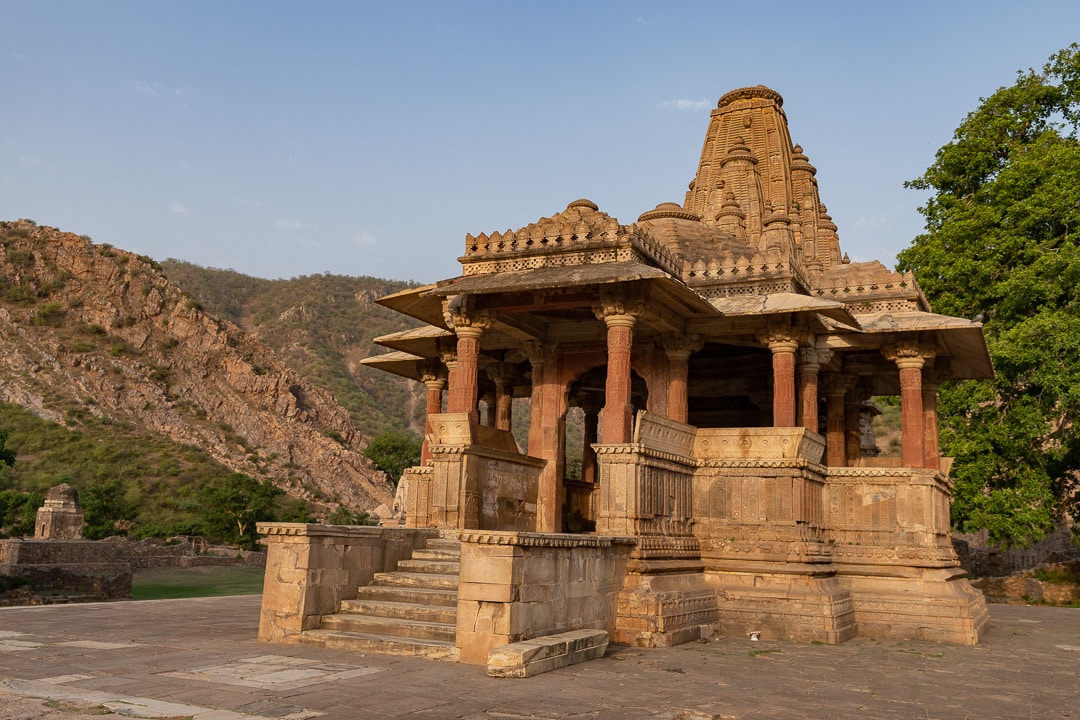 We passed some unique sites on the way too, including the world's coolest looking bull: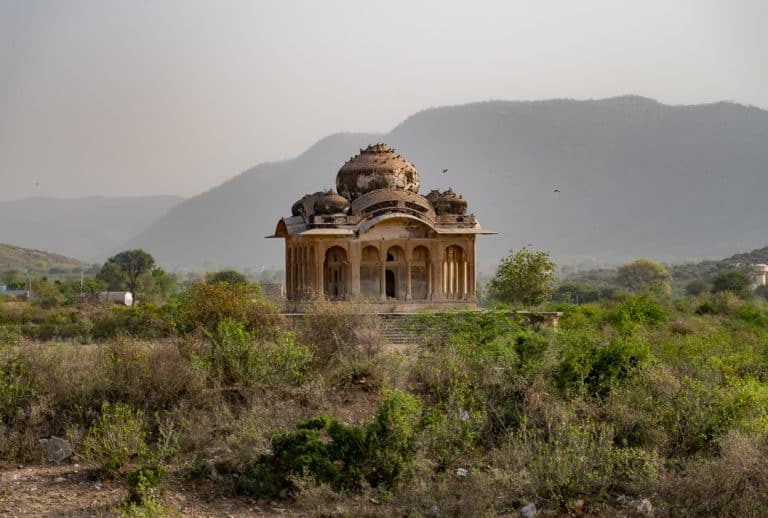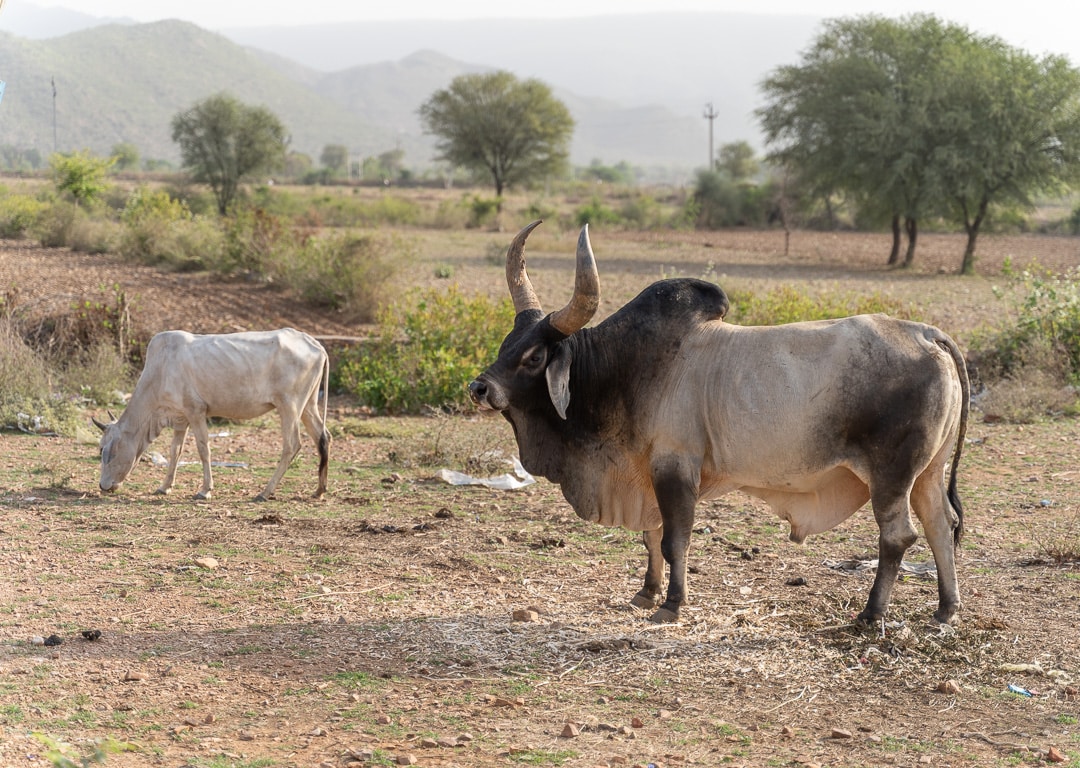 ---
Conclusion
---
Basics Checklist
X Power sockets near the bed
☑︎ Easy to understand light switches
X Coffee machine
☑︎ Separate shower and bath
X Blackout blinds
☑︎ Stable, fast and free Wifi
☑︎ Feather pillows
X Quiet and powerful aircon
What a mixed bag this stay was. Undoubtedly, our least favourite hotel of our trip to India.
The hardware was incredibly impressive in places: an enormous lagoon pool, surrounded by a pink sandstone colonnade; jade bathtubs in every room. In other respects, it was sorely lacking though: doors that didn't seal, malfunctioning A/C, no coffee machine in the room, no power sockets by the bed.
All too often, it felt like we had to look for workarounds to 'make do'. When you're paying Aman prices, these aren't charming quirks, they're unacceptable failures.
Conversely, the food was fantastic. Truly at the level of a top restaurant in a major metropolitan centre, like London or New York.
For me, the enduring memory will always be of the relentless sales pitch though. Almost every staff member used a conversation about how our day was going, to try and sell us another paid experience. Even when we made it clear that we were happy to just relax by the pool and enjoy a couple of local trips using our personal driver, the staff persisted.
To me, this is the opposite of hospitality. Instead of feeling welcome, we felt constantly on edge. After a while it just became exhausting.
The GM was not at the property when we visited and perhaps this is what led her team into a relentless sales frenzy, so they could impress the boss on her return. Honestly, I'm not certain.
I've heard it said that many Aman properties are overly reliant on their GMs and that their physical presence (or lack thereof) is felt more than at other chains.
Given the tremendous number of truly fantastic luxury properties in India, many of which are priced far more keenly than Amabagh, this is a property that I struggle to recommend. A real shame, as our Aman experiences up to this point had been genuinely fantastic – a true category above visits to any 'regular' hotels.
---
Book Amanbagh with Virtuoso benefits
---
Virtuoso Booking
An example of the Virtuoso benefits which may be available on your stay:
Upgrade of one category, based on availability at time of check-in.
Full breakfast for up to two in-room guests.
Complimentary lunch for 2 people, excluding alcohol and gratuities.
Early check-in/late check-out, subject to availability.
Amanbagh can be booked directly online by clicking the "BOOK NOW" image.
Multi property itineraries can yield significant discounts and can be priced manually by emailing us below: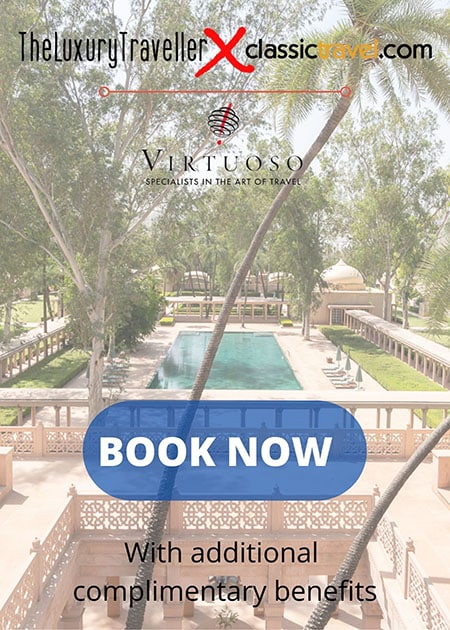 ---
Visiting the Best Luxury Hotels in India
Part 1:

Part 2:

Part 3:

Amanbagh : Garden Haveli Suite

Part 4:

Alila Fort Bishangarh, Jaipur : Grand Suite

Part 5:

Umaid Bhawan, Jodhpur : Historical Suite

Part 6:

Oberoi Udaivilas, Udaipur : Luxury Suite

Part 7:

Leela Palace, Udaipur : The Royal Suite