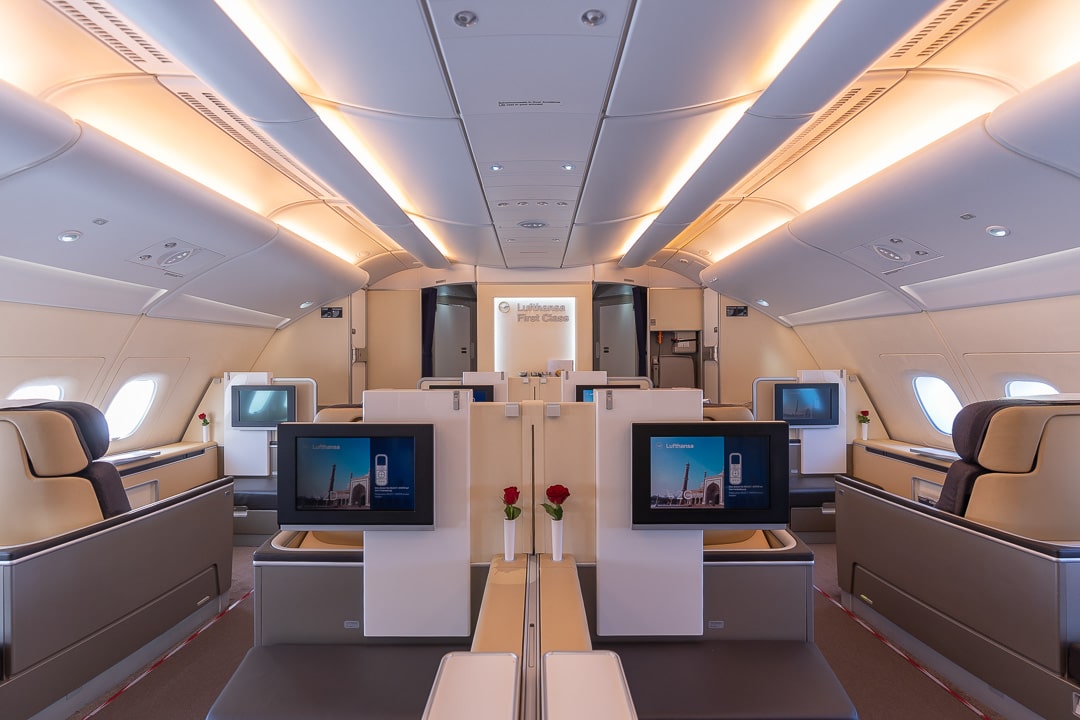 REVIEW – Lufthansa : First Class – A380 – Frankfurt (FRA) to Delhi (DEL)
October 21, 2021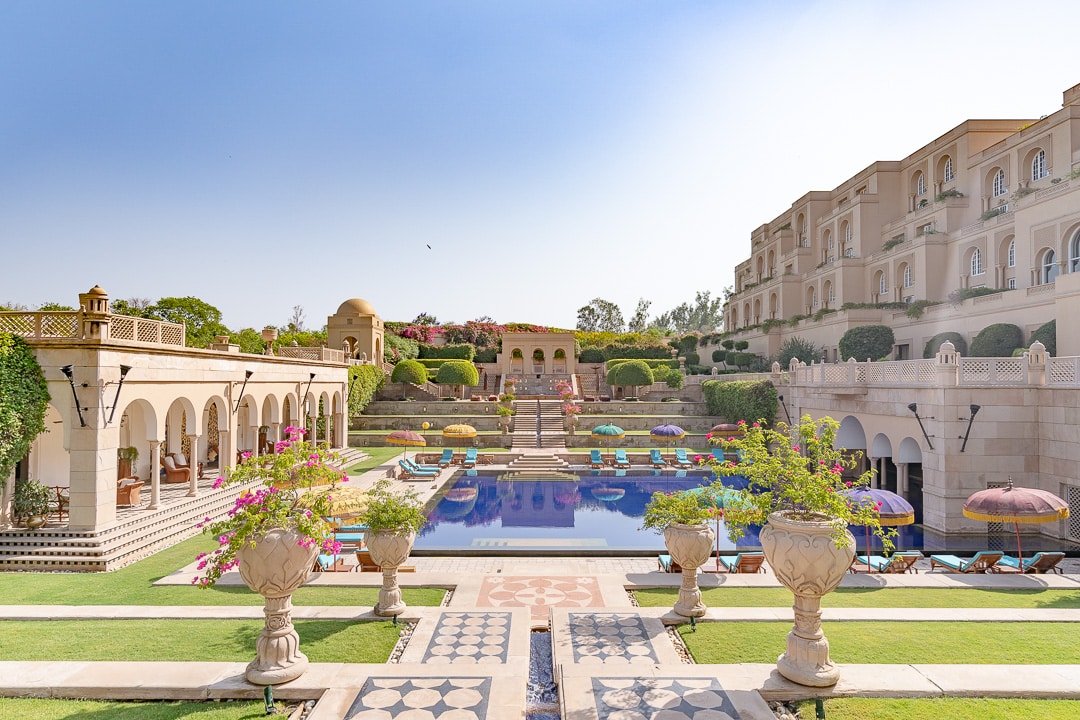 REVIEW – Oberoi Amarvilas (Taj Mahal)
November 6, 2021
Oberoi
Location: New Delhi, India
Rate: 19,000INR + tax per night
Room Type: Premier Plus Room
Loyalty Program: Oberoi One
---
Intro
---
I did a lot of research prior to this trip and one name kept coming up time and time again: Oberoi hotels.
This is a chain synonymous with Indian luxury, with some very highly regarded resorts dotted around the country. However, in Delhi, the Lodhi had always appealed more, as a result of some rooms having private pools and the fact that the property was formerly part of the Aman chain.
However, local friends informed me that the Lodhi lacked character and that the hub of the Delhi social scene was to be found at the newly remodelled Oberoi.
I figured that in a city environment, I'd prefer a buzzing local favourite over a quiet, resort style hotel (of which we'd see plenty elsewhere in India).
What clinched the deal for me was that I booked a multi city itinerary with Oberoi, and in selecting the Oberoi in Delhi, it significantly reduced the cost of my stays in more expensive Oberoi properties elsewhere in India.
---
Booking
---
I booked this via the Virtuoso booking program. Virtuoso bookings always match the best rate on the Oberoi website but ALSO extras such as:
• Upgrade of one category based on availability at time of check-in.
• Full breakfast for up to two in-room guests.
• Complimentary lunch for 2 people, excluding alcohol and gratuities.
• Early check-in/late check-out, subject to availability.
You can book a Virtuoso rate here (and at many other Oberoi properties) by using the online travel portal here.
If you are planning an itinerary across multiple Oberoi properties, you can leverage some substantial further discounts and benefits.
EMAIL FOR OBEROI MULTI PROPERTY ENQUIRIES
---
Arrival
---
A perk of booking a Premier Plus Room is that complimentary, return airport transfers are included.
Either way, I would always recommend using the hotel car service when arriving in a new country, especially one as renowned for its chaotic driving as India!
At the airport, we were greeted by a very courteous and smartly dressed Oberoi employee. He was extremely helpful in helping us to find an ATM and even hot spotted our phones so that we would have access to data within the airport.
The vehicle was very spacious and comfortable, with water, wifi and newspapers provided.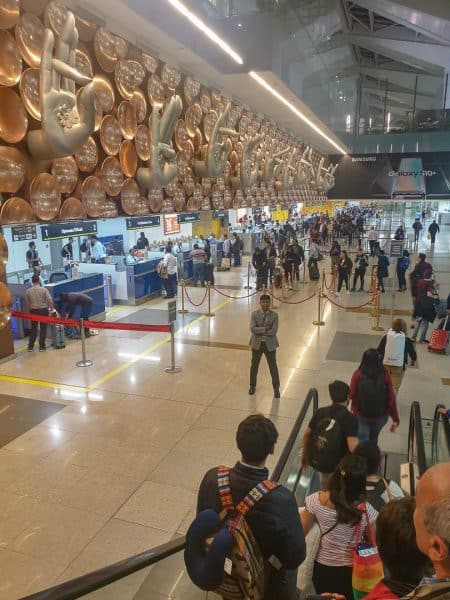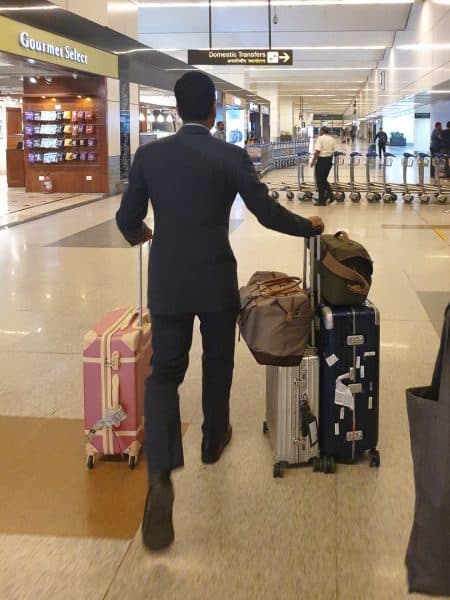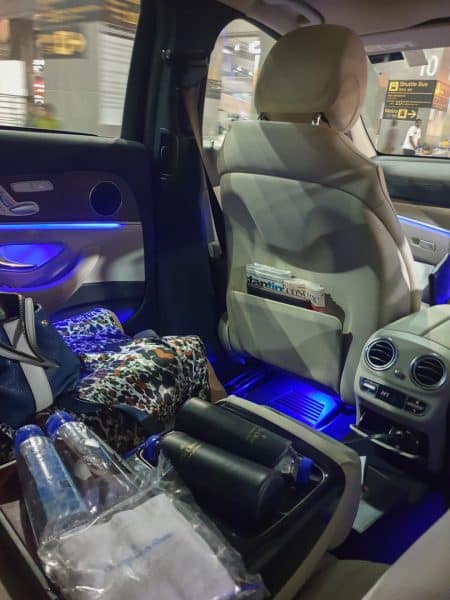 As first impressions go, this was truly excellent. The level of polish and professionalism was notable.
Despite a rather late arrival (thanks to the delay of our flight on Lufthansa First Class), we were met by the deputy GM upon arrival, who warmly welcomed us to the property as staff draped flowers around our necks.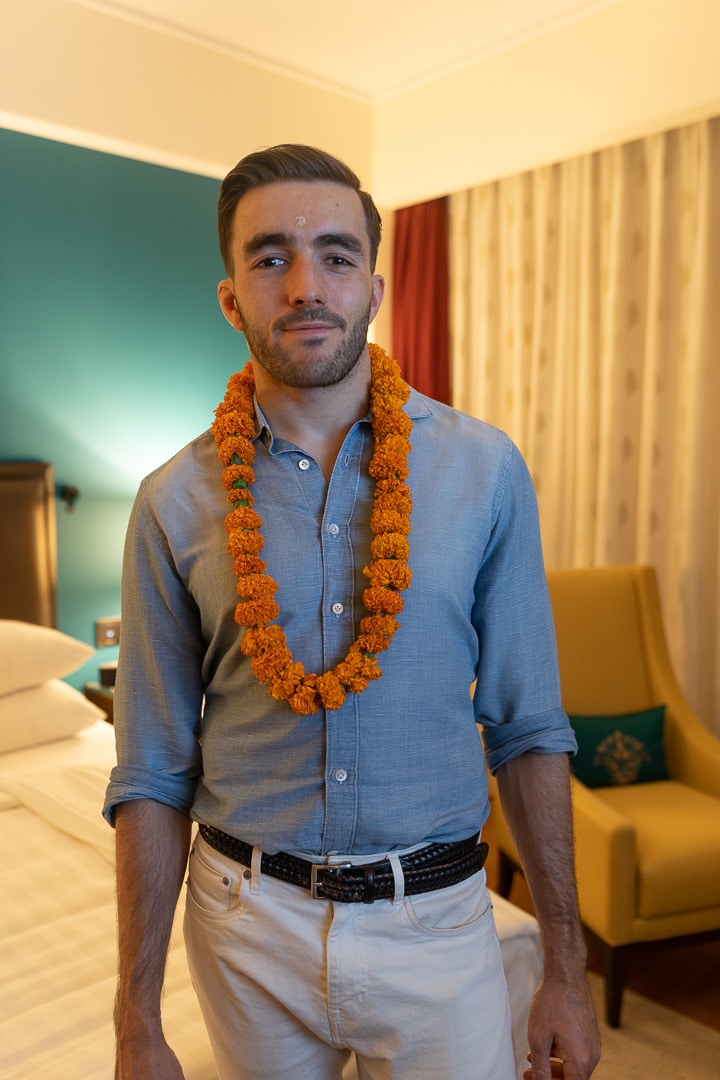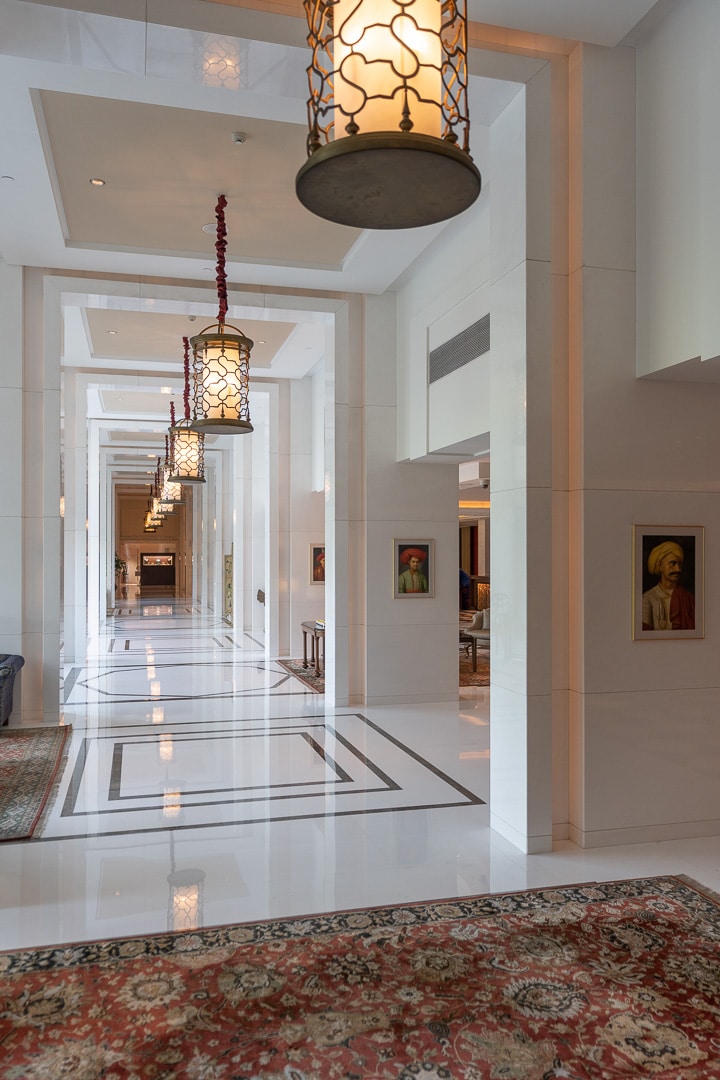 This is the kind of arrival ceremony you'd expect at a relaxed resort location, but it immediately set the tone for a property that aims to be so much more than just a business hotel.
The hotel building has been around since the 1960s and isn't much to look at from the outside: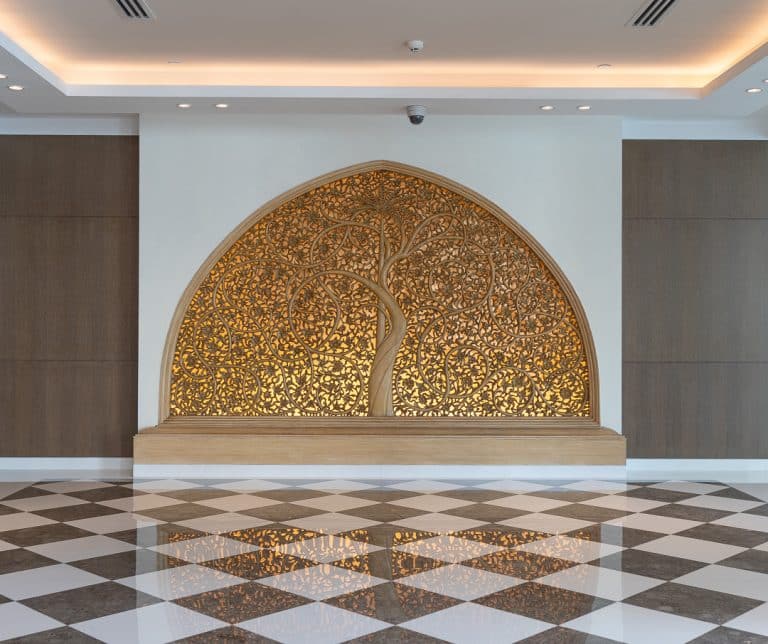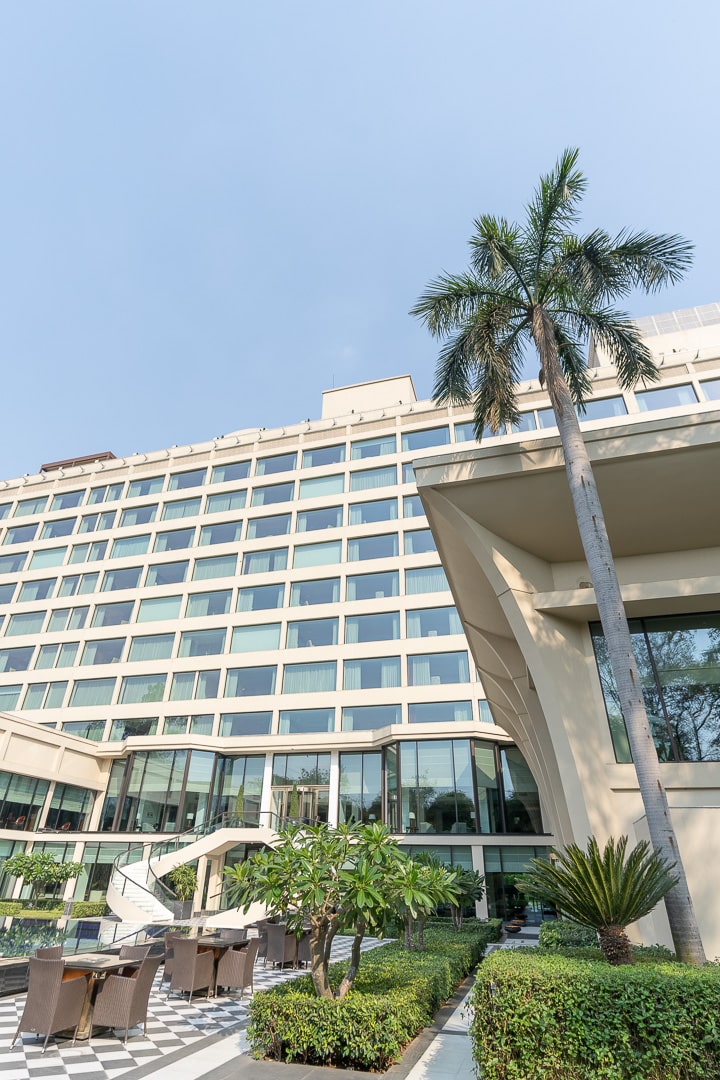 Once inside though, the effects of the spectacular $100M redesign, completed in 2018, were readily apparent. Aside from the striking visual design, a major part of this refurbishment involved the installation of high capacity air purifiers to the hotel.
This was originally done to combat the problem of pollution and smog in Delhi, but now also serves as a fantastic selling point during the COVID era.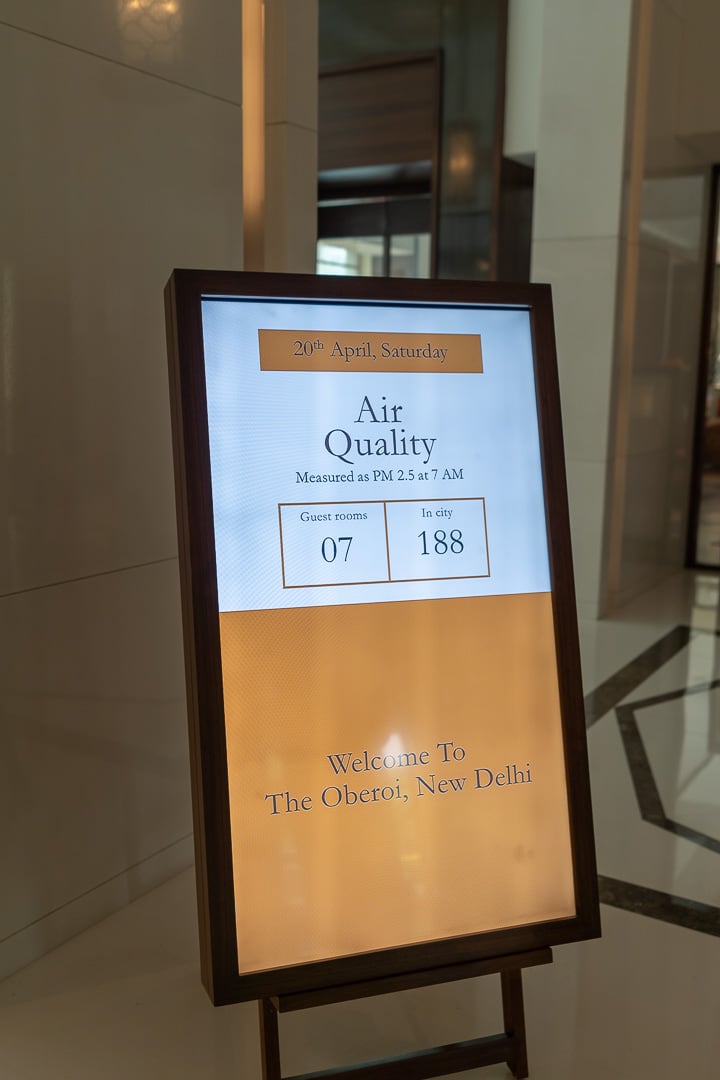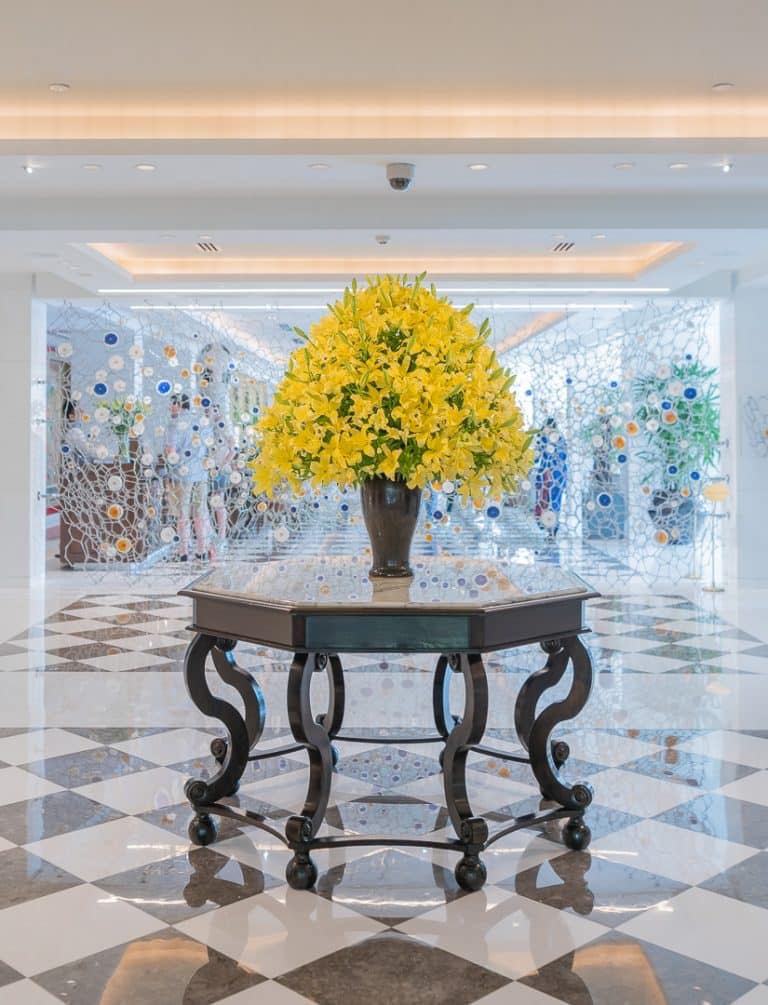 The lobby area was very impressive; understated yet elegant.
The hallways leading to our room were less modern, although the butler button outside each door was a great touch.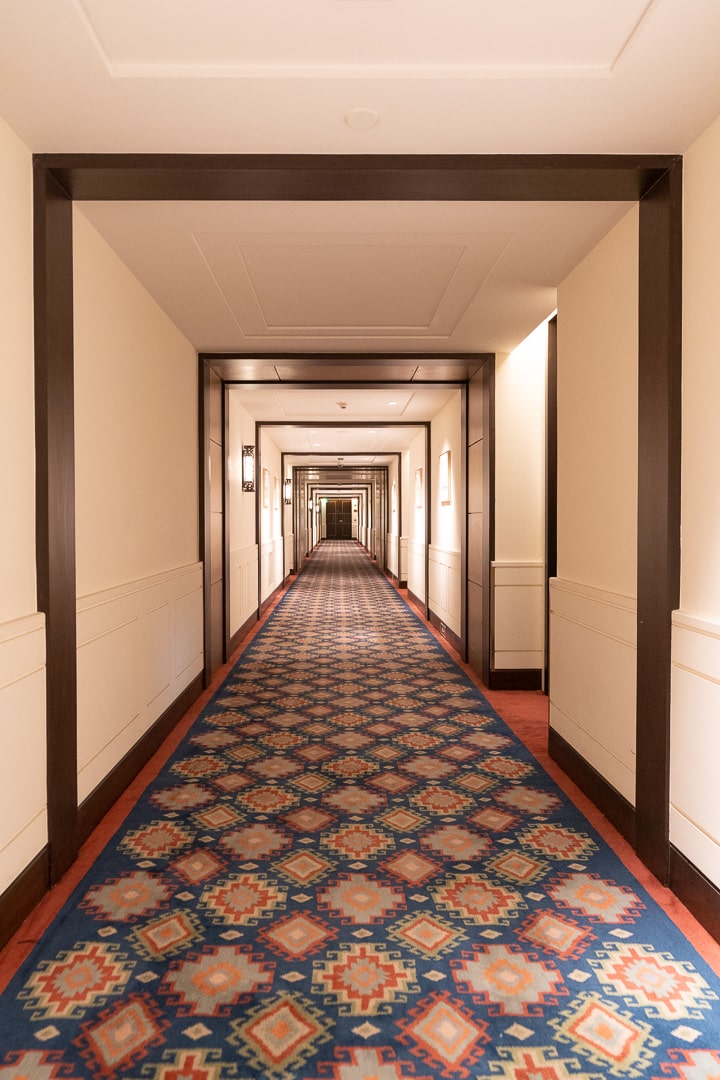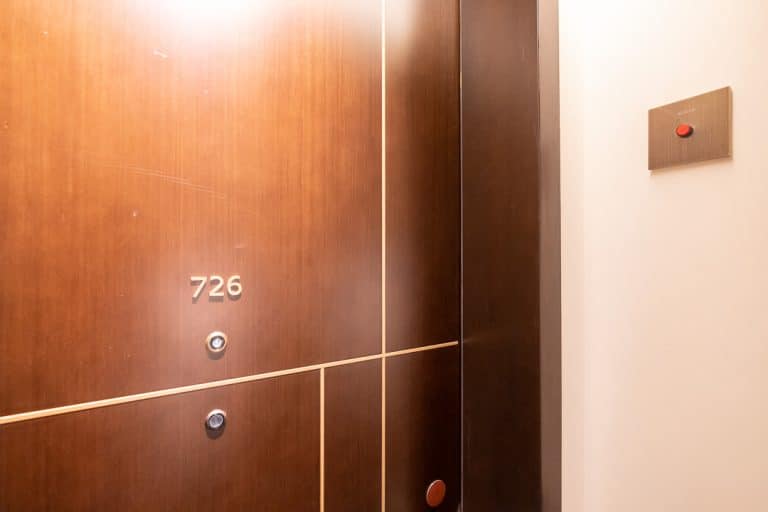 ---
Premier Plus Room
---
Bedroom
We opted for the Premier Plus Room category and paid in advance to guarantee it, since it is the lowest room type eligible for access to the hotel's Residents' Lounge.
As of 2021, Virtuoso bookings no longer permit upgrades beyond this category. For the minor increase in cost over a Premier Room, I feel that we received exceptional value.
Upon entering our room, the first thing I noticed was the view. Not the typical scenes of bustling traffic that one usually imagines when picturing Delhi: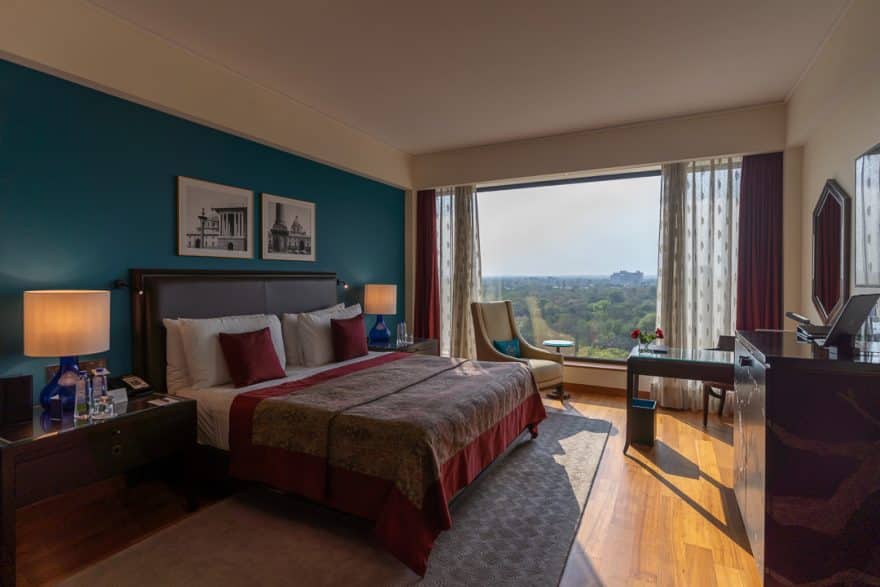 There was parkland almost as far as the eye could see and even on the 7th floor, we witnessed an almost constant display of circling birds of prey.
The design was modern, unmistakably Indian and very clever. The beautifully carved door surround served to neatly close off the sitting area, as well as amplifying the perception of space in the walk in wardrobe, immediately adjacent.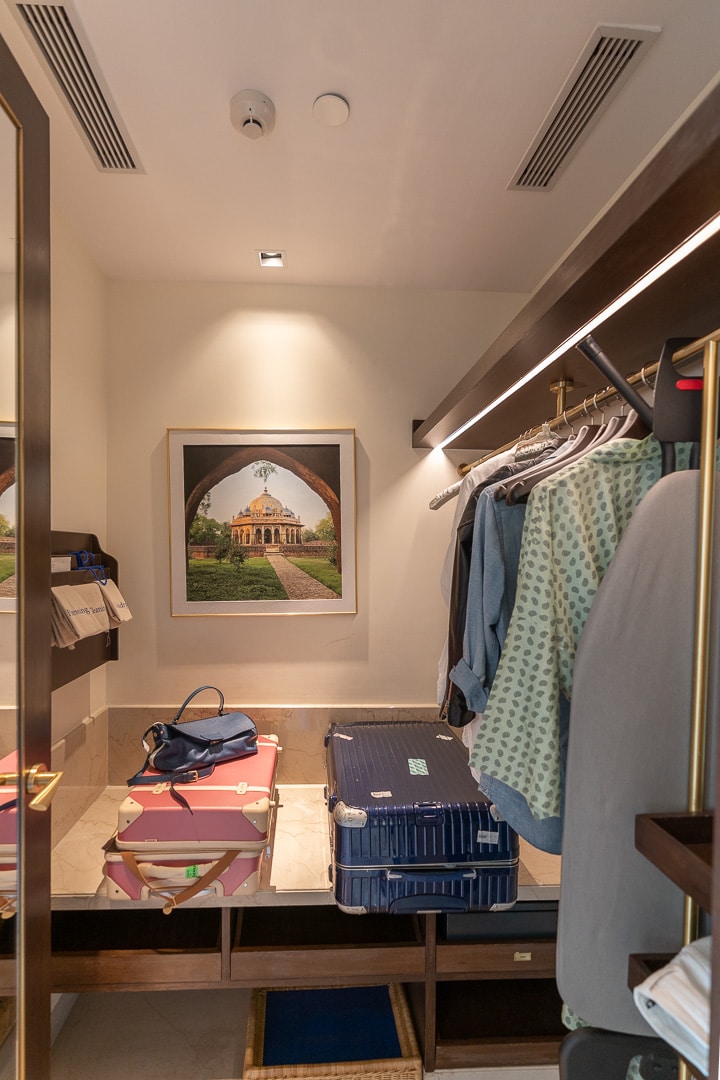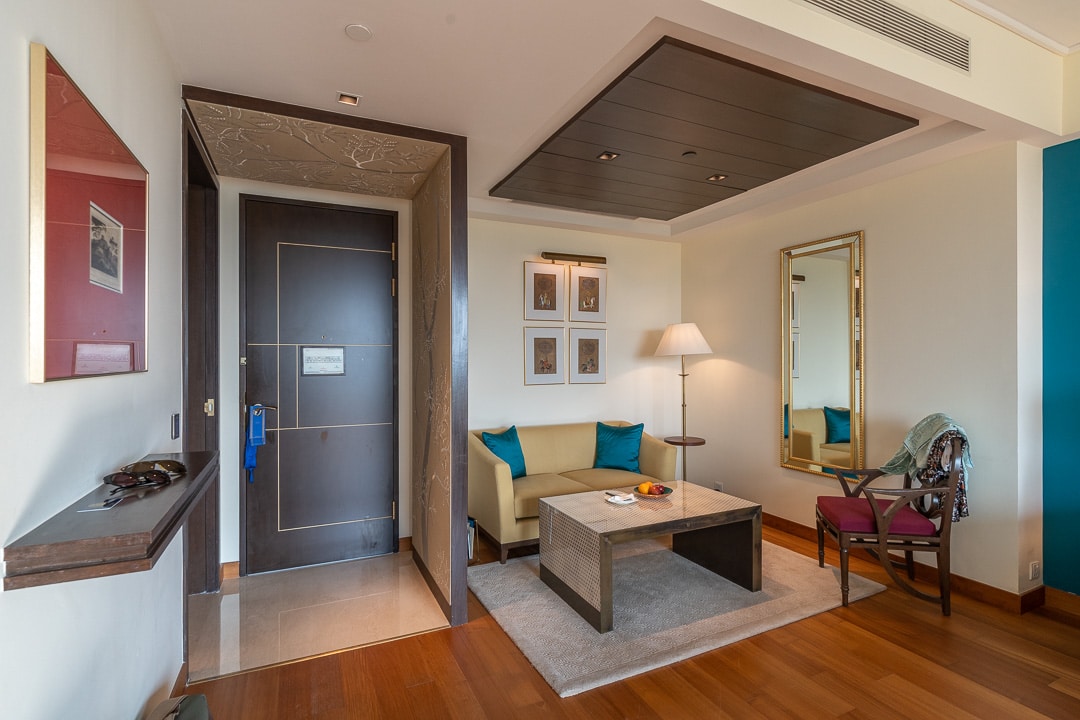 Speaking of which, the wardrobe had ample room in which to open two suitcases and provided more than enough space to hang clothes for 5 days or so.
The bed was very comfortable and featured integrated reading lights as well as foolproof light switches, USB, universal power and…another butler button! There was also an extensive pillow menu, which could be easily ordered from using the aforementioned butler button.
We were more than happy with the standard goose down pillows though.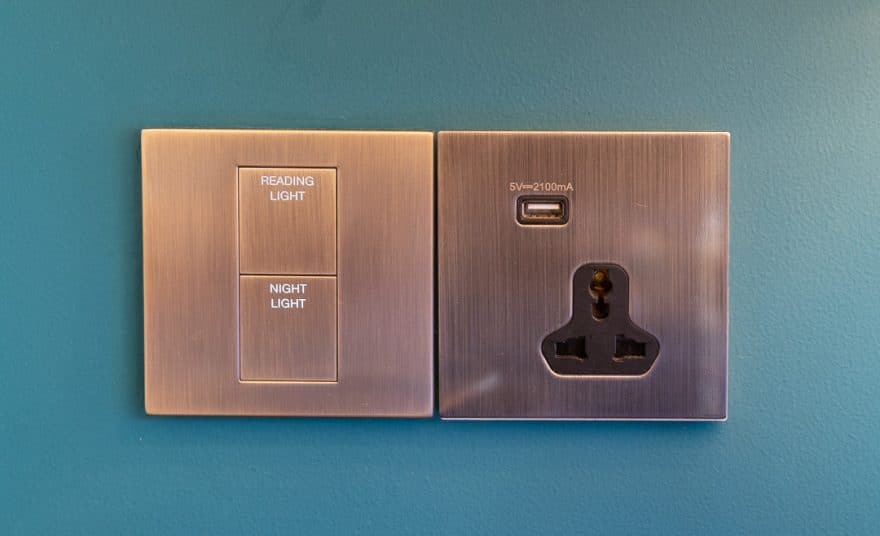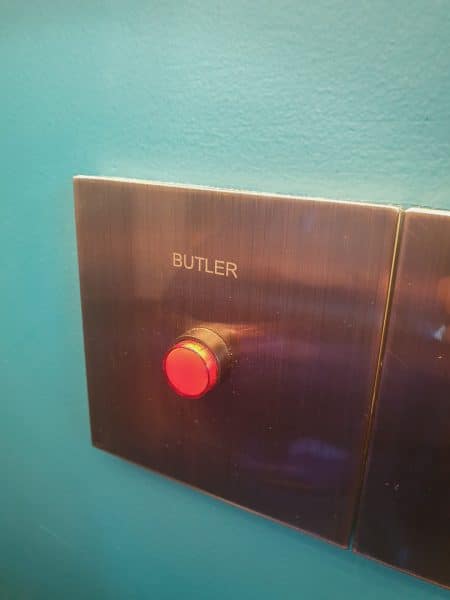 Opposite the bed was a 55″ TV, which sat above the minibar area. Although tea, coffee and bottled water were included in the room rate, other soft drinks weren't. This seemed incongruous given that the Residents' Lounge, to which we had access, provided these throughout the day – at no extra charge.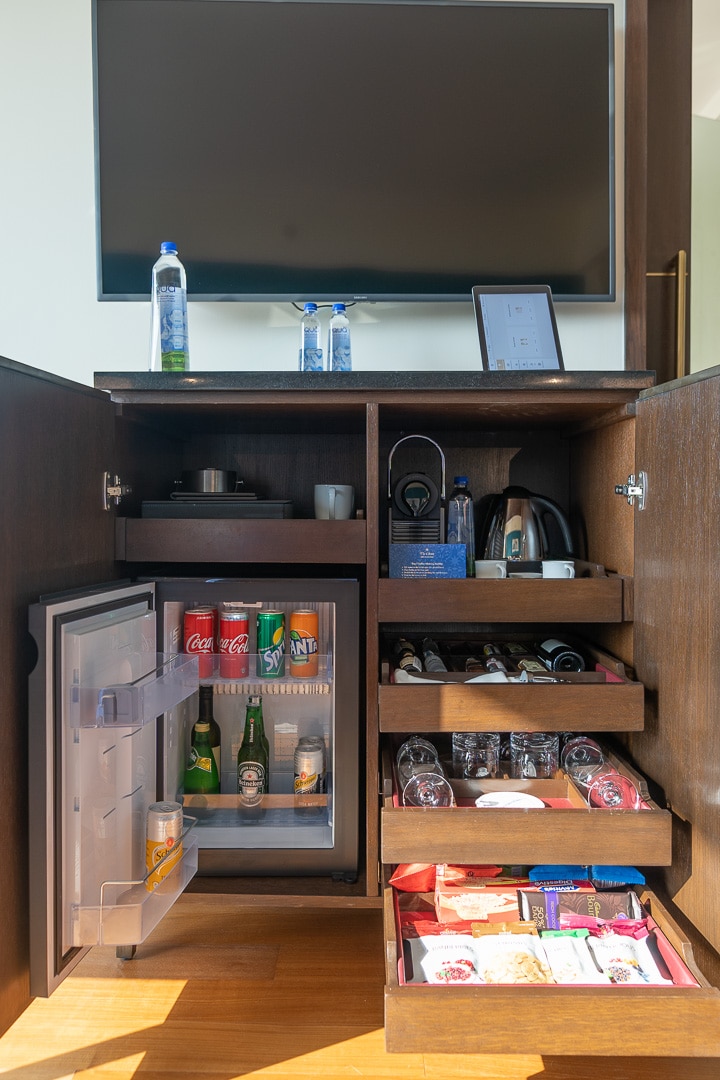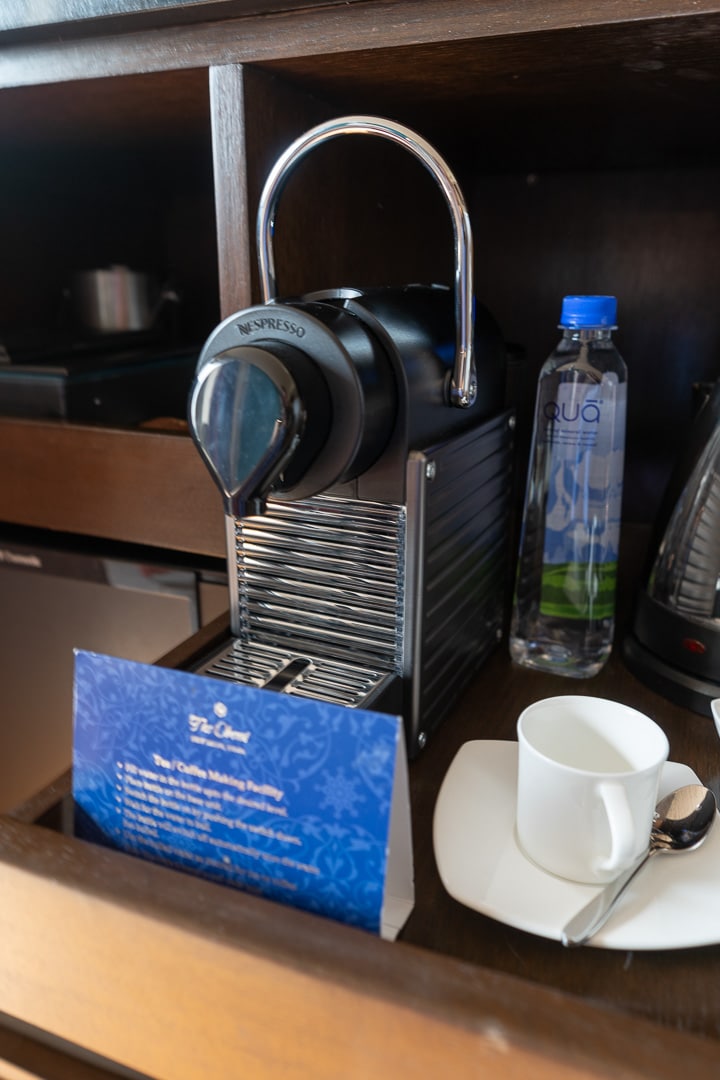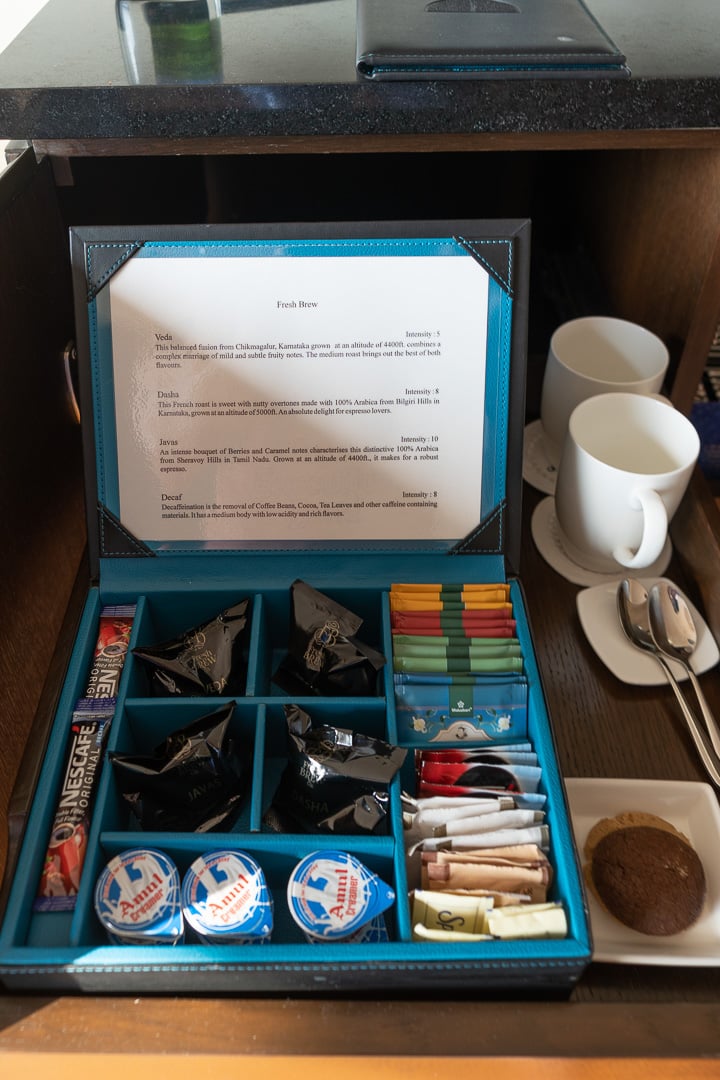 Beneath the TV, there was an iPad which could be used to control all of the electronics in the room. It could also be used to access hotel data, order room service, book spa treatments and even served as an intercom camera whenever the butler came to deliver anything.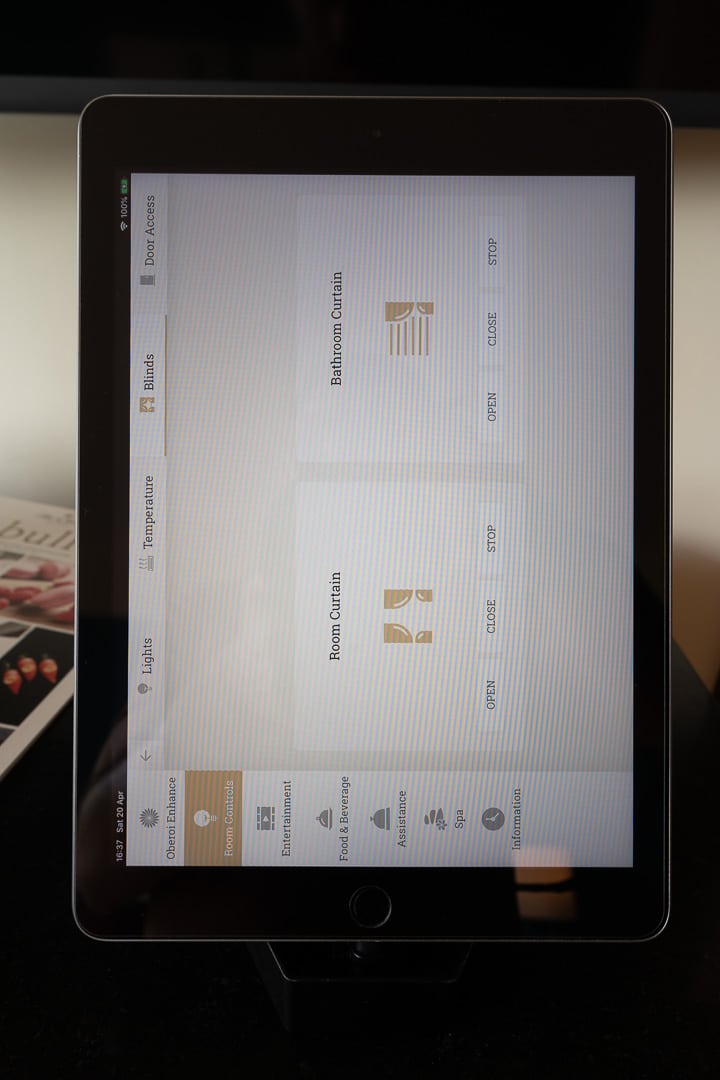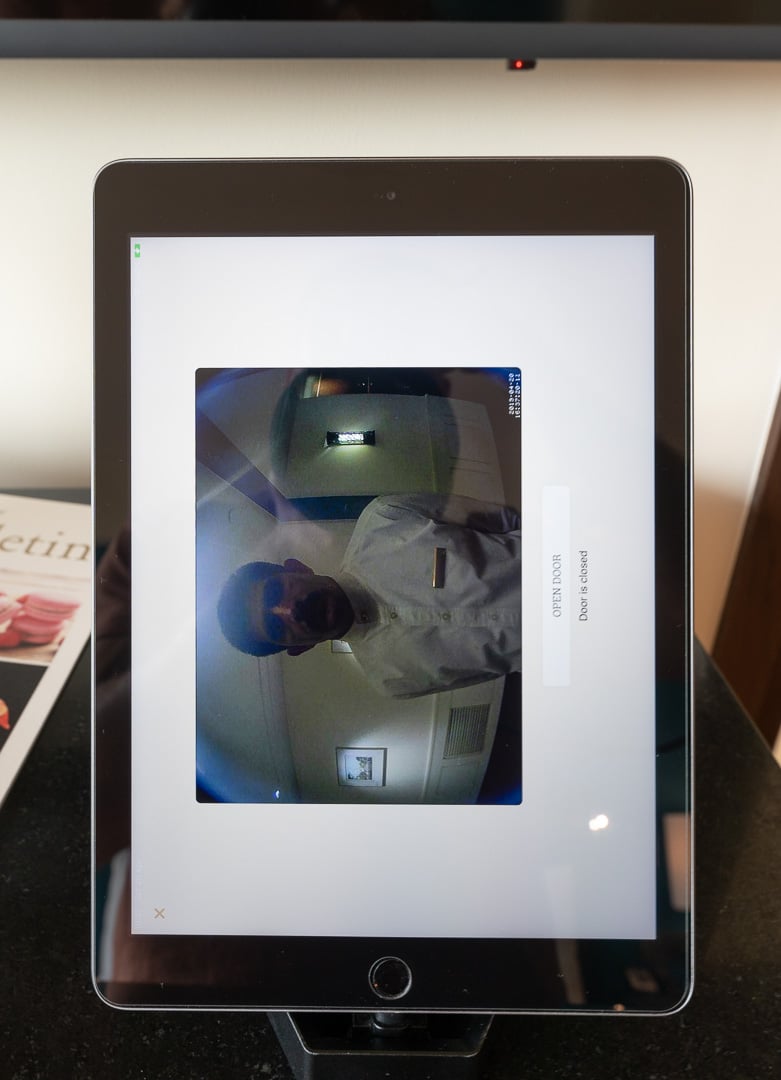 In terms of technological integration, this is one of the most intuitive and seamless interfaces I've seen in any hotel room.
Full turndown service was provided in the evenings, with slippers, breakfast menus and water placed around the bed – with curtains drawn and mood lighting switched on.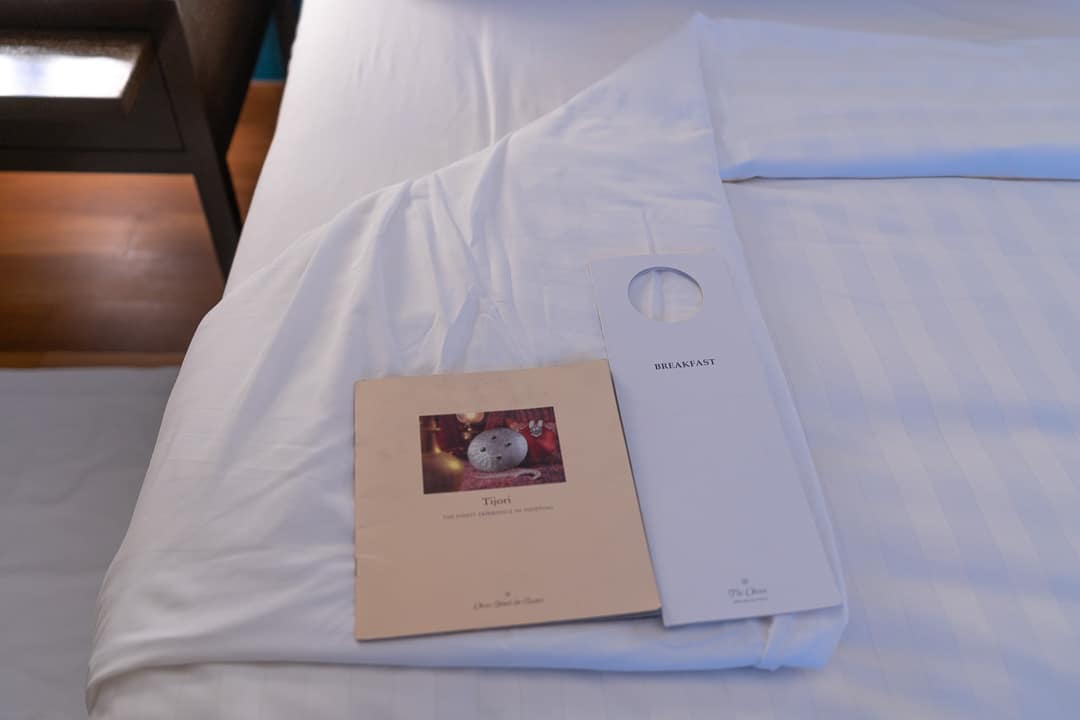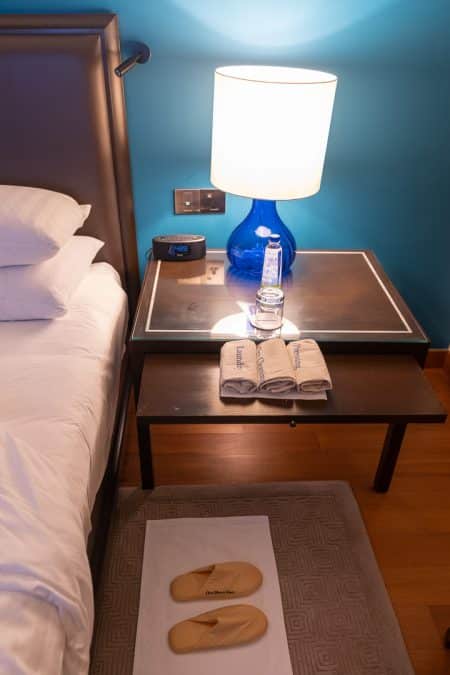 Bathroom
The overall footprint of the bathroom was rather compact, but the full length window and white walls, together with the oversized mirror, ensured that the space was bathed in light.
The deep soaking enamel bathtub was perfect for relaxing in after a long day of sightseeing, and the Oberoi branded toiletries had a wonderful scent and consistency.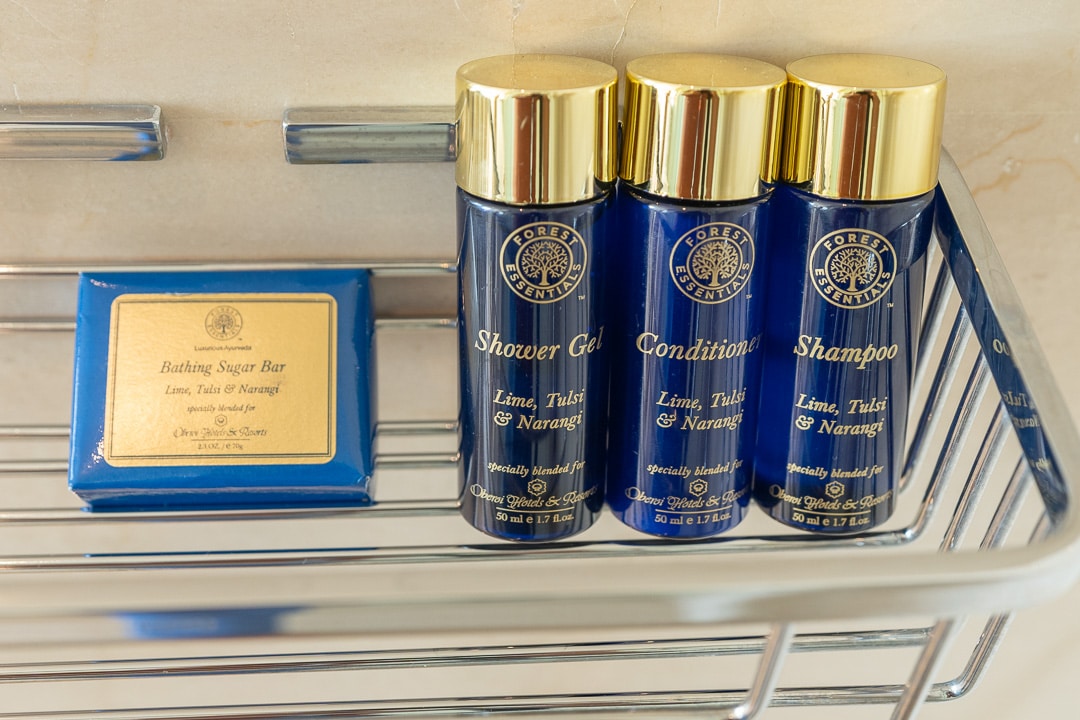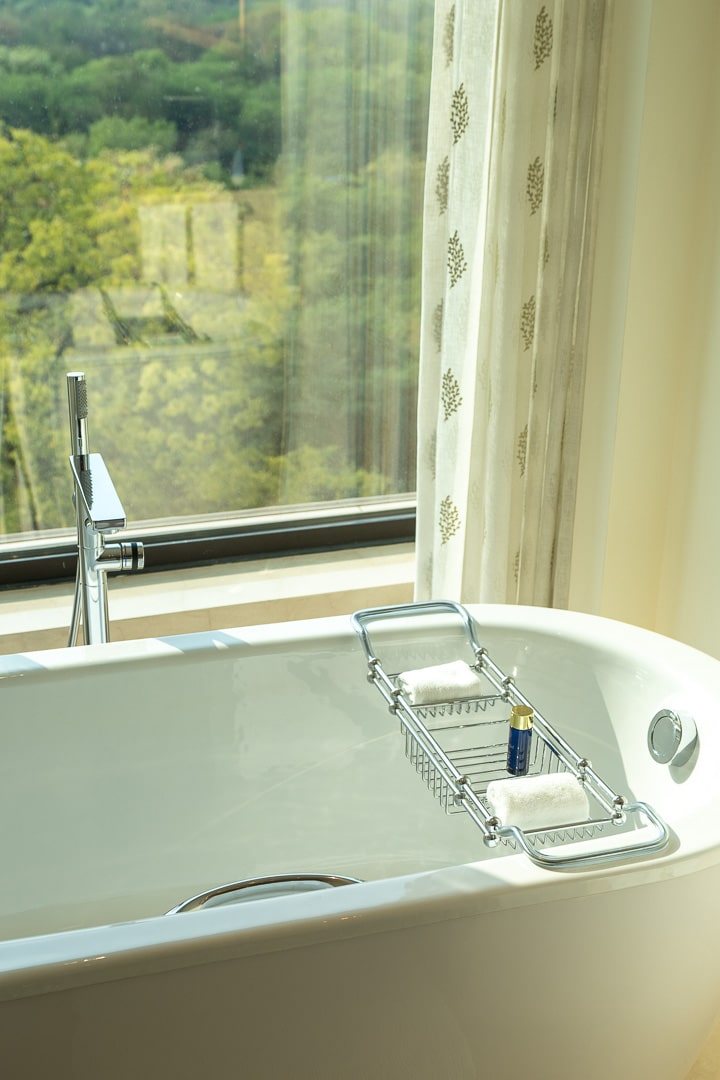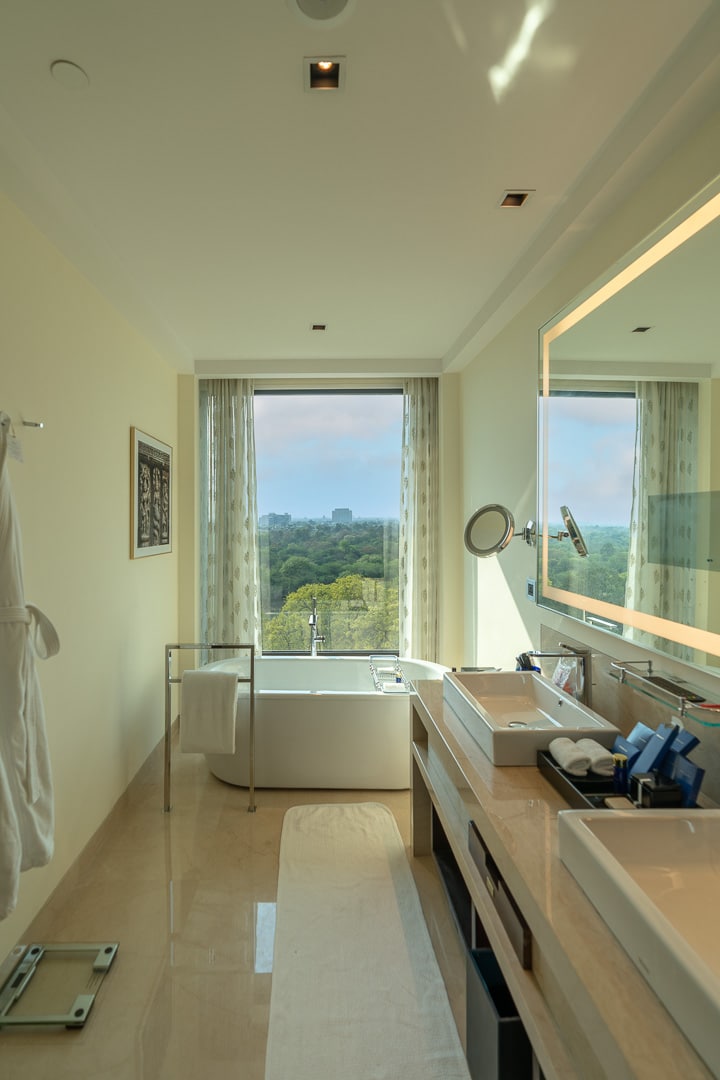 Technology was even incorporated seamlessly into the bathroom mirror, in the form of a hidden TV screen (much like the setup at the Ritz Carlton Kyoto).
The toilet and shower were located in separate glass fronted cubicles at the far end of the bathroom.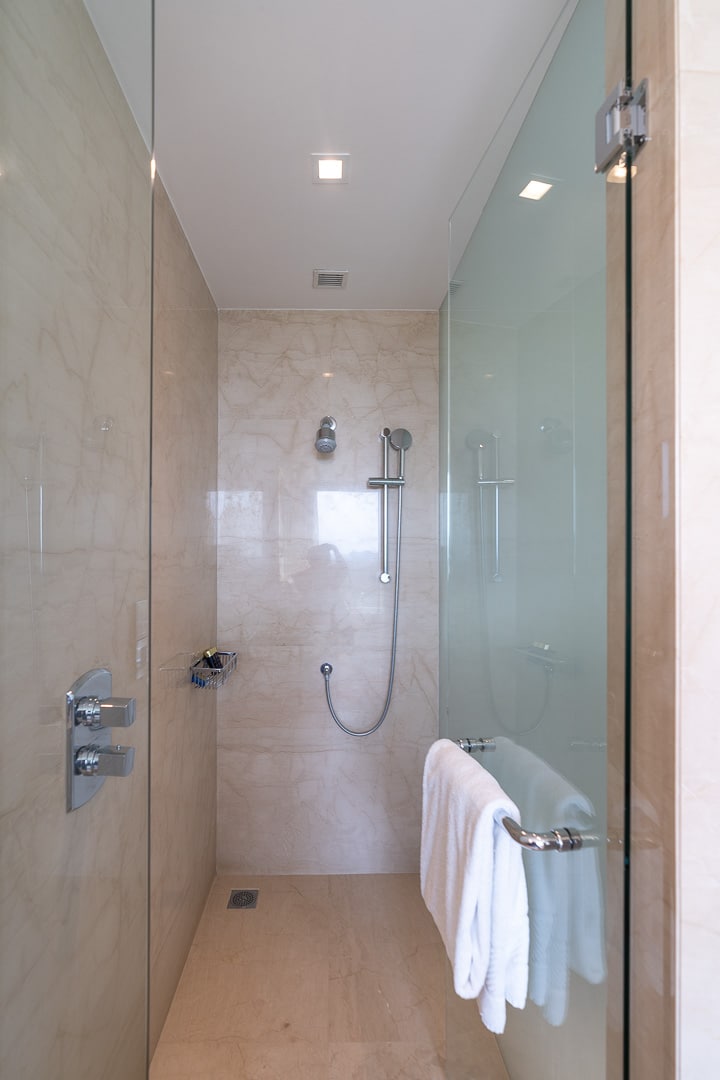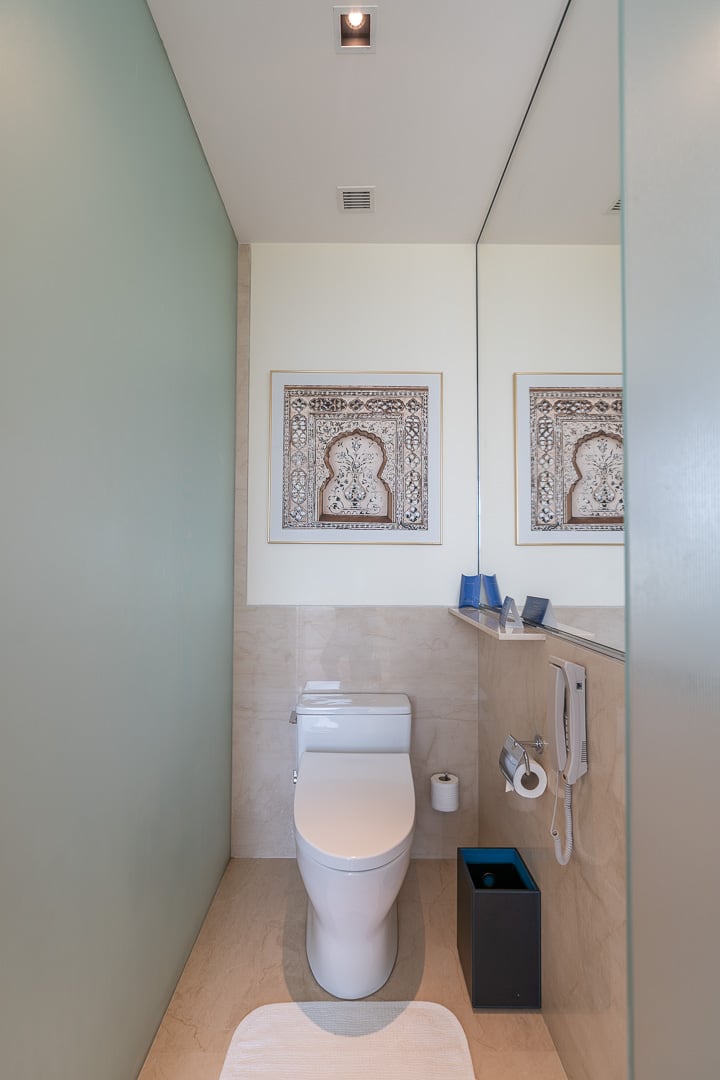 Aside from all of the above features, not only do all rooms face out towards an expanse of greenery, they all have wonderful sunset views too!
---
Leisure facilities
---
Pool
The sunset view above leads us smoothly on to the property's small but serene pool. Located on the ground floor, it is accessed by passing through a spectacular courtyard…
From here, we passed a garden path, along the front of the main restaurant…
The pool was surrounded by greenery and the service was fantastic, with staff eager to help the moment they caught sight of you.
The electronic call buttons placed at every table ensured that any poolside orders would be taken at a moment's notice, too.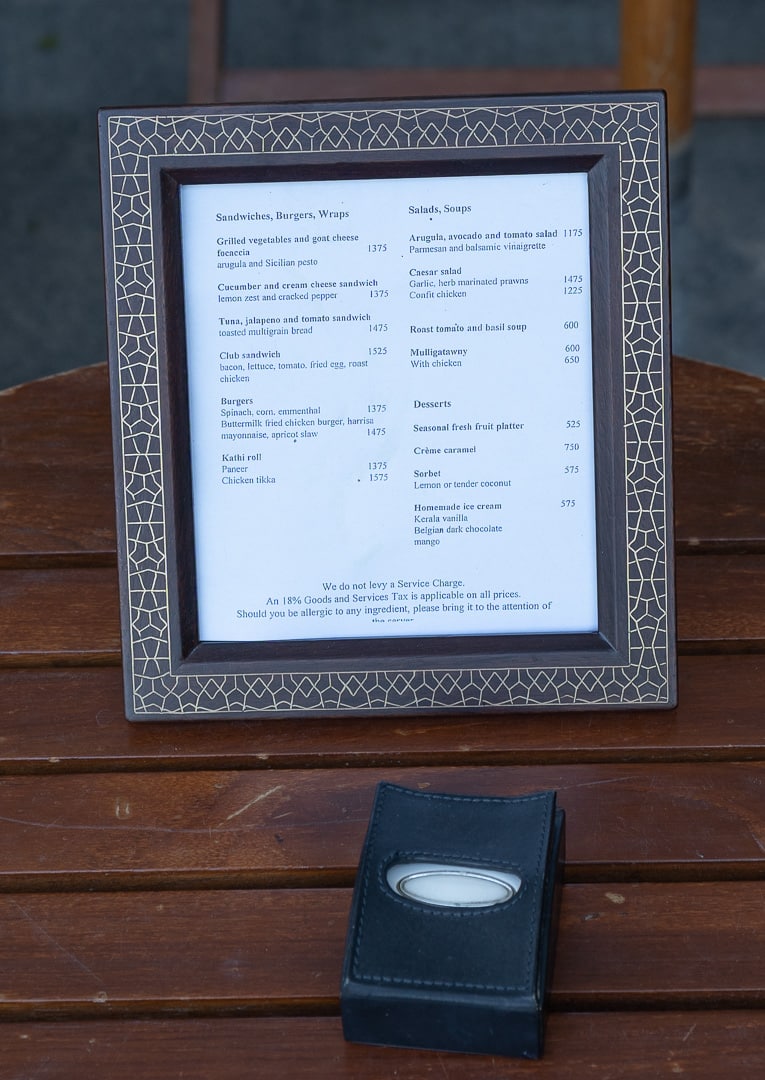 However, I couldn't help feeling that given the abundance of space, they could have designed something bigger and more opulent…like the breathtaking pools at the Oberoi Amarvilas in Agra or Oberoi Udaivilas in Udaipur: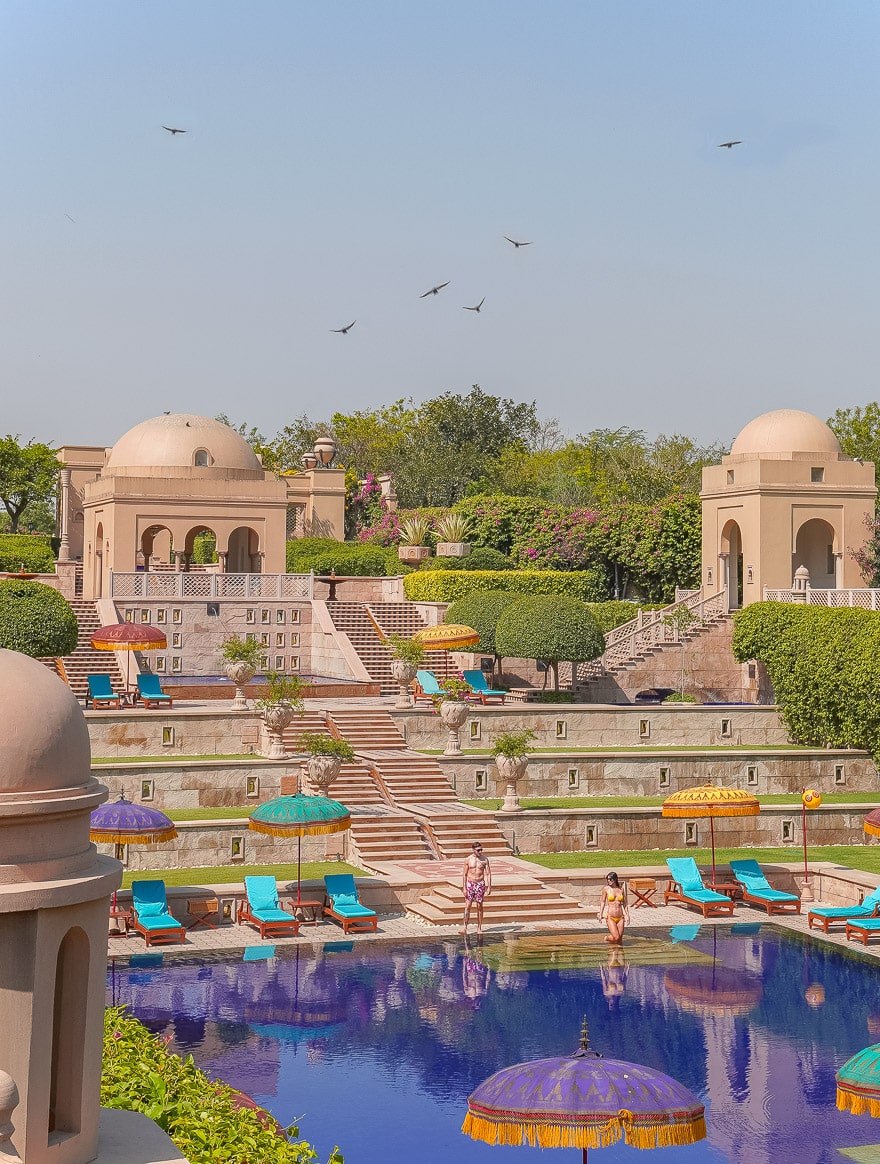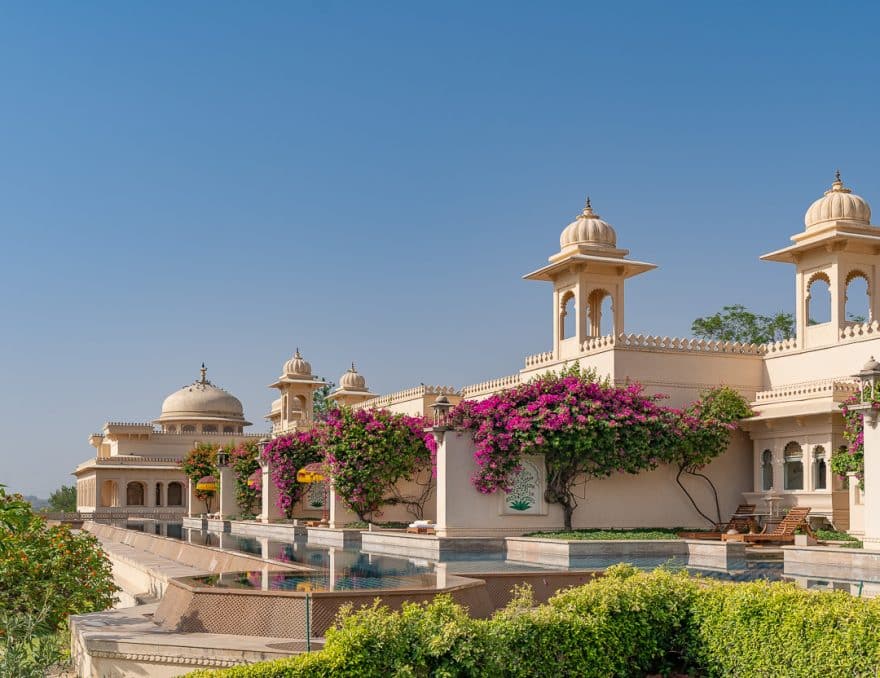 Gym
The gym was very well equipped, featuring a full range of brand new Technogym equipment.
Towels, water and even raw charcoal lemonade were provided.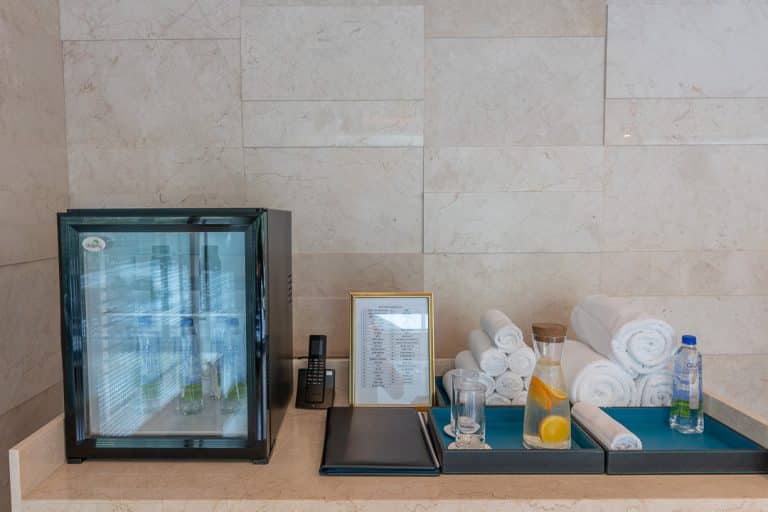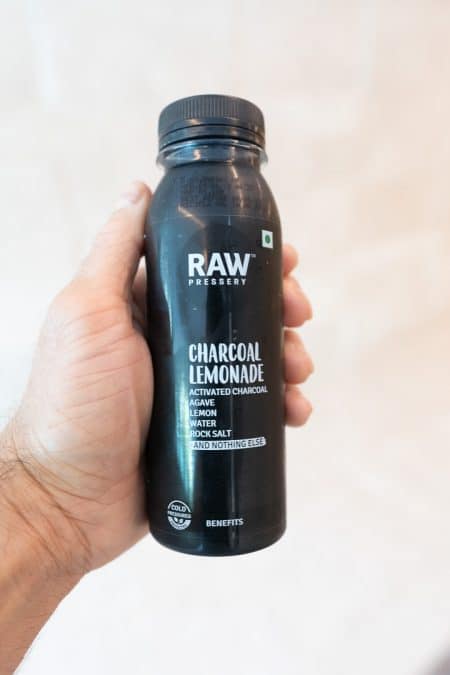 Residents' Lounge
Over at the Residents' Lounge, the drinks provisions were even more generous. Access to the lounge is granted to all hotel guests staying in room categories from Premier Plus upwards.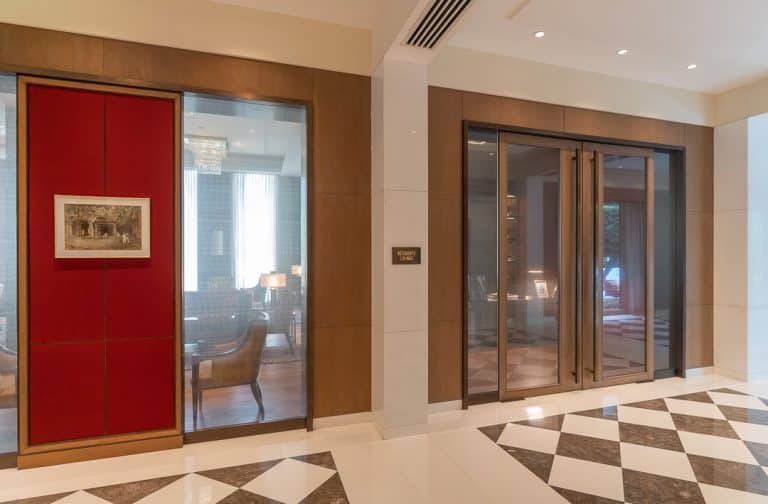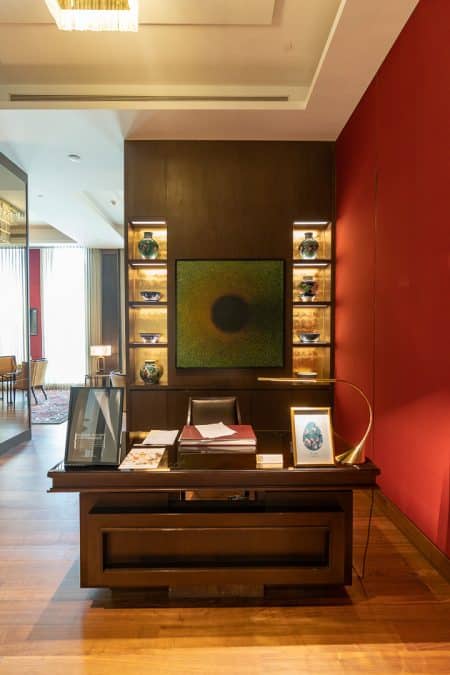 Staff were unwaveringly friendly, courteous and proactive. They made it their personal mission to ensure that we felt like royalty the whole time that we were there. Every time we entered or departed, we were also greeted by name.
The room was decorated in an understated and modern style, whilst still retaining something of the feel of a member's club from a bygone era.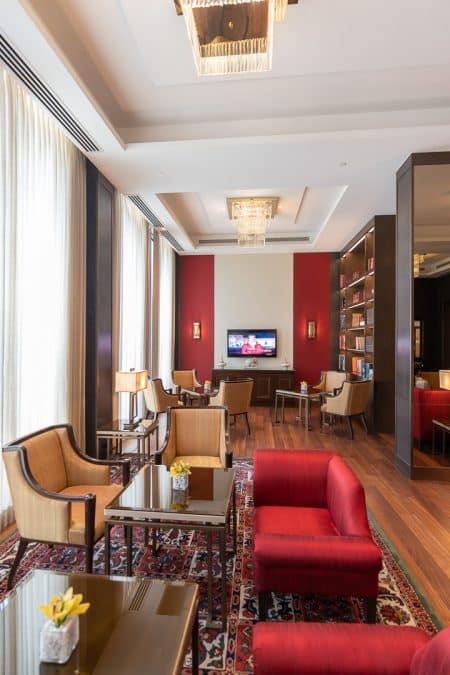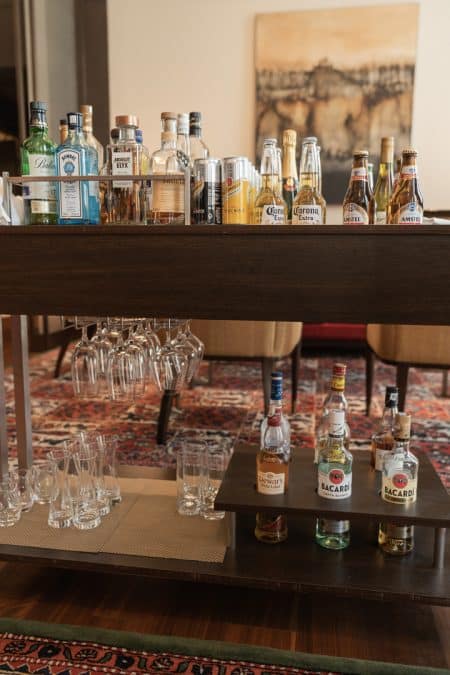 Seating was plentiful, and even during cocktail hour it felt exclusive and relaxed. Something that can never be said of the lounges of hotel chains that offer lounge access as a status perk.
Menus were provided whenever we sat down; in practice the prices were irrelevant. Soft drinks are complimentary at all times for residents with access (and chargeable for accompanying guests). Alcohol is only chargeable outside of cocktail hour (and at all times to accompanying guests).
Residents' Lounge Menu
Although a rather wonderful drinks trolley was wheeled around during cocktail hour, drinks choices were not limited to what was on display.
In addition to the free flowing Taittinger, we also enjoyed some expertly made cocktails as well as a variety of canapés and bar snacks.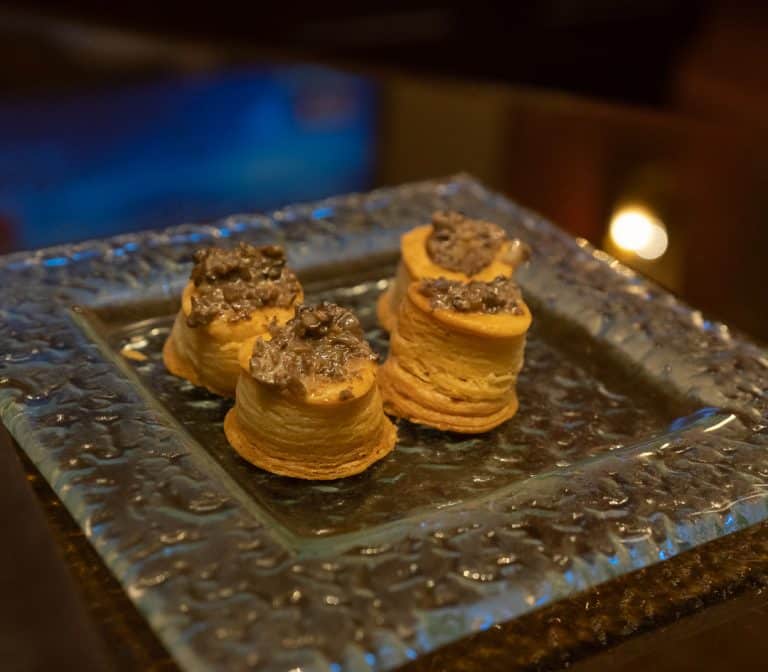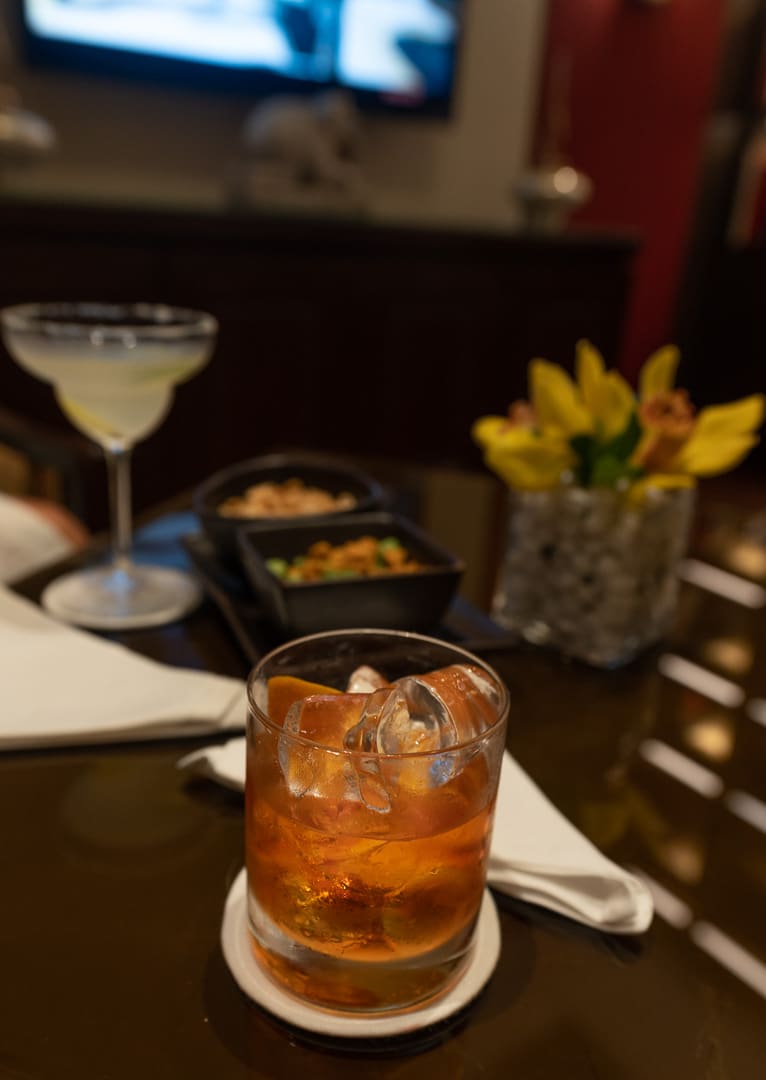 Small snacks like biscuits and nuts were also available free of charge throughout the day, alongside the soft drinks.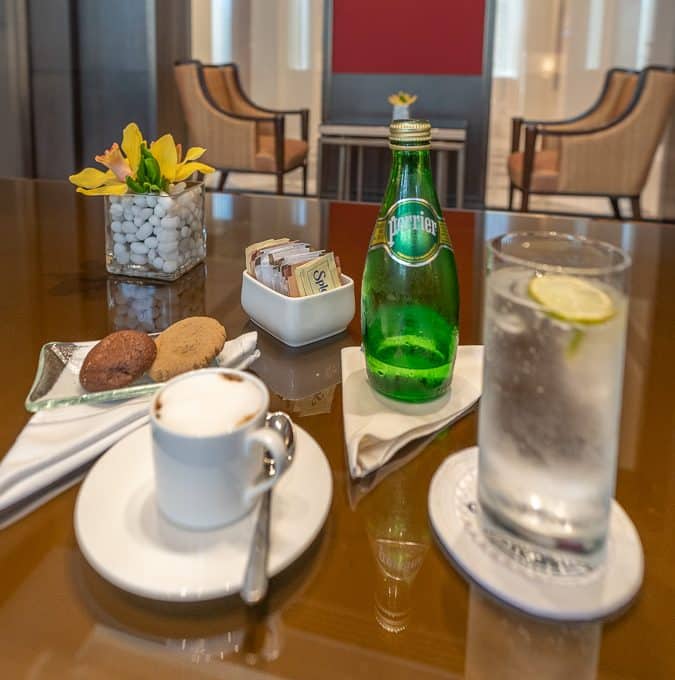 ---
Food and Drink
---
Elsewhere on the property, the food and beverage service was every bit as impressive (if not more so).
Breakfast at 360°
360° is open from 8am until 1am and during our stay, there was a constant buzz here. During breakfast, it was clear that not only hotel guests but also well heeled locals were in attendance. Plenty of people were dressed to impress, even in the early morning.
Given the beautiful decor, crowned by a glowing bar and an enormous, glass walled wine cellar – the elegance of the clientele was well in keeping with the surroundings.
Staff were remarkably attentive, and despite the palpable energy of the room, the tables were spaced in a way that made things feel luxuriously uncrowded.
Servers took drinks orders immediately once we took our seats, and upon promptly delivering our coffees, would take our orders for any a la carte dishes. After the first morning, staff remembered both our names and our drinks orders.
I also loved how staff noticed my camera or Kamara's handbag and would bring leather side tables to accommodate them.
The breakfast buffet was very extensive indeed, and the food on offer was clearly of a high quality. Pastries and bread were baked on site, and the fruit selection was both varied and very fresh.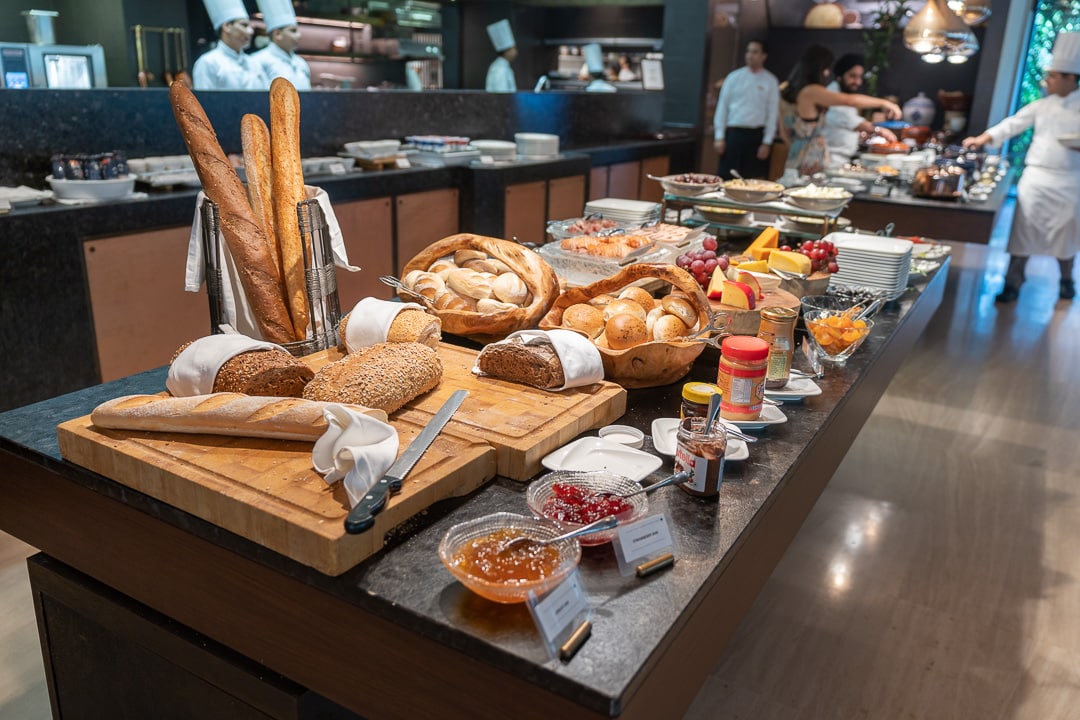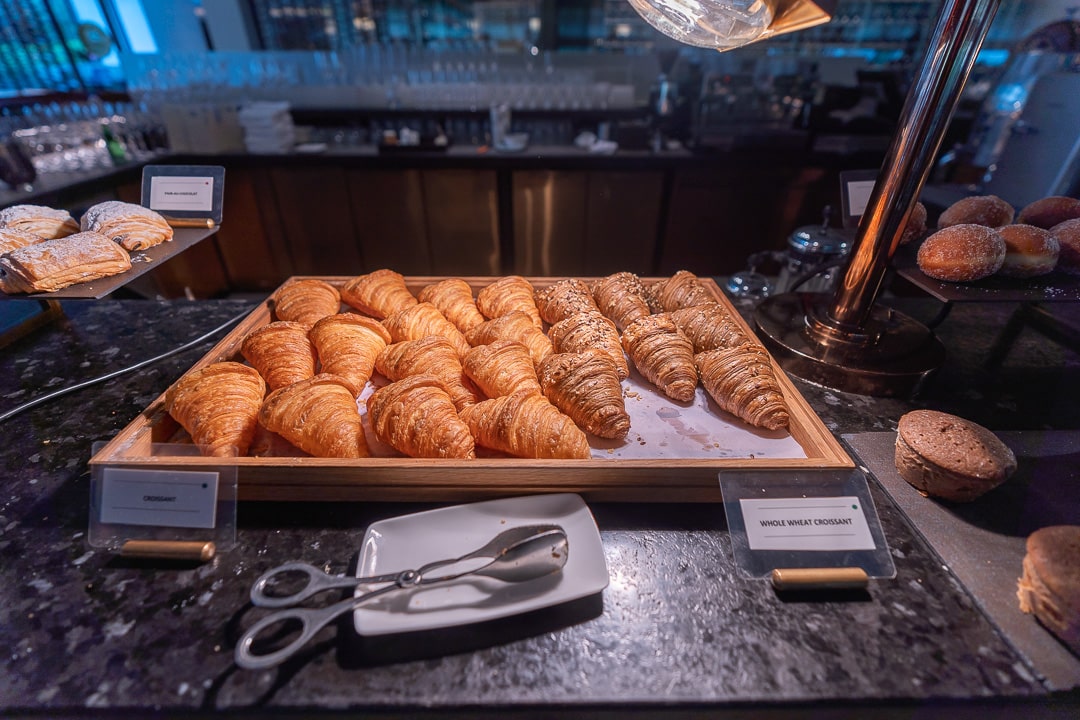 A wide range of cereals and muesli ingredients were also on offer…
…as well as hot dishes from around the world, presented in Le Creuset stoneware.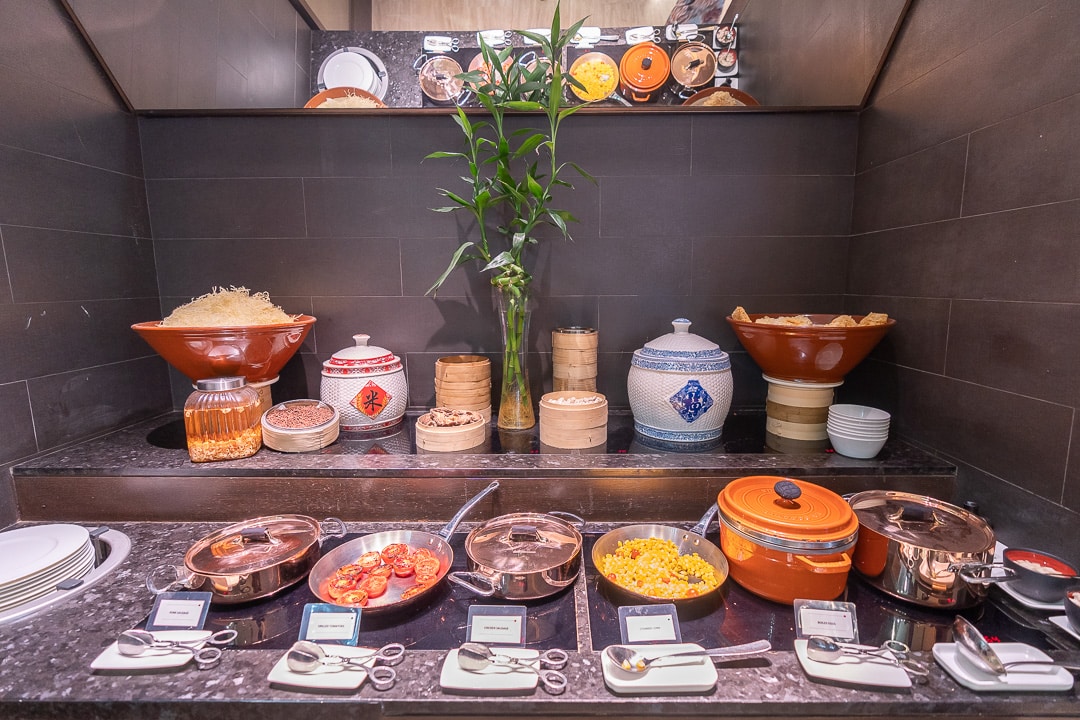 It was great to be able to explore different regions of India on the a la carte section of the menu, too.
I can eat Eggs Benedict anywhere, but to have freshly made curries and dosas, accompanied by a variety of side dishes, is a rare treat indeed.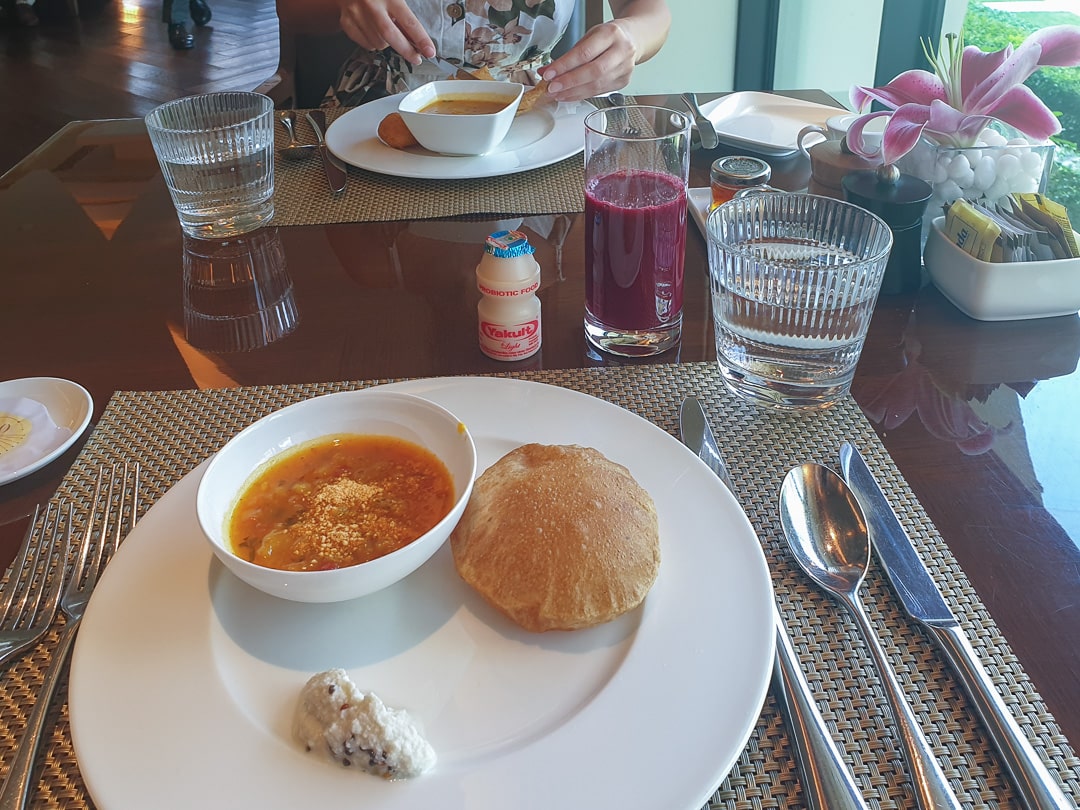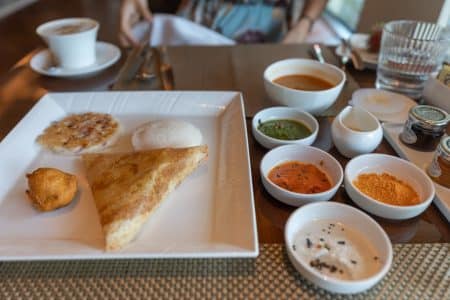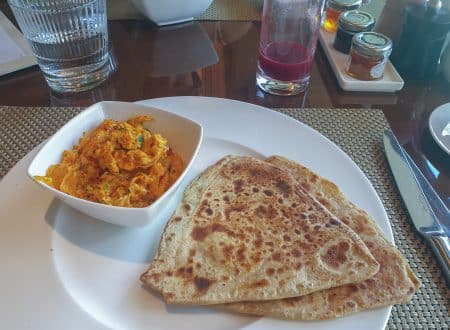 Breakfast here was not only delicious, it felt like a cultural experience too. Staff were unwaveringly patient and eager to explain to us in detail the history and provenance of all the dishes that we ate.
Room Service Lunch
Although the Oberoi New Delhi has a number of very highly regarded restaurants, we didn't have a chance to eat in any of them during our brief visit to the city.
We did however order a small room service lunch one day and this was delivered very promptly, well presented and absolutely delicious. I'd take a kati roll and curries over a boring club sandwich any day!
Cirrus 9 bar
The Oberoi's biggest draw for non-residents of the property is Cirrus 9 bar. We visited with a local friend on a Saturday night, and the place was absolutely heaving with revellers. The views and atmosphere were great and the drinks made to the highest of international standards.
If you're not staying on-property, you will definitely need to make a reservation on weekends (and probably weeknights too!)
---
Conclusion
---
Basics Checklist
☑︎ Power sockets near the bed
☑︎ Easy to understand light switches
☑︎ Coffee machine
☑︎ Separate shower and bath
☑︎ Blackout blinds
☑︎ Stable, fast and free Wifi
☑︎ Feather pillows
☑︎Quiet and powerful aircon
The Oberoi New Delhi is a property which we almost stumbled onto accidentally, but ended up loving. The room hardware and public spaces are thoroughly modern, and service is as good as any that I have encountered in a city hotel.
I was initially hesitant to book this over The Lodhi, but having visited that former Aman property for dinner, I was very happy indeed with our choice. The Oberoi strikes a wonderful balance between feeling comfortable and residential, whilst also being busy enough to keep you feeling energised.
All too often, service can suffer at very popular hotels, but the Oberoi New Delhi handles its enduring success remarkably. It is a luxury property in the truest sense, and a similar experience in Europe would unquestionably cost many multiples of a stay here (and deliver no better an experience).
The location is wonderful too. The views of the golf course and Humayun's tomb (a UNESCO world heritage site) provided the perfect counterbalance to the chaos of the more central areas of Delhi; sitting on the rooftop and sipping a cocktail at night, I felt a sense that I was somewhere very special indeed.
As a result of this wonderful but brief stay, I was even more excited about the stays to follow at Oberoi's flagship Amarvilas and Udaivilas properties…
---
Book Oberoi New Delhi with Virtuoso benefits
---
Virtuoso Booking
An example of the Virtuoso benefits which may be available on your stay:
Upgrade of one category, based on availability at time of check-in.
Full breakfast for up to two in room guests.
Complimentary lunch for 2 people, excluding alcohol and gratuities.
Early check-in/late check-out, subject to availability.
The Oberoi New Delhi can be booked directly online by clicking the "BOOK NOW" image.
Multi hotel itineraries will yield significant discounts and can be priced manually by emailing us below:
---
Visiting the Best Luxury Hotels in India
Part 1:

Oberoi New Delhi : Premier Plus Room

Part 2:

Oberoi Amarvilas, Agra : Robert Burns Suite

Part 3:

Amanbagh : Garden Haveli Suite

Part 4:

Alila Fort Bishangarh, Jaipur : Grand Suite

Part 5:

Umaid Bhawan, Jodhpur : Historical Suite

Part 6:

Oberoi Udaivilas, Udaipur : Luxury Suite

Part 7:

Leela Palace, Udaipur : The Royal Suite