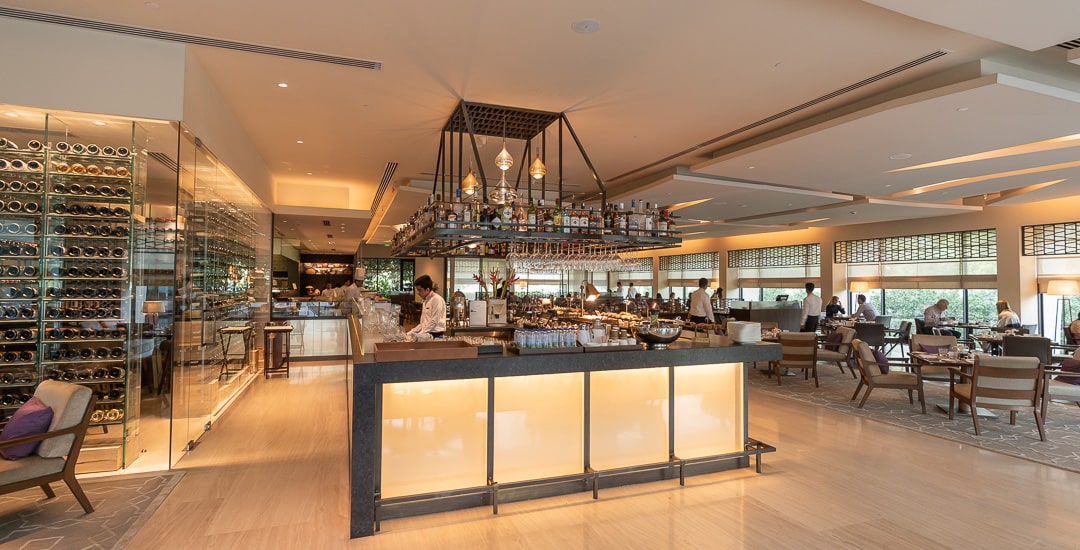 REVIEW – Oberoi New Delhi
November 1, 2021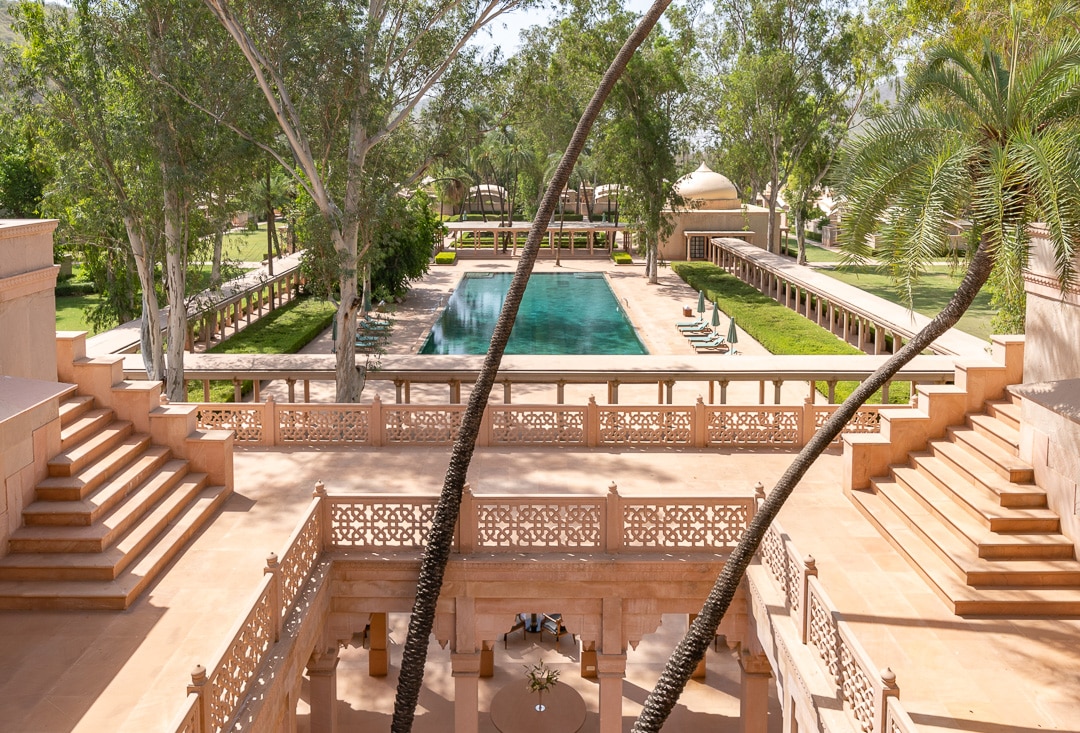 REVIEW – Amanbagh (Rambagh, India)
December 7, 2021
,
Oberoi
Location: Agra, India
Rate: 43,520 INR per night
Room Type: Robert Burns Suite

Upgraded from Premier Room with Balcony

Loyalty Program: Oberoi One
---
Intro
---
After a wonderful stay at the recently renovated Oberoi New Delhi, I was very eager to finally experience one of Oberoi's flagship properties. My expectations for the New Delhi property had been rather low. I had envisaged it as a necessary evil, something to get out of the way before moving on to the 'true luxury' portion of this Indian trip.
After those low expectations were utterly shattered, my already high expectations for Amarvilas went another notch higher. It is never ideal to head into a hotel stay with stratospherically high expectations, but this was where I found myself as we left Delhi and began our four hour drive to Agra.
Amarvilas is a palatial hotel with an enviable location, moments away from the Taj Mahal. Indeed, every room enjoys a view of India's most famous landmark.
For hotel and architecture nerds like me, the fact that it is designed by Bill Bensley (designer of Park Hyatt Siem Reap, One&Only Reethi Rah and numerous Four Seasons properties) is a further feather in its already enviable cap.
---
Booking
---
I would always recommend booking luxury properties via the Virtuoso booking channel. Virtuoso bookings always match the best rate on the Oberoi website, but ALSO offer extras such as:
• Upgrade of one category based on availability at time of check-in.
• Full breakfast for up to two in-room guests.
• Complimentary lunch for 2 people, excluding alcohol and gratuities.
• Early check-in/late check-out, subject to availability.
You can book a Virtuoso rate here (and at many other Oberoi properties) by using the online travel portal here.
If you are planning an itinerary across multiple Oberoi properties, you can leverage some substantial further discounts and benefits.
EMAIL FOR OBEROI MULTI PROPERTY ENQUIRIES
Although I originally booked a Premier Room with Balcony, I was further upgraded to the Robert Burns suite, a room which normally retails for over 10x the price.
The reason for this is that I was on a multi-property trip with Oberoi and my final night at Udaivilas was cancelled, due to a hotel buy-out for a wedding. This is where booking with a luxury travel agent can be immensely beneficial. Not only do you receive substantial benefits when things go well; you have full support to make sure that things are made right, whenever issues arise.
---
Arrival
---
We hired a driver for the entirety of our time in India, which is something I would highly recommend. Our drive from Delhi to Agra took four hours, and was comfortable and hassle-free.
The Oberoi Amarvilas sits inside an expansive campus of sorts, right in the middle of Agra, around 600 metres from the Taj Mahal. The dense urban dwellings of the city come right up to the property walls, but once inside, you instantly feel as though you have been transported to another world. A world in which expertly manicured lawns are dotted with roaming peacocks, and staff in meticulously pressed uniforms greet you as if you were royalty.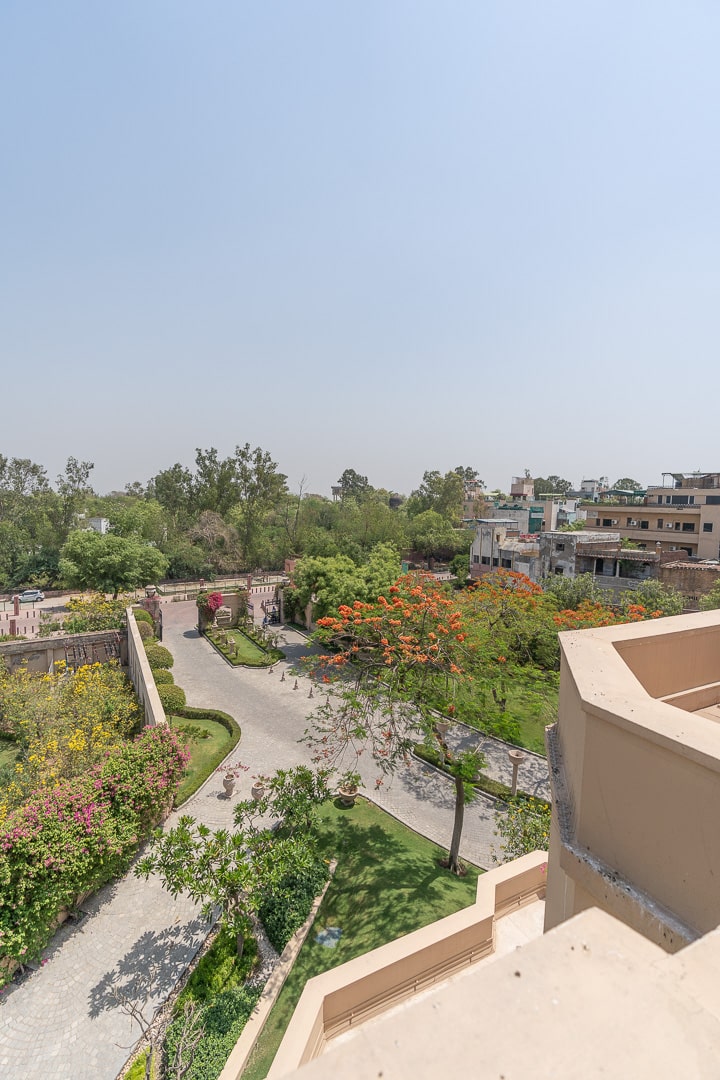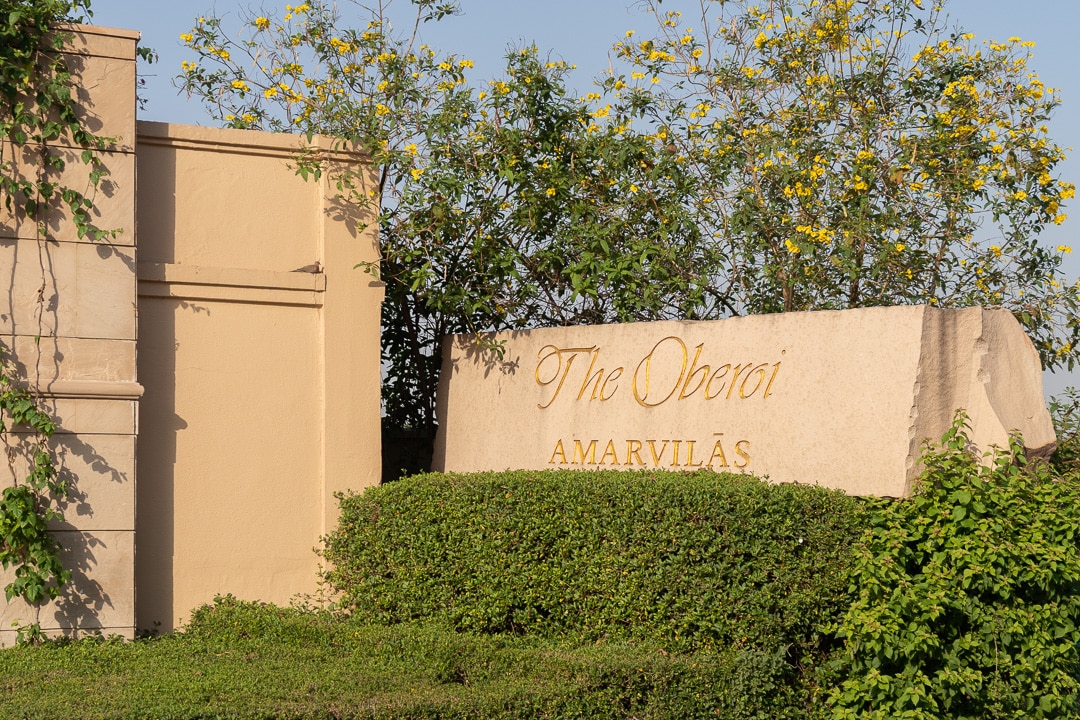 As we exited the car, we were greeted by a cavalcade of staff and a welcoming ceremony took place in which flowers were draped over our necks as musicians performed. Anywhere else, this would seem over the top, but within the setting of the the palatial, fountain-lined courtyard it seemed somehow very fitting.
The sensation here was much like what I first encountered when setting foot in Amanoi. I couldn't quite believe that this many staff were dedicated to ensuring that we received a proper welcome, and that this quietly opulent environment had nobody in it but us. I not only felt that the property was special, I was made to feel as if we were special for being here.
All too often hotels can get caught up in their own hype and staff can have an arrogance about them as a result.
From the moment we set foot on this property, we felt that staff were not only extremely proud of Amarvilas, they were also very happy indeed to welcome us here.
Passing through the courtyard again in the evening, I couldn't help but wish that we had a nighttime arrival as it was more impressive still, after dark.
The hotel's lobby was the magnificent yin to the courtyard's understated yang. Here we were wowed by the enormous Mughal style dome and the ornate crystal chandelier that hung from its centre.
However, we were not required to perform check-in formalities here but instead invited by the Assistant GM to proceed through the lobby and on to The Lounge. Here, we were served a sparkling apple drink as we sat to confirm our stay details and marvel in our first mesmerising glance of the iconic Taj Mahal.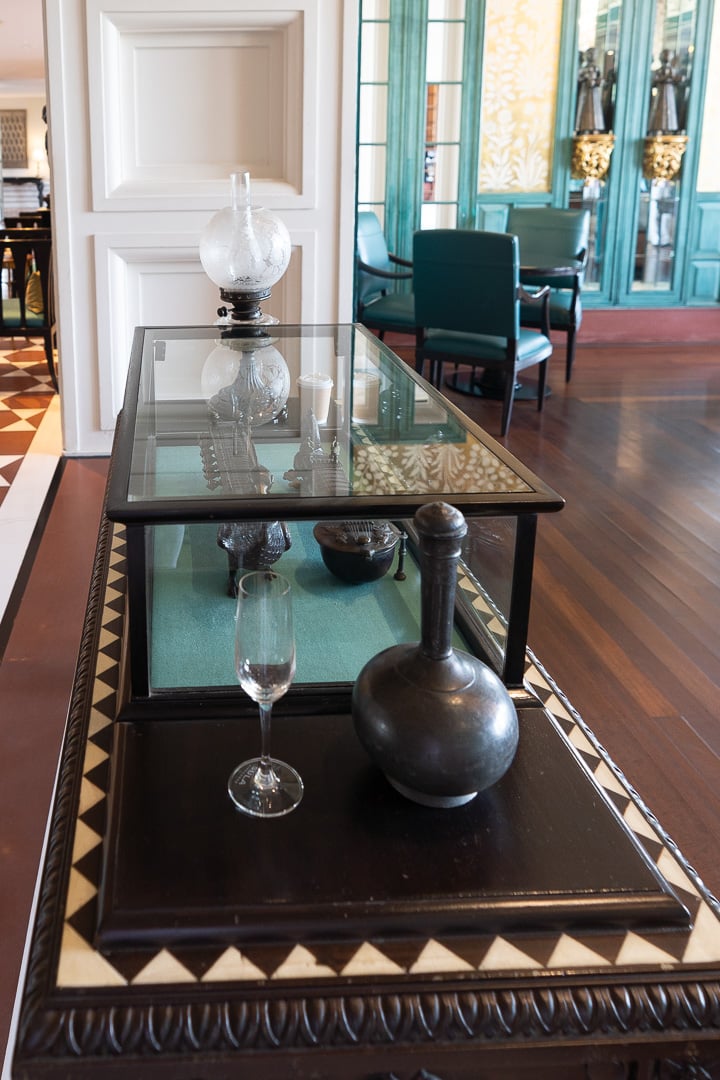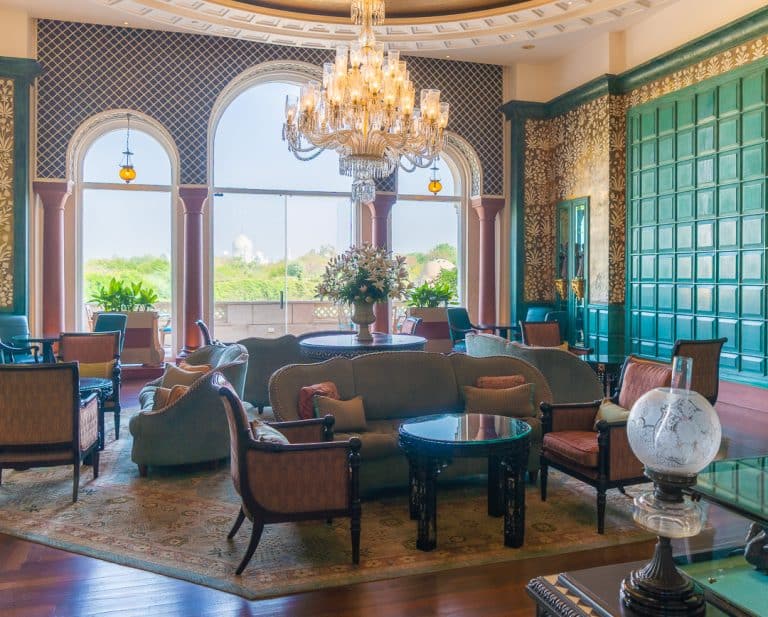 During this process, we were offered a profuse apology for the fact that our stay at the sister property Udaivilas would be cut short by one night, and were told that we would not receive the promised compensatory upgrade to a Deluxe suite with balcony at Amarvilas. Instead, we would be upgraded another category still, to the Robert Burns suite!
The fact that we were receiving this level of service recovery at a property that was not even at fault was utterly remarkable. It was clear that the Assistant GM felt personally responsible for safeguarding the reputation of Oberoi as a brand, and was therefore doing everything she could to ensure that we would harbour no ill will.
It worked. I was genuinely blown away by both her attitude and her delivery. Once again, it really felt as if every individual guest matters at Oberoi hotels and that the quality of our stay truly mattered to the staff here.
I'm fortunate to have stayed in a lot of suites over the years, but named signature suites are still very much reserved for special occasions. As we were led through the hotel hallways and saw the remarkable size of the suite's doors in comparison to all the other rooms, I knew that we were in for something exceptional. I was genuinely very excited to see what was in store…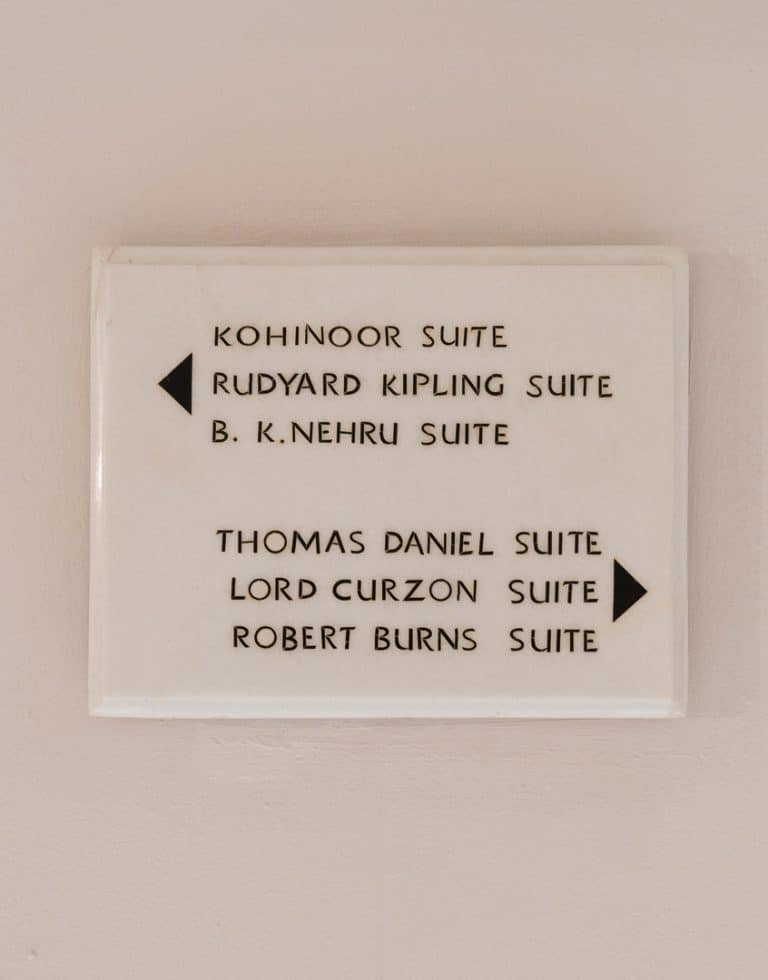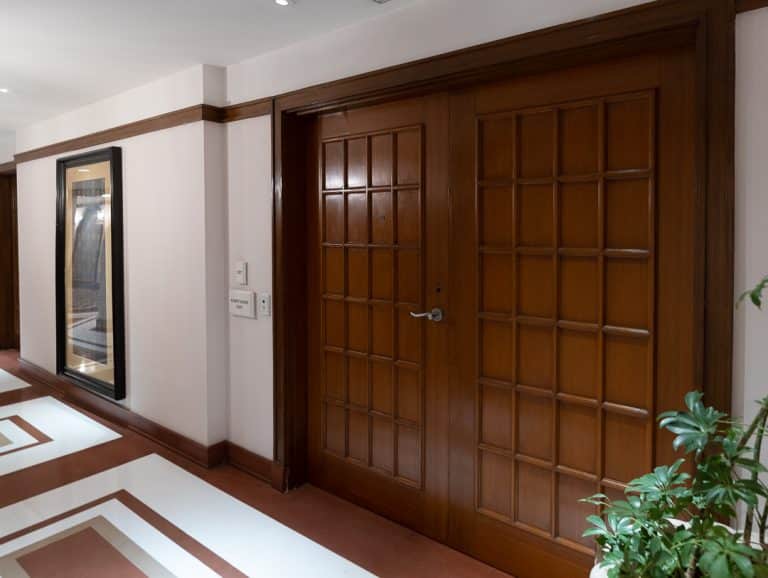 ---
Robert Burns Suite
---
Video Room Tour
View this post on Instagram
Living Room
We arrived at the hotel just as the sun was beginning to set over the Taj Mahal. This, combined with the extravagant petal displays, made for one hell of a first impression.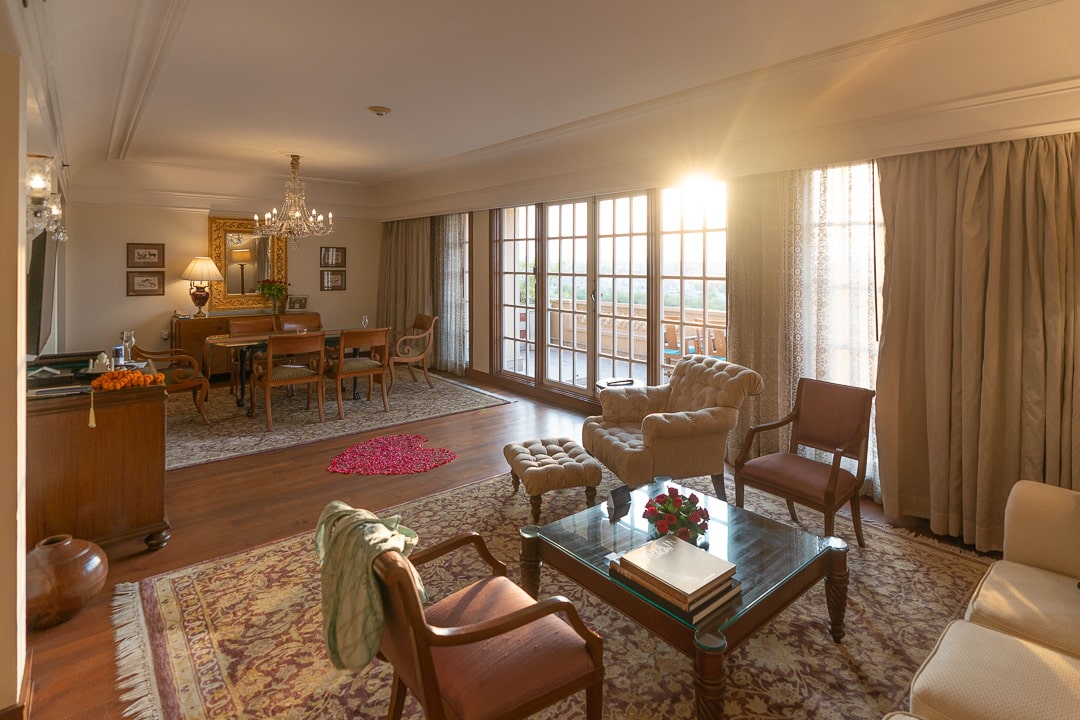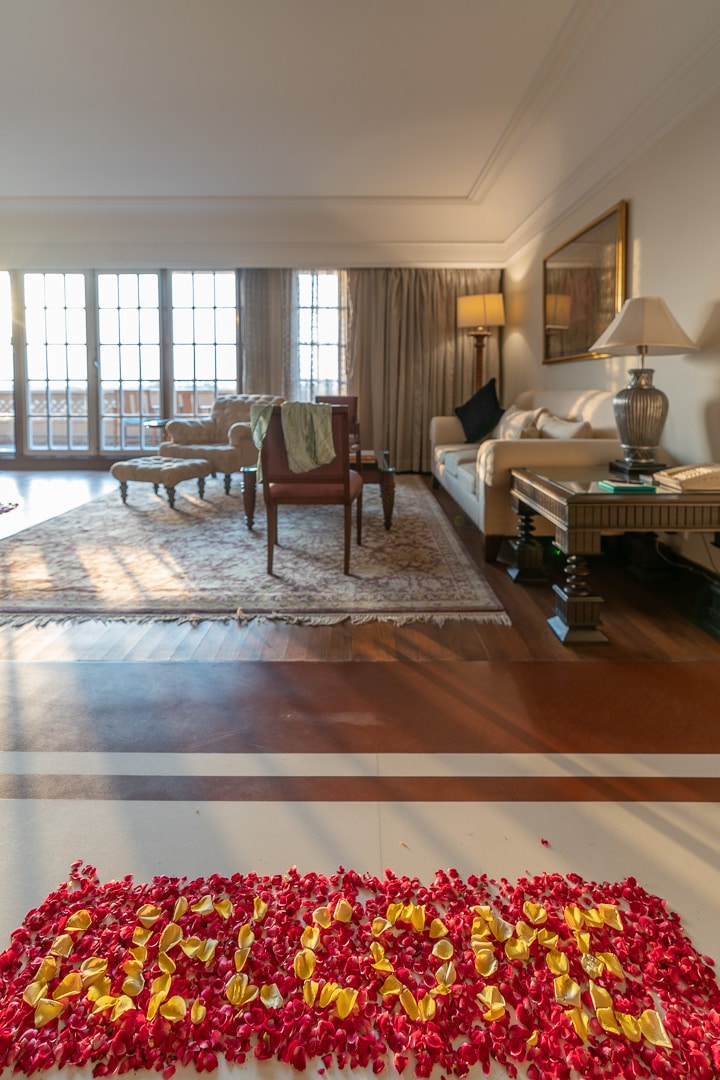 Although I tend to prefer the clean lines of minimal and modern interiors, I felt that the ornate furniture, intricate carpets and delicate chandelier were perfectly in keeping with the palatial setting of the property.
There was no work desk to speak of, but the glass dining room table provided ample space, close to power sockets, for catching up on emails.
At the far end of the dining table was a small butler's pantry, featuring an amazing bean to cup espresso machine, water, teas, and a full set of dining crockery.
Back in the living room, there was a set of rather rickety glass doors, leading to a very large balcony with a breathtaking view of the Taj Mahal. Unfortunately the doors didn't quite seal properly, which meant that the odd mosquito was able to make its way into the room.
Not the end of the world, since there was another fully sealed door separating the living room from bedroom, but a detail worth noting nevertheless.
Mosquitoes aside, the view from the balcony was incredible. Not only was the view of the Taj Mahal perfectly centred, looking below we were awestruck by the utter extravagance of the tiered hotel pool gardens beneath us.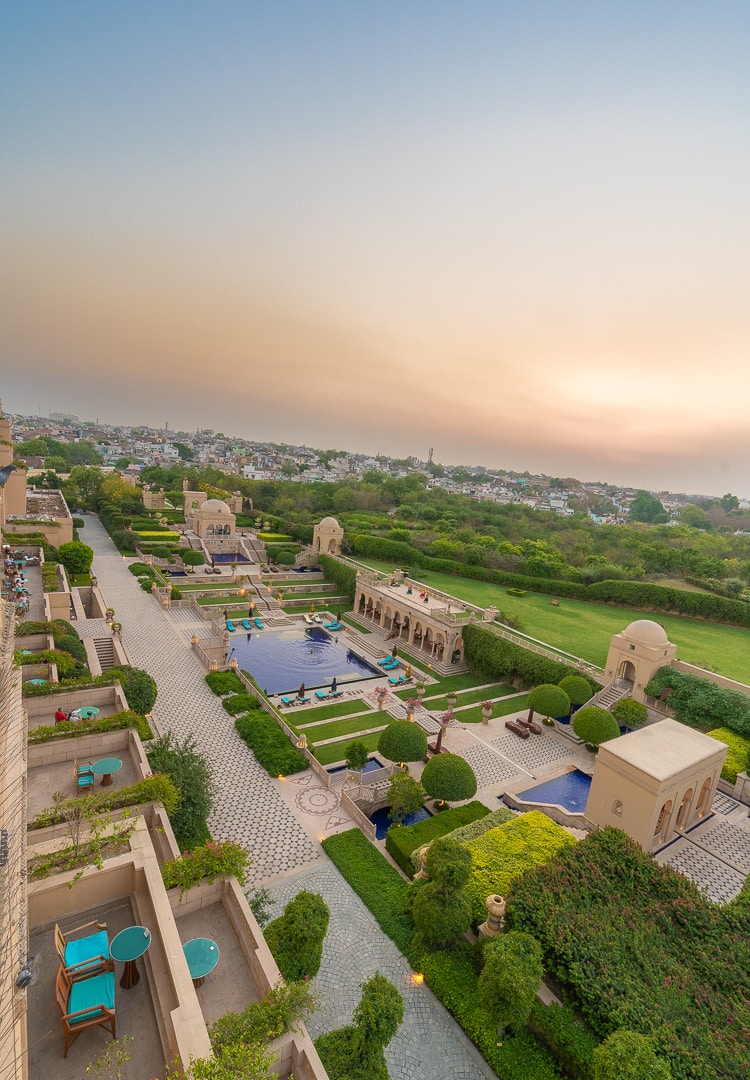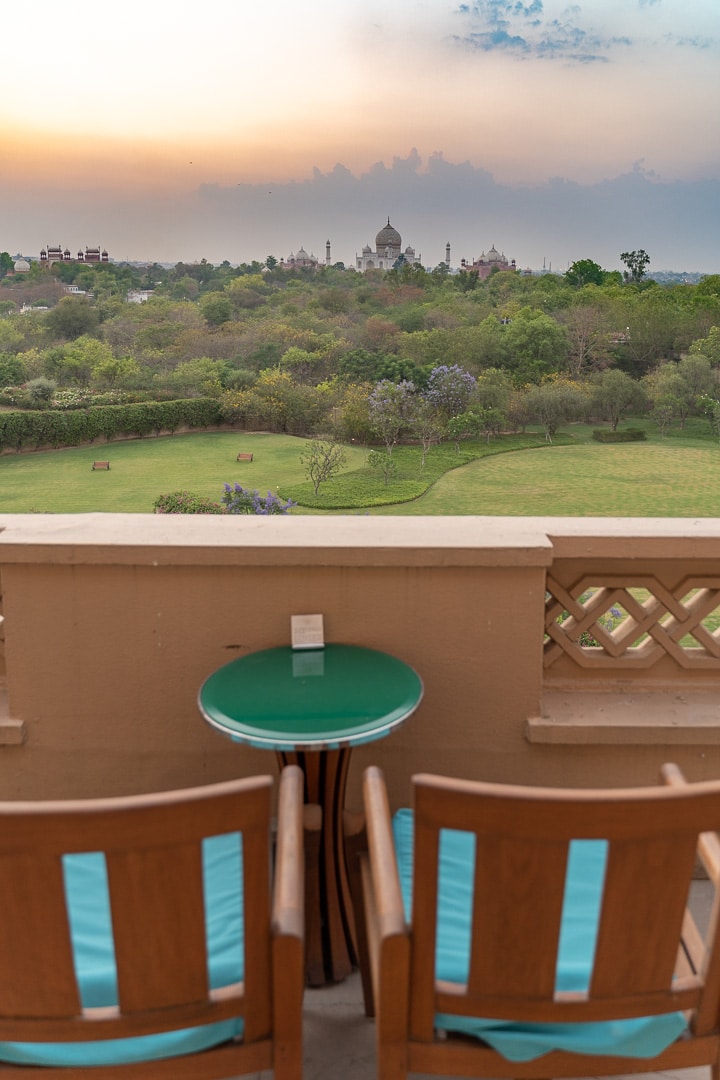 Each evening, as the sun began to set, an enchanting musical performance took place on the roof of the pool house:
Back near the main entrance to the suite, there was a guest bathroom featuring a full set of Oberoi toiletries and a long stem rose (as well as an utterly superfluous toilet phone).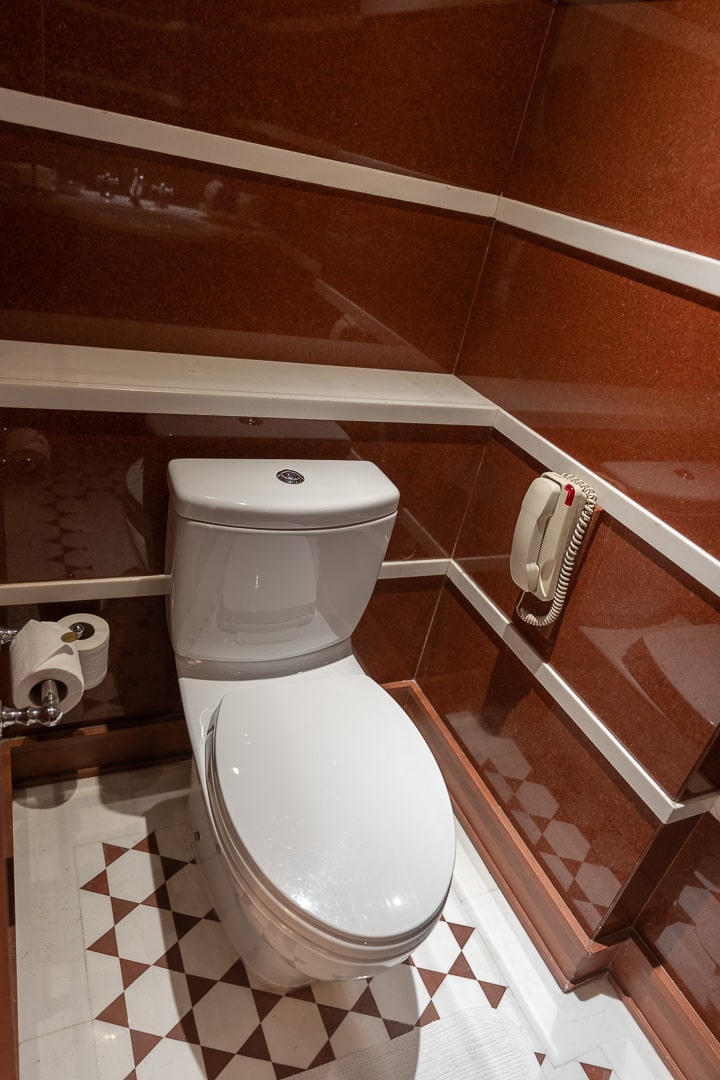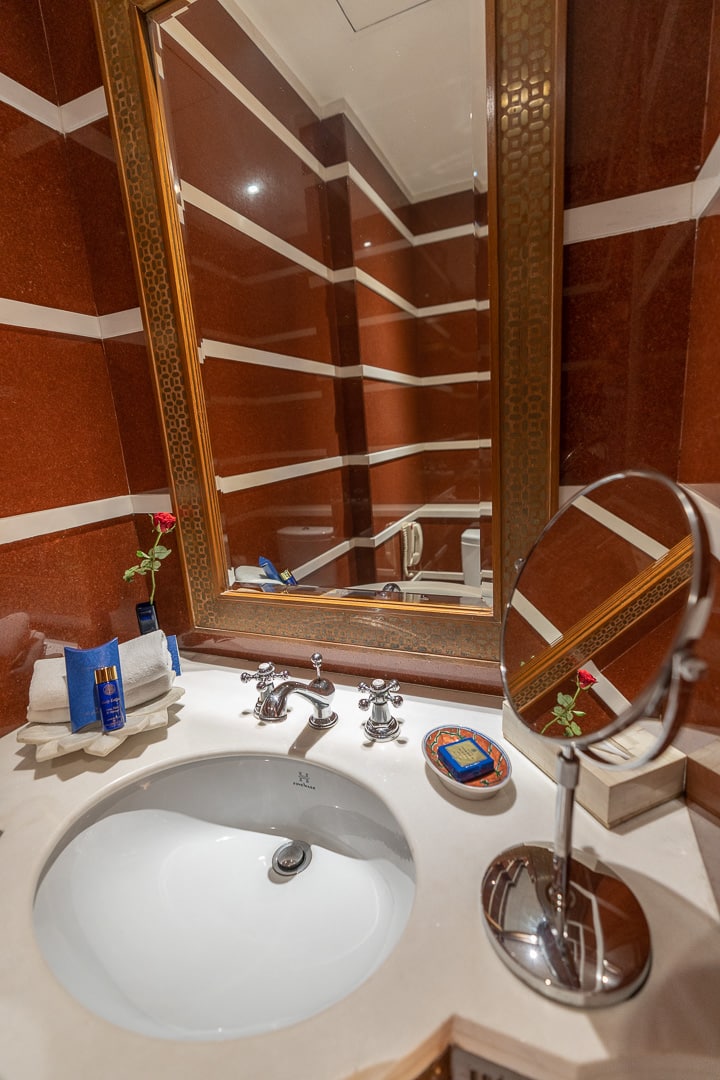 A lot of luxury properties tend to ignore the guest bathrooms in suites, offering a single token soap. So to have the full set of amenities as well as a freshly cut flower certainly validated the eye for detail for which Oberoi hotels are renowned.
Bedroom
The bedroom was very generously proportioned, and decorated in much the same style as the living room (with an equally wonderful view of the Taj Mahal from the window).
I particularly liked how enormous the side tables were; they actually could have doubled as drawers for our clothing, were it not for the fact that we had a separate dressing room!
Both sides of the bed featured universal power, master light switches and the famous Oberoi butler buttons – naturally.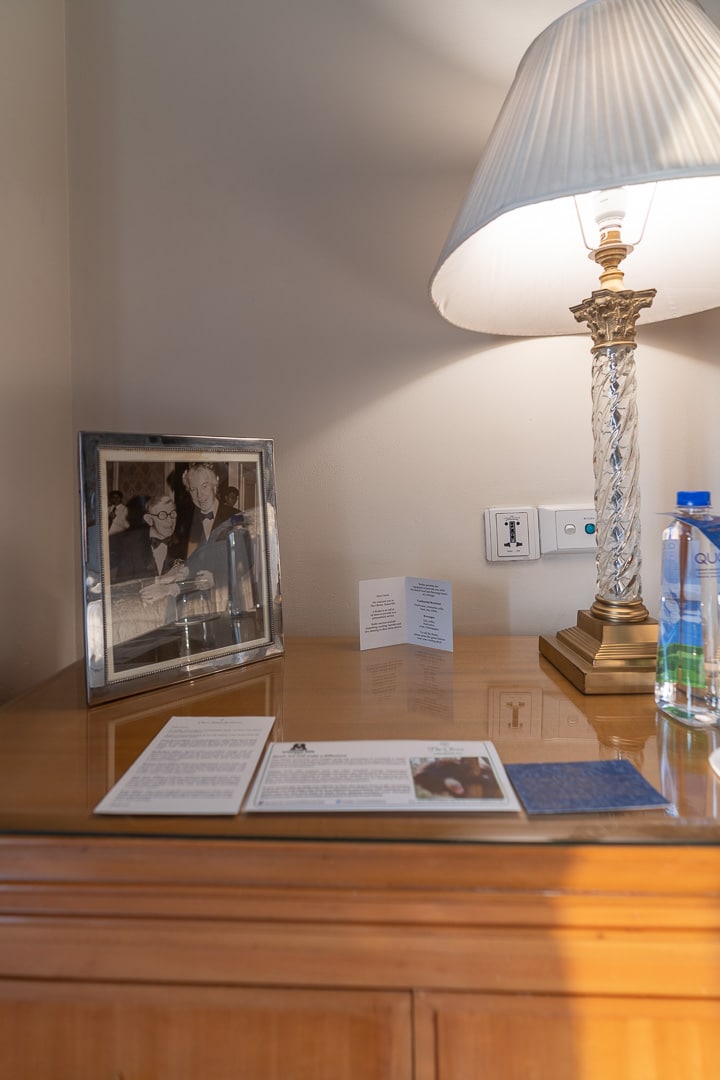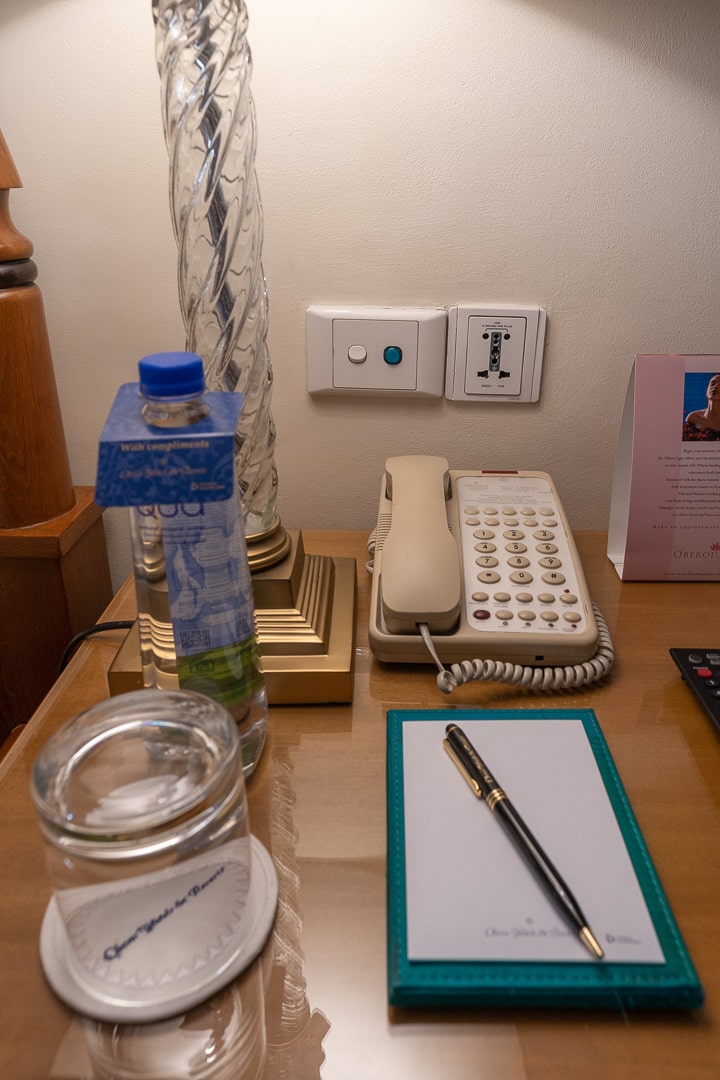 The bed itself was both enormous and supremely comfortable. As with the New Delhi property, a variety of pillows could also be ordered via the butler service.
At the foot of the bed was a minibar area, with a flat screen TV directly above. A beautiful selection of fresh fruit greeted us when we first arrived, and this was replenished daily.
Dressing Room
Apologies for the blurry image. I was using a brand new camera for the first time on this trip and this image was a casualty of my ineptitude. Hopefully, you are still able to discern that our dressing room was admirably equipped to deal with the multitude of luggage that accompanied us on this trip.
In addition to the luggage area, there were two open wardrobes featuring printed dressing robes, as well as various high quality hangers, including trouser bars and padded satin versions.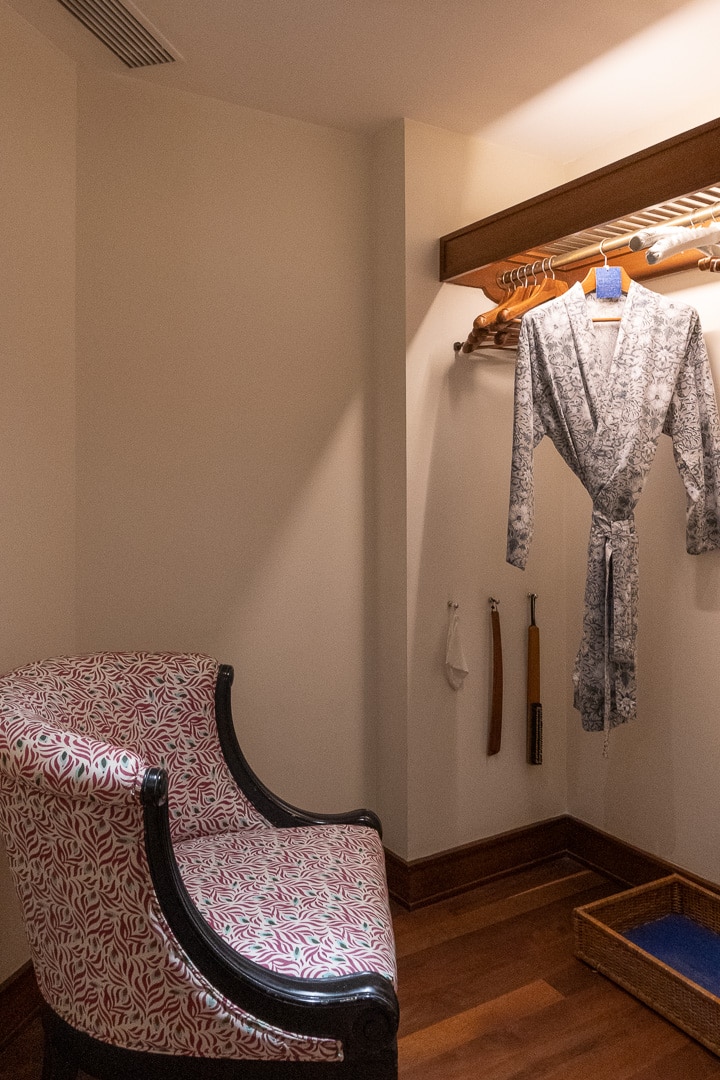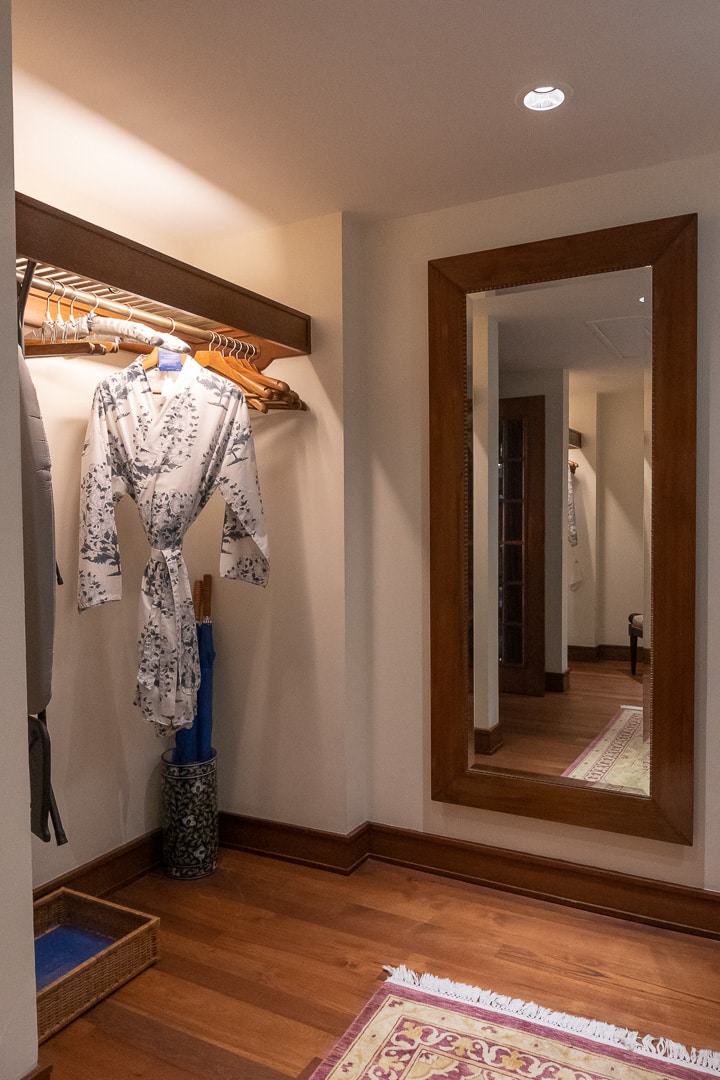 Bathroom
The bathroom was unquestionably the most spectacular space in the entire suite. An octagonal glass shower with a domed golden ceiling dominated the centre, looking like some form of ancient teleportation system.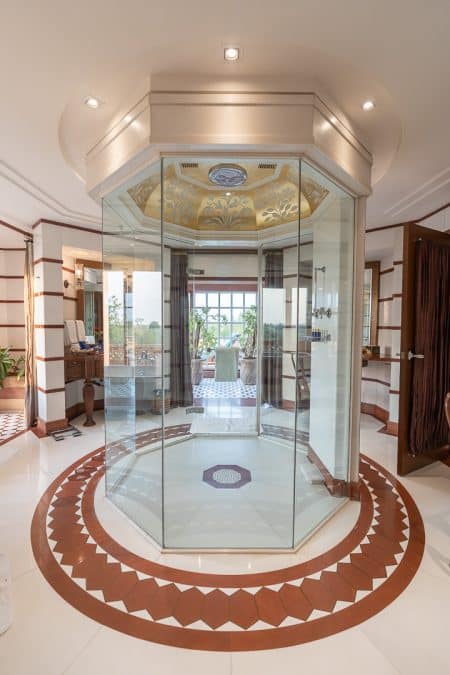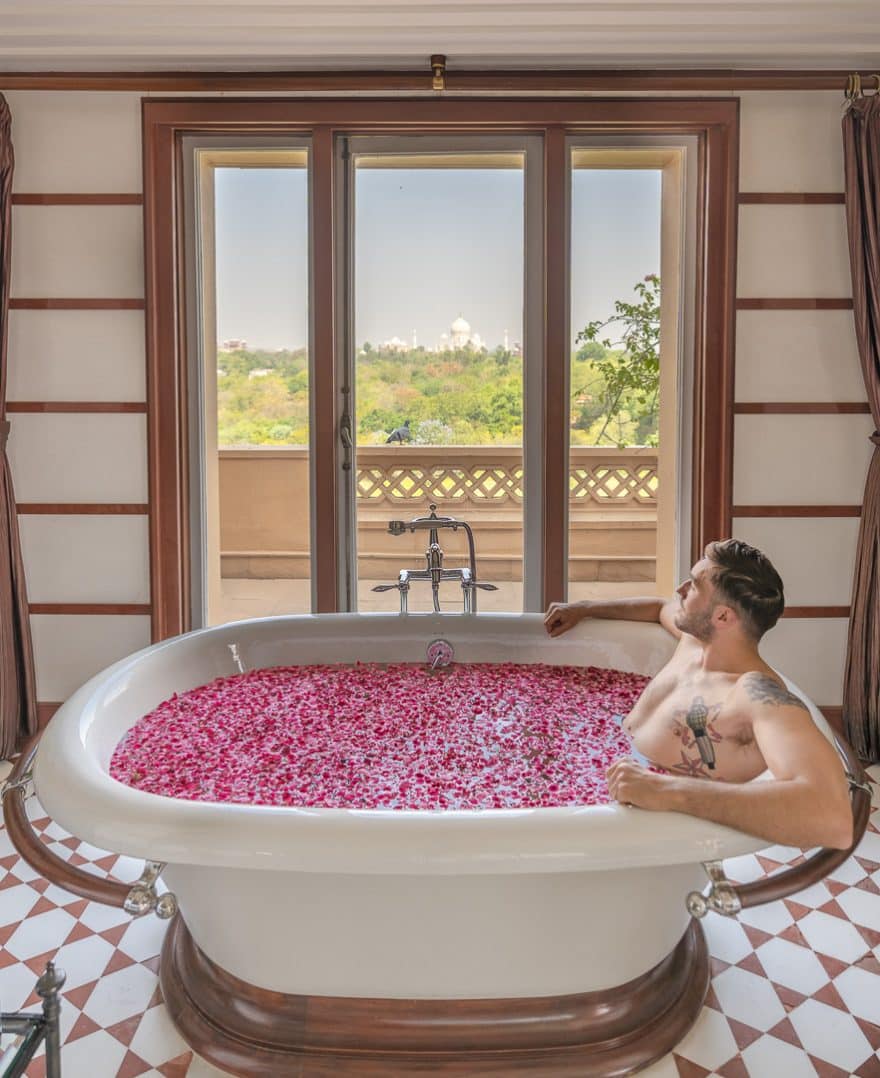 Immediately in front of the shower was a bath tub, which our butler very kindly filled with petals one day; so that we may enjoy a bath with a view….after our shower with a view.
A pair of sinks flanked the bathtub and although they featured mirrors, we seldom looked at our reflections, opting instead to peer at one of the world's most iconic buildings whilst brushing our teeth (exactly as we did at the Park Hyatt Sydney).
A multitude of amenities and toiletries were available at each sink, with signs telling us that any other items could be requested via our butler.
Oberoi hotels have their own branded toiletries, made by a brand called Forest Essentials. Ordinarily at this price point you'd expect Hermès, Acqua di Parma etc. but the quality of the toiletries was undoubtedly high and the smell was truly wonderful.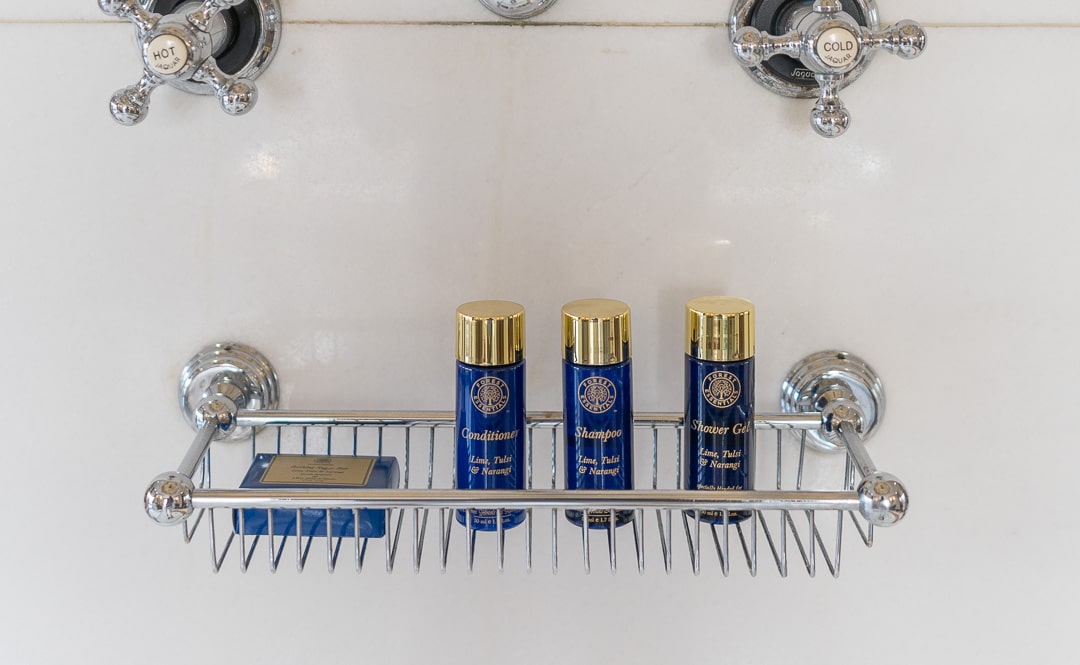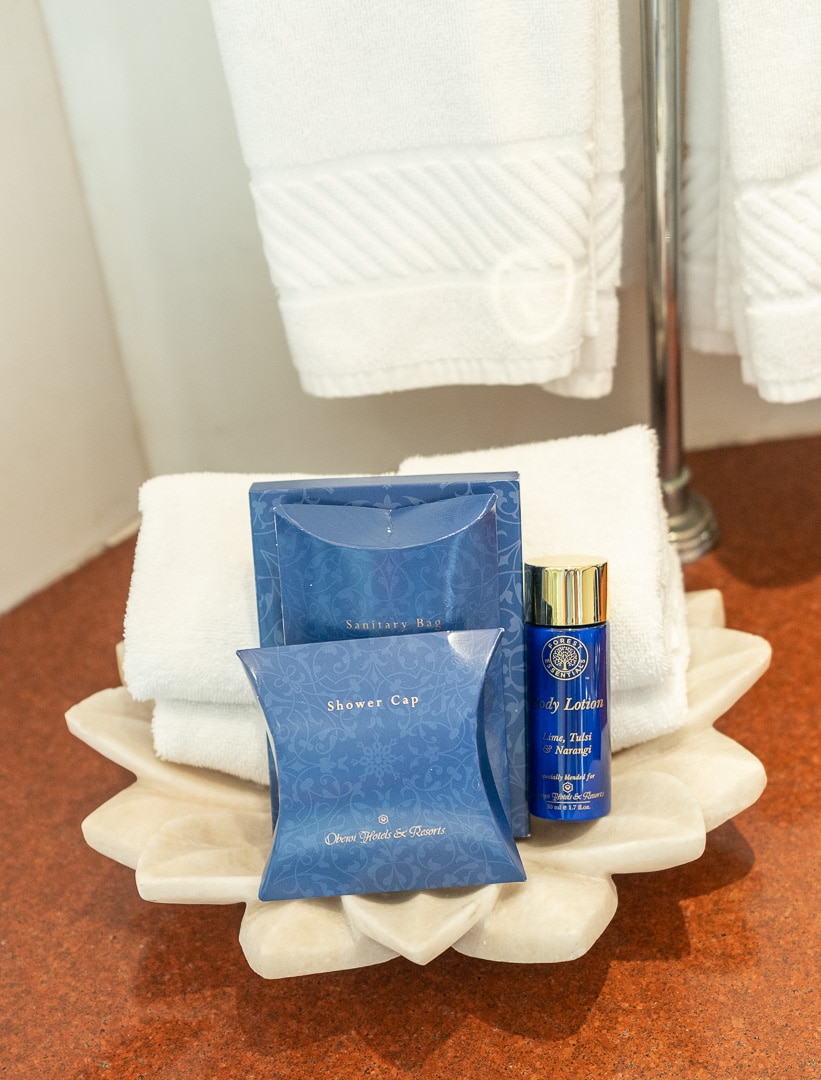 Towards the back of the bathroom was a make-up area. Thanks to the glass shower and multiple windows, it benefitted from a large amount of natural light.
Next to this, behind a closed door, was the toilet (once again featuring a phone, for those who want to do business as they do their business).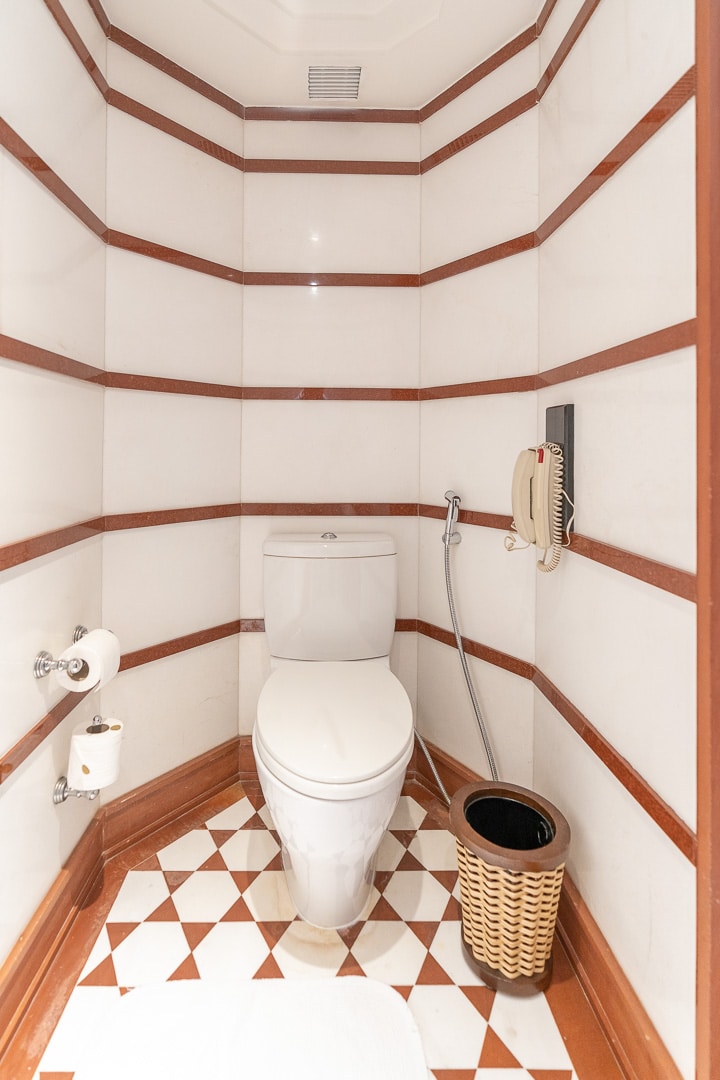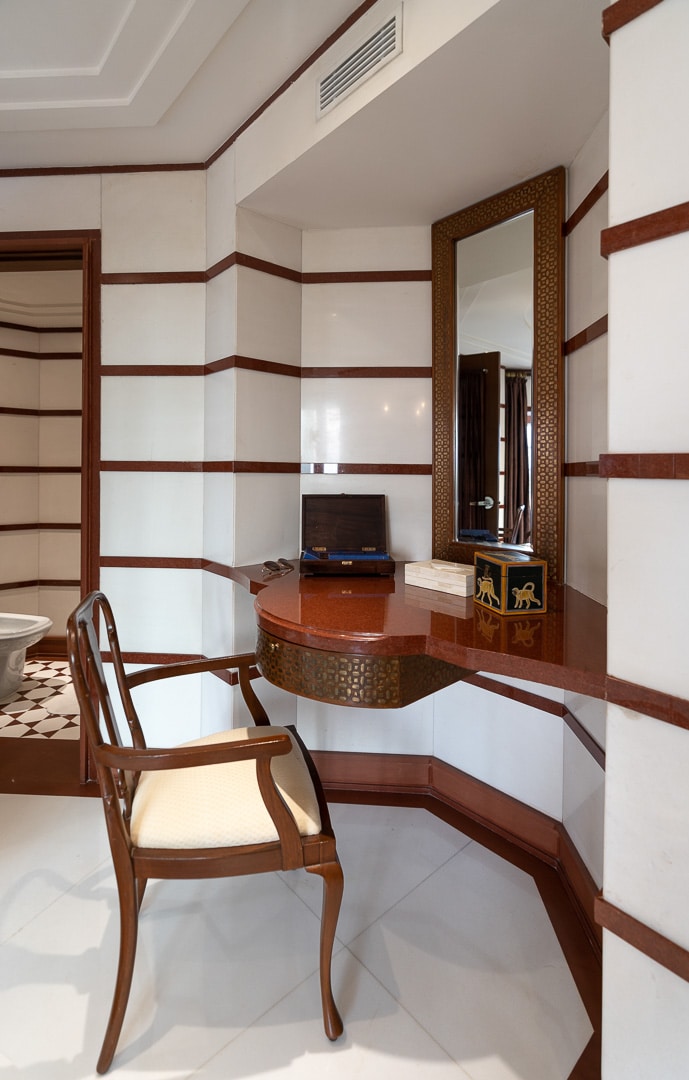 At the far end of the bathroom there was a glass walled conservatory, filled with foliage, which led to the suite's terrace.
The outdoor terrace boasted the same spectacular views as our balcony, with considerably more space. It must also be one of the very few places on the property from where you can actually see the surrounding neighbourhood, behind the main hotel building.
Although, in all honesty, our gaze was rather more fixed in the other direction.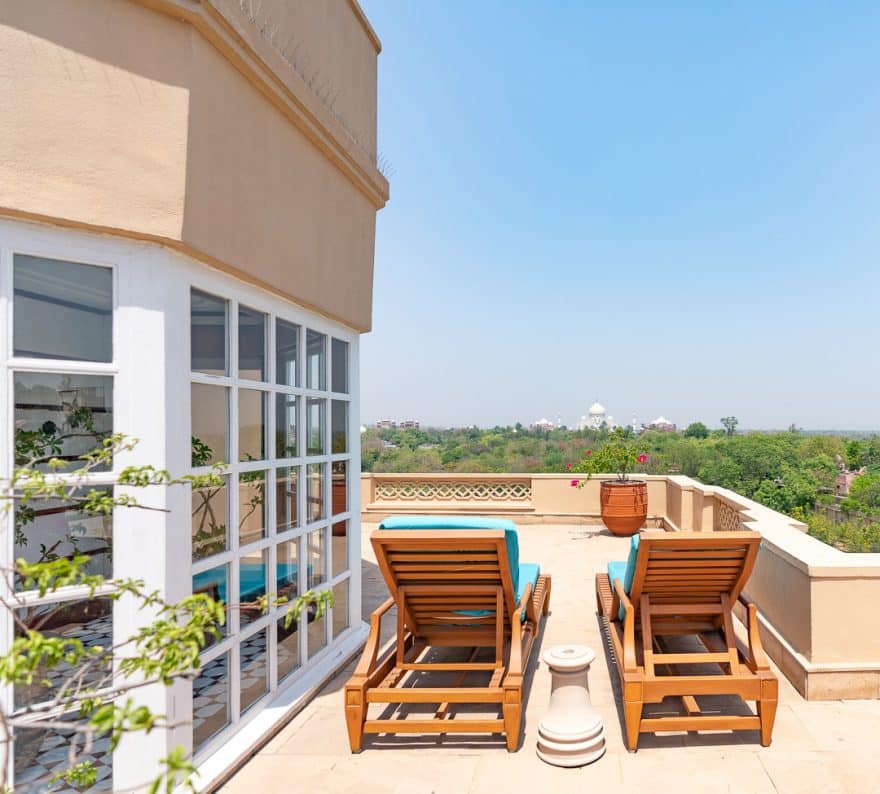 Although there was a heavy marble base, no parasol was provided. This meant that we didn't spend as much time out here as we would have liked. It also felt like a wasted opportunity to have this much space and not provide a plunge pool or hot tub.
Did I mention the view though?
---
Service
---
The service throughout the property was absolutely amazing, but I found this to be most evident in our room. Our housekeeper Nitin would leave us notes and surprises every day, truly going above and beyond.
During turndown we not only had the bed, water and slippers prepared, we would also find every single cable tidied with small Oberoi branded velcro fasteners.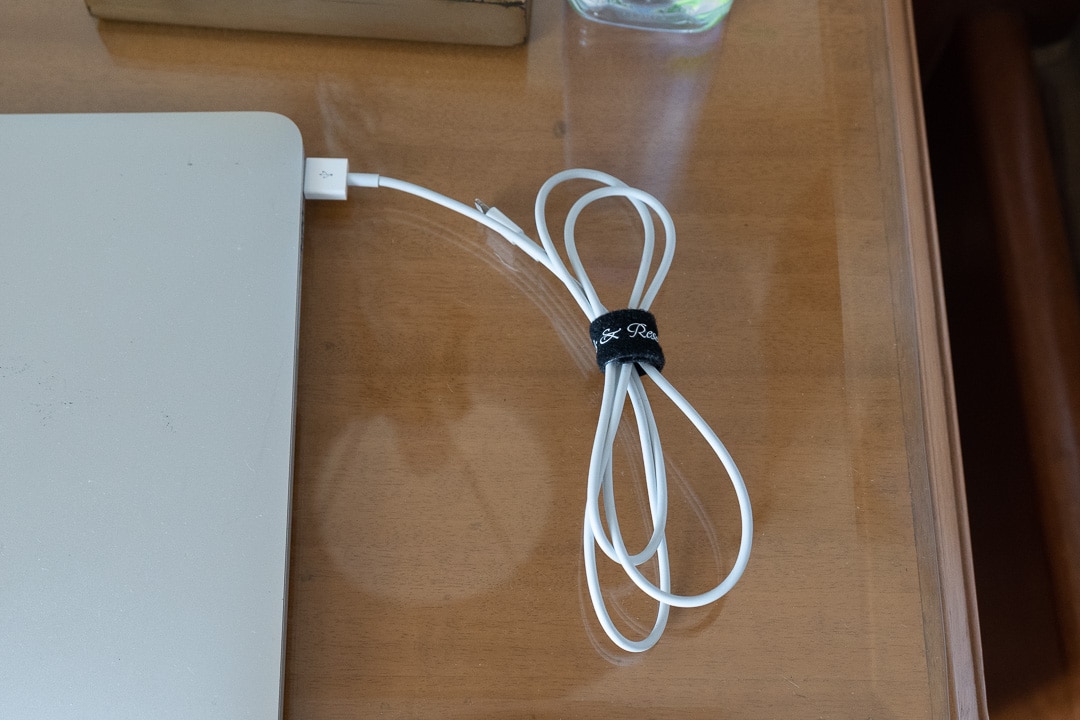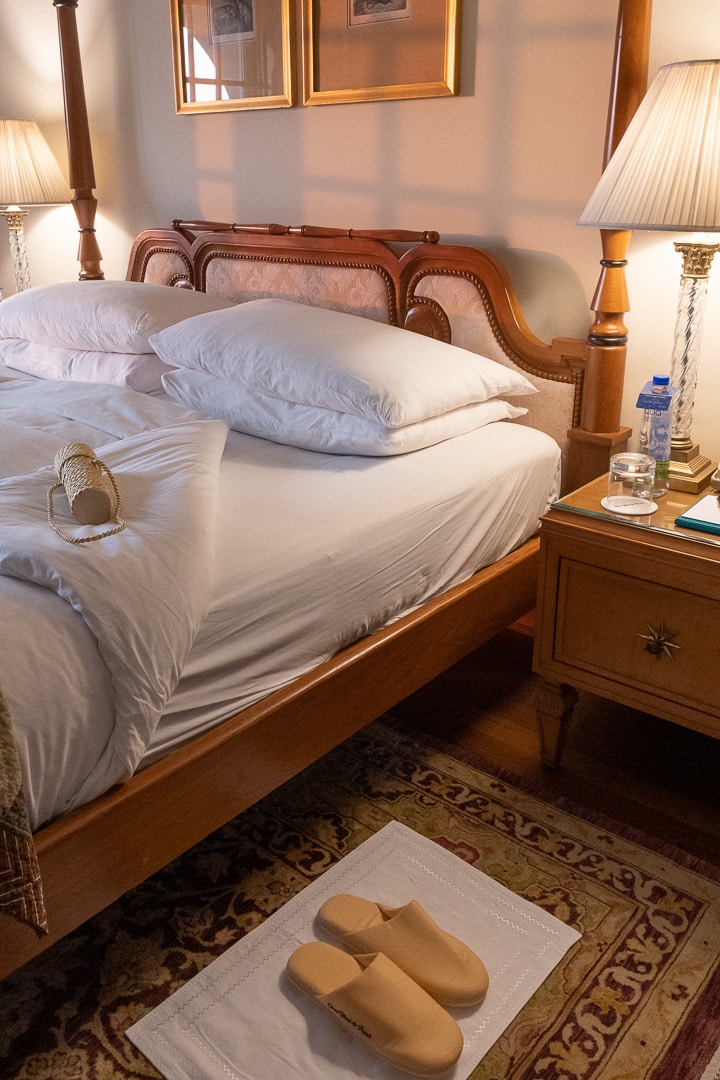 I already mentioned the fact that we randomly returned one day to see the bath filled with rose petals, but that was by no means the limit of Nitin's ornamental creativity.
Every part of the suite received his magic touch in one way or another.
I also mentioned the fact that our welcome fruit was replenished daily. However, I forgot to mention our main welcome amenity, which was up there with the very best we've ever received: a model replica of the Taj Mahal, made out of white chocolate!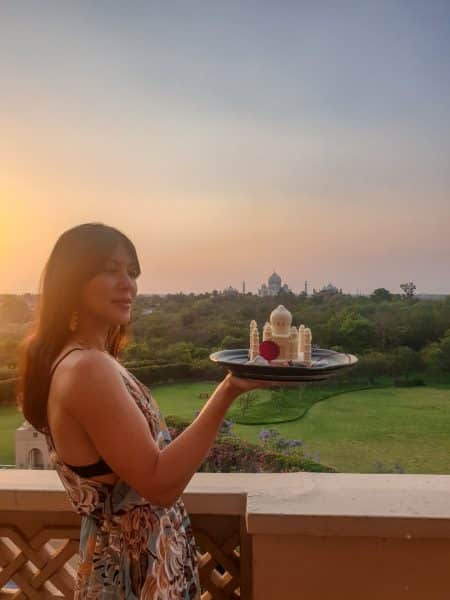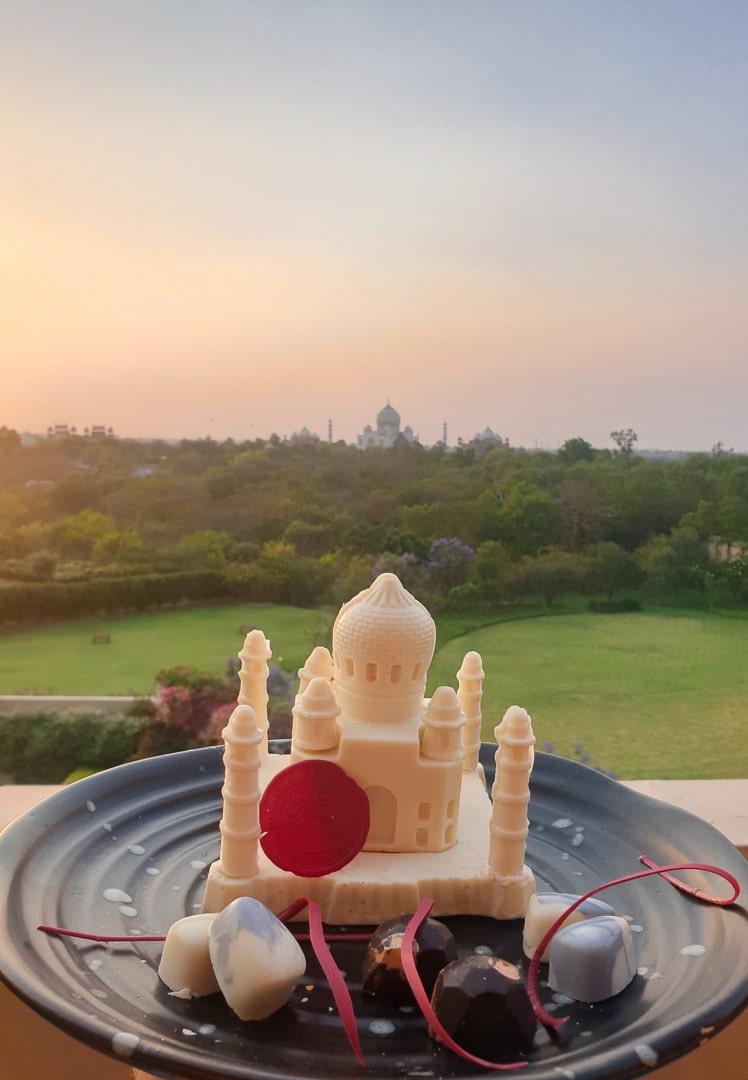 ---
Leisure facilities
---
Pool
Casting our gaze down from the balcony, we were immediately awestruck by the hotel pool. I honestly can't believe that it doesn't feature more prominently on the hotel's advertising. I get that they need to focus on the Taj Mahal, since it's the reason why everybody comes to Agra.
However, if people realised how spectacular the leisure facilities are, I'm sure they'd schedule longer stays here. I certainly could have spent at least one more day here, relaxing in this utterly spellbinding and palatial pool.
However impressive it is from above…
…it is even more magnificent up close.
What's more, during the day, we had the entire place to ourselves, with other hotel guests only starting to appear after around 4pm. This meant that we were able to not only swim and relax, but also take the opportunity to capture some pictures together (something which we do surprisingly little of, considering how much we travel).
Special thanks to Narendra, one of the staff members, who saw us setting up our tripod and offered to help, effectively becoming our photographer for half an hour!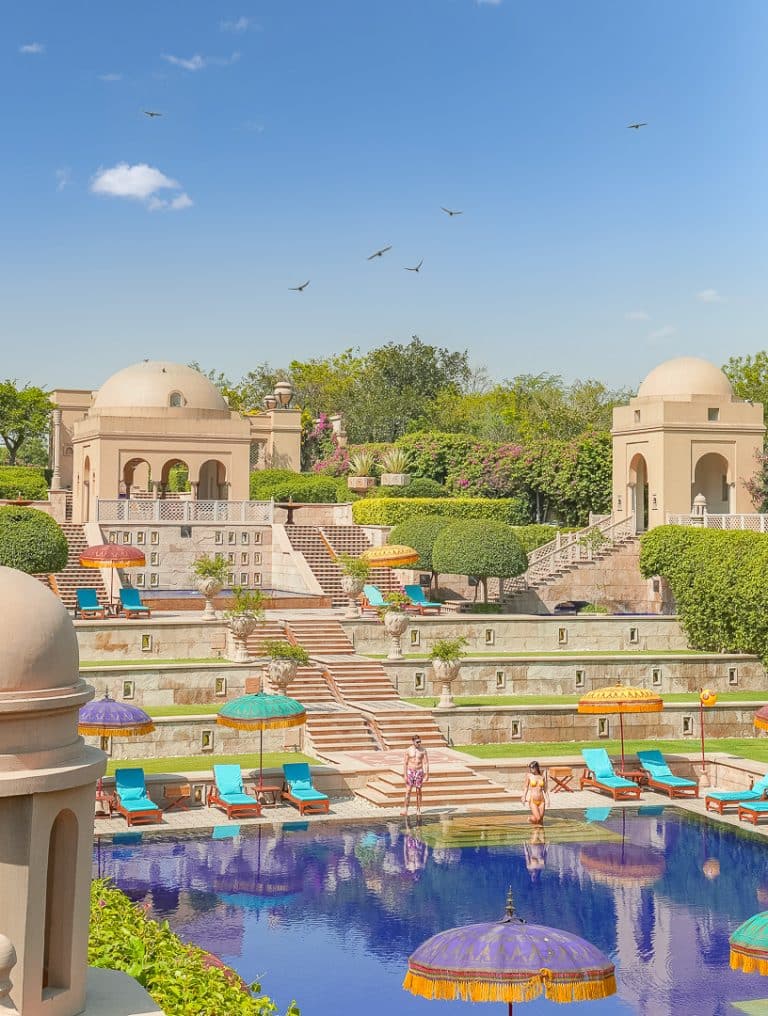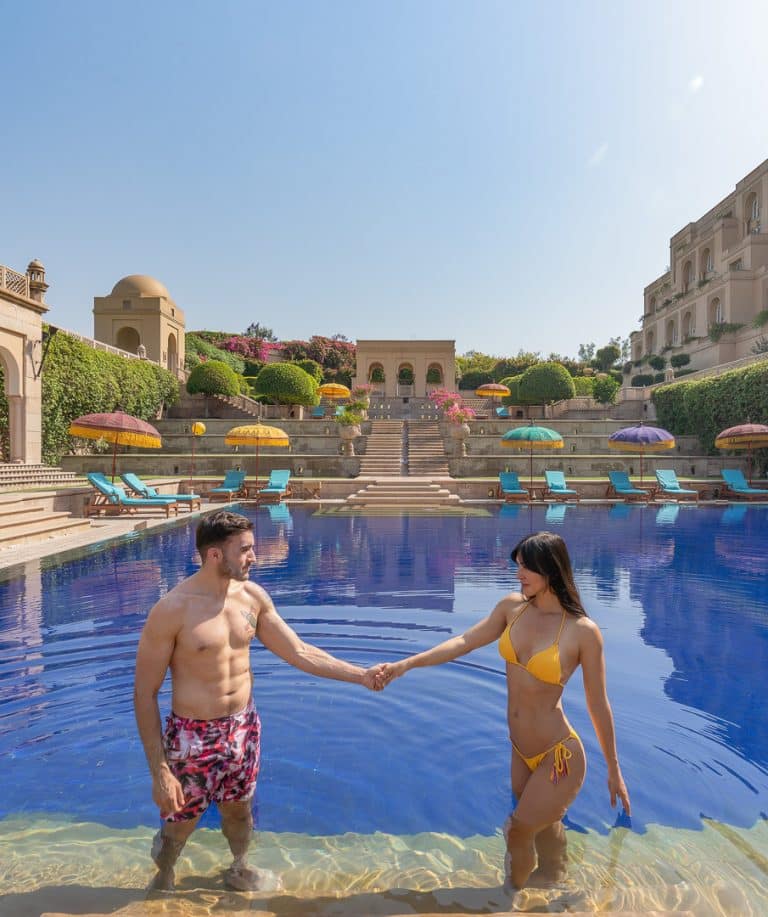 Service by the pool was as stupendous as elsewhere on the property, with fresh water, cold towels and frozen fruit on offer from the very attentive pool staff. The loungers were thickly padded, and shade was provided by beautifully elaborate and colourful parasols.
Every moment at the Amarvilas pool felt like a waking dream. I honestly couldn't get enough of it. It is, without a doubt, one of the very best hotel pools in the world, and certainly my personal favourite.
A shaded pool house of sorts sat at one end of the pool, where guests could enjoy a poolside lunch with the gentle breeze of electric fans above.
Mirroring this structure was a shaded lounge area, accessible from both dry land and from within the pool.
The mosaic tiled changing rooms were located in this covered area, although almost everybody appeared to arrive at the pool in their swimwear.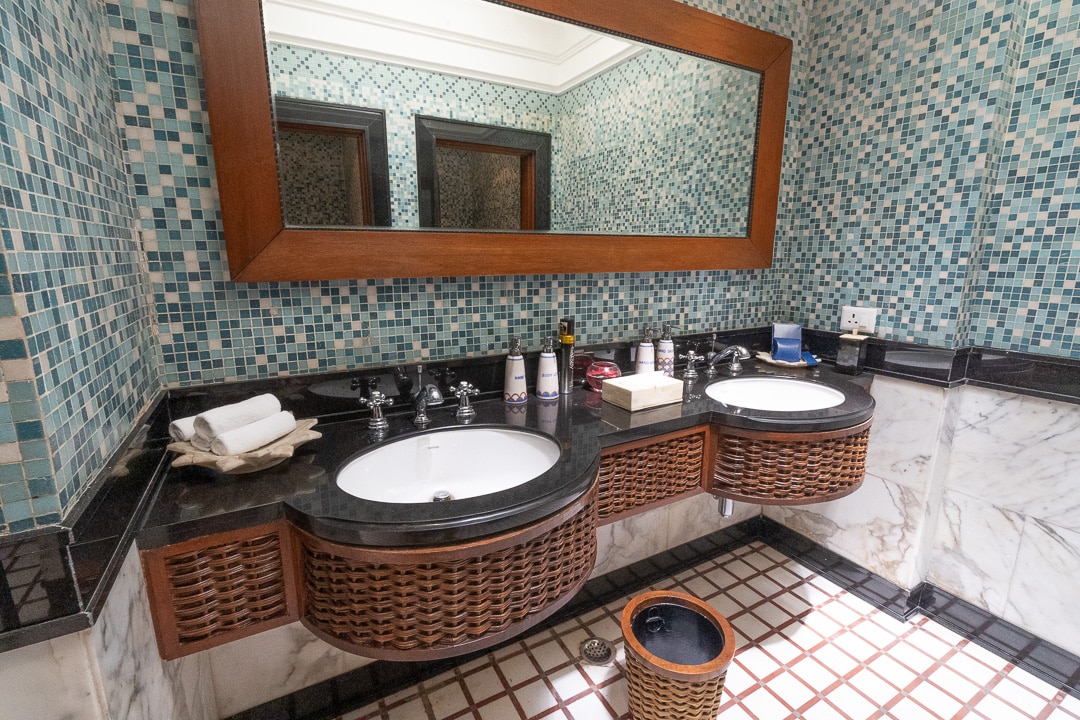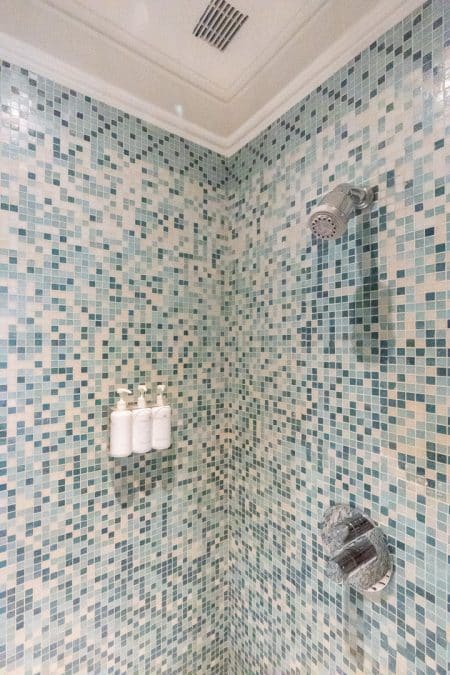 Gym
In order to access the gym, we first had to re-enter the main hotel building, passing through a very grand reception hall on the way. In any other hotel, this area would be a showpiece. At Amarvilas it is just another of the many remarkable public spaces.
The gym itself was distinctly less modern than the one at the New Delhi property. However all the machinery was very clean and well maintained. Besides, most gym rats will tell you that older machines just feel better than modern equipment (ask anybody who ever used an original Nautilus pullover!).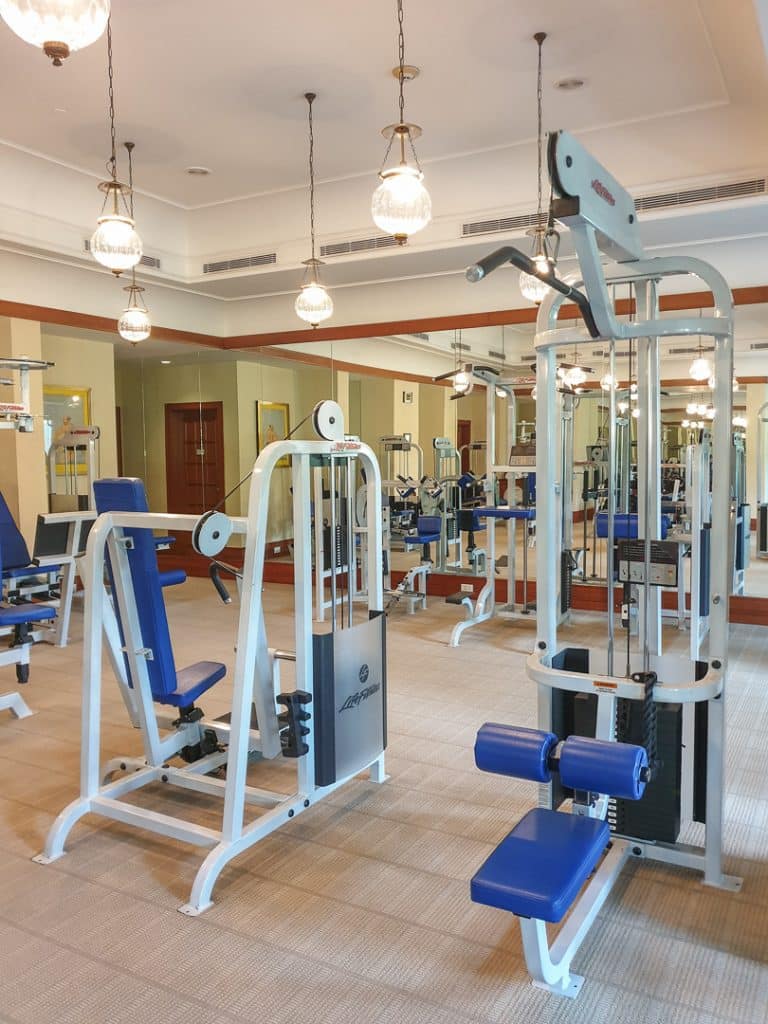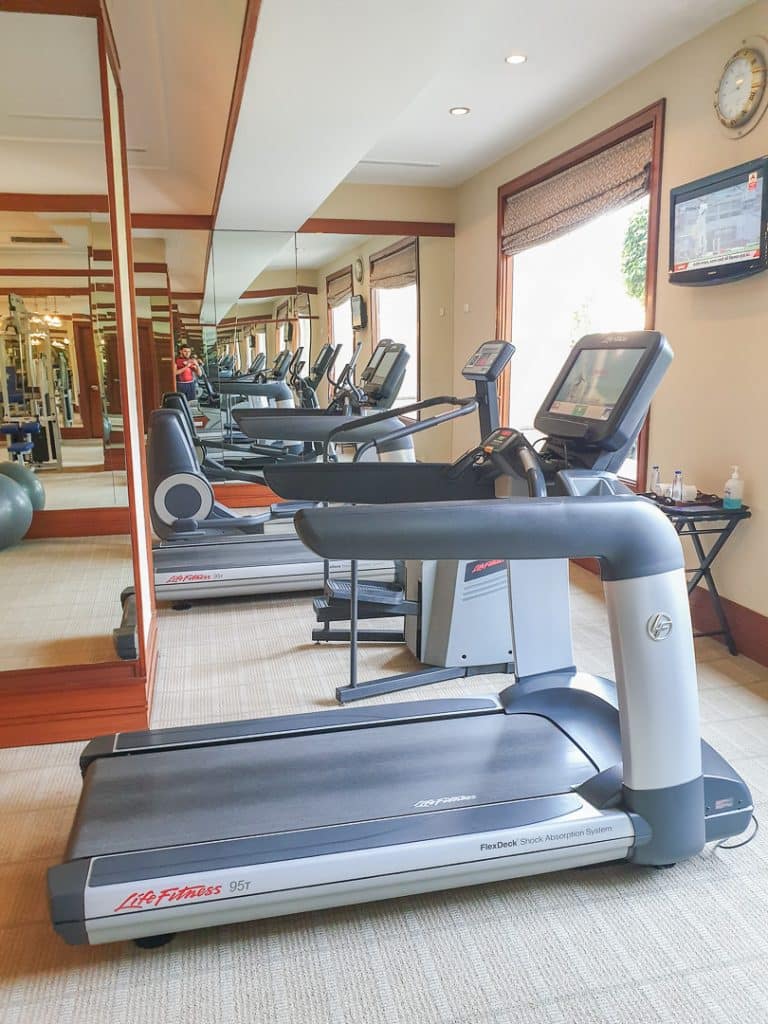 The overall feel of this facility reminded me a lot of the Four Seasons in Singapore, which had a similarly impressive array of machinery, even if it wasn't the very newest available. Free weights went up to 25kg, which is fairly standard for a hotel gym.
Less standard was the fact that a jar of chocolate cookies was on offer to gym goers, in addition to the usual fruit and water.
The flavoured water made with orange and rosemary was fantastic. Writing this had reminded me that I need to make some at home (also a great flavour combo for G&Ts).
---
Taj Mahal visit
---
The number one selling point of this property, besides the spectacular service and pool, is the highly privileged access to the Taj Mahal. Guests are transported directly via golf cart, from the property to the entrance of the monument. Tickets were also arranged in advance so that no queuing was necessary on the day.
It is hard to overstate the level of luxury and convenience that staying at this property affords you. The public road up to the Taj Mahal is swarming with touts and street vendors. Speeding past them in the only vehicle permitted and heading to the front of the entrance queue is an experience worth its weight in gold.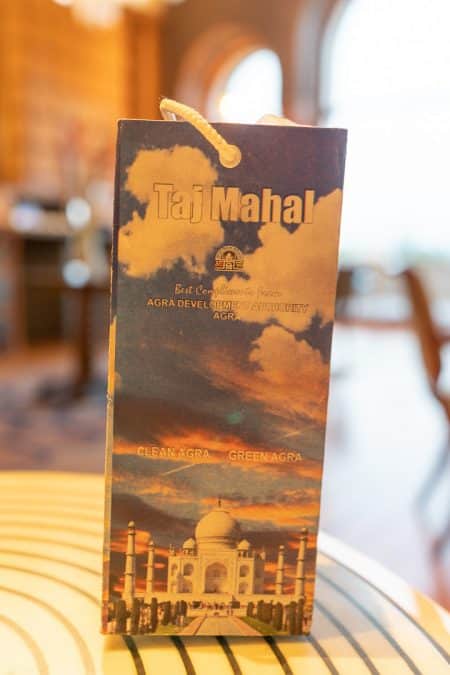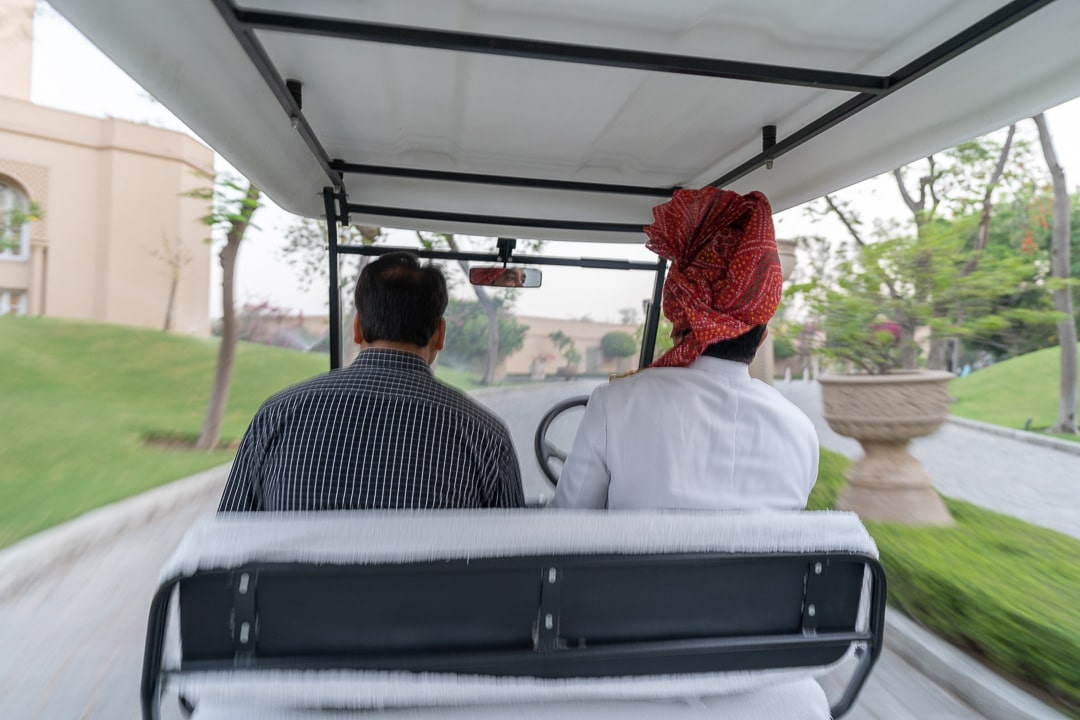 If you're planning to visit the Taj Mahal, then this is unquestionably the way to do it. You're also so close by that a return visit at sunset is very convenient to arrange.
---
Food and Drink
---
Pre-Breakfast
A spread – not dissimilar to that in the gym – was provided at the hotel bar each morning. Since almost everybody will be waking up early to take a sunrise tour of the Taj Mahal, the hotel prepares a selection of complimentary juices and sweets for guests. Alongside this, you are welcome to order complimentary teas and barista-made coffee.
This really reminded me of going on safari, where you will invariably be offered the first of three breakfasts at 5:30am, before your first game drive of the day.
Breakfast
Breakfast was served in the main dining hall of the hotel: a stately room that felt perhaps a little too formal for guests who were dressed predominantly in comfy clothes, for walking around the grounds of the Taj Mahal.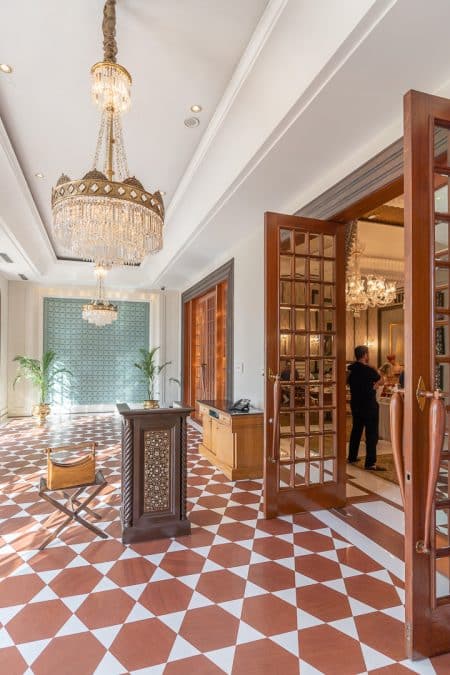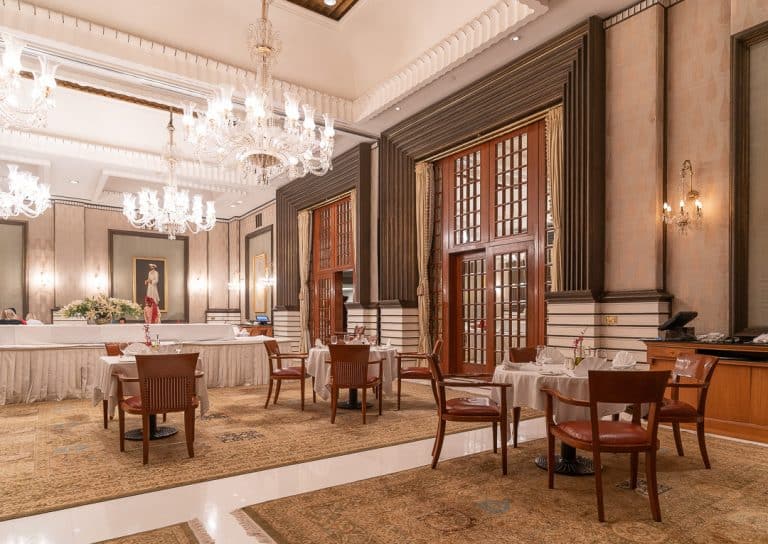 Service was excellent though, and certainly nobody was made to feel uncomfortable for wearing shorts by the ever smiling and helpful staff.
An elaborate buffet was served in the centre of the room, with an extensive selection of a la carte dishes also on offer.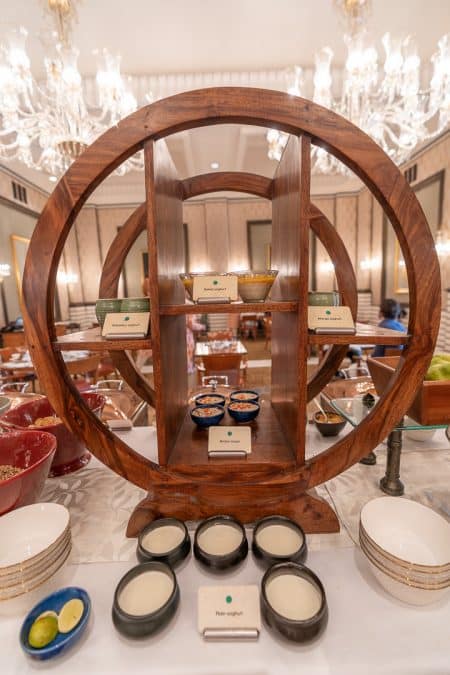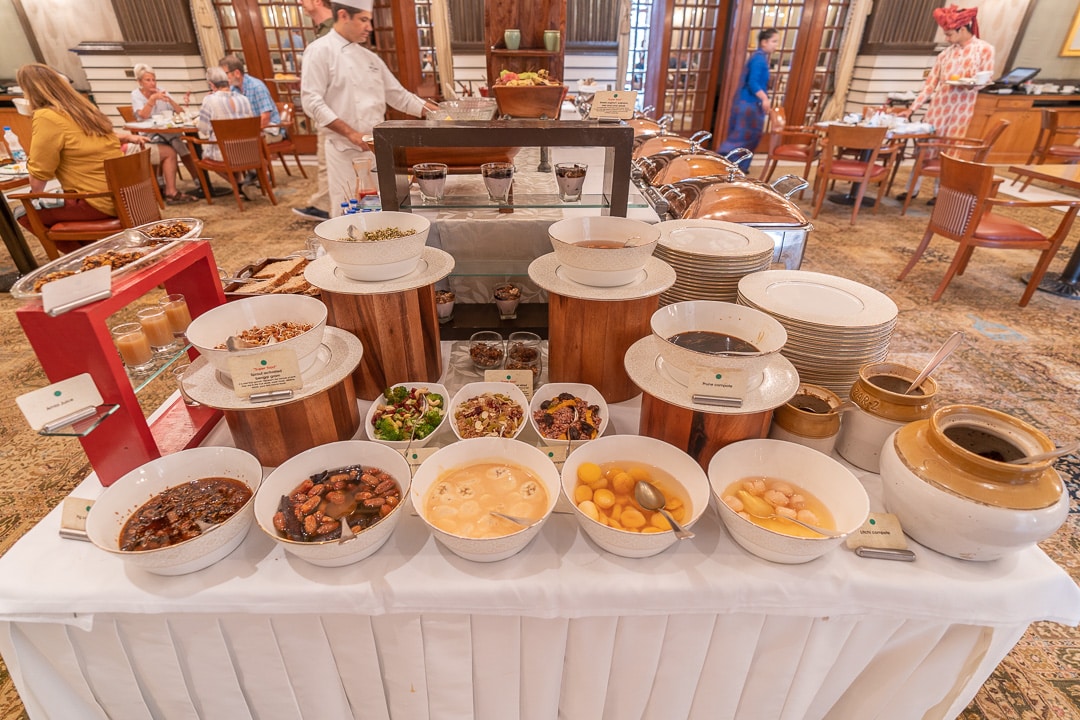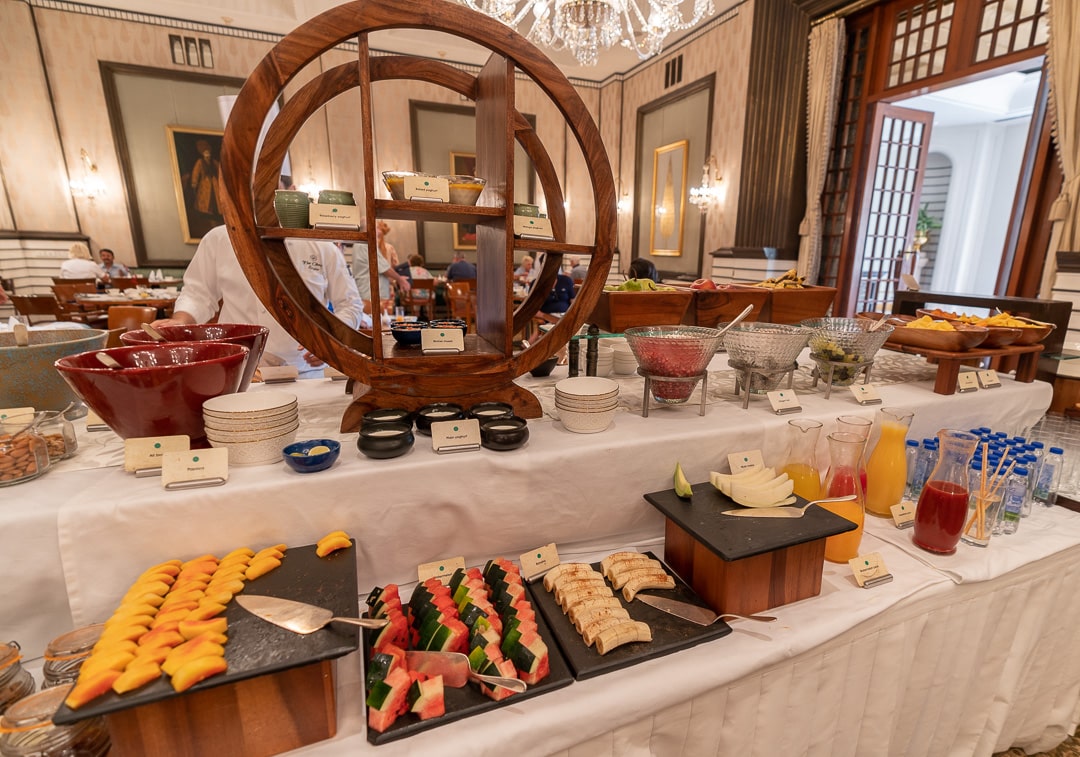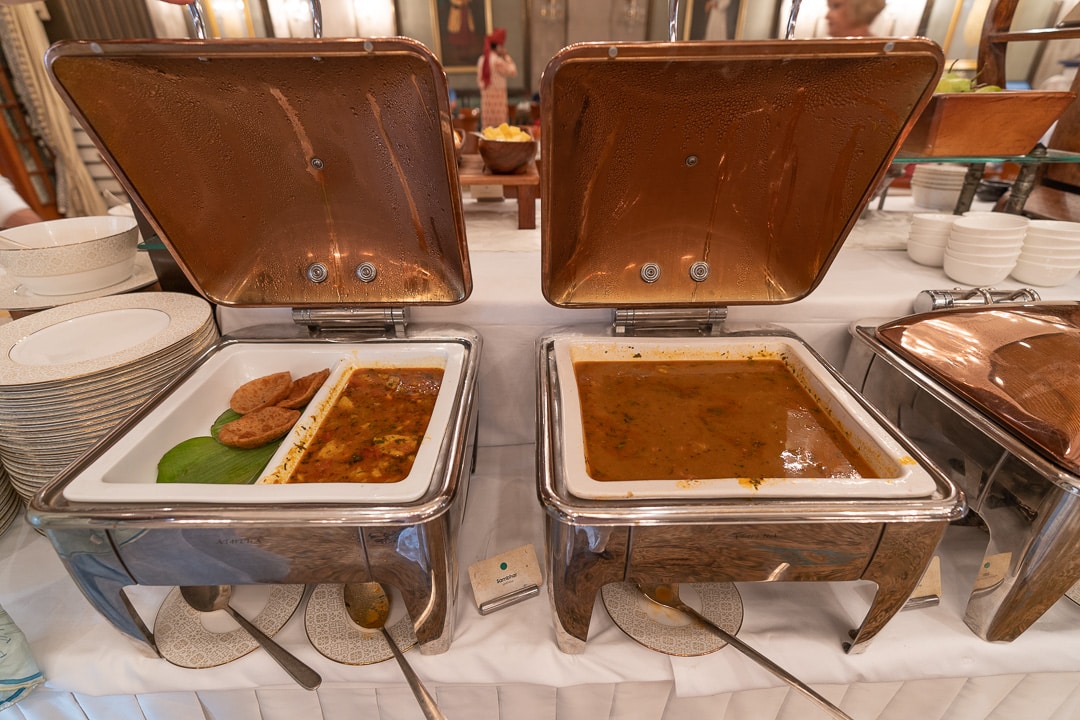 Coffees and juices were brought out very promptly, and both the Western and the Indian a la carte options were wonderfully executed. The freshly made, gigantic dosas were the undisputed stars of the show, though.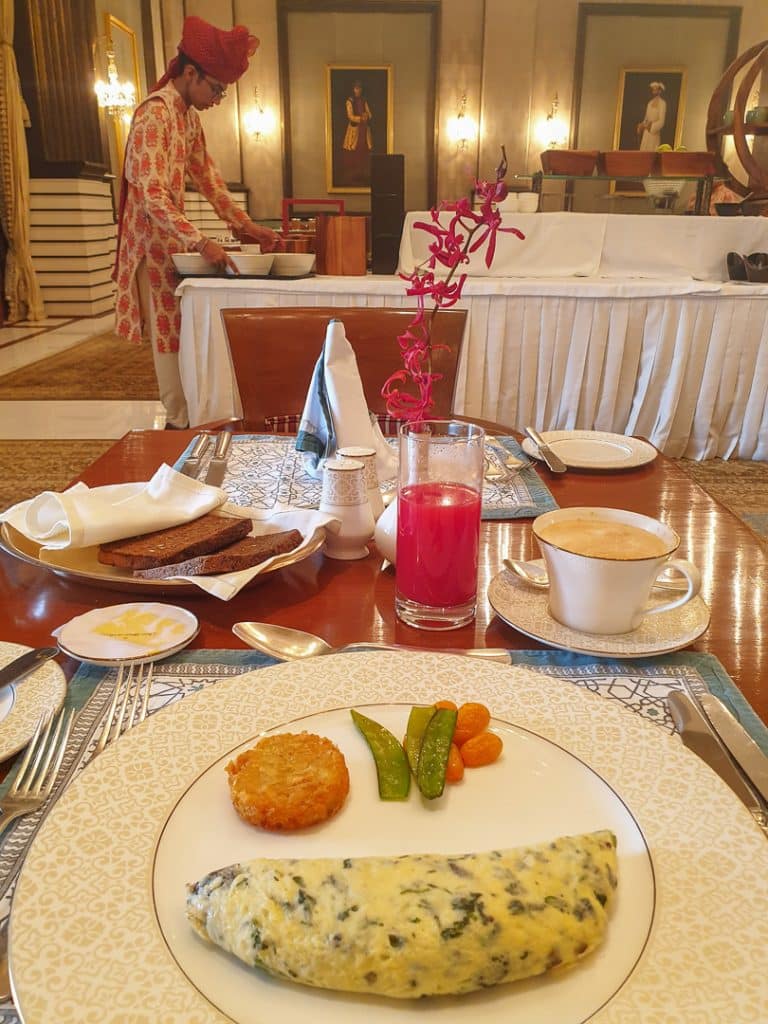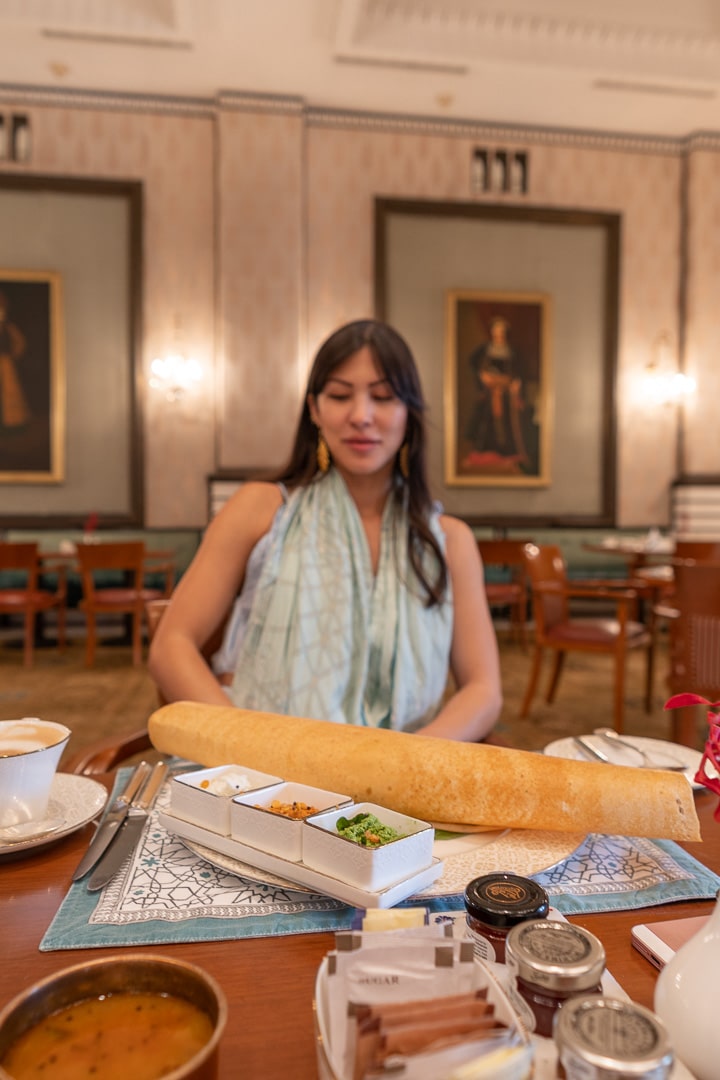 When I asked for Indian bread to accompany my omelette one morning, I was given a full explanation of the various differences between roti, chapati and naan before deciding on fulka – which were freshly made and promptly delivered to the table.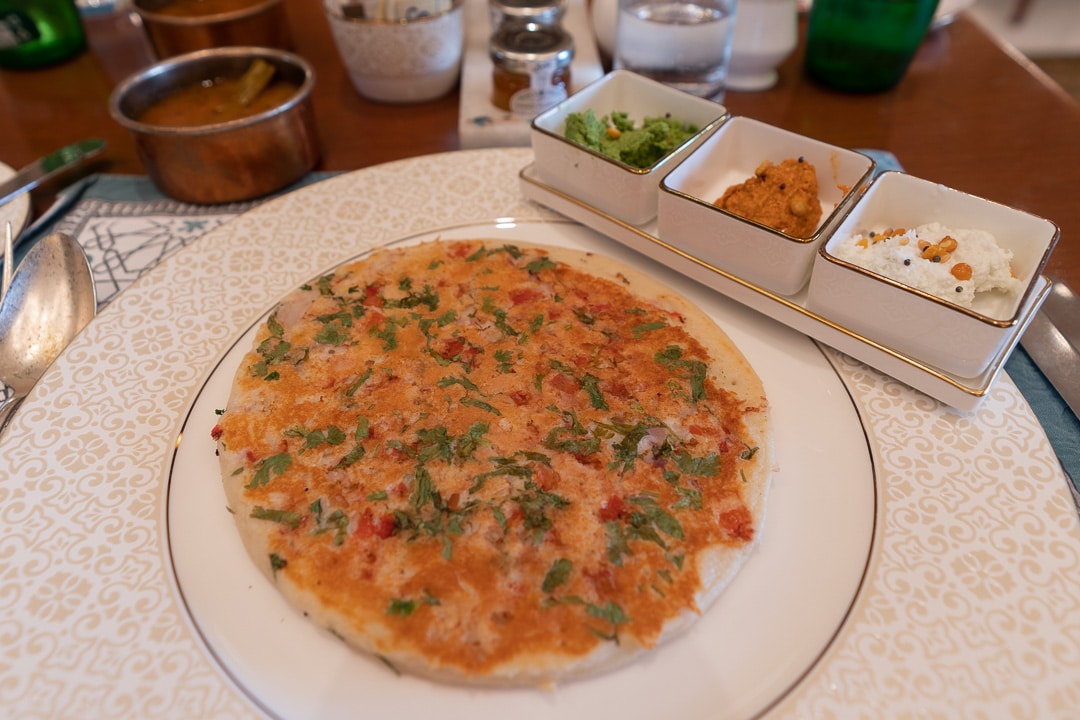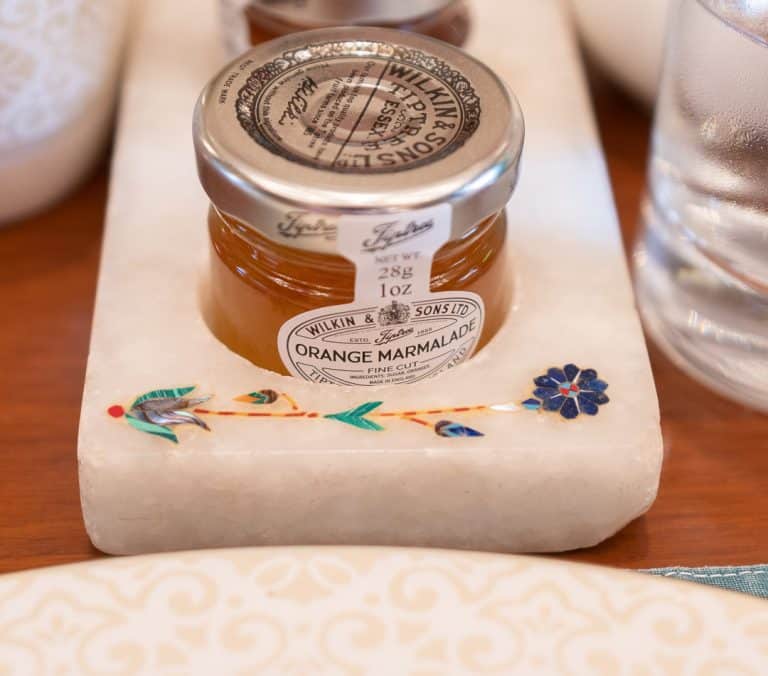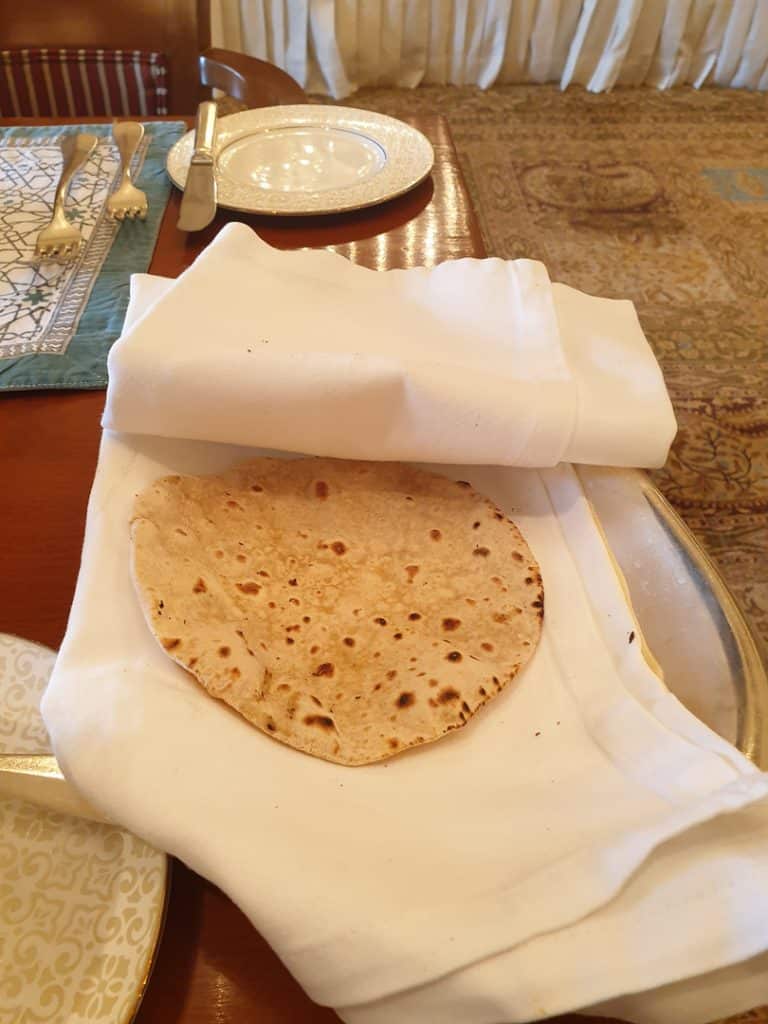 Lunch
We opted to enjoy lunch with a view of the Taj Mahal from the balcony of our suite. Service was excellent, with the table being set to the level of a restaurant and lengthy descriptions given of every dish that we ordered.
Every dish that we ordered was outstanding: duck curry, nasi goreng, freshly made hoppers, and a huge variety of pickles and dips to accompany them. It was all fantastic.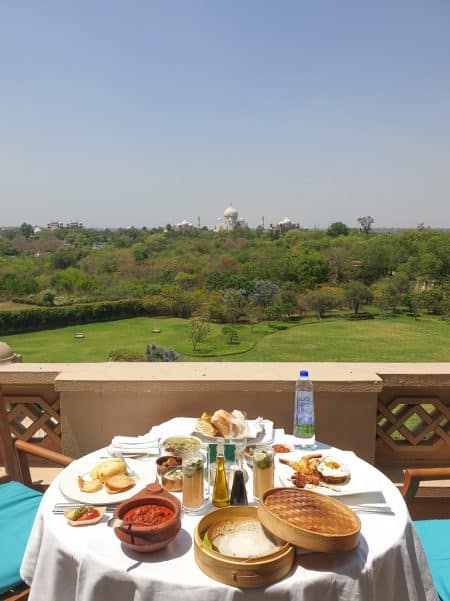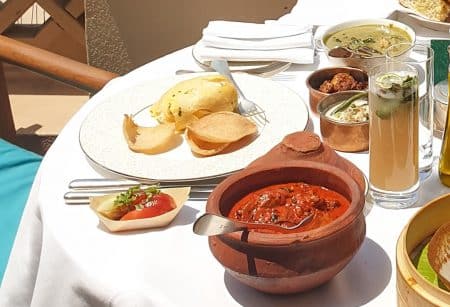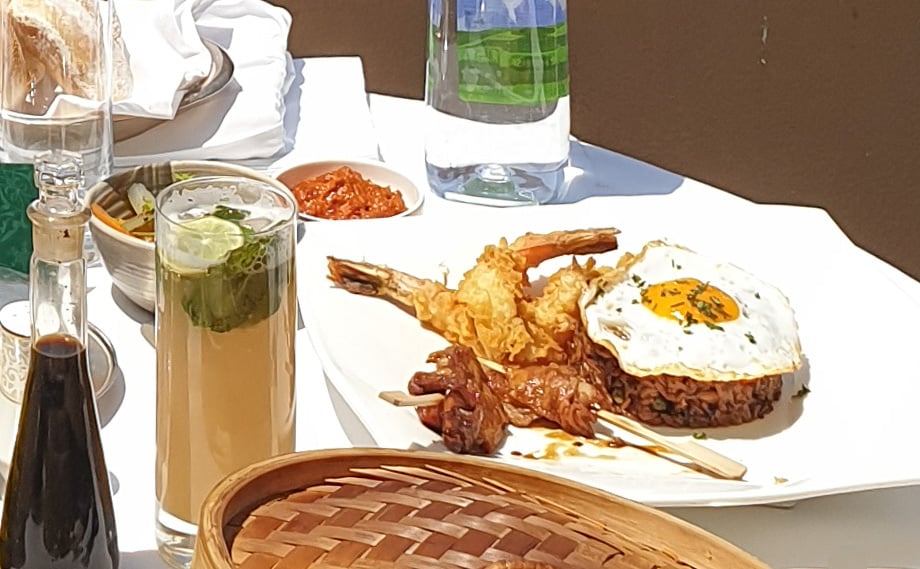 Dinner
On our first evening we opted for dinner in the main dining room (the other option being Espahan, a restaurant specialising in Mughal tasting menus). After only a few days in India we already felt like we'd hit a wall in terms of the sheer quantity of food we'd been served, so felt that a la carte would be a safer option!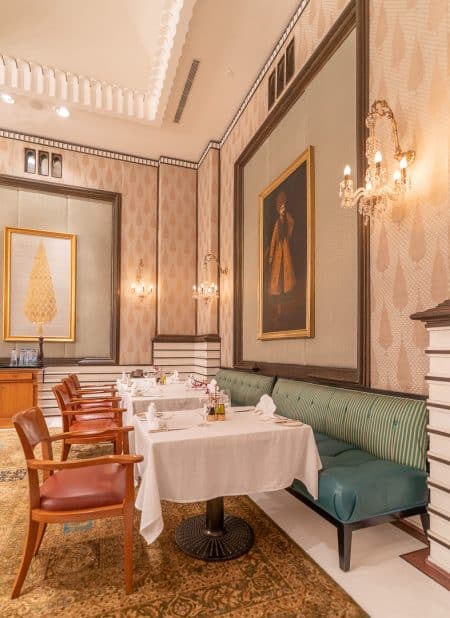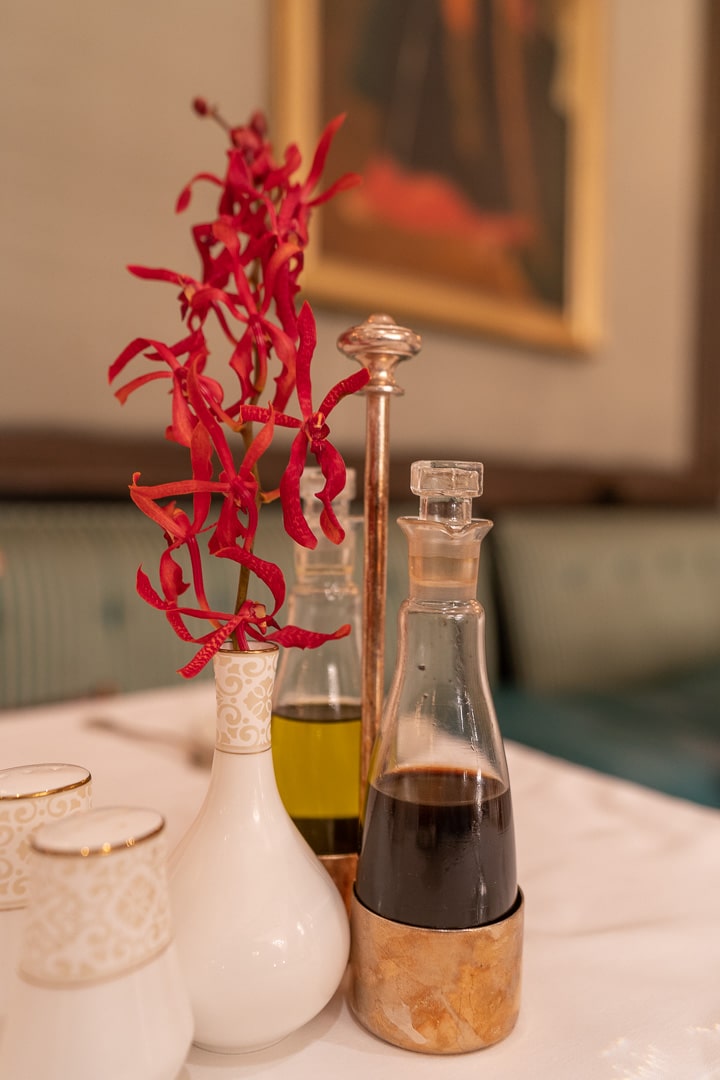 Although most guests dressed considerably more formally in the evening, it seemed like the staff had lost interest at this stage in the day. The contrast in service quality between this and breakfast was like…night and day.
Plates were placed directly on top of cutlery, sauces spilled without apology, etc. The food quality was still great, but the service was jarring in comparison to the superlative quality we experienced in every other aspect of this stay.
Somehow, despite only ordering two starters and two mains between us, we still managed to come away from this meal absolutely stuffed!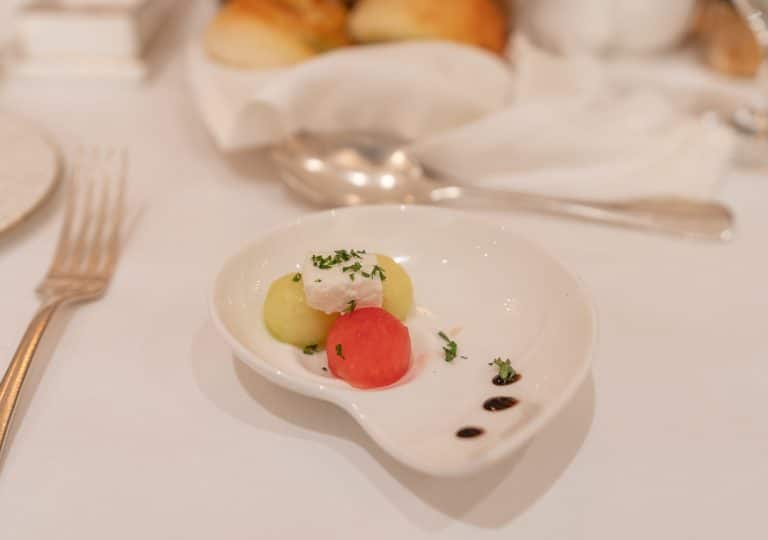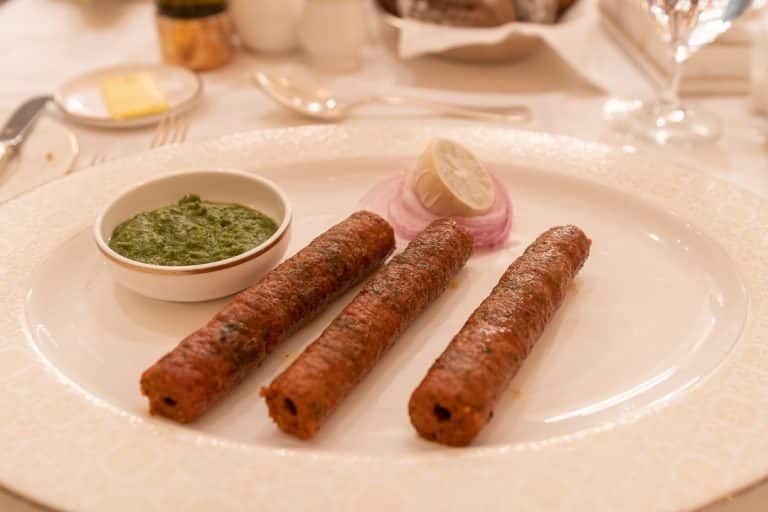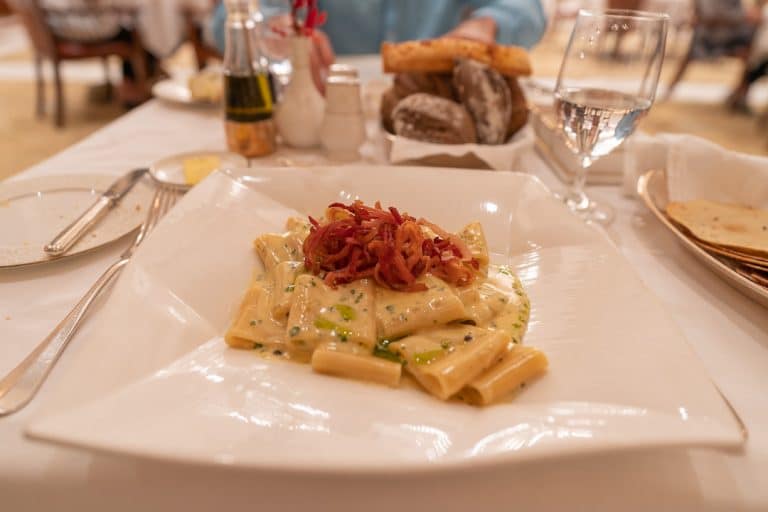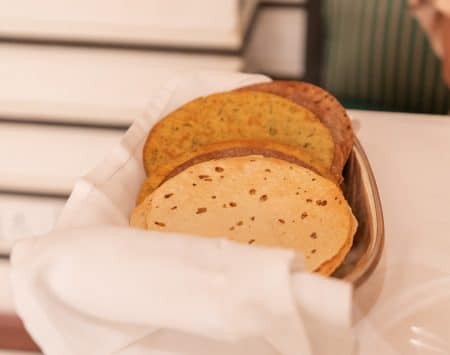 My slow cooked lamb was unbelievably rich and tender and Kamara's pasta dish was absolutely delicious, though.
Private Dinner
On the final evening, we decided to have a private dinner on our balcony. Usually you have to order an immense tasting menu in order to get the full private dinner experience, but we asked if they could very kindly serve us a more reasonable amount of food and they obliged.
We had our own private waiter on hand throughout the meal, who was very sweet and took fantastic care of us.
The table setting was very romantic, with a centrepiece of flowers and a candle juxtaposing the shadowy silhouette of the Taj Mahal on the horizon.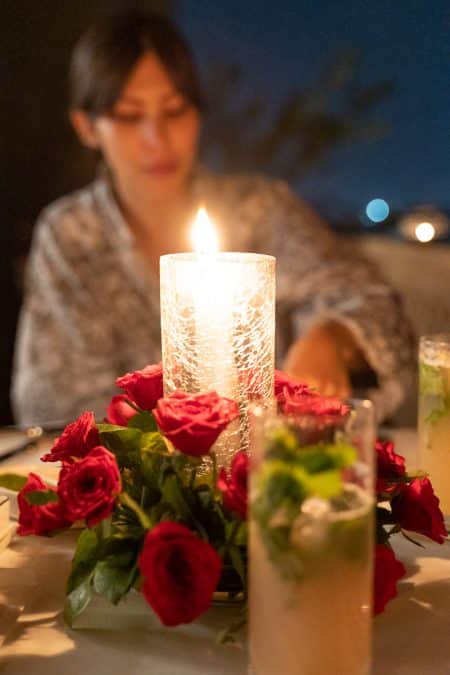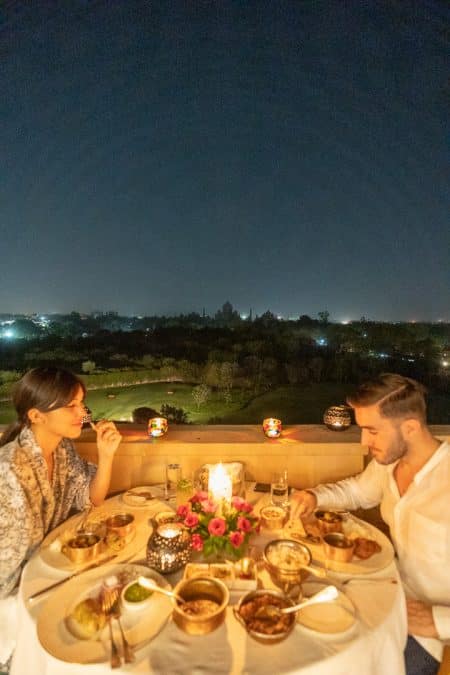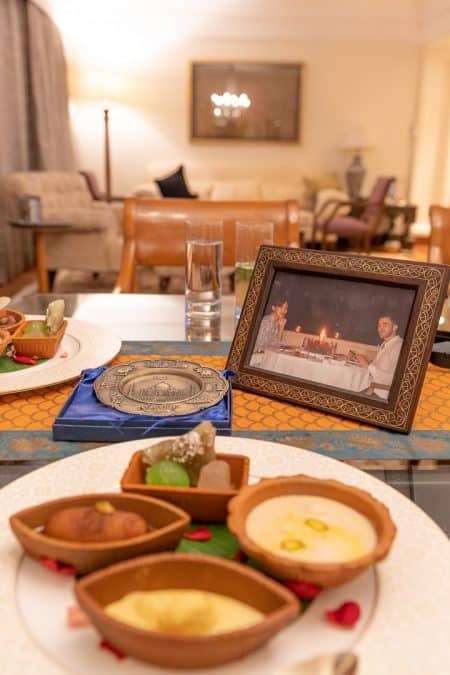 Amazingly our waiter took a photo of us at the beginning of the meal and when we moved indoors for dessert, he had already managed to get it printed and placed in a frame for us!
We were also given an additional gift of a souvenir brass plate, etched with an image of the Taj Mahal.
Once again, remarkably high levels of service and a real focus on delivering memorable experiences to guests. This experience alone would warrant booking at least a Premier Room with Balcony (or booking a Premier room and getting upgraded when you book with us!).
---
Conclusion
---
Basics Checklist
☑︎ Power sockets near the bed
☑︎ Easy to understand light switches
☑︎ Coffee machine
☑︎ Separate shower and bath
☑︎ Blackout blinds
☑︎ Stable, fast and free Wifi
☑︎ Feather pillows
☑︎Quiet and powerful aircon
Oberoi Amarvilas is an iconic property with a reputation as the very best hotel in Agra. This statement, however, only begins to reveal quite how good this hotel really is.
The service culture is easily on a par with the likes of Amanoi and Aman Sveti Stefan, which is remarkable, given the size of the property. The staff are so genuinely invested in delivering a quality experience that it shines through in every aspect of the stay.
When we first arrived, the grand welcome ceremony made us feel like royalty in this most palatial of surroundings… and that feeling never subsided.
The room hardware is by no means modern in its styling, but LCD TVs, fast wifi, universal power sockets and quiet AC mean that modern technology is present where it counts.
Aside from the incredible view and access to the Taj Mahal, the property also boasts one of the most staggeringly beautiful pools of any hotel on Earth.
Much like going to a restaurant with a view and discovering that the food is actually good, this was a very welcome surprise in a hotel that could have so easily rested on its very ample laurels.
I would recommend this property without hesitation, and strongly urge travellers to cut back elsewhere on a trip to India, if necessary, to facilitate a stay here. It is absolutely worth every penny.
A truly special property.
---
Book Oberoi Amarvilas with Virtuoso benefits
---
Virtuoso Booking
An example of the Virtuoso benefits which may be available on your stay:
Upgrade of one category, based on availability at time of check-in.
Full breakfast for up to two in-room guests.
Complimentary lunch for 2 people, excluding alcohol and gratuities.
Early check-in/late check-out, subject to availability.
Oberoi Amarvilas can be booked directly online by clicking the "BOOK NOW" image.
Multi hotel itineraries will yield significant discounts and can be priced manually by emailing us below:
---
Visiting the Best Luxury Hotels in India
Part 1:

Part 2:

Oberoi Amarvilas, Agra : Robert Burns Suite

Part 3:

Amanbagh : Garden Haveli Suite

Part 4:

Alila Fort Bishangarh, Jaipur : Grand Suite

Part 5:

Umaid Bhawan, Jodhpur : Historical Suite

Part 6:

Oberoi Udaivilas, Udaipur : Luxury Suite

Part 7:

Leela Palace, Udaipur : The Royal Suite