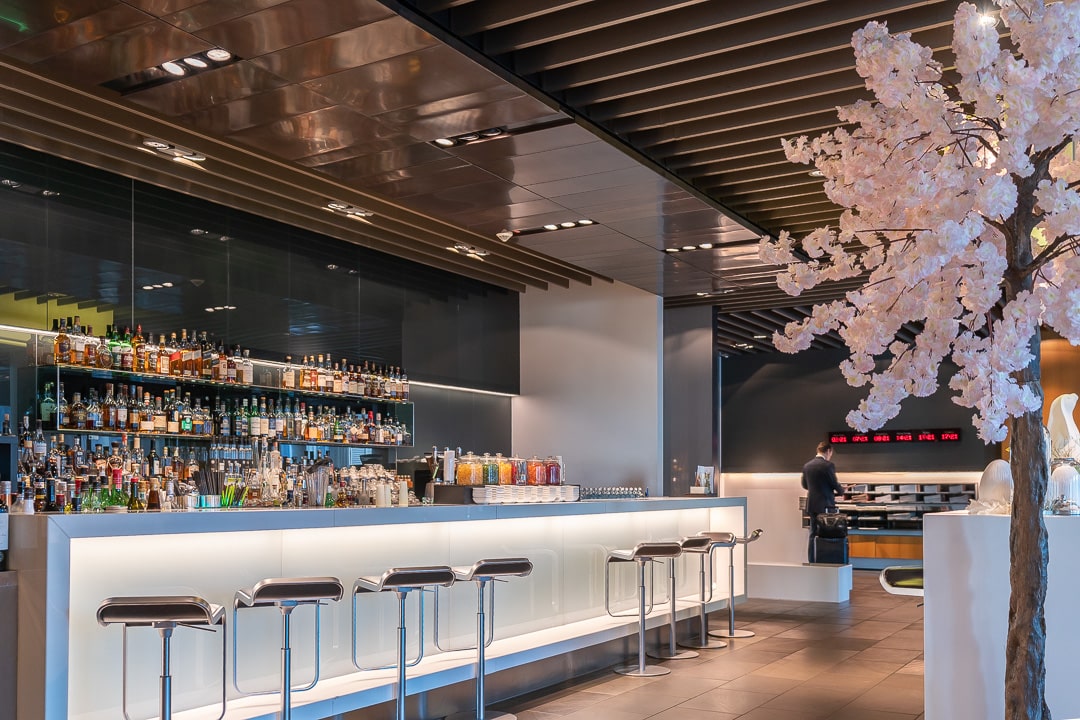 REVIEW – Lufthansa First Class Terminal – Frankfurt (FRA)
October 11, 2021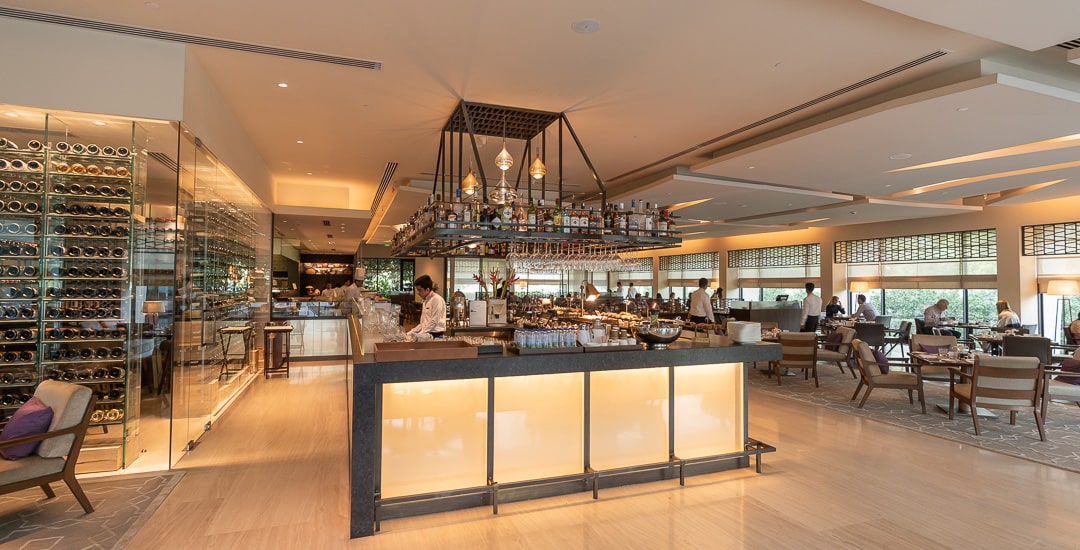 REVIEW – Oberoi New Delhi
November 1, 2021
Lufthansa (LH)
Flight: LH760
Class: First Class
From: Frankfurt (FRA)
To: Delhi (DEL)
Duration: 7h45m
Aircraft: A380
Seat: 1A
Frequent Flyer status during flight: None
Booking type: 60,000 Avianca Lifemiles + $127 tax per person
Flight date: April 2019
---
Foreword
---
My one and only flight on Lufthansa First Class took place shortly before the pandemic. The aircraft that I flew on, the A380, is no longer used by Lufthansa.
However, Lufthansa are very consistent when it comes to onboard experience, as such the seat and service are almost identical to what you can expect on all other Lufthansa aircraft currently operating First Class cabins.
---
How to book Lufthansa First Class
---
I booked this flight using 60,000 Avianca Lifemiles per person (+$127 in tax). This can ostensibly only be done within 14 days of flight departure, but Colombian airline IT being what it is…I was able to find availability and book these flights 8 months out.
---
Transfer from the First Class Terminal
---
After a fantastic few hours spent enjoying the restaurant quality food and drink at the private First Class Terminal, we were guided through a private border post and had our bags loaded onto our Porsche transfer vehicle.
I couldn't help but compare this to the likes of BA where First Class passengers are more likely to find themselves on a monorail to the C gates, or even a crowded bus to a remote stand…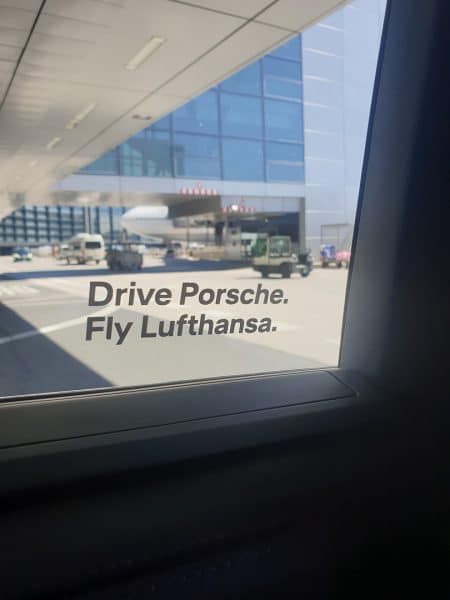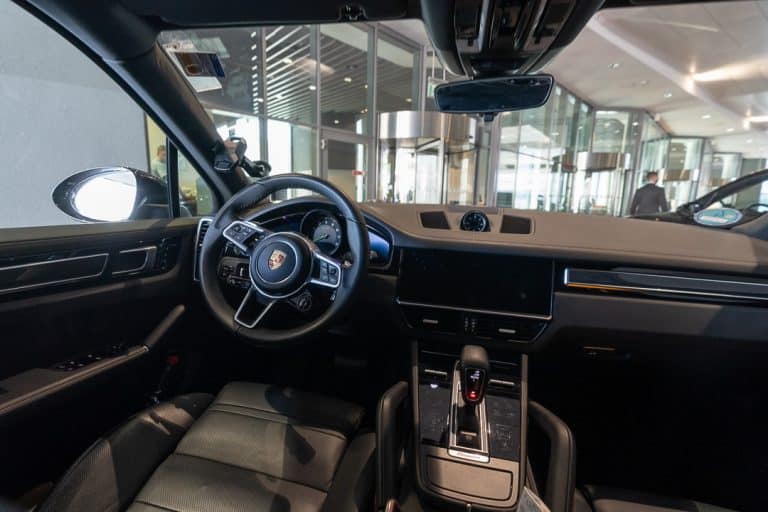 As an avid aviation enthusiast, I enjoyed not only the privacy and exclusivity of the transfer but also the unique experience of weaving between the parked aircraft.
In an amazing stroke of luck, it transpired that our chauffeur was also a very keen photographer. As soon as she saw me take out my camera for the shot below…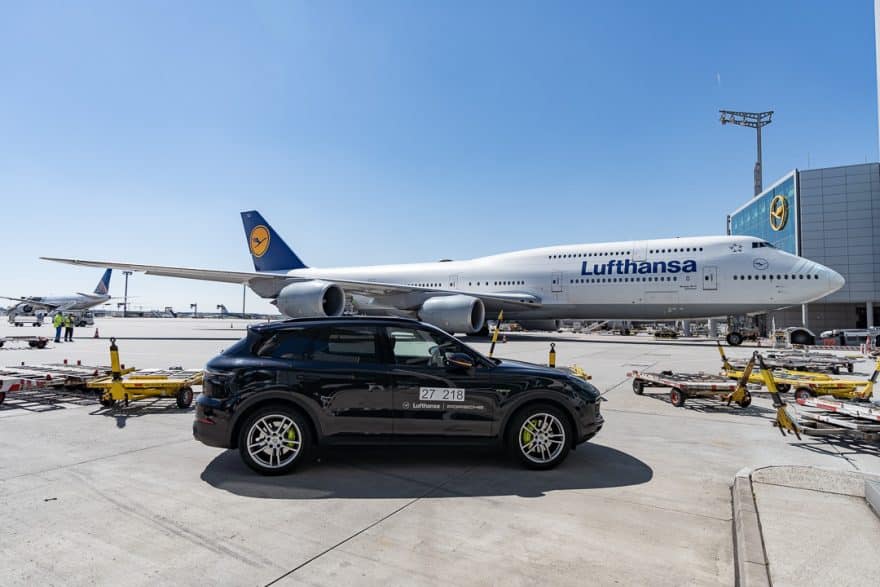 …she asked us if we'd like her to take some photos of us, which turned out fantastically!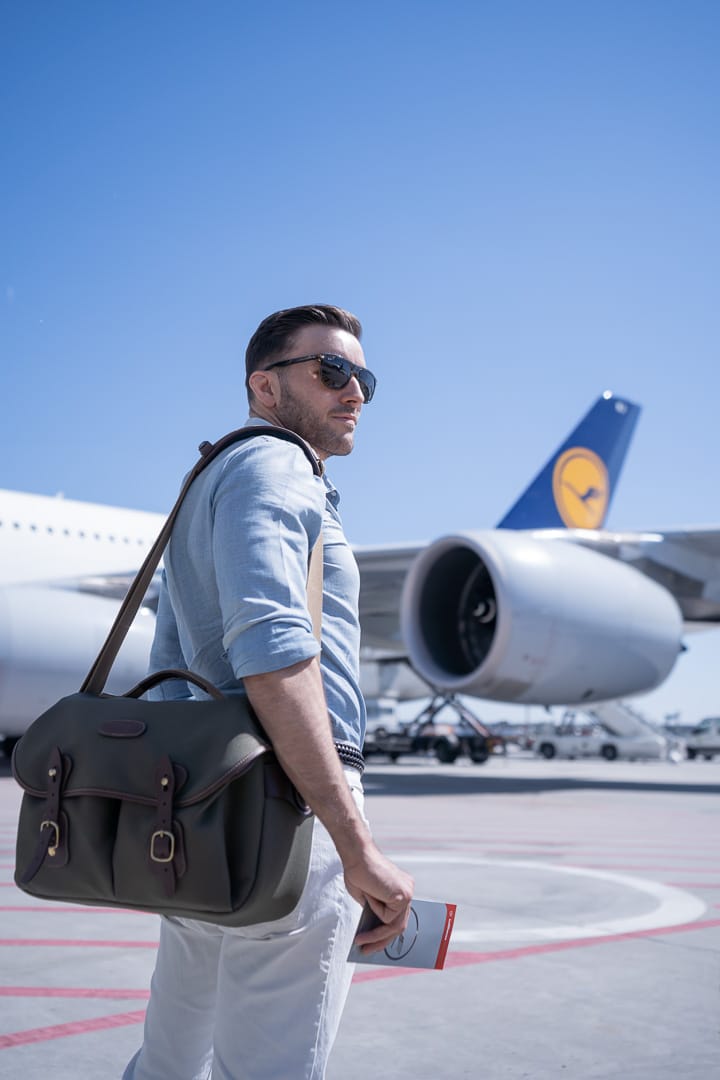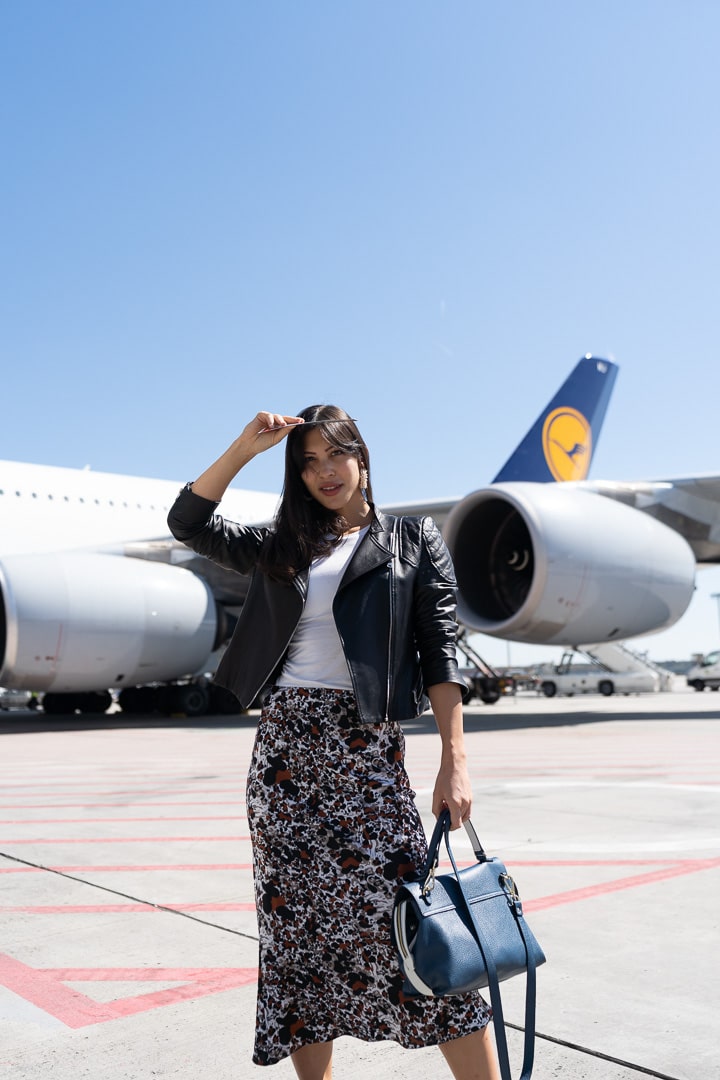 After our impromptu photoshoot, we took a lift straight up from the tarmac to the jet bridge. At the point that we approached the aircraft door, we had yet to see a single other passenger!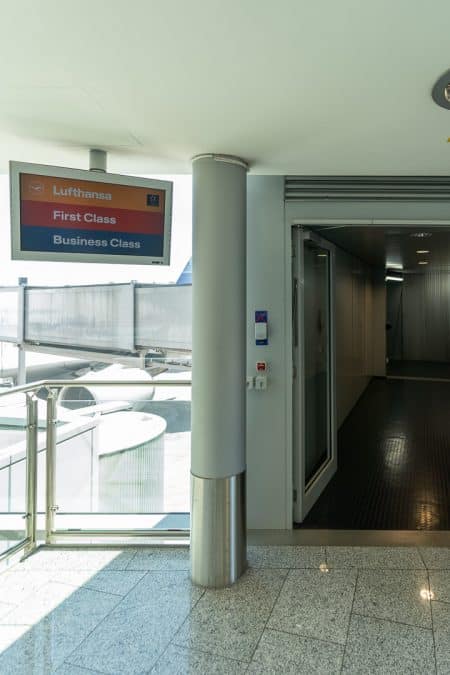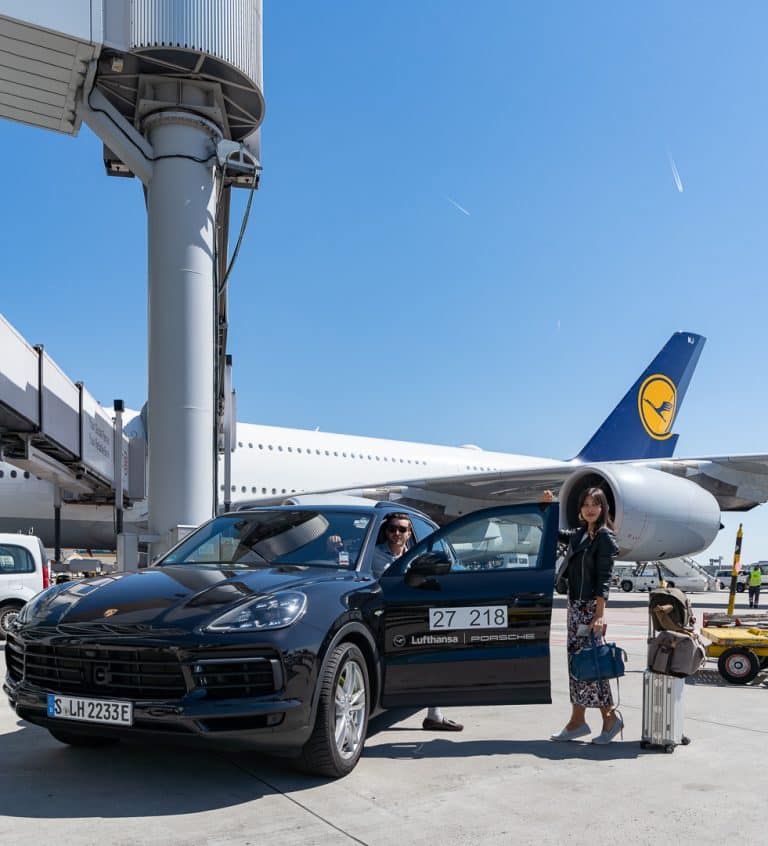 ---
Lufthansa A380 First Class Cabin
---
We were warmly welcomed by three crew members at the door, one of whom escorted Kamara and I to our seats: 1A and 2A.
I found the overall design of the cabin to be very open and rather lacking in privacy, especially when compared to the likes of Singapore Airlines, ANA and Emirates, all of whom feature suites with closing doors.
The colour scheme and overall ambiance had an undeniable air of elegance, though, with the pale buttermilk wall panels beautifully matching the seat surrounds and welcome lighting. The signature Lufthansa roses provided the perfect pop of contrasting colour too, to complete the scene.
Despite the lack of privacy around each seat, the cabin had an exclusive feel overall as it featured only 8 seats and had very thick magnetic curtains at the back. This gave the impression that we were in a fully sealed off room, with no visible signs of other passengers on board. (Quite the departure from the transparent net curtains you see separating First from Business on American Airlines!)
At the front of the cabin, the finishes were equally impressive, with recessed lighting illuminating bold "Lufthansa First Class' lettering.
Just one look and you can tell the seats are very comfortable for lounging in, with a thickly padded seat and backrest complimented by soft leather armrests. In terms of seating comfort, this is one of the very best seats I've had the pleasure to encounter.
Since I was sitting in 1A, I had access to a very good amount of storage directly in front of me as well, including a large wardrobe and even a combination locker!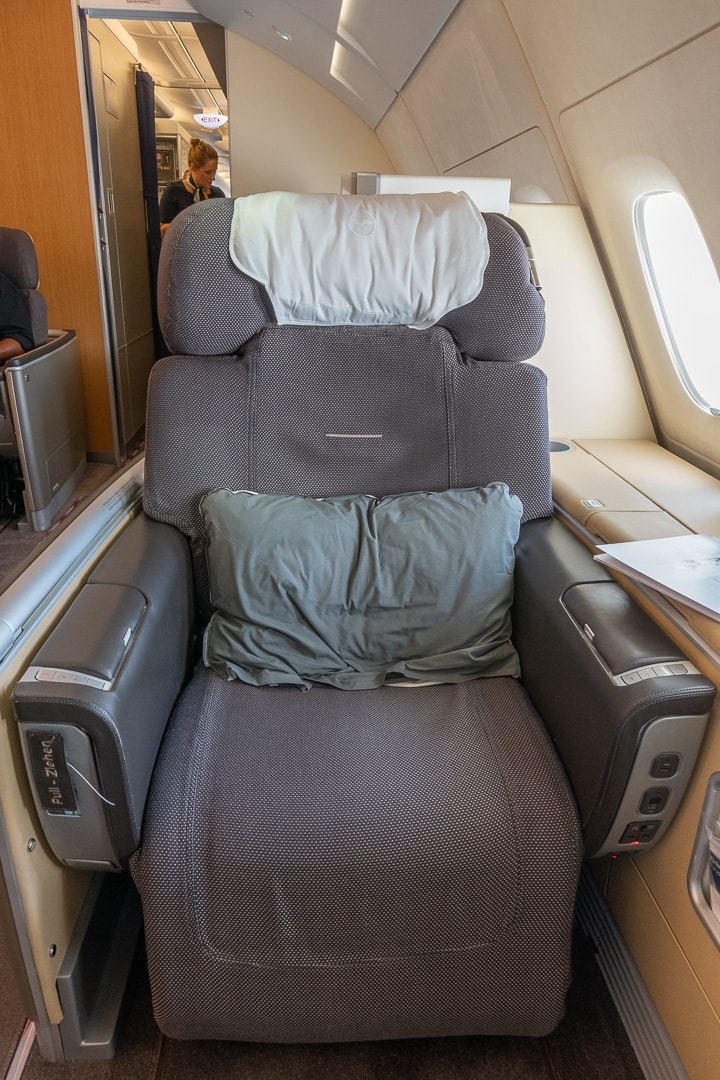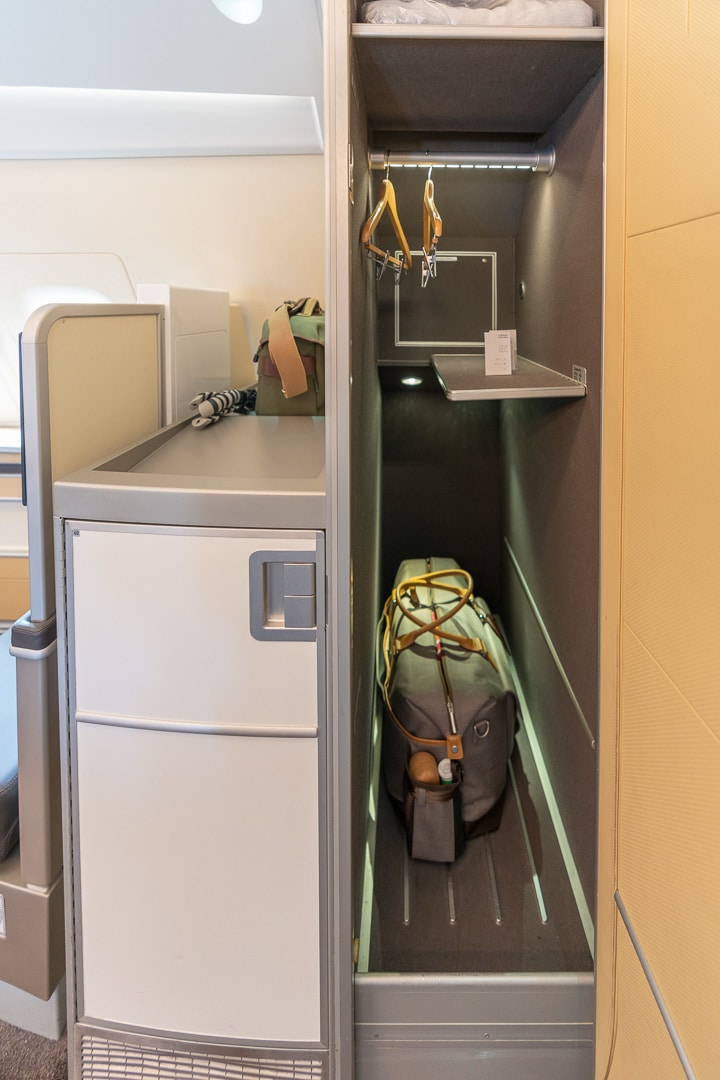 There was also ample storage built around the seat itself, with numerous cubbyholes running beneath the windows – as well as a sizeable ottoman, whose position could be controlled electronically.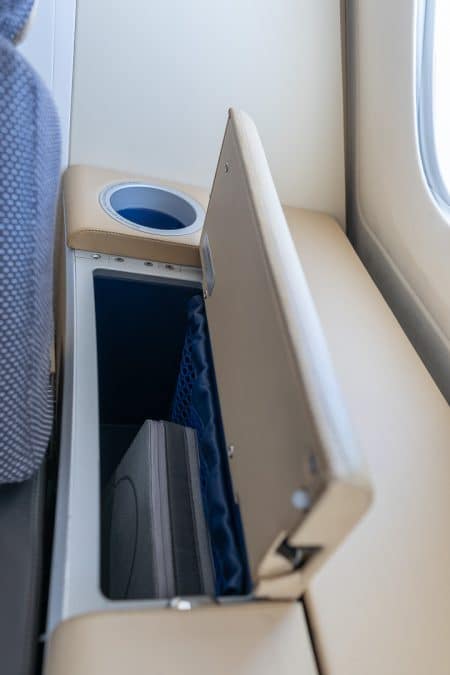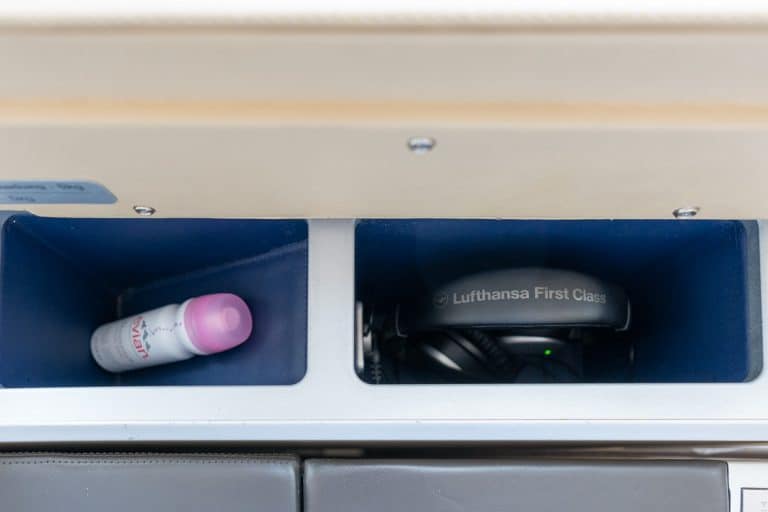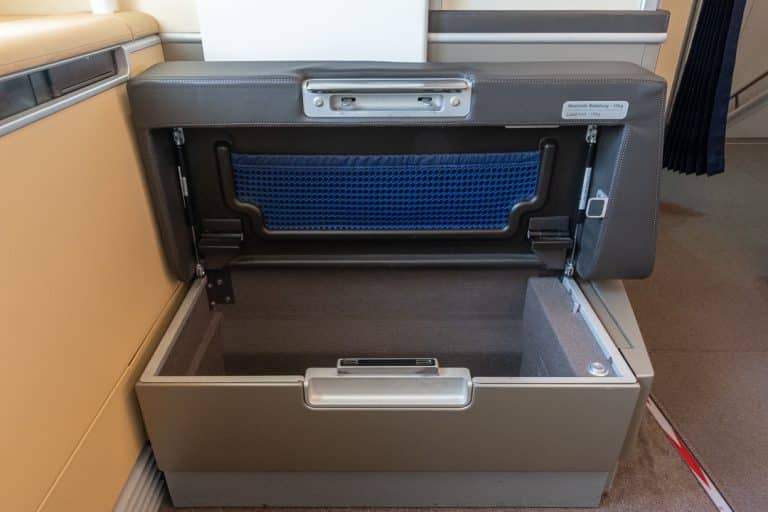 No matter how ostentatiously you pack, I think you'd struggle to fill all the available storage space in and around this seat.
The seat controls were all very intuitive and had the same robust metallic to them as Bang & Olufsen remotes. The IFE remote was very responsive, although the screen was rather on the small side, useful for seeing flight time remaining but not much else.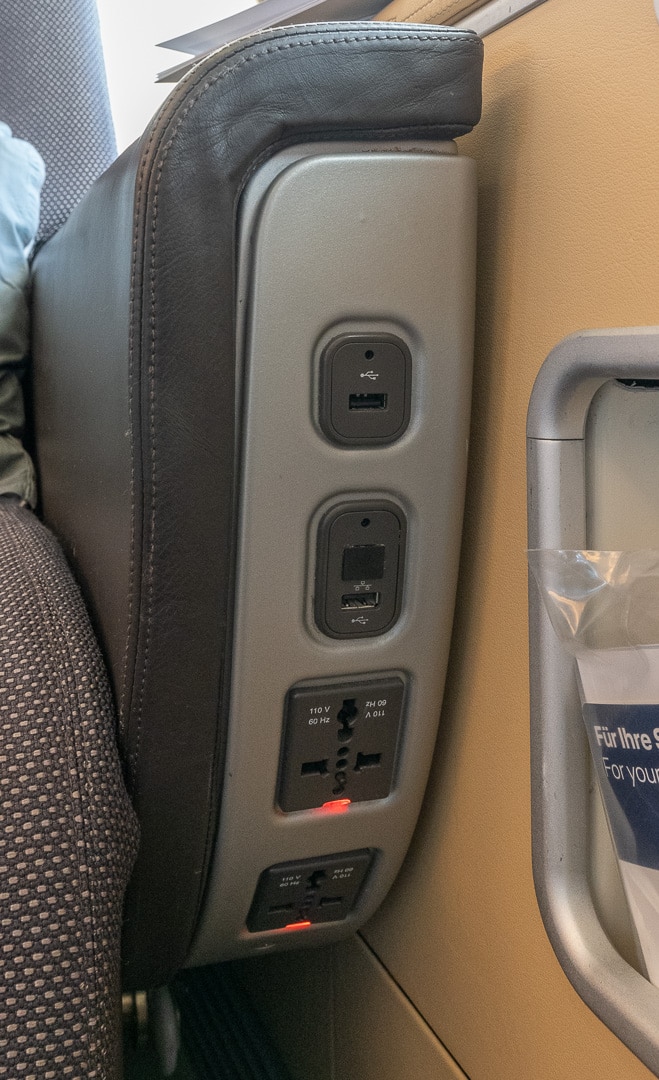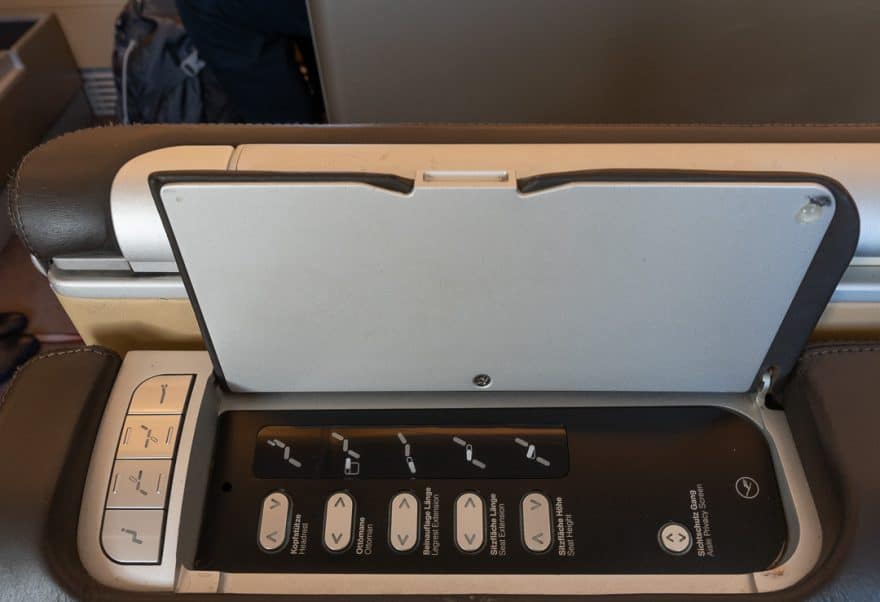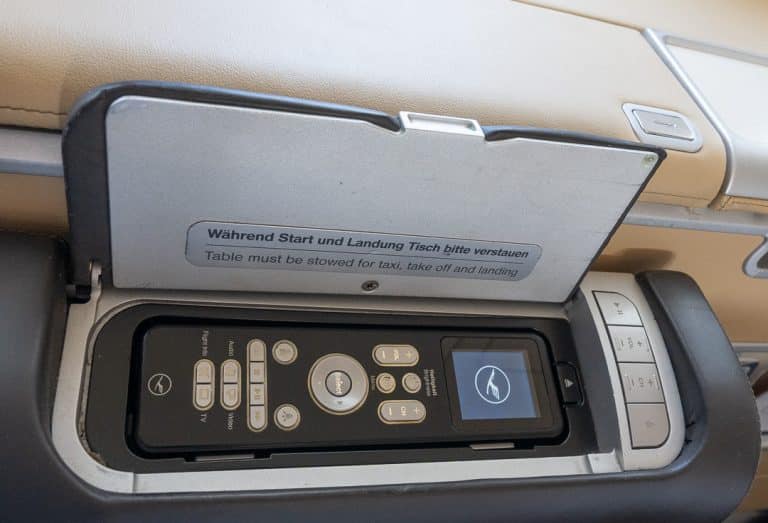 I was very impressed to see two universal power sockets, as well as two USBs integrated into the seat. So many airlines force you to charge only one or two devices at a time, even in First. It's great to see Lufthansa recognising the needs of the modern traveller.
Unfortunately, the same could not be said for the IFE screen, which was rather low resolution and tiny at only 17″. This is the size of screen you'd expect in Business Class where typically it would be positioned at most 2-3 feet away. In First Class, you have airlines like ANA leading the way nowadays with a 43″ screen.
As soon as I sat down, I was given an effusive welcome to Lufthansa First Class by one of the very friendly cabin crew. She offered me a steaming hot, scented towel and asked if I would like a welcome drink.
I asked for champagne and was immediately offered a glass of water to go with it. Not only was I offered the standard choice between still and sparkling, I was also asked if I would like lemon or mint, or both. A small point of differentiation, but it is this attention to detail that matters in First.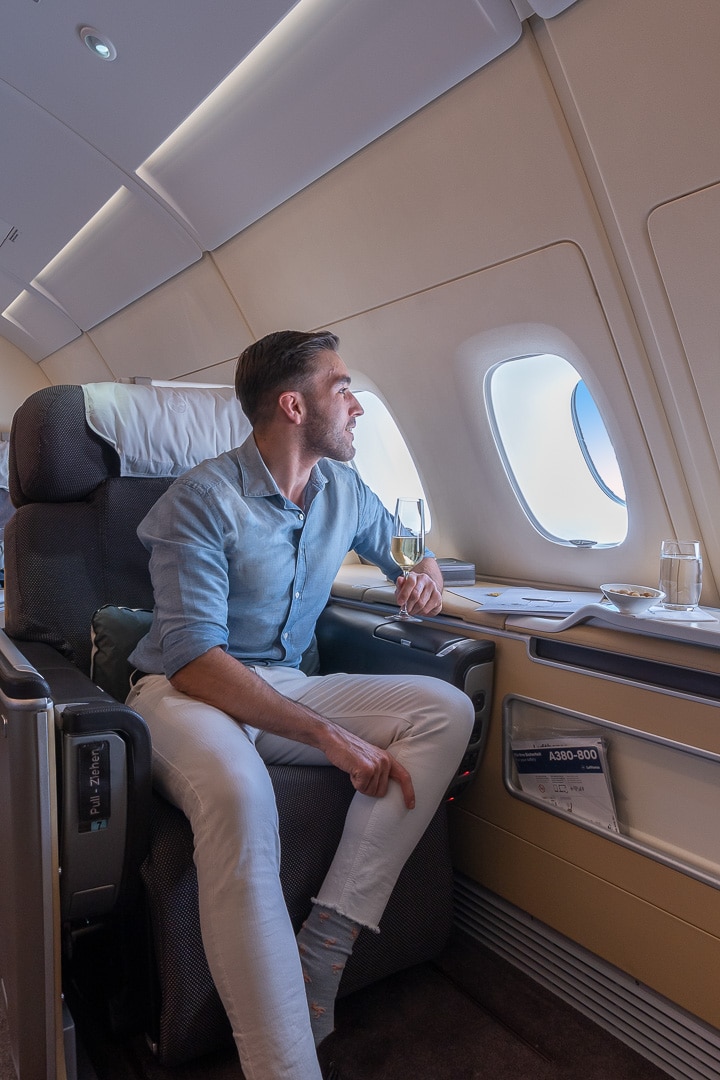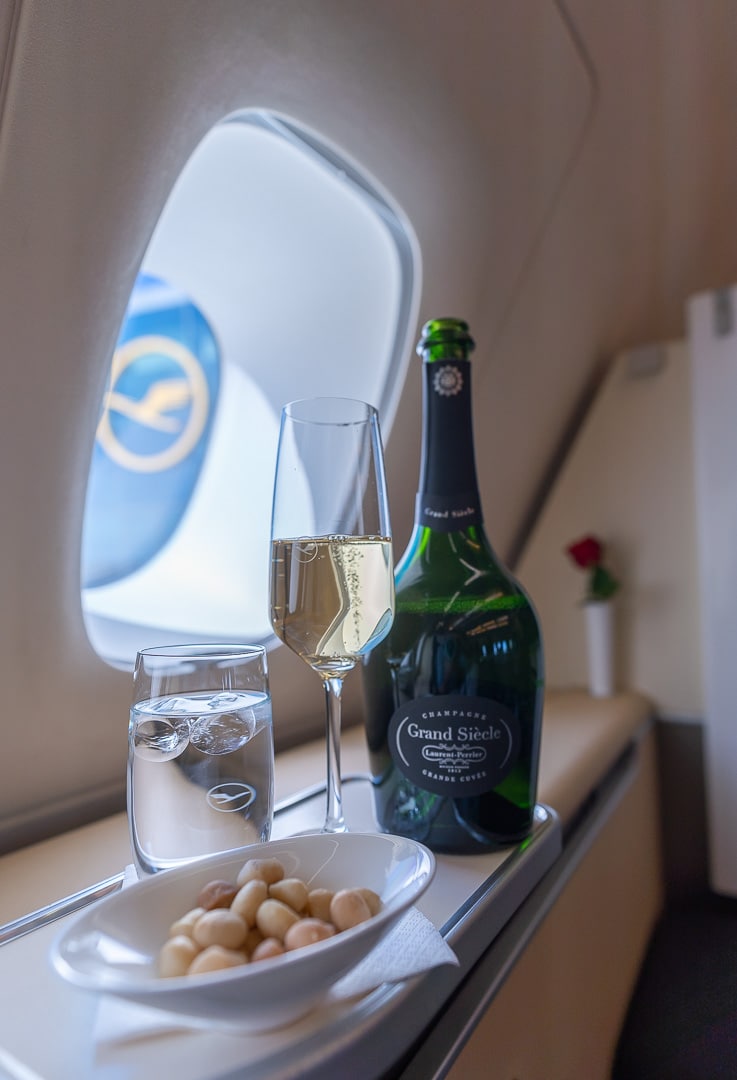 The champagne on offer was Laurent-Perrier Grand Siècle: the same champagne that is ordinarily offered on British Airways and SWISS First Class.
Unlike these other airlines, Lufthansa often serves another champagne in addition to LPGS. Unfortunately I just missed out on the Laurent-Perrier Cuvée Alexandra Rosé, which was added on this route a week after my flight.
One very unique feature of this flight was that the captain came around to introduce himself to every First Class passenger and explain that today's flight would be slightly longer than usual, as a result of Pakistan closing their airspace.
I can count on one hand the number of times I've seen the Captain greet First Class passengers in over 100 First Class flights. I'm not certain if this is standard practice on LH, but if it is, this is remarkable and a real show of how highly regarded First Class is within the organisation.
Lufthansa First Class Amenities
As I sipped my champagne, I was also offered a rather rudimentary and functional looking amenity kit. Quite a departure from the luxurious Bvlgari kits on Emirates, for example.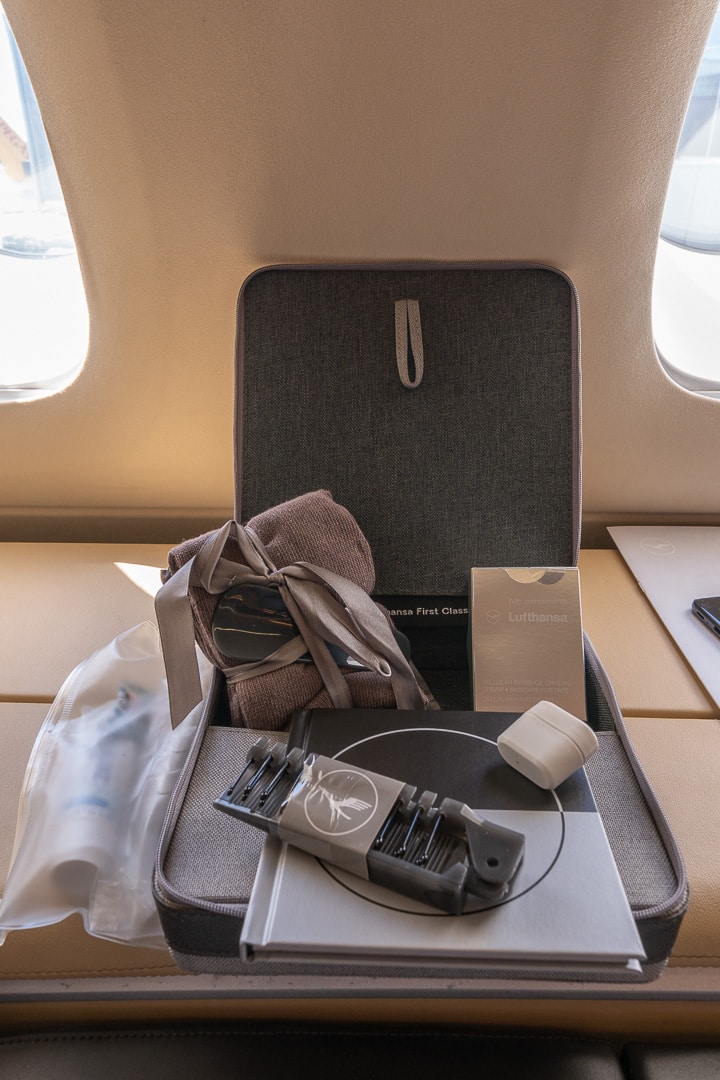 The Van Laack PJs and slippers were excellent though. The cloud-like comfort of the latter more than lived up to the 'Cumuli' name.
We were also each handed a card with a code for free WiFi. This wasn't fast enough to stream videos but more than adequate for messaging, email and social media.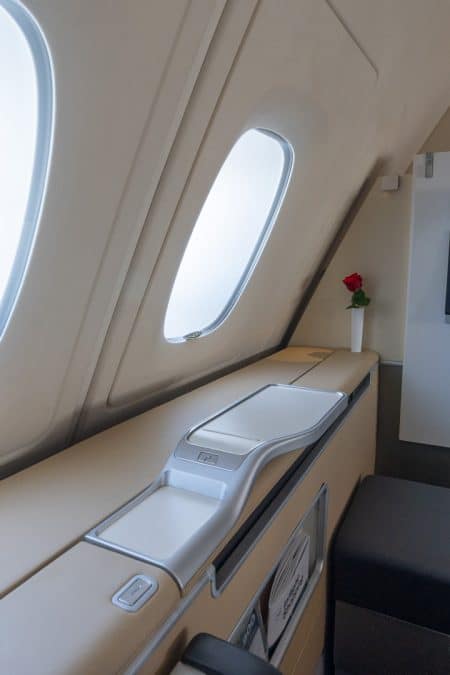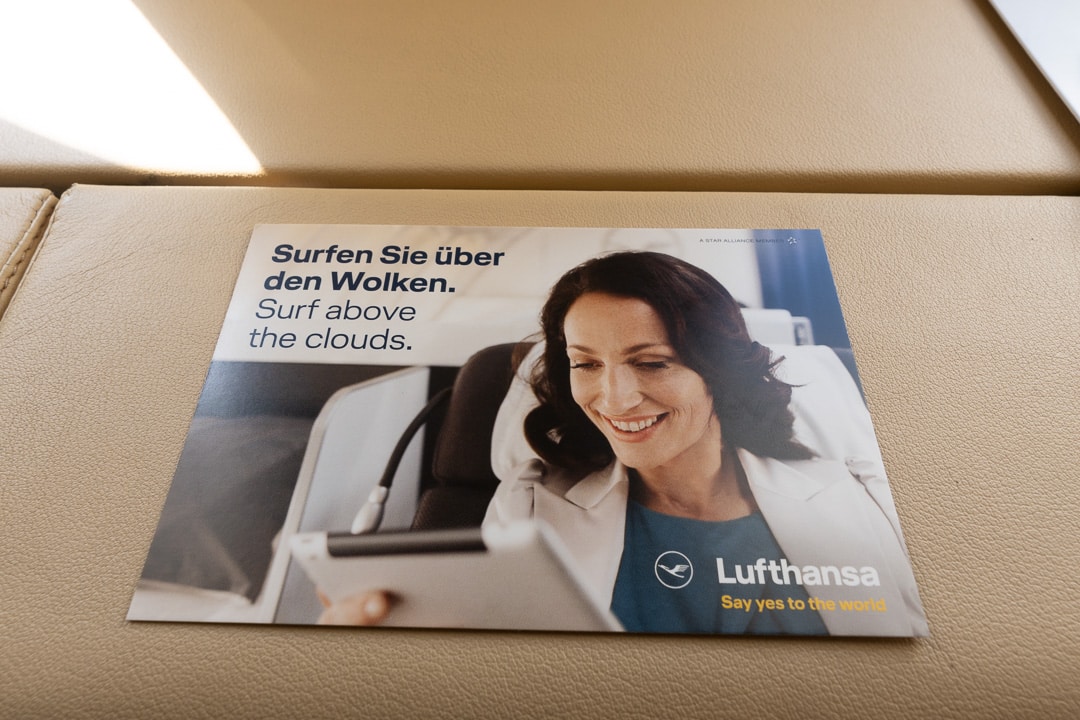 Lufthansa First Class Menus
Prior to take-off, we were also handed food and drink menus:
Wine List
The wine list was in no danger of bothering the likes of the truly excellent JAL First Class offering. However, there was a high quality Saint Emilion red to complement the LPGS in the 'glamour' category, as well as a couple of very interesting 'off the beaten track' wines, used to showcase the LH wine buyers' exploratory oenological expertise.
Food Menu
The menu was very comprehensive, especially when you consider that the flight was similar in duration to LHR-JFK.
As the FA handed me the menu, she took the time to explain to me Lufthansa's 'Master of Time' concept, whereby guests can choose any item from the menu at any time during the flight.
Since the departure time of the flight was 12:55pm, I opted to have lunch as soon as possible after take off. My order was taken before the aircraft even left the stand.
---
In the air
---
Immediately upon being released by the chime, the crew sprung into action and offered me a pre-lunch glass of LPGS.
View this post on Instagram
Lunch
Although the seats appeared completely open at first glance, most passengers raised their barriers as soon as possible, adding significantly to the privacy in the cabin.
Kamara and I asked to dine together and I reprised my habitual role of 'buddy', taking a seat on Kamara's ottoman (a tradition dating back to a flight in the nose of a Cathay 747 in 2014).
The table was just about large enough for two people, although there wasn't a single inch of space to spare!
The meal service began with the offering of various warm breads. I felt compelled to order the pretzel, given that this was my first time flying the German flag carrier.
Next up was the caviar trolley. A throwback to the golden era of travel and to me personally, a clear indicator of a carrier that offers 'true' First Class. My favourite caviar service up until now had always been Thai First….
…However, after being served several small mountains of caviar on Lufthansa, I was ready to reassess. There is an apocryphal tale in frequent flyer circles, that Lufthansa purchases 5% of the world's global caviar supply annually. With portions like these, it's easy to see how that rumour got started.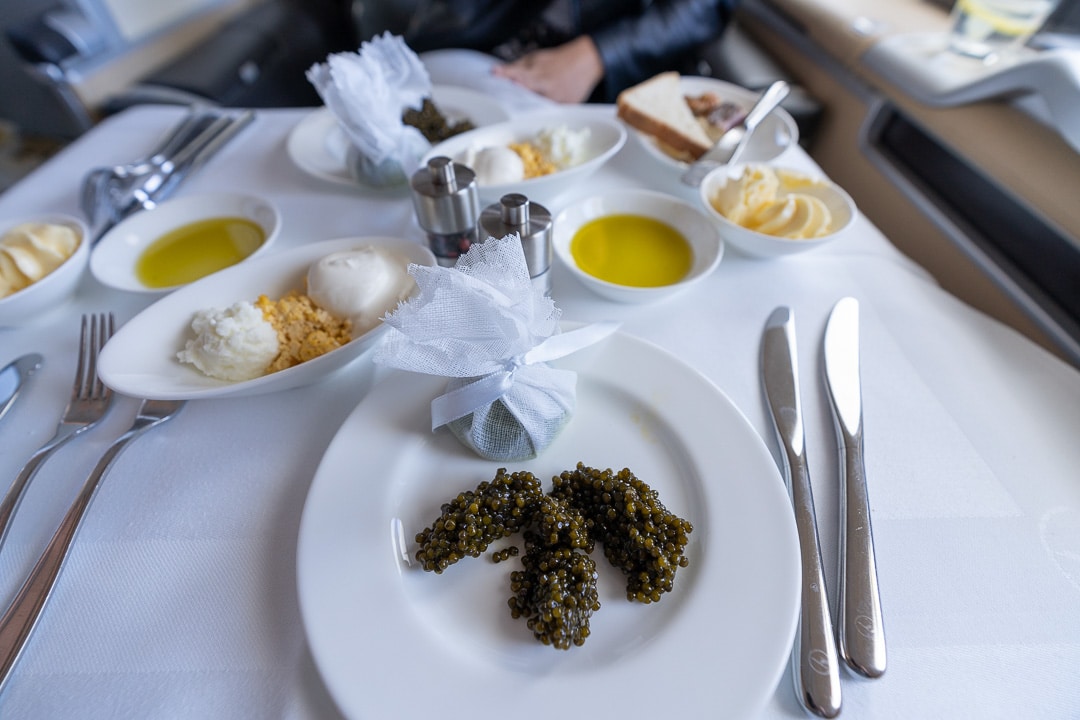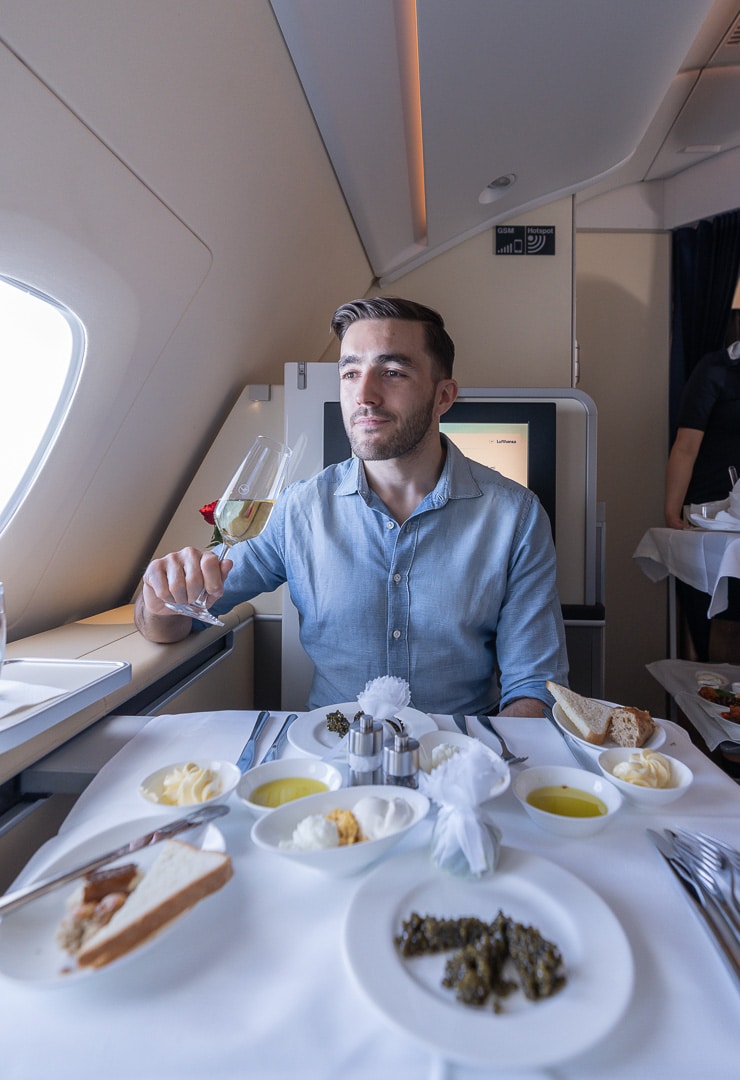 Since we'd already eaten a lot in the First Class Terminal, we kept this meal light. After the caviar, we tried a selection of starters. These were all displayed on the trolley, which meant that we could pick what we liked the look of, rather than ordering from the menu – sight unseen.
(Apologies for the image quality, the starter photo was taken from a video since the original photo got corrupted!)
We sampled:
Corn-fed poularde with Japanese peppercorn cream
Prawn with green papaya and chili
Rajma hazelnut sundal with tandoori celeriac and chat masala
The dishes were all fresh, light and very flavourful. Each representing a very different style of cuisine and all of them excellent. They were exactly what we were looking for after the heavier schnitzels and leberkäse in the FCT.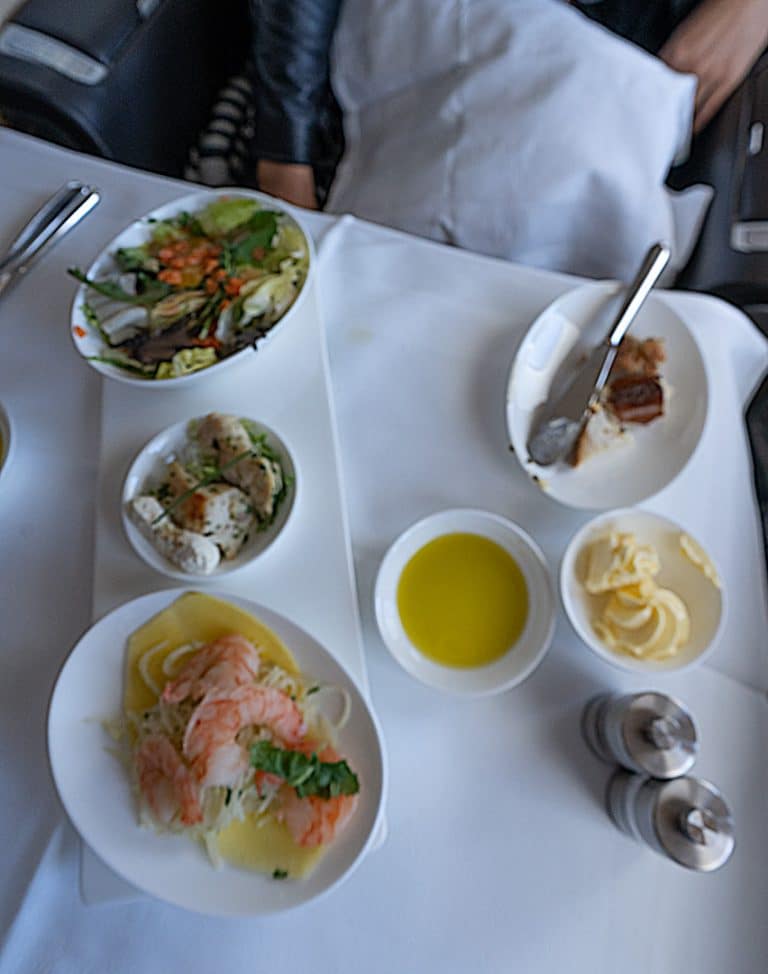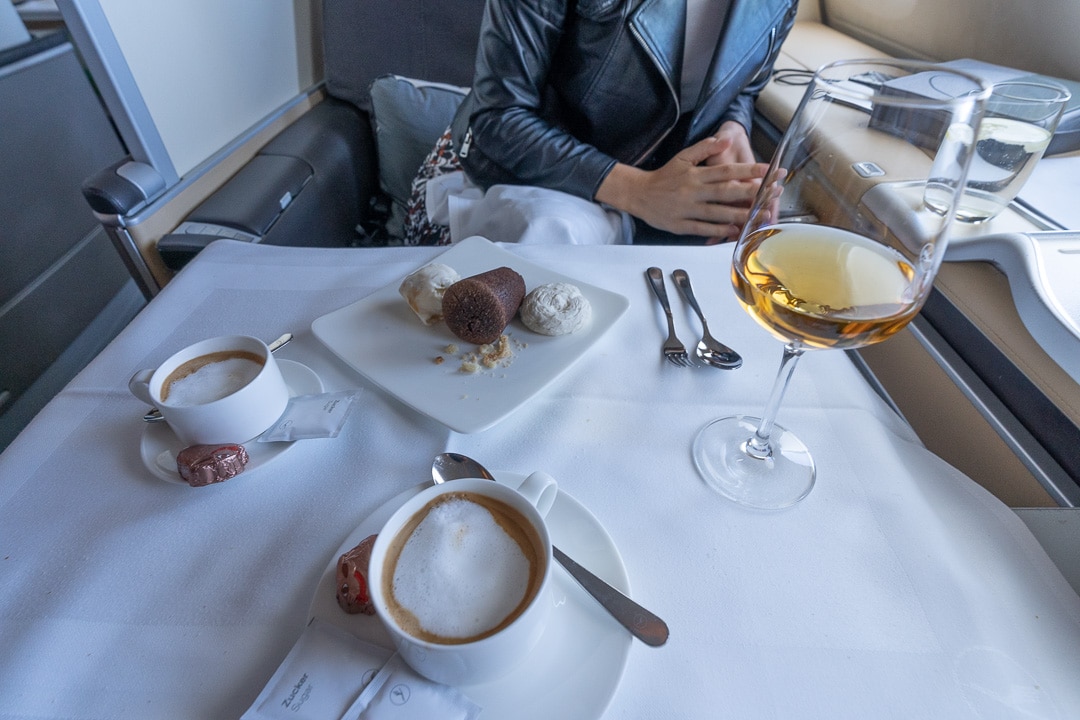 After this, we moved on to some fantastic double macchiatos, properly potent and with the correct ratio of milk to foam. The coffees were served with pralines, but both Kamara and I decided to add a further sweet finish to the meal.
Kamara's came by way of a warm chocolate soufflé with vanilla cream and macadamia ice cream. Mine was a delicious Chilean dessert wine, made with typically German Gewürztraminer grapes.
First Class Bathroom
After the meal, I was ready to catch up on some sleep, so I headed to the enormous bathroom to get changed.
One of the best things about the A380 is that First Class bathrooms tend to be enormous, and in this regard Lufthansa was no exception. A substantial leather bench allowed for me to get changed, without any of the usual avoidance of wet floors and elbows hitting walls that tend to feature when getting changed in an airplane bathroom.
I'm not sure that the level of formality of the Van Laack PJs was strictly necessary. I enjoy the finer things in life… but don't tend to wear a button down collar and contrasting scarf to bed.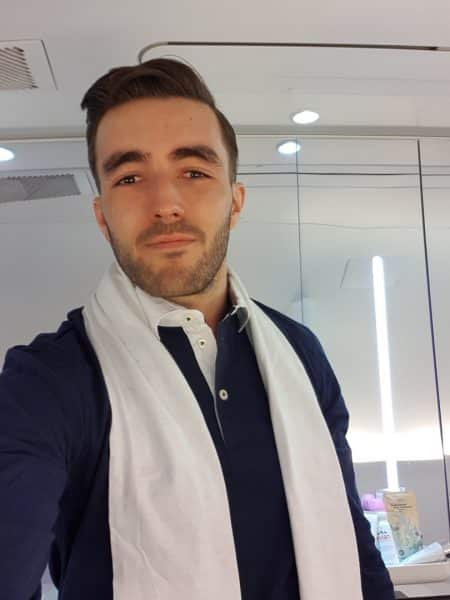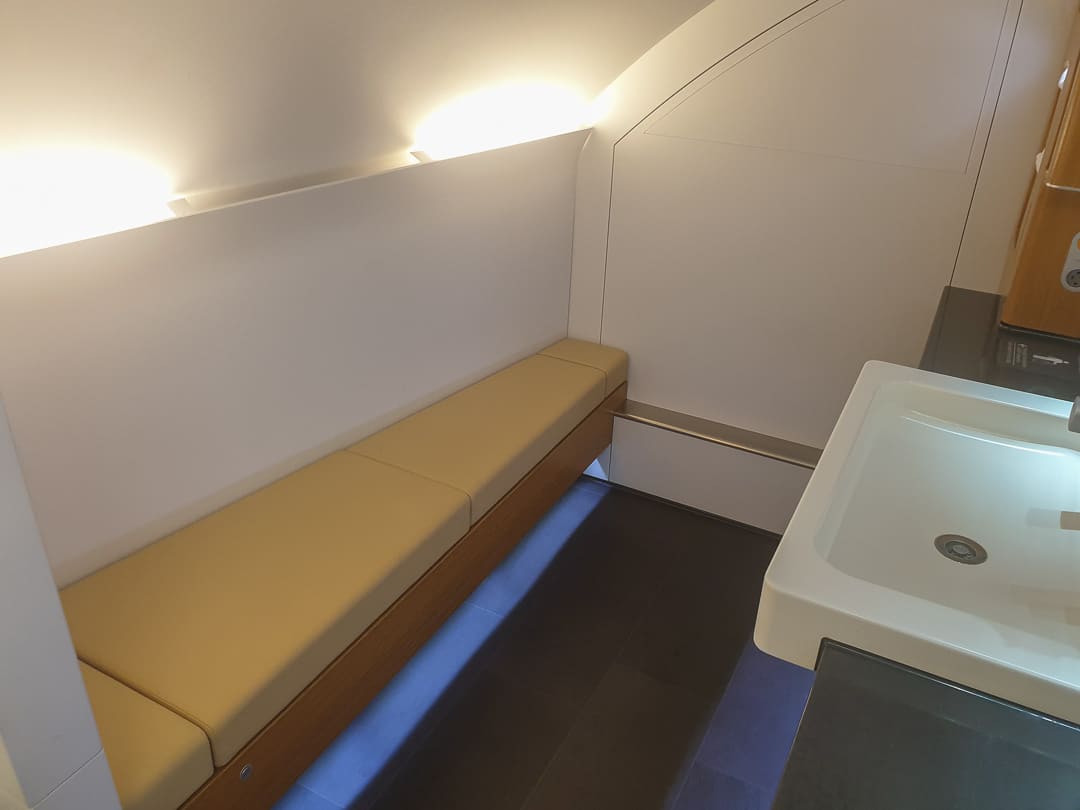 When Lufthansa retired its A380s, the world also lost the only commercial airliner to feature urinals. Fun fact for your next pub quiz.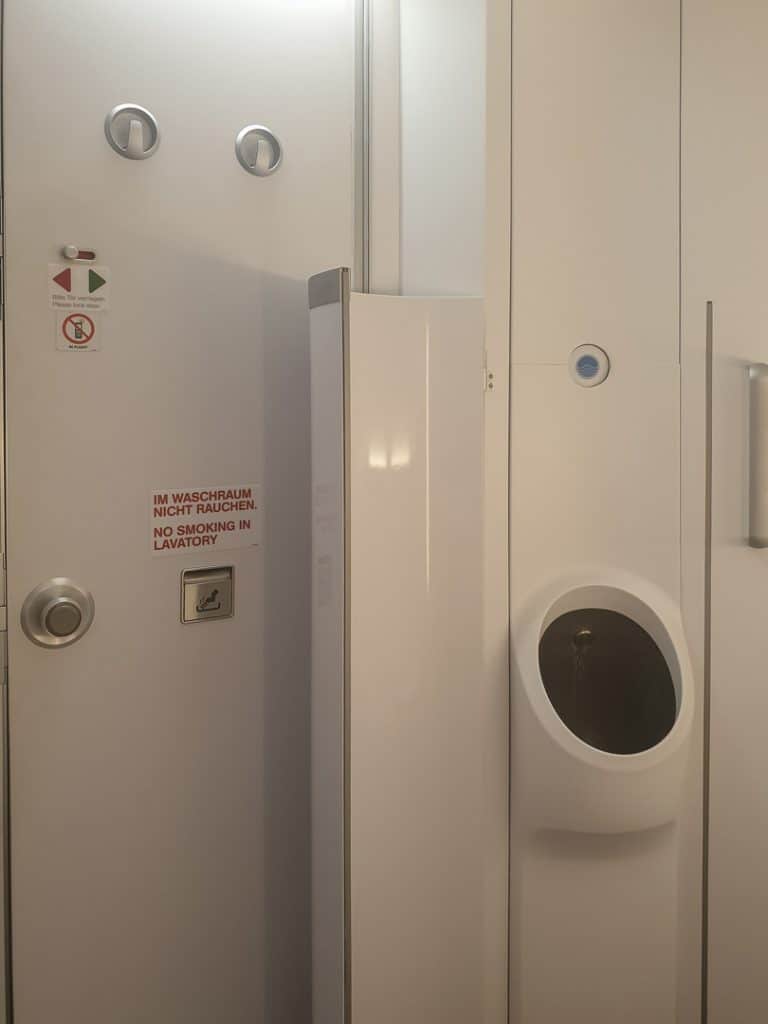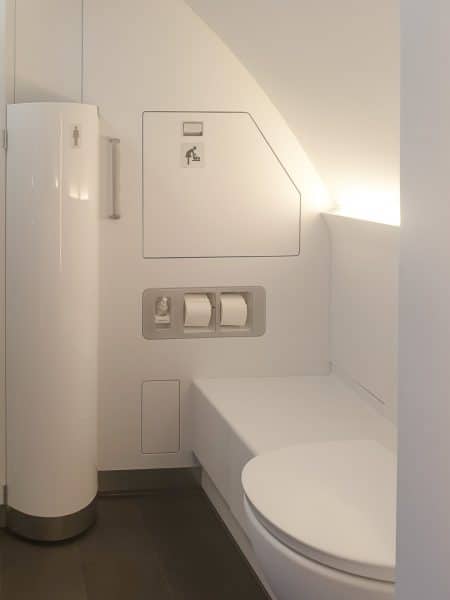 Although not quite on the level of Qatar's A380 bathrooms, the square sink, recessed lighting and rose added a touch of a class. The most exciting feature though was the full size (and extraordinarily expensive) La Prairie creams.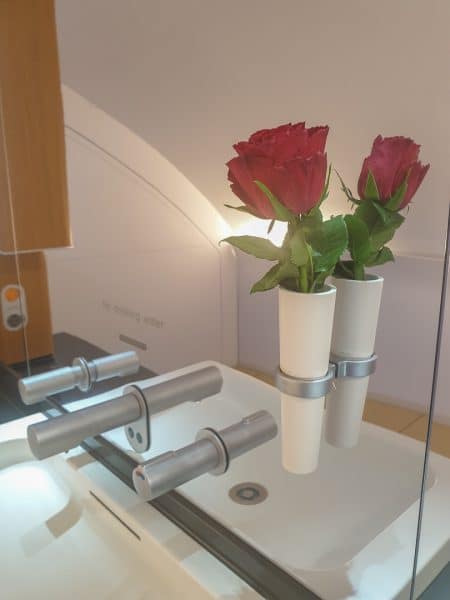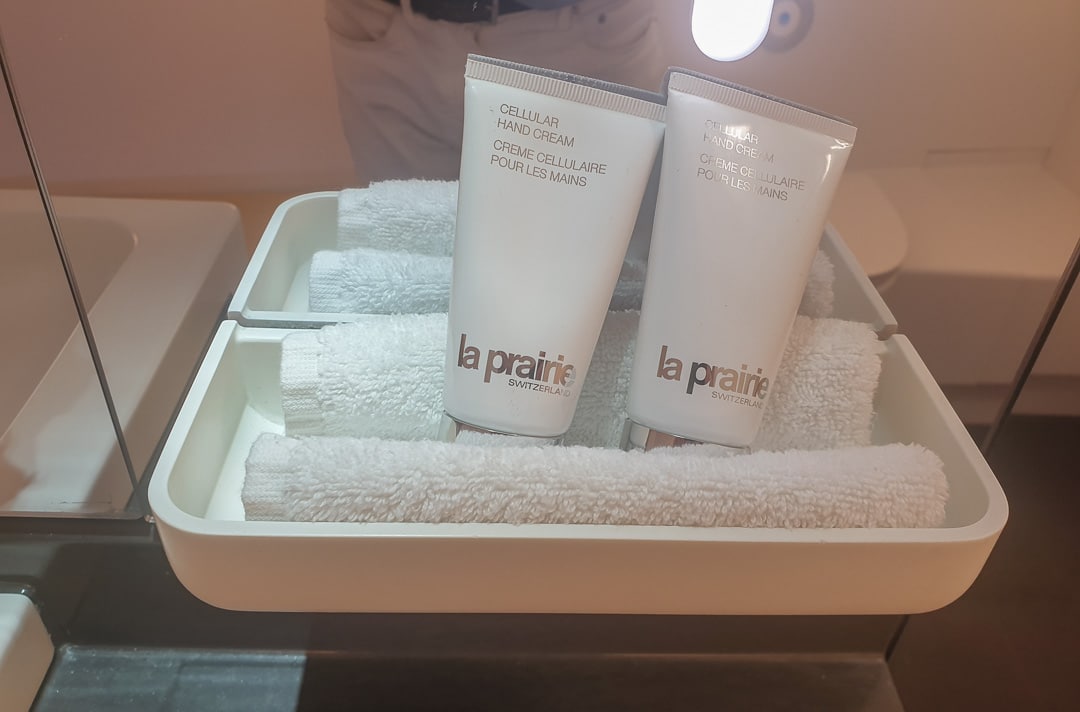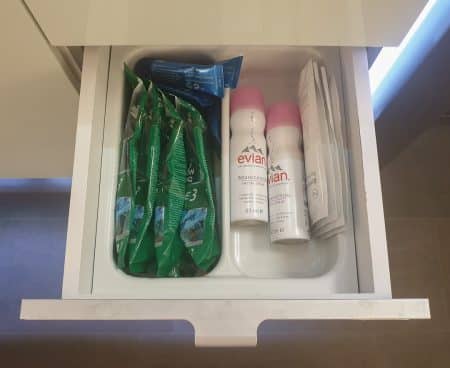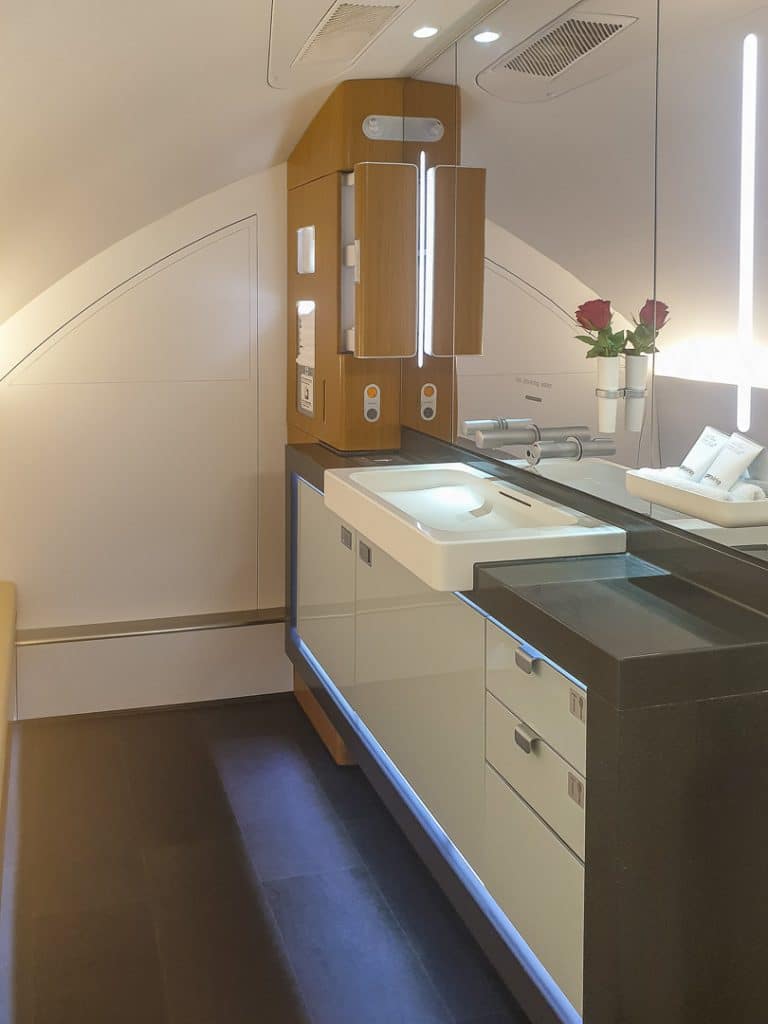 First Class Bed
I returned from the bathroom to find my bed made. As soon as I got in, an FA came over to see if I would like a bottle of water and an extra pillow.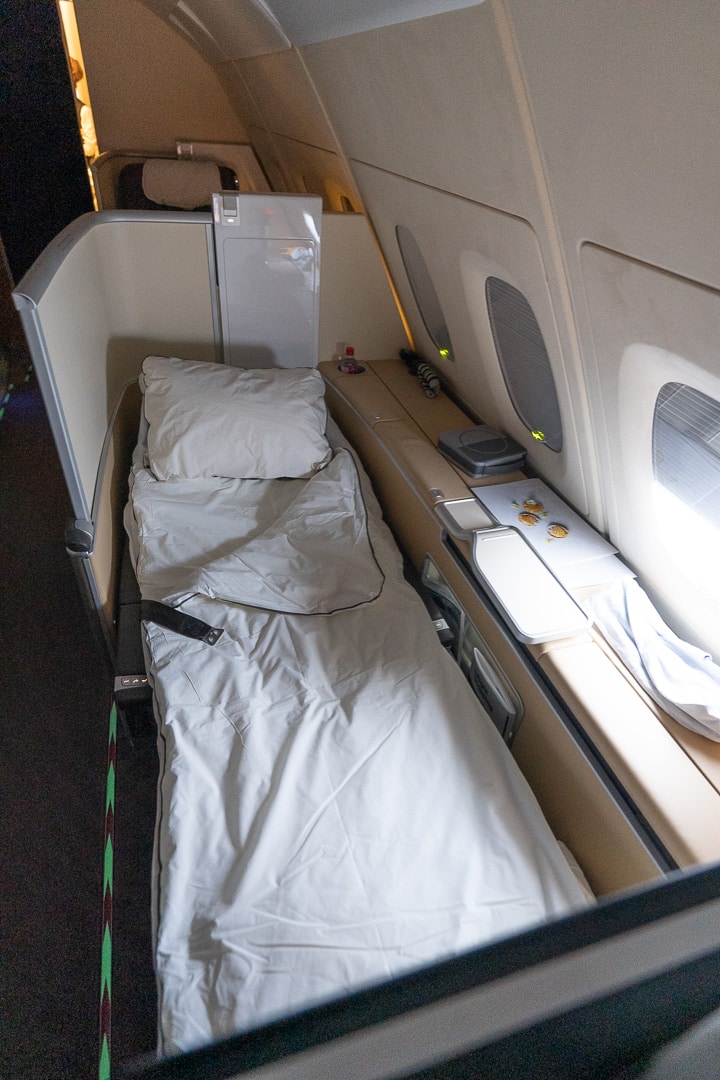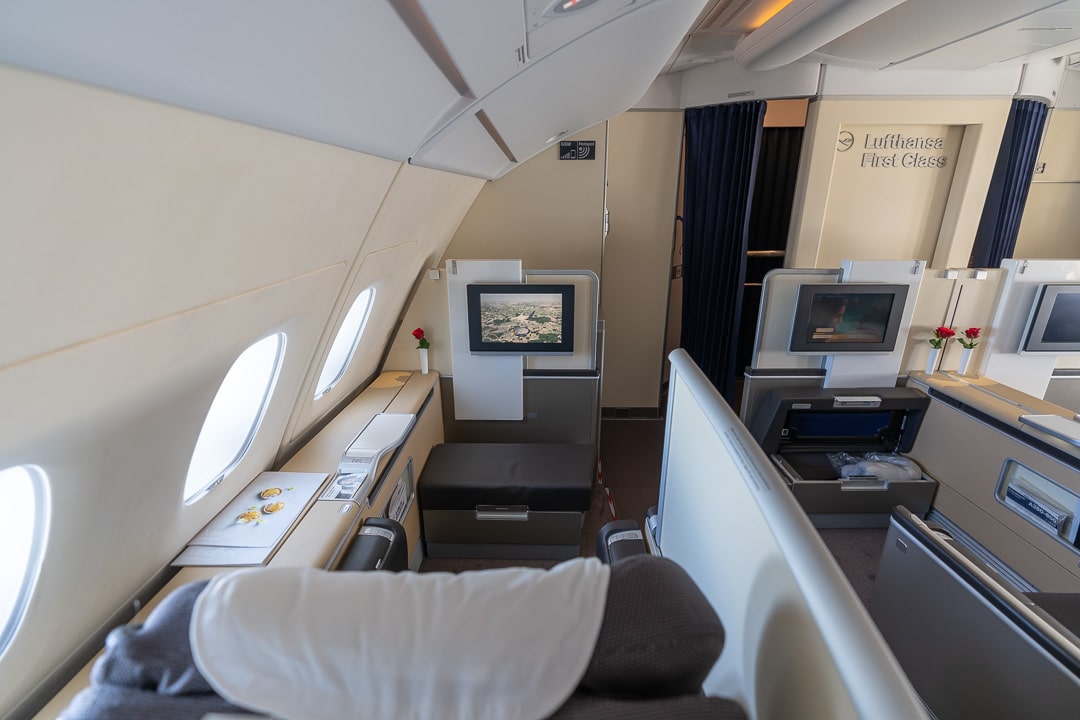 As I mentioned earlier, the seats were rather open but I didn't feel like I was particularly on show, once my privacy wall was raised.
The bed itself was very comfortable indeed and I slept soundly for 3 hours.
IFE
After my nap, I spent some time watching a movie on the comedically small 17″ screen. Despite the tiny screen, the entertainment selection was excellent, as were the Bose noise cancelling headphones.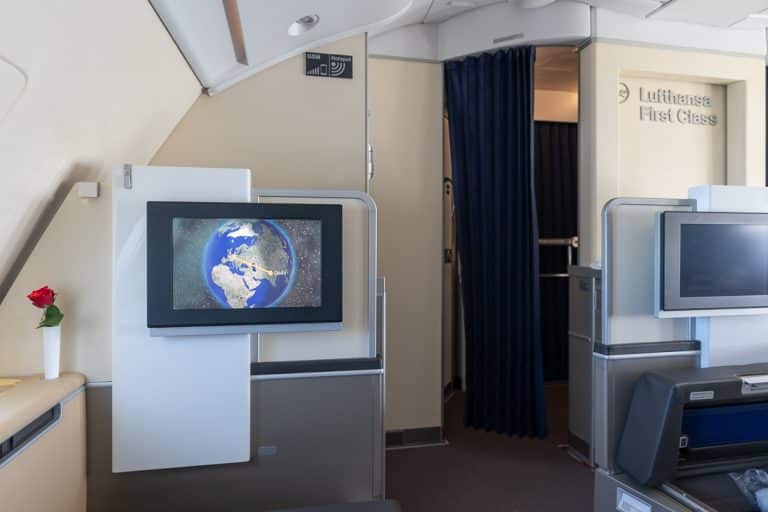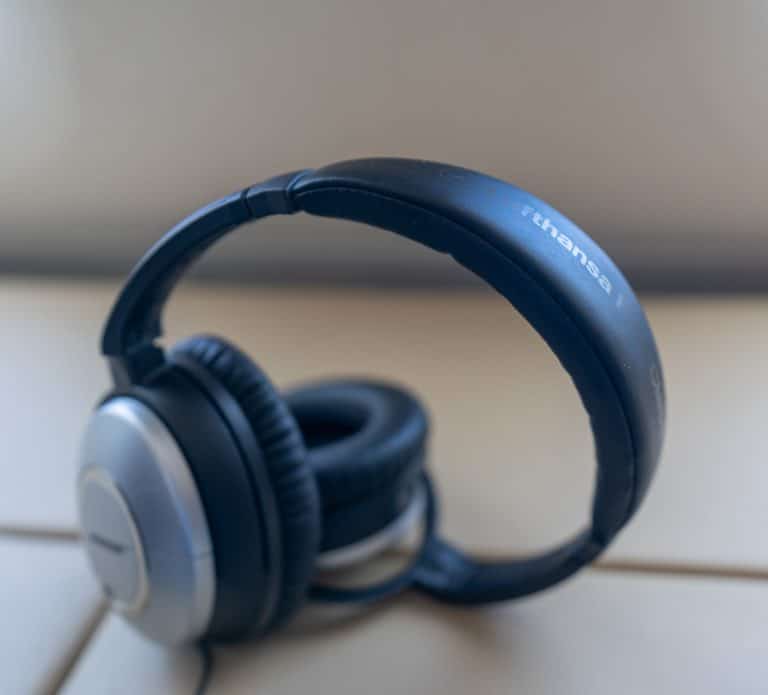 Second meal
After thoroughly enjoying Christian Bale's portrayal of Dick Cheney in Vice, I decided it was time to eat something a little more substantial than my previous meal. Kamara was very much on board with this plan, so we asked once again to have a table set for the two of us.
We both loved the sound of the crustacean soup with crayfish tails and chili. I've often said that soups are one of the best dishes to have on a plane, they are ideally suited to being reheated. This once again proved to be the case; the soup was absolutely spectacular.
After this, Kamara ordered the mixed Indian starters and I went for the gigantic curry, that came with so many condiments and side dishes that it filled the entire table! Both were incredibly flavourful, wonderful representations of Indian food, despite being catered from Frankfurt.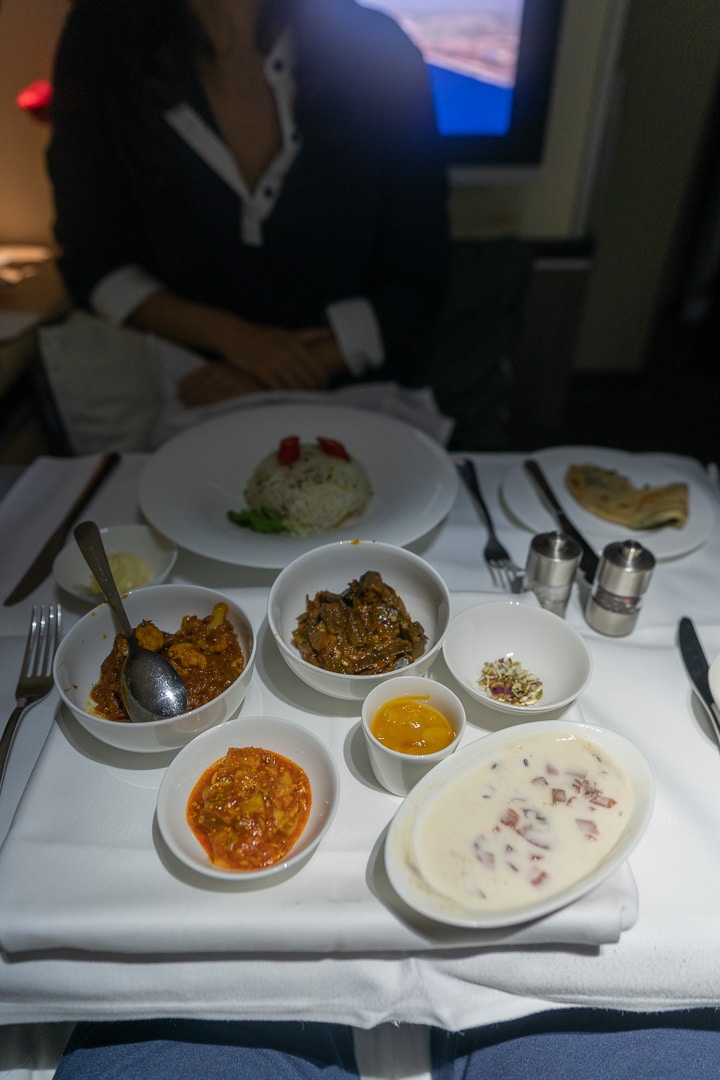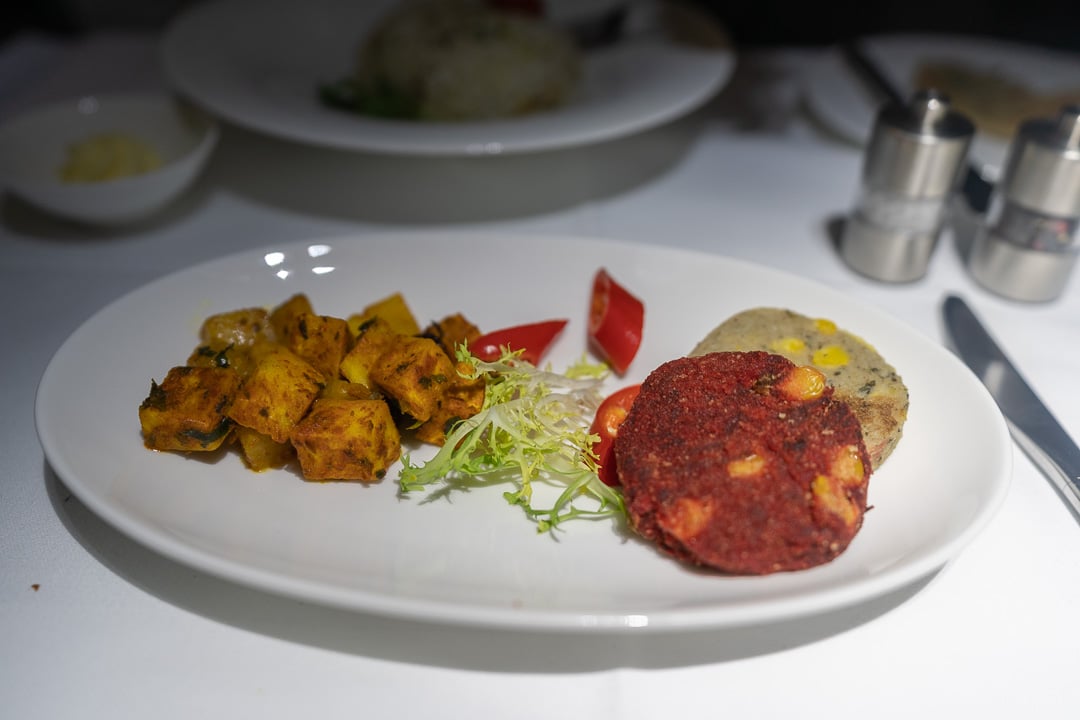 As the meal drew to a close, I returned to my seat and ordered a pot of peppermint tea. This was delivered alongside a chocolate Easter bunny and a Lufthansa pen (with which to complete my landing card).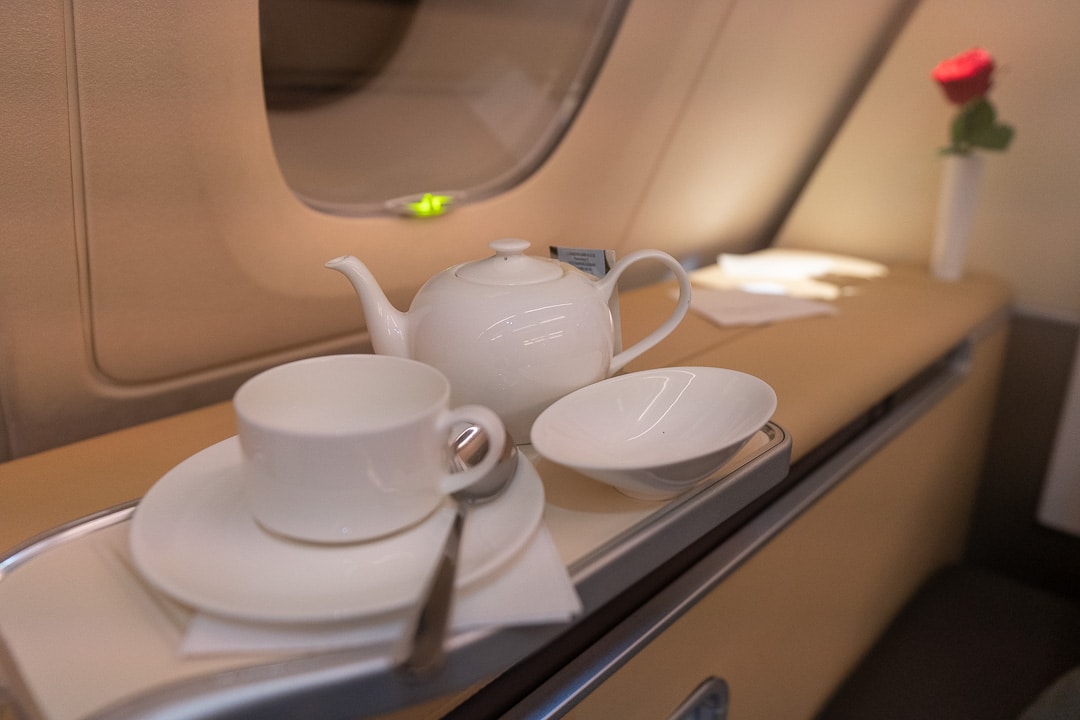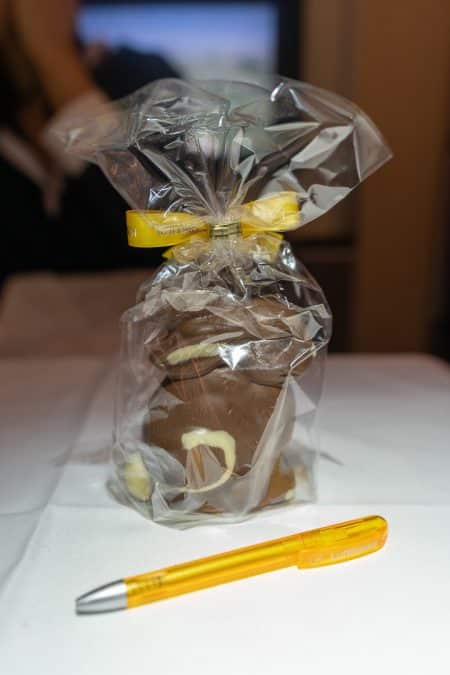 ---
Conclusion
---
The Lufthansa First Class experience is pure class, from start to finish.
Beginning your journey in a private terminal, only to reach your plane via Porsche transfer, is one hell of a way to get things started.
Of course, not all journeys begin in Frankfurt – so the onboard experience needs to deliver in order for LH to continue to appeal to First Class passengers. Here, my expectations were genuinely exceeded. The crew were incredibly warm and welcoming, always checking to see if there was anything else that they could do for us. From the moment I saw the Captain come around to welcome each First Class passenger individually, I knew that I was in for a special experience.
The seats aren't very private and the IFE screens are far too small for even a modern Business Class product, let alone First Class. However, there is no faulting the comfort of the seat, or the overall finishes of the cabin. The roses, recessed lighting, custom bulkheads and thick dividing curtains all summed to deliver a supremely elegant setting.
Although I was sad to miss out on the Cuvée Alexandra, LPGS is still a respectable First Class champagne offering, one which was well complemented by a variety of high-end wines and spirits. The food was also inventive, fresh and delicious – much more than just a caviar trolley.
In terms of the onboard product, I still prefer SWISS on the 777, since the seats are so much better and the food and service are of a similar standard. However, I enjoyed the Lufthansa experience a lot more than I thought I would and would gladly fly Lufthansa First Class again.
---
India Hotel Reviews
---
Here is a selection of our most recent India hotel reviews: