Etihad (EY)
Class: First
Access:

First Class Passengers on Etihad
Etihad Platinum status holders

Paid Access:
---
Intro
---
There was still no proper First Class Lounge available the first time that I flew on Etihad's Apartments, instead we were treated to a roped off corner of the Etihad Premium (business class) lounge. I was really excited about the prospect of properly experiencing the new F lounge on this trip and given that our flight wasn't scheduled to take off until after 2am, we were sure to have plenty of time to soak it all in.
We were collected from the Park Hyatt Abu Dhabi, by our complimentary Etihad chauffeur, at around 9pm. I wasn't expecting the hotel to extend our check-out so late but I figured it wouldn't hurt to ask (it didn't).
Etihad stopped offering complimentary chauffeur service on AA redemption tickets booked after August 2016 and even for their own Etihad Guest redemption as of February 2018. However, when logging in to Etihad's website and viewing your booking you may find that the chauffeur booking section is still active. If it is, you're in luck! (It seems that Etihad's recent cost cutting has made its way to the IT algorithm that checks chauffeur eligibility too…)
The drive in our Mercedes Benz S Class was very quick and very smooth. I'm not even sure if we saw a single other vehicle on the road.
Around 25 minutes after departing the Park Hyatt, we pulled up to the airport terminal and were greeted curb-side by a First Class Agent.
The experience up until this point was utterly seamless, we had yet to encounter another passenger or set foot into anything that resembled a regular airport terminal. I was slightly worried that we would have issues checking in more than 3 hours before our flight but it transpires that these concerns were entirely unfounded.
Upon being handed our boarding passes we were directed to a private security channel, immediately adjacent to the check-in area. We were through security and at the door to the lounge (which is also conveniently positioned immediately after the First Class security channel) less than ten minutes after arriving at the airport.
The only other time I've had such a flawless pre-departure experience has been when flying on a private jet.
---
The Lounge
---
We were greeted by an extremely polished and friendly waiter, who clearly had experience in fine dining. The combination of gentle playfulness and impeccable manners is something that is very hard to teach, not only was he welcoming he also knew the menu inside and out. His timing was excellent too, as soon as menus were put down he came to offer assistance, our glasses were also never left empty. In fact with each empty glass came a recommendation for another libation, suitable for the next course of our meal.
In short, this was proper restaurant service, through and through.
The menu was a gargantuan tome, worthy of the Great Library of Alexandria.
---
---
---
As Kamara and I debated whether to order a soup or a starter, our waiter helpfully suggested that we should order both. Not ones to upset our host, we gladly took him up on his suggestion.
The drinks selection was almost daunting in its extensive grandeur. At this point in time Etihad still served Bollinger La Grande Année both on board and in the lounge. My camera blurred the page showing this, almost as if imbued with the knowledge of the savage cost cutting that was to be unleashed by Etihad mere months later.
Anyway I digress. To begin, we had a glass of Grande Année each, which was served table side, accompanied by an amuse bouche of stuffed fresh dates with yoghurt.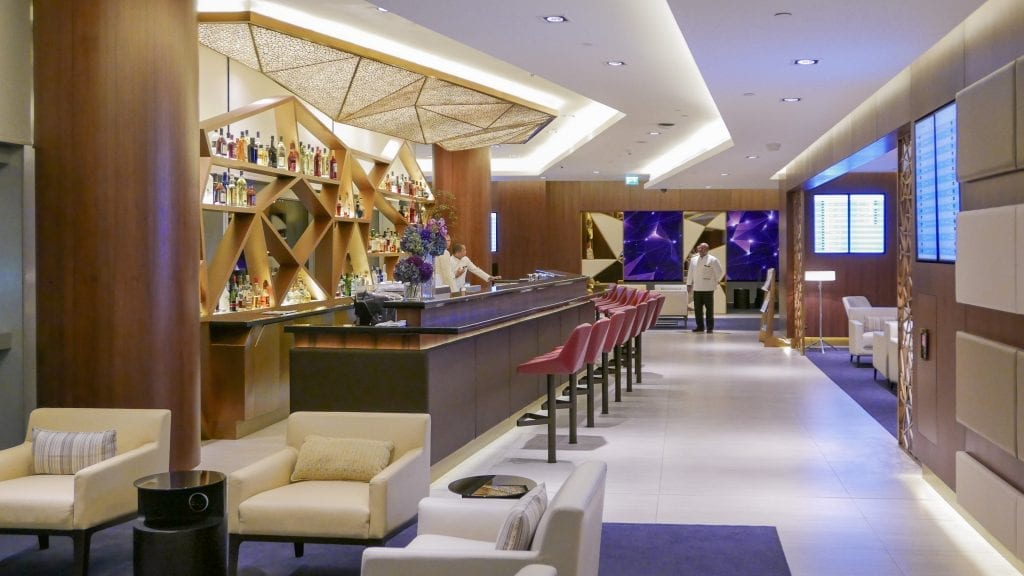 After this monumental meal we decided to skip dessert and enjoyed a rich and syrupy glass of Tokaji instead, before making our way to the bar.
Some of the other seating areas dotted throughout the lounge, including the bizarrely exposed and disco-like 'relaxation area'.
After we finished our drinks, the barman commented that his colleague in the restaurant had voiced a concern with him. We had been too full earlier and neither of them could bear to see us leave the lounge without trying their best dessert:
It was astoundingly good. The kind of food for which decorum is put on hold. Hell, I'd probably commit a few minor felonies to get my hands on another one of these right now.
After an enormous multi course banquet, served with prestige cuvée champagne and bespoke cocktails, spanning a pair of venues; I did the sensible thing and retired to the cigar lounge for a Montecristo and a glass of bourbon.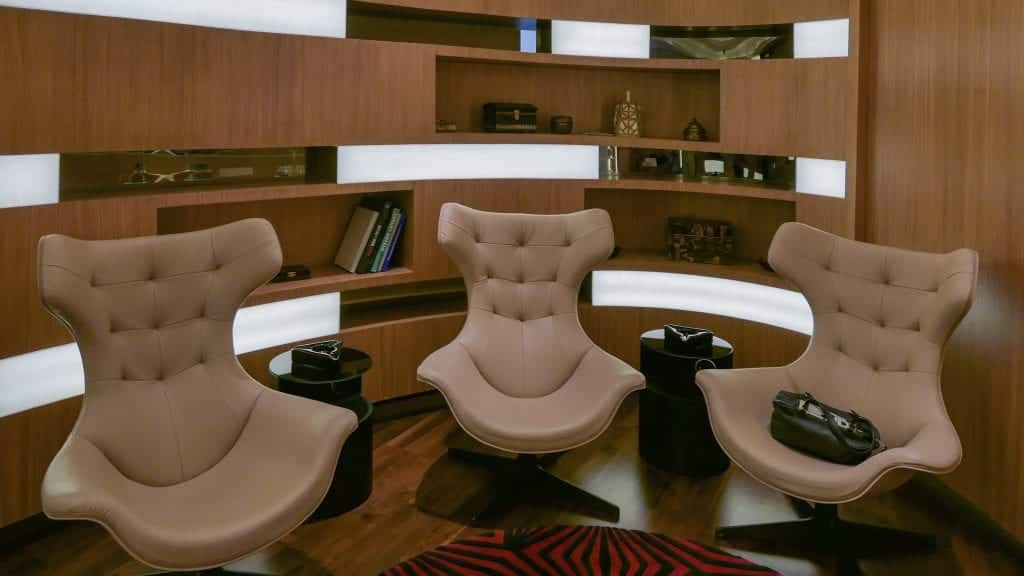 The cigar lounge is well isolated from the rest of the lounge, the extraction mechanism is so good that you'd never know that it was there. Once inside, the room has a cool retro vibe, a lot more stylish and inviting than what you expect when you picture a cigar lounge. I was served by an attendant who passed me the cigar to smell before slipping and lighting it for me. I was then offered a drink. I'm not usually a cigar smoker so I went with the smooth sweetness of the Elijah Craig to offset my Montecristo.
---
Conclusion
---
Back in 2016, when I first visited this lounge, Etihad was at its apex. Apartments were still a very new product and the lounge had only been open for a couple of months. The glow of invincibility surrounding this company was palpable, everybody wanted a piece of them.
The dining experience we had here would easily have cost upwards of £250 per person in a top London restaurant and would have been worth every penny!
Unfortunately a series of horrible financial decisions have led to a continuous deterioration in Etihad's premium offering. The food and the service are now both markedly worse than they were during this review.
Hopefully this serves as a reminder of how to do a lounge properly. I've only personally visited one other better lounge since and that review will be coming very soon…