British Airways (BA)
Class: Business and First
Access:

OneWorld First and Business Class ticket holders
OneWorld Sapphire and Emerald status holders taking any OneWorld flight
---
Intro
---
A number of BA's outstations have seen new lounges recently and unlike the home lounges at LHR, a lot of people have been singing their praises. After seeing the impressive refurbishment of the AA Flagship Lounge in Chicago I was interested to see how BA measured up.
Whilst re-routing through BOS, in order to avoid snowstorms in JFK, was not exactly ideal – I was glad to have the opportunity to try BA's newest lounge…
---
The Lounge
---
Whilst the lack of power and drab decor were not great, I was very impressed with the food selection, as well as the service. BA's lounges in Heathrow are catastrophically bad, with plates piling high, spillages left uncleaned and scuffs and stains all over the furniture.
Conversely, the staff here were really on top of things, all the more impressive when you consider that we were due to board a flight that was 3 hours delayed, with passengers for the next flight already crowding into the lounge before we left.
The place is kept spotlessly clean and the food is constantly replenished.
There was a separate area cordoned off for First Class Dining (ticketed First Class passengers only) but it looked like they were just being served the same food as was available on the buffet. Ordinarily this would mean that the First Class passengers were getting screwed over but honestly, the food at this buffet was anything but ordinary…
I filled a plate with a healthy dinner and then noticed that I didn't have a drink to go with it. I had heard that this lounge had a fully staffed bar and was hoping I'd be able to get a decent cocktail to go with my meal.
The setting for the bar is awesome. There is a clean stretch of the brightly lit airport beneath you showcasing a close up view of BA's jets. Then a pair of intertwining freeways emanate from beneath you, stretching to a horizon littered with skyscrapers.
I ordered an espresso martini and hoped for something to match the view, something on a par with the wondrous creations at the Qantas Lounge in Hong Kong or Tony's exemplary libations at the Cathay Business Class Lounge in Heathrow.
Unfortunately what I ended up with was around half a litre of extra sweet Baileys. I managed to stop the barmaid before she started pouring Hershey's syrup into this monstrosity (seriously) but after taking one sip I realised that this drink was irredeemable regardless. Still, the food was absolutely wonderful.
This is the only lounge on the BA network that permits direct boarding onto the plane. I have to admit, it's pretty cool being able to skip the normal gate area entirely and head straight on board. Unfortunately we were on a 777 so had to head down a lot of stairs first, before merging into the regular boarding line. On an A380, boarding upstairs, the effect would be a lot more impressive.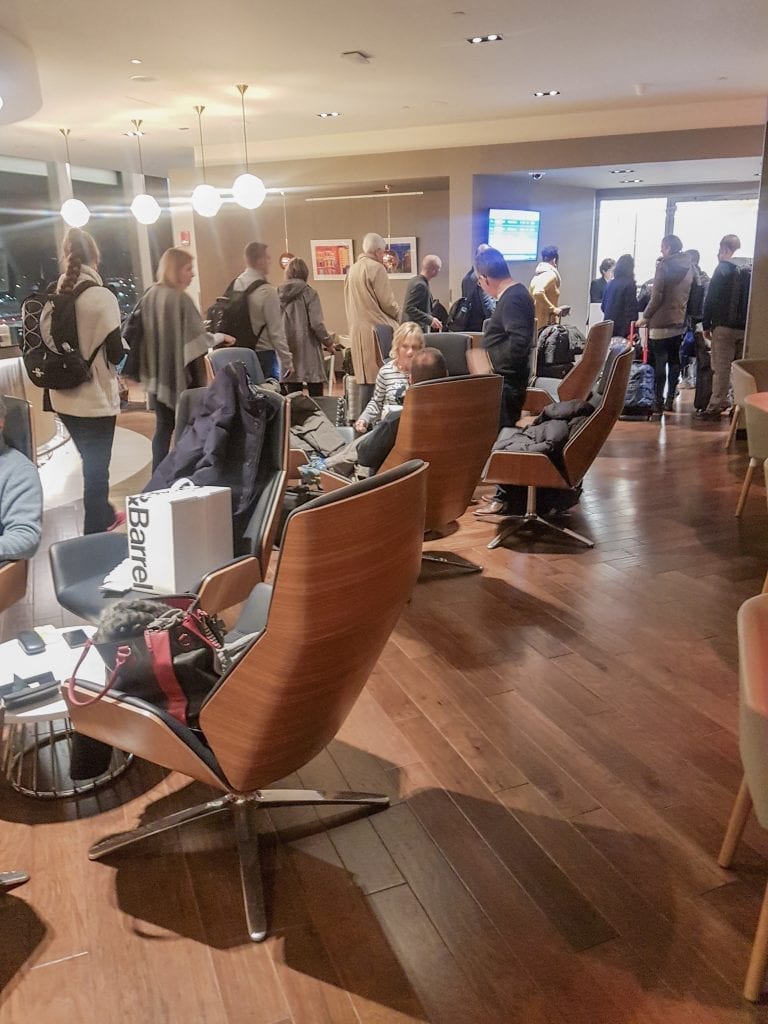 ---
Conclusion
---
As far as BA lounges go, this one is pretty good. The lounge is clean, the service is great and the variety of high quality food is truly excellent. I loved the setting of the bar but the cocktails could definitely use some work. Similarly, boarding from the lounge is a nice idea but the execution fell a little flat, the lustre left as soon as we filtered into a line of Economy passengers downstairs.
Whilst this is one of the best BA lounges I've ever set foot in and nothing was massively wrong with it, I wasn't wowed. When it comes to lounge refurbishment programmes, AA is still very much the dominant partner in this transatlantic joint venture.
---
Year end mileage run to Chicago for dinner…
Part 1:

Part 2:

Part 3:

Part 4:

Part 5: