Mandarin Oriental Barcelona
Room Type: Mandarin Junior Suite
Typical Nightly Rate: €995
Stay Type: Hosted stay
Loyalty Program: Virtuoso/MO Fan Club
---
Intro
---
When looking at hotel room rates in Barcelona there is one property that not only charges on average, twice as much as the competition – it is usually sold out.
The Mandarin Oriental appears to stand head and shoulders above all other hotels in Spain's most popular tourist city. I was very intrigued to see if the rates are truly justified…
---
Booking
---
Our clients are able to enjoy additional Virtuoso benefits when booking Mandarin Oriental Barcelona:
Upgrade on arrival, subject to availability
Daily breakfast for up to two guests per bedroom
$100USD equivalent Food & Beverage credit utilized during stay (not combinable, not valid on room rate, no cash value if not redeemed in full)
Early check-in / Late check-out, subject to availability
Complimentary Wi-Fi
Room rates and payment terms match the Mandarin Oriental website exactly, with payment taken directly by Mandarin Oriental during your stay.
You can book a Virtuoso rate at Mandarin Oriental Barcelona using our online booking portal:
BOOK MANDARIN ORIENTAL BARCELONA WITH VIRTUOSO BENEFITS
If you're booking with us for the first time, here's a quick guide on how to use the booking portal:
It's also always worth dropping us an email to see if a better offer is available, or if you need help building a more complex itinerary with multiple hotels:
---
Arrival
---
Mandarin Oriental Barcelona is located right on Passeig de Gràcia, Barcelona's busiest shopping street. However, there is a lengthy car parking bay in front of the hotel, with taxis always available. As such, the only real drawback of the location is the traffic at peak times, together with the crowds of people on the street.
The hotel's façade is rather understated and doormen are on hand to both immediately assist guests and gently deter non-guests from wandering back to the lobby.
We were met by a welcoming party who helped us with our bags and walked us straight through the lobby to complete check-in in our suite.
Behind this external façade was a gently upwards sloping ramp, which led to a spectacular internal courtyard. This clever design ensures that most rooms at the property are able to enjoy both sunlight and quiet from the chaos outside.
The illuminated floors, elegant patterned carpet and dramatic, eight story high hotel banner served to instantly create a sensation of tranquility and elegance.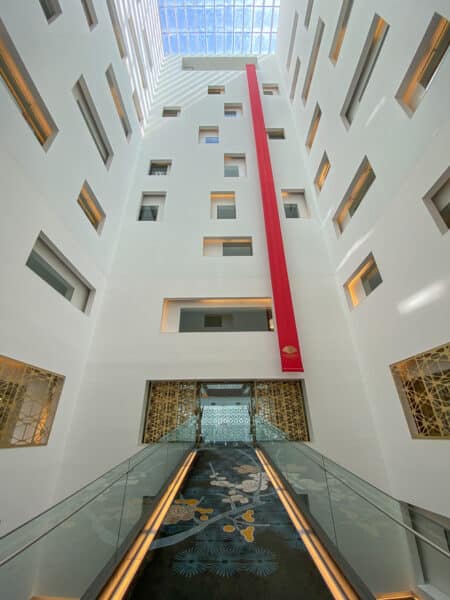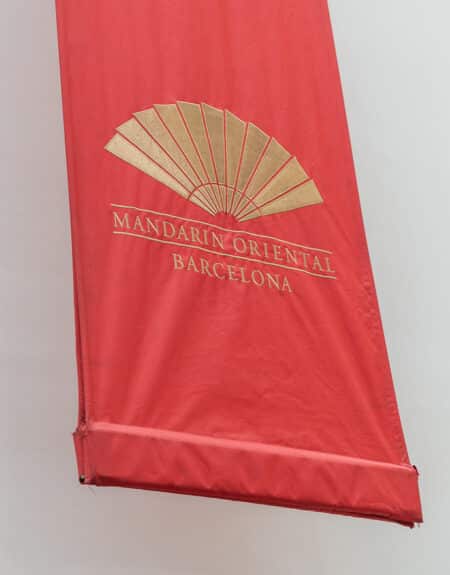 Upon passing through the glass doors we were warmly greeted by yet more hotel staff. There was a reception counter at one end of the lobby and a concierge desk at the other.
The feel of this lobby area was thoroughly modern and the execution of the design was superb.
There are plenty of design focused hotels purporting to be luxurious but here it was clear that the design team was in command of a sizeable budget. The quality of the fixtures and furniture at the Mandarin Oriental Barcelona is undeniable, from the moment that you set foot inside.
As we exited the lift on the sixth floor, the benefit of having the internal courtyard was abundantly clear. The hallways were filled with natural light (and more very expensive looking furniture).
---
Mandarin Junior Suite
---
Entrance
The door of our Mandarin Junior Suite opened into a hallway of sorts, a design choice which I am always fond of – as it creates a very distinct separation between the bed and the hotel hallway.
Clearly no expense has been spared inside the rooms at this property. The zig zag mirrored wall, recessed lighting, parquet floors and beautiful wallpaper combined to produce an effect which was very striking. The shape of the wall very cleverly framed the window at the end of the corridor, whilst also hiding the door from the sightline of those sitting on the sofa.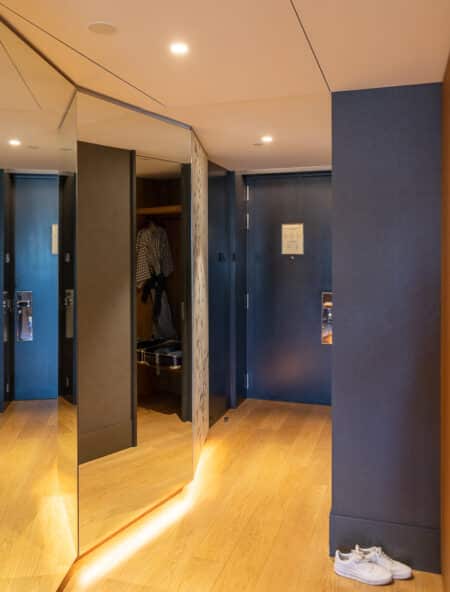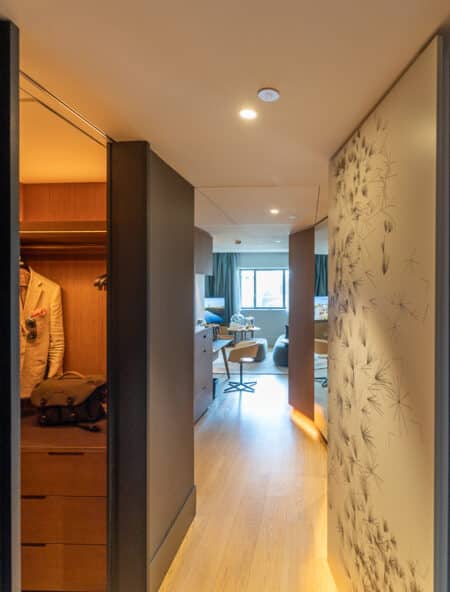 Storage space was more than adequate with a walk-in wardrobe located immediately by the door. The quality and variety of hangers supplied was excellent and the printed yukata style dressing gowns were perfect for the temperate climate of Barcelona.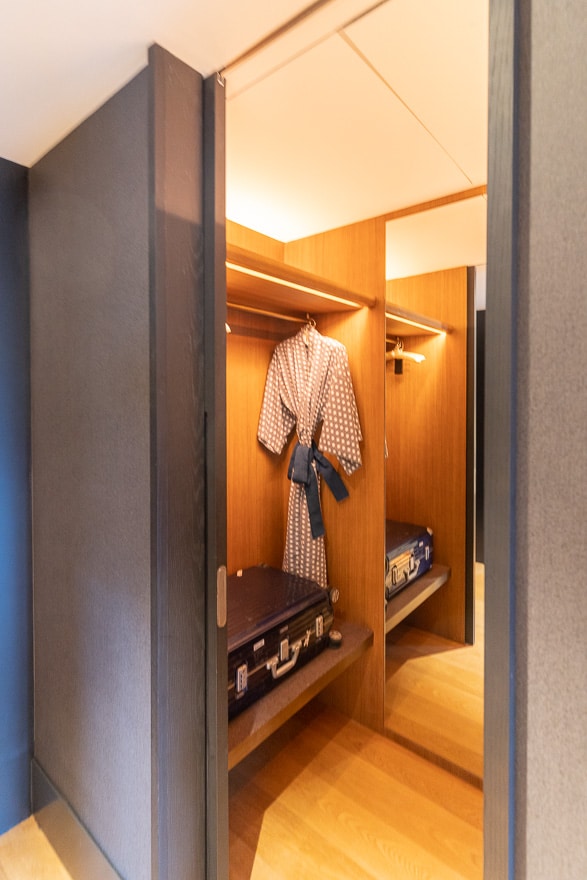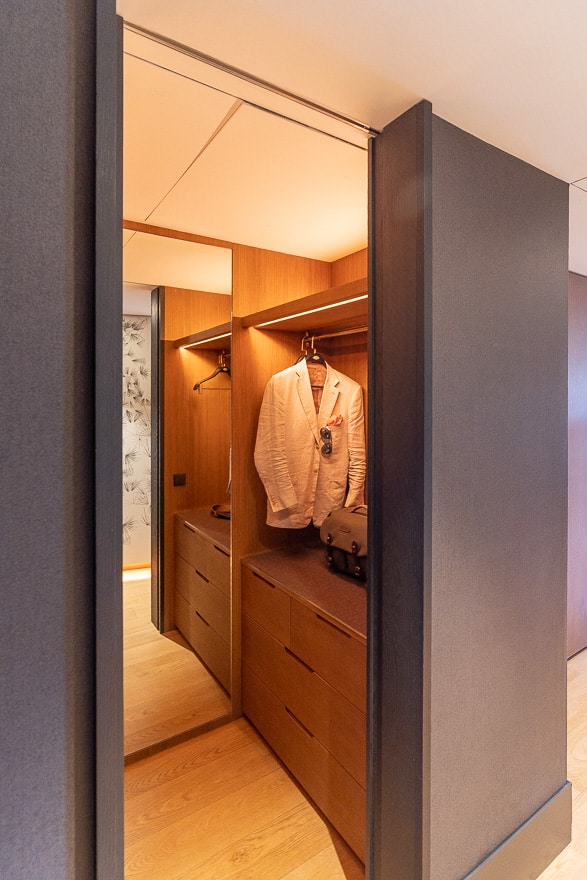 Further along the hallway was a second wardrobe, with enough space to open a large piece of luggage. The beach bag was a thoughtful extra, I've long admonished Four Seasons DIFC Dubai for not providing these – even whilst encouraging guests to visit the sister property on Jumeirah Beach.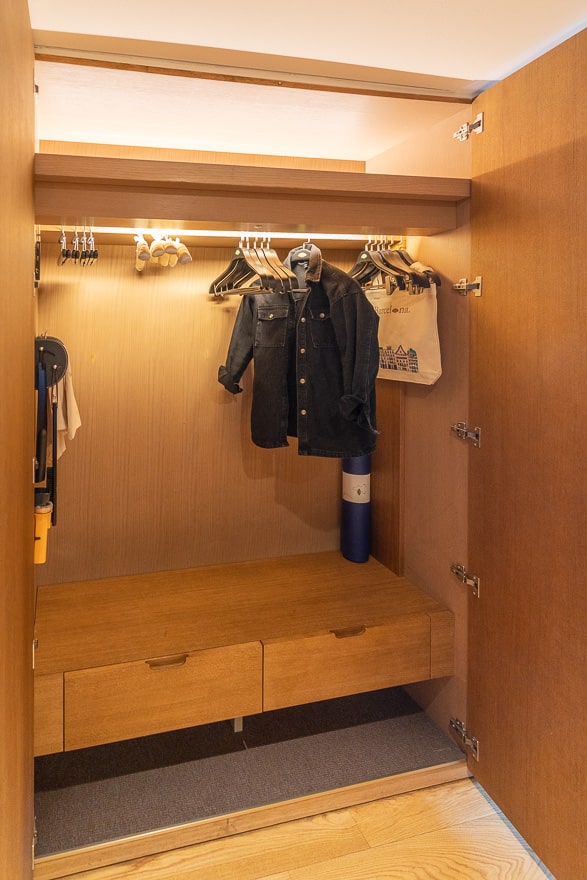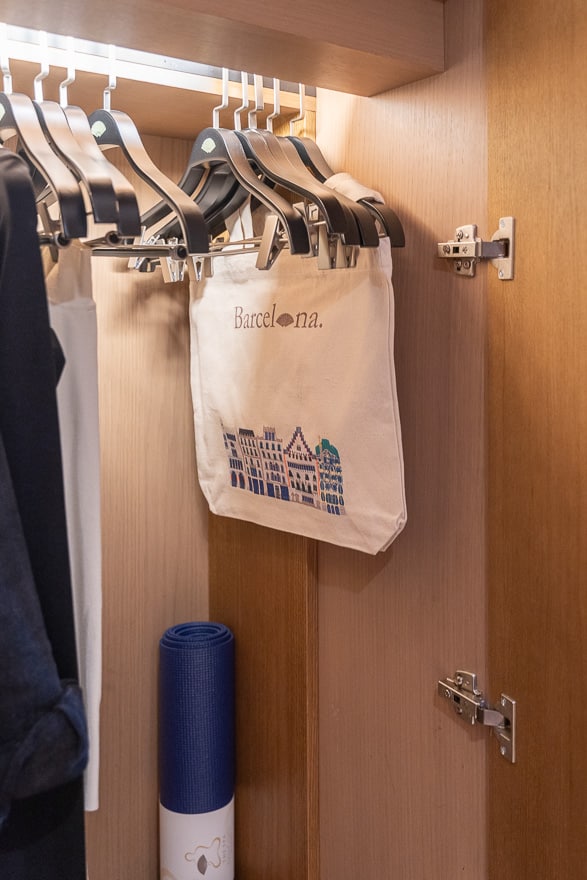 Alongside this wardrobe was a mirrored mini bar area featuring a Nespresso machine and complimentary bottles water.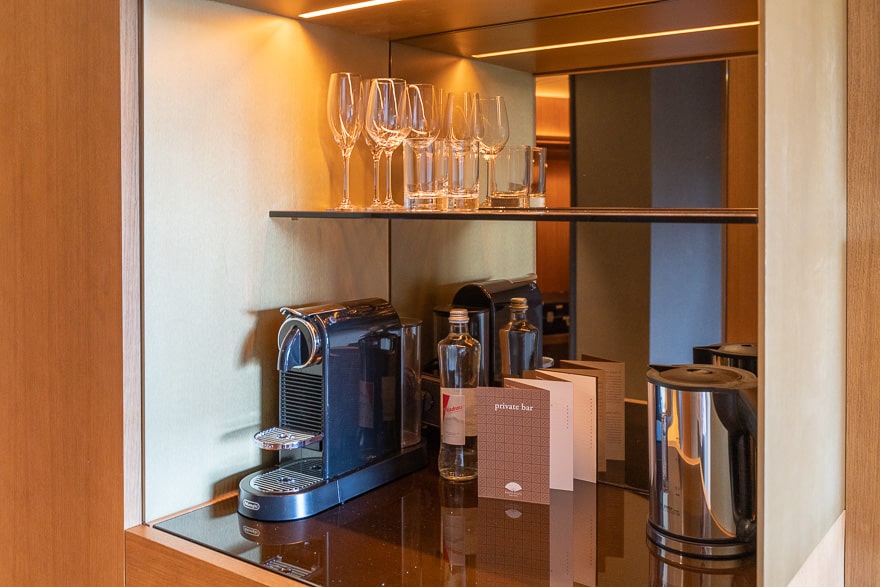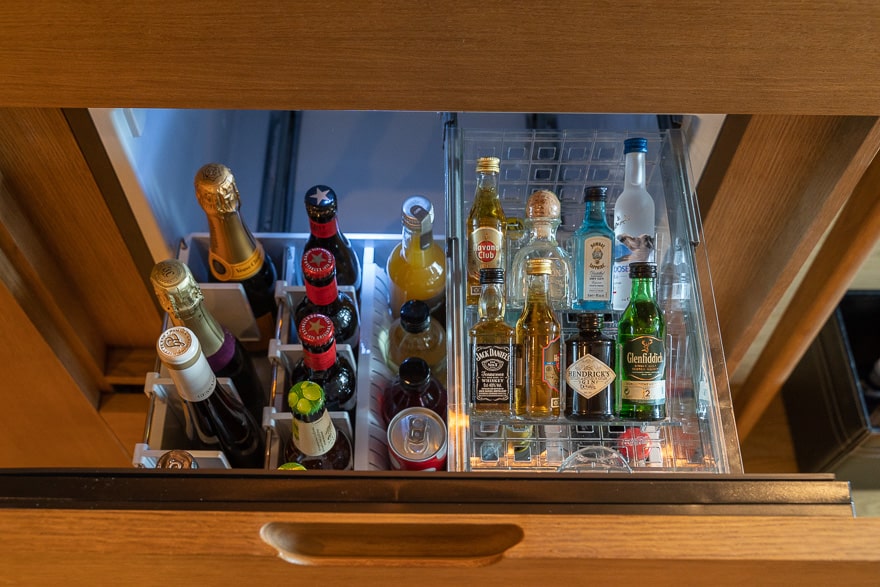 Next to this was a leather topped work desk, featuring a Spanish power socket, USB ports and an HDMI port for connecting to the TV. There was also a Bose bluetooth speaker which could be undocked and positioned anywhere in the room once charged.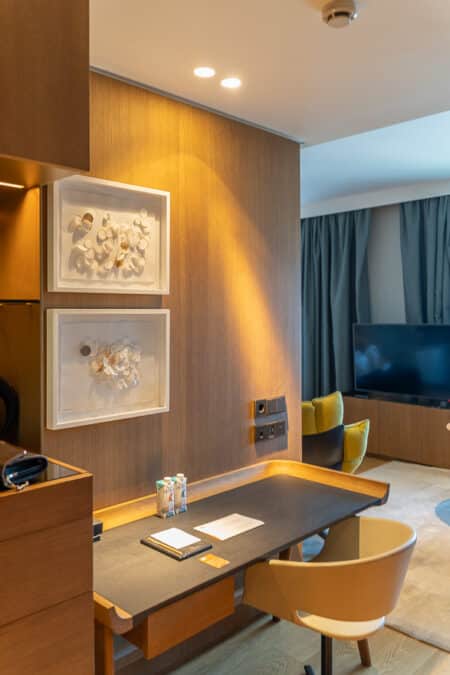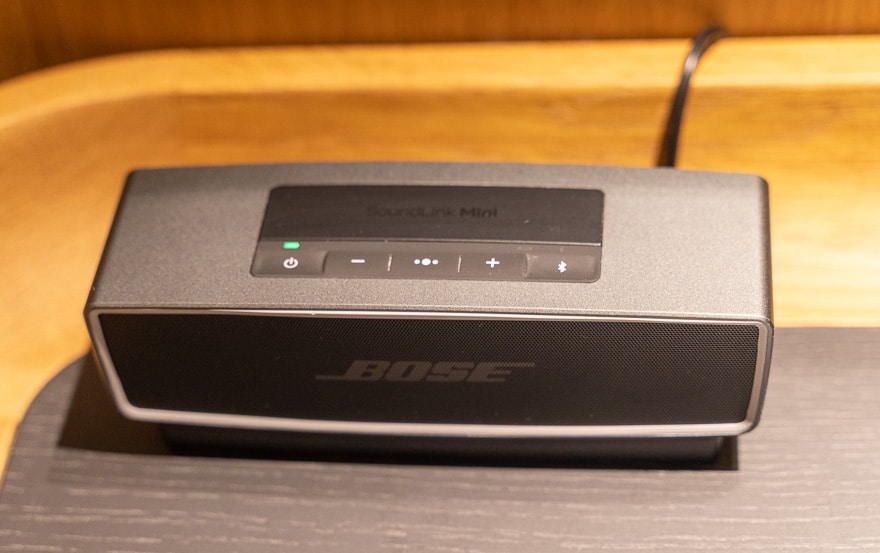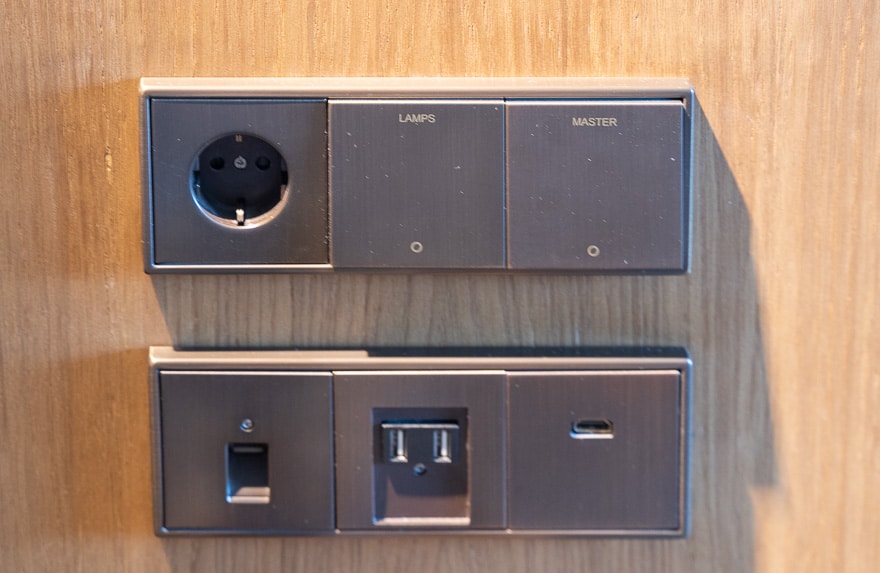 Bedroom
At the far end of the entrance corridor was the sitting area, featuring a very large and stylish blue sofa.
The layout felt a little bit odd though. as neither the sofa nor the bed actually faced the TV. Personally I think that they could have done away with the yellow accent chair and placed the TV on a central plinth, with the ability to turn either way.
We ended up having to lift up the carpet and pull the whole cabinet across the room, in order to watch TV in the evenings.
Placed upon the lounge table was a very generous Virtuoso welcome amenity. Bottles of still and sparkling water, an ornate stand filled with handmade chocolates, an exotic fruit platter and a bottle of Ruinart champagne.
Since our stay fell over the Easter weekend, we actually received an additional amenity on our second day: an enormous, white chocolate Easter egg!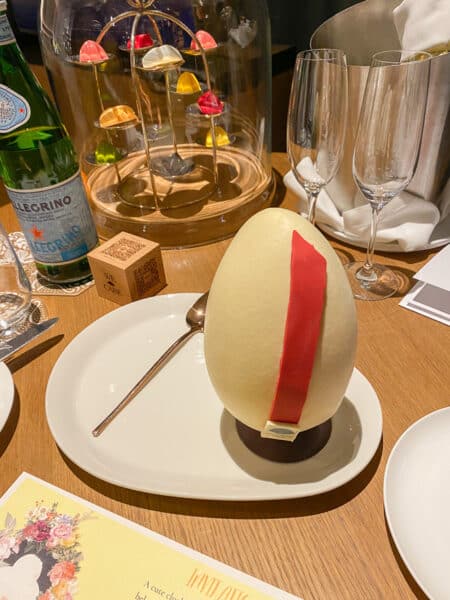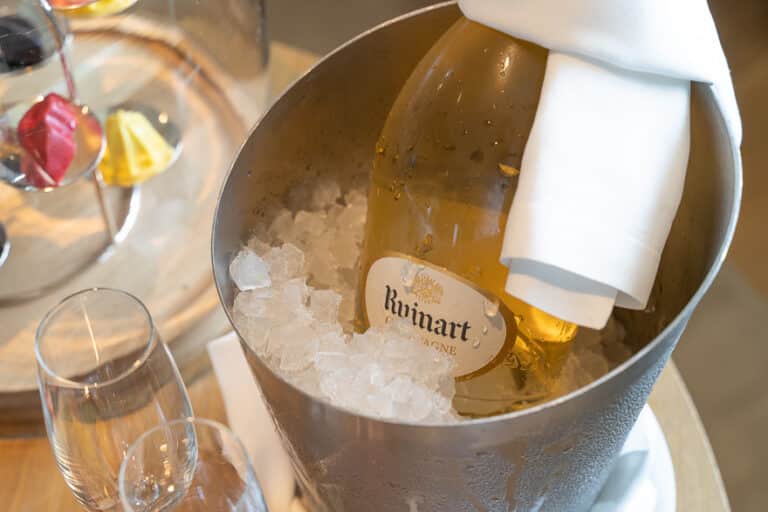 The large windows filled the room with natural light and provided us with wonderful views of Barcelona's world famous architecture.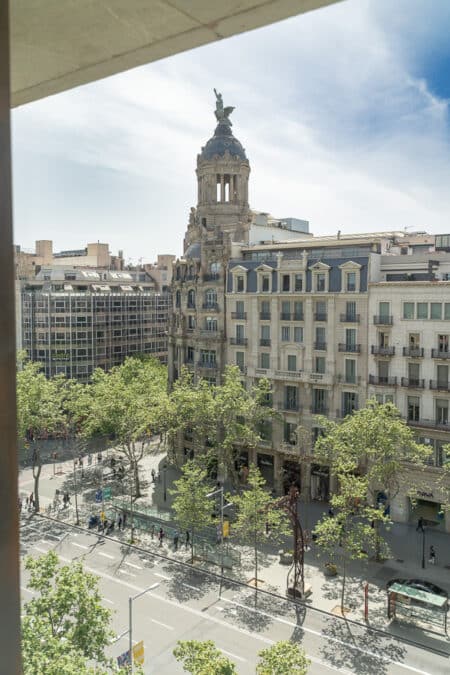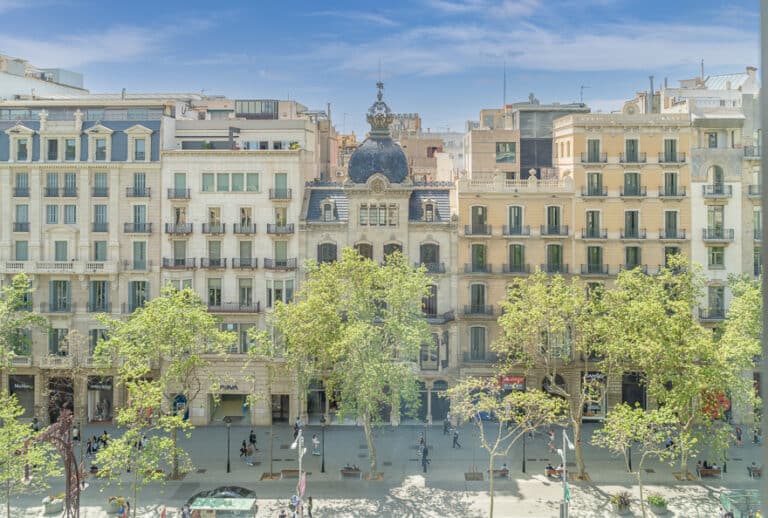 The bed was very comfortable, featuring high thread count linens and multiple, plush feather pillows.
Bedside tables featured storage drawers, which is always a big plus and USB ports were offered in addition to Spanish power sockets. However I would have preferred to see universal power sockets and bedside lamps that were either hanging or featuring smaller bases.
The lamp design was such that almost no space was left for personal items on the bedside tables!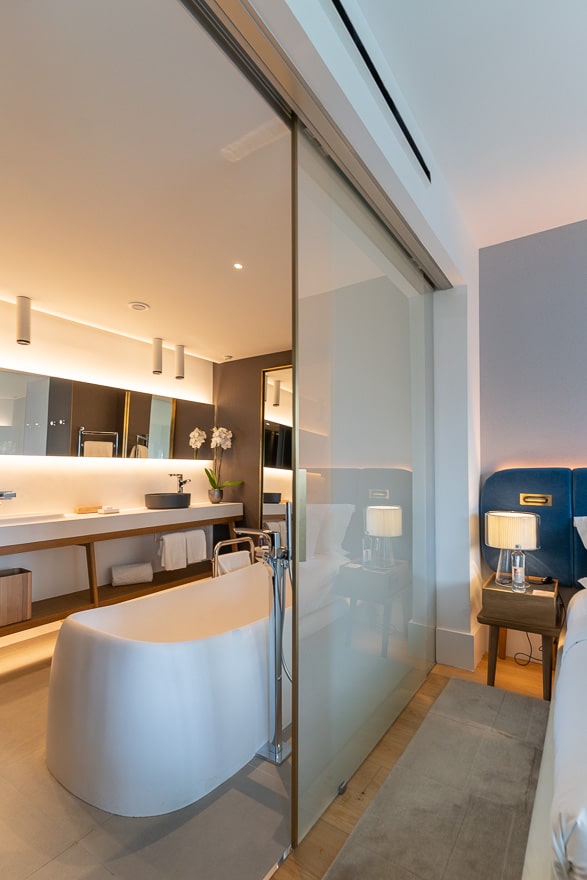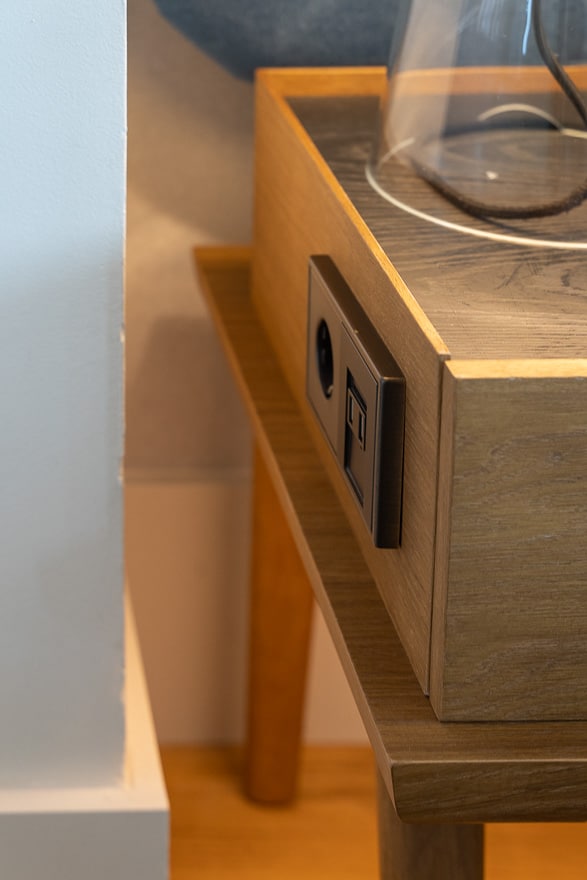 Bathroom
The bathroom design was absolutely stunning. The bathtub had a very unique style to it, quite unlike any I've ever seen before and the amount of counter space on offer was amazing.
Despite the relatively small footprint, there was plenty of natural light and both a bathtub and a separate shower room.
The rainfall shower head provided excellent pressure and the toiletries had a very luxurious smell and feel to them. I loved the fact that we were given a separate jar of moisturiser too.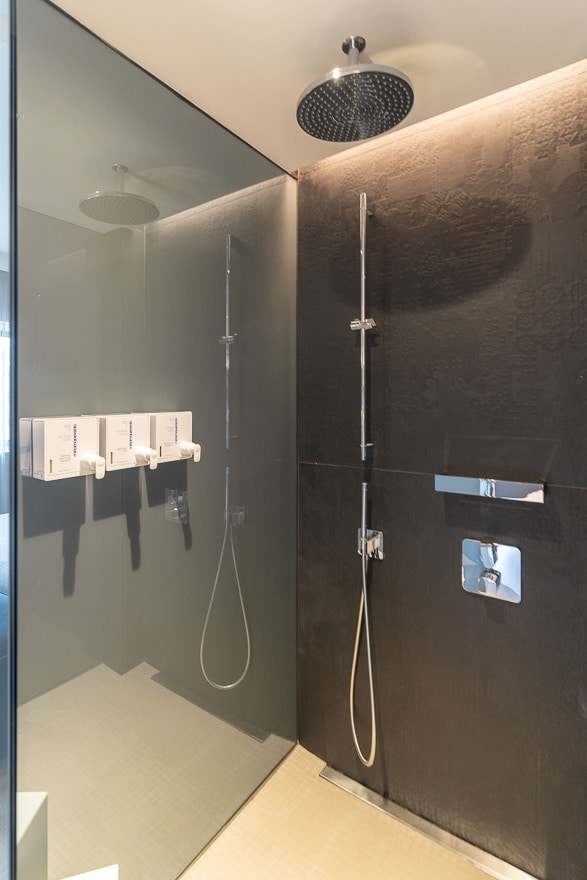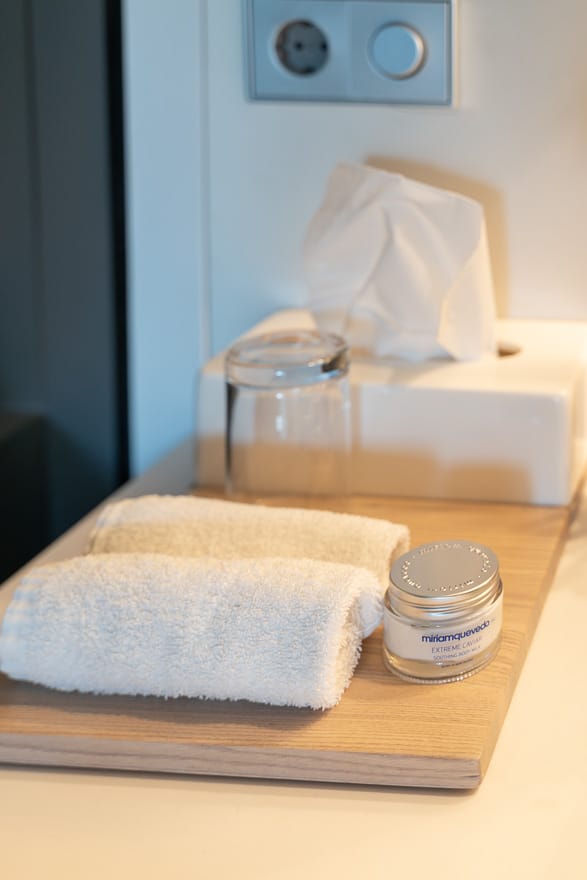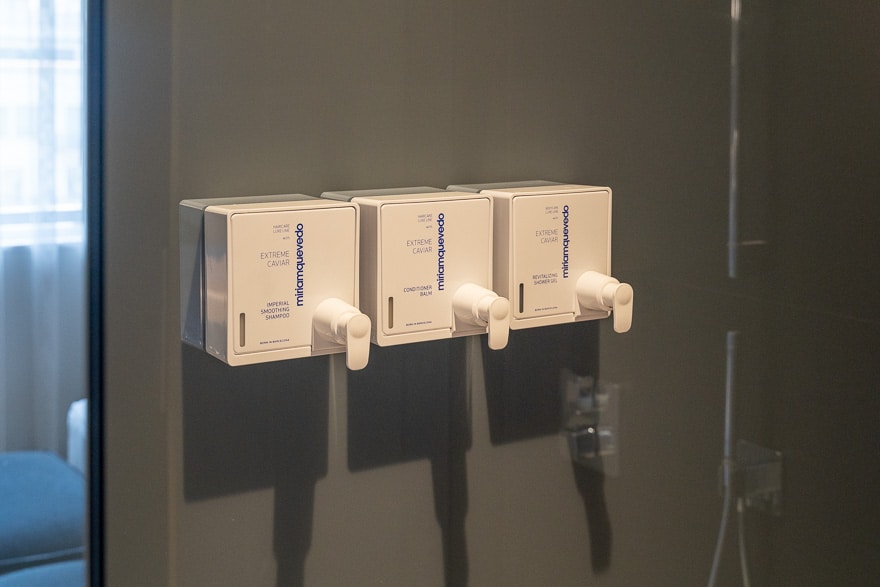 The toiletries were Extreme Caviar by Miriam Quevedo – a very high end Spanish brand. Miniatures were offered by the bath in addition to the refillable containers in the shower (and the jar of moisturiser).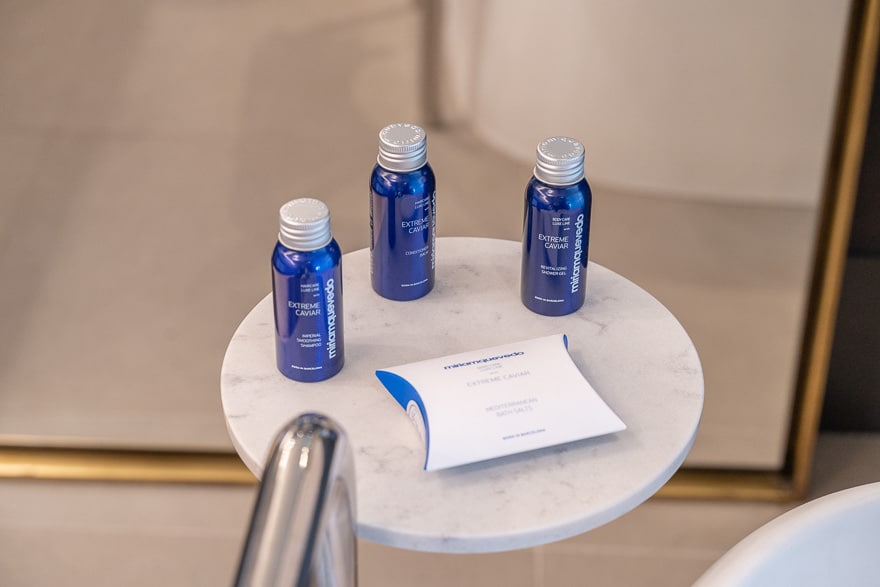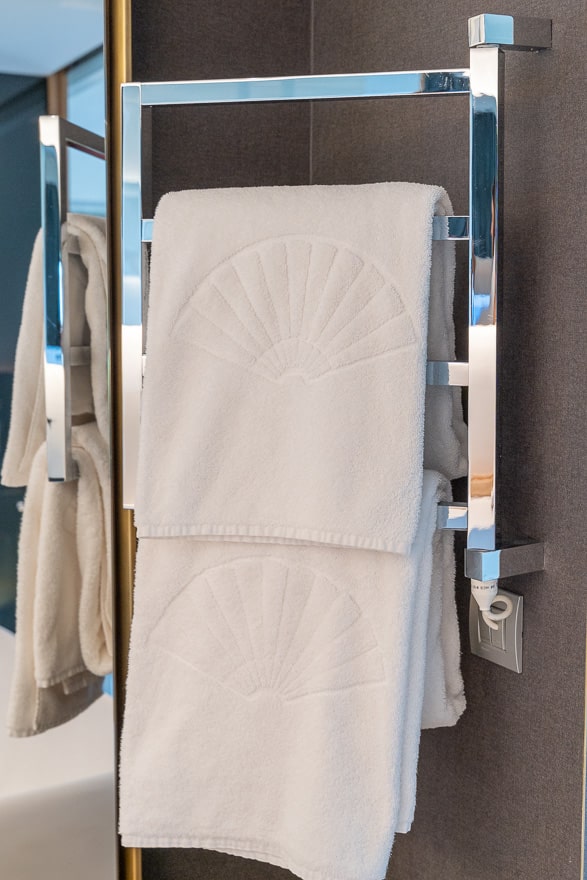 A large enamel box filled with additional amenities was left on the counter for us too, so there would never be any need to call housekeeping for forgotten items. Hair straighteners were also provided in addition to the hairdryer.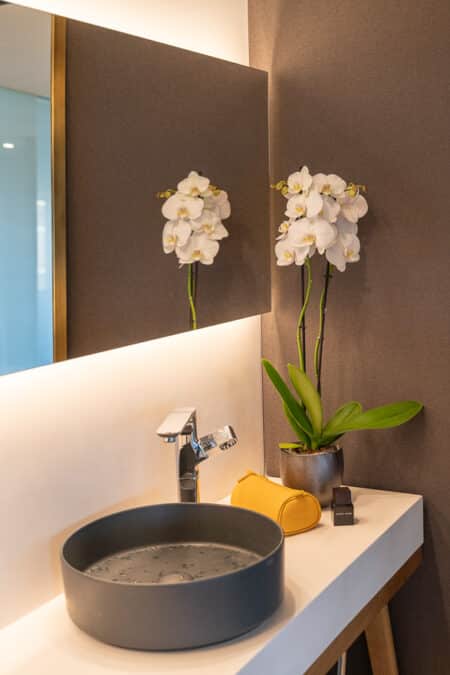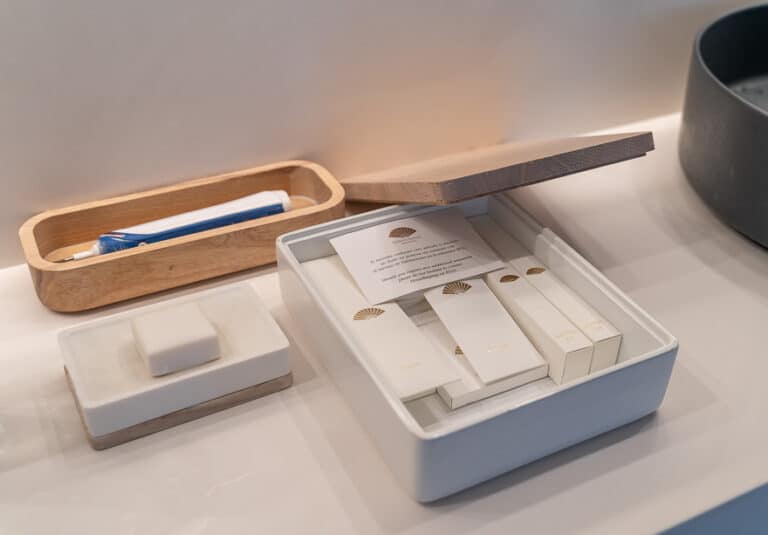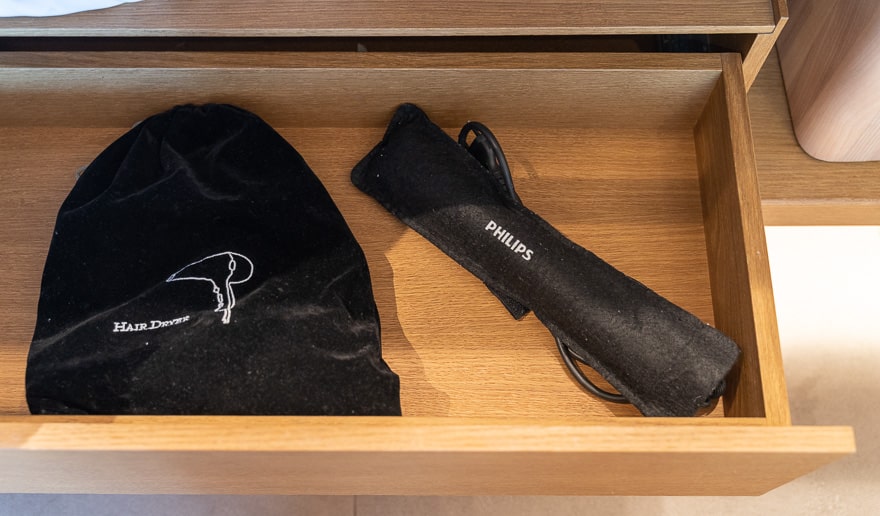 Turndown
A full turndown service was performed in the evenings, with curtains drawn, lighting dimmed and water and slippers left at the bedside.
We were also provided with Mandarin Oriental lens cloths, next to each pair of sunglasses in addition to a small box of chocolates.
---
Facilities
---
Rooftop Pool
Despite temperatures in the high 20s and the fact that other hotels had already opened their rooftop pools, the Mandarin Oriental rooftop pool remained closed over the Easter weekend. This wasn't advertised anywhere on the hotel website but I will of course be mindful to call ahead and check whenever guests book this property in the future.
For what it's worth, the pool looks amazing. Hopefully the property will move away from arbitrary seasonal schedules and open it according to need, as we move into the post-pandemic era.
Indoor Pool
The hotel offers a subterranean pool year round but honestly the space wasn't very appealing. It was so dark in there that you almost felt like you'd give yourself jet lag by spending any time there.
Indoor pools like this are a staple of European city hotels but I feel like the addition of some electronic fireplaces, mirrors and warm lighting would really transform this into somewhere that you'd actively want to spend time.
Bear in mind that the above photo is taken on an iPhone 12 on low light photo mode. Whereas the photo below was taken 5 years ago on a Galaxy Edge 7 at the Mandarin Oriental Hyde Park in London. THAT's how dark the pool in Barcelona is…
Gym
At least the lights worked in the gym next door! Flavoured water, fruit and towels were available by the entrance.
As is unfortunately the case with many high end city hotels, Mandarin Oriental Barcelona assumes that there is an inverse correlation between wealth and desire to put in hard work in the gym (I've never understood this, since the most successful people I know all tend to be avid gym goers).
There was a huge skew towards cardio machines…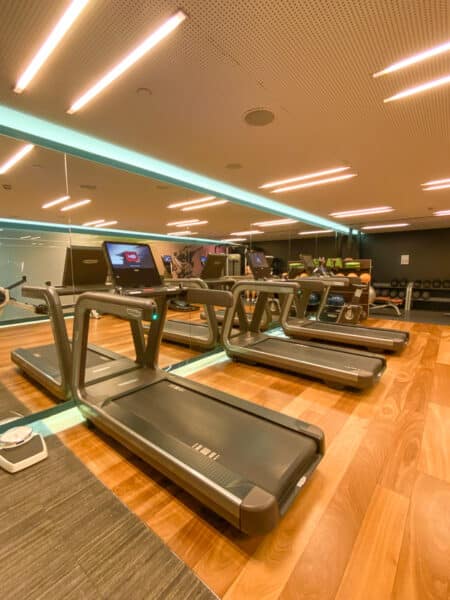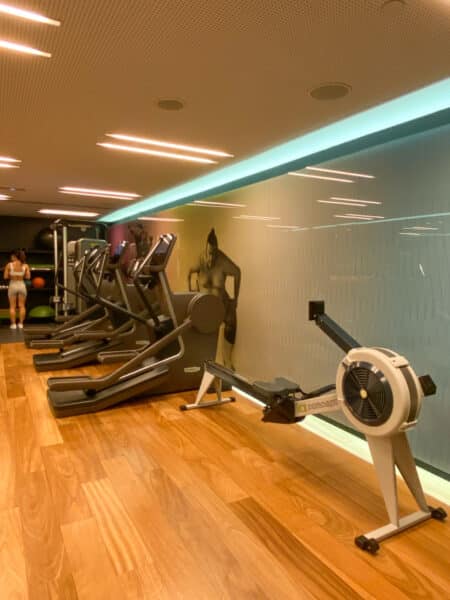 …and a bizarre lack of dumbbells. Presumably people had requested that dumbbells be sent to their rooms, leaving the gym itself bare.
In terms of machines, there was a single cable crossover and that's it. At least the 26kg dumbbells were left behind, so we were able to do something approaching training here.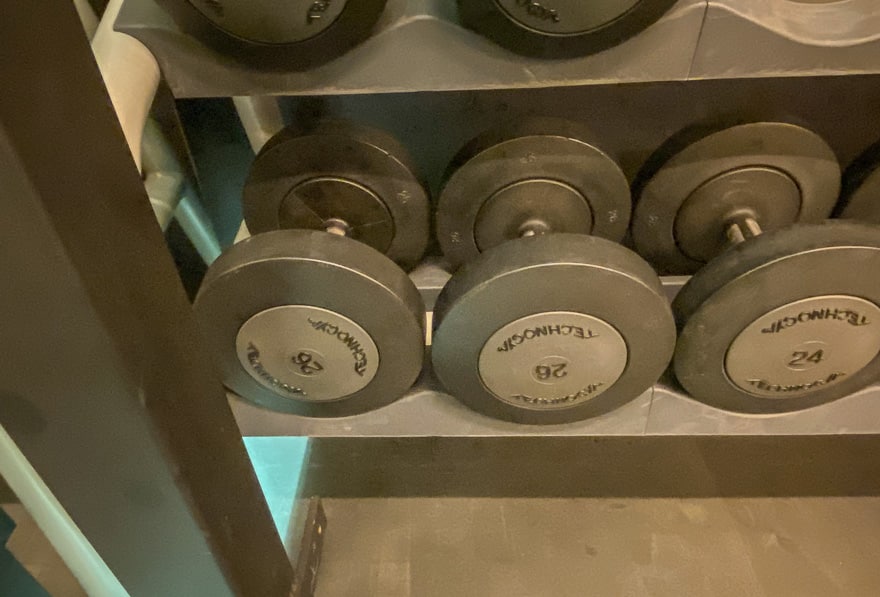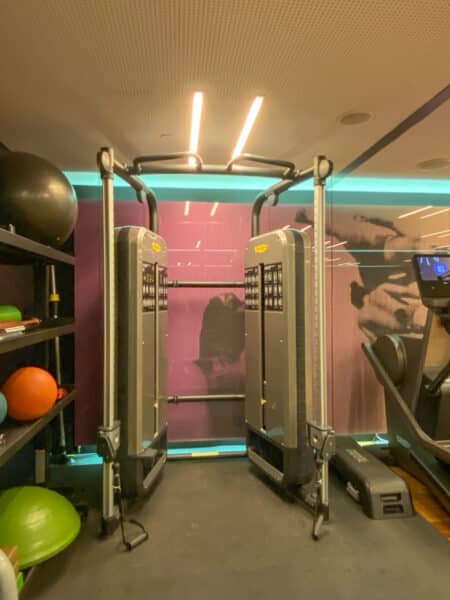 However, if I had to spend any more than 2-3 nights here, I'd be looking for nearby gyms offering day passes.
---
Food and Drink
---
Mandarin Oriental Barcelona is something of a fine dining destination, with its Moments restaurant having received 2 Michelin stars.
There is also an all day dining restaurant called Blanc and Italian restaurant called La Tavola and Terrat on the rooftop, serving Peruvian and Mediterranean fusion food.
Breakfast at Blanc
Breakfast is included free of charge for all of our clients and is served at Blanc. The room is beautifully decorated and filled with natural light, the perfect ambiance in which to start your day.
Breakfast started with a welcome energising shot together with our choice of still or sparkling water. Coffee and juices were delivered promptly but incredibly for Spain, only Nespresso coffee was available. This meant that each morning, after breakfast, we had to go in search of a proper coffee at a nearby bar.
The buffet wasn't particularly extensive but the ingredient quality was high.
The freshly baked pastries were particularly excellent. The ensaimadas brought me right back to childhood summers, running to the local beachfront bakery, to retrieve delicious spiral pastries for my family.
Extra thick hot chocolate was also offered together with balls of deep fried dough (buñuelos).
The cheese selection was fantastic, although I do tend to question who exactly is eating a full cheeseboard before 10am (I can hardly judge though, given that I'll gladly have an incredibly elaborate and ritualistic breakfast consisting almost entirely of fish, given half a chance).
There was a section dedicated to juices, water and cava – although the presentation left a little to be desired. I found it strange that stirrers weren't available for the juices.
In addition to the buffet there was a small selection of a la carte dishes on offer.
Kamara ordered the traditional Spanish tortilla de patata, which was quite crumbly and had clearly been microwaved.
Meanwhile, I had quite possibly the worst noodle dish I've ever eaten. It was supposed to be wonton noodles.
What I received was an insipid bowl of hot water with two wontons and some severely overcooked noodles. When the server asked how the noodles were, I detailed these three issues. She shrugged and said, "yeah Asian food is a bit weird sometimes".
Which honestly I found to be an odd response, not least of which because Kamara is of Chinese descent and was sitting right next to me.
---
Conclusion
---
Basics Checklist
☑︎ Power sockets near the bed
☑︎ Easy to understand light switches
☑︎ Coffee machine
☑︎ Separate shower and bath
☑︎ Blackout blinds
☑︎Stable, fast and free Wifi
☑︎ Feather pillows
☑︎ Quiet and powerful aircon
If you want to go shopping then the Mandarin Oriental Barcelona's location is unbeatable. If you go in the summer months, there's also an amazing rooftop pool and the hotel is home to one of the top restaurants in the city.
The decor in both the public spaces and the room is fantastic and the service from the front of house staff is very polished and professional.
However, the underground pool and the gym are borderline unfit for purpose and the fact that you have to leave the hotel in order to get a proper coffee is farcical in a country with a coffee culture as strong as Spain.
I don't think there's any doubting that this is the best hotel in Barcelona but the value proposition is a little hard to justify, particularly when rooms at the newly refurbished Intercontinental are 1/3 of the price or less.
---
Book Mandarin Oriental Barcelona with Virtuoso Benefits
---
Our clients are able to enjoy additional Virtuoso benefits when booking Mandarin Oriental Barcelona:
Upgrade on arrival, subject to availability
Daily breakfast for up to two guests per bedroom
$100USD equivalent Food & Beverage credit utilized during stay (not combinable, not valid on room rate, no cash value if not redeemed in full)
Early check-in / Late check-out, subject to availability
Complimentary Wi-Fi
Room rates and payment terms match the Mandarin Oriental website exactly, with payment taken directly by Mandarin Oriental during your stay.
You can book a Virtuoso rate at Mandarin Oriental Barcelona using our online booking portal:
BOOK MANDARIN ORIENTAL BARCELONA WITH VIRTUOSO BENEFITS
If you're booking with us for the first time, here's a quick guide on how to use the booking portal:
It's also always worth dropping us an email to see if a better offer is available, or if you need help building a more complex itinerary with multiple hotels: