LAST MIN OFFER – Incredible Rates on Beach Villas at Park Hyatt Maldives
June 23, 2022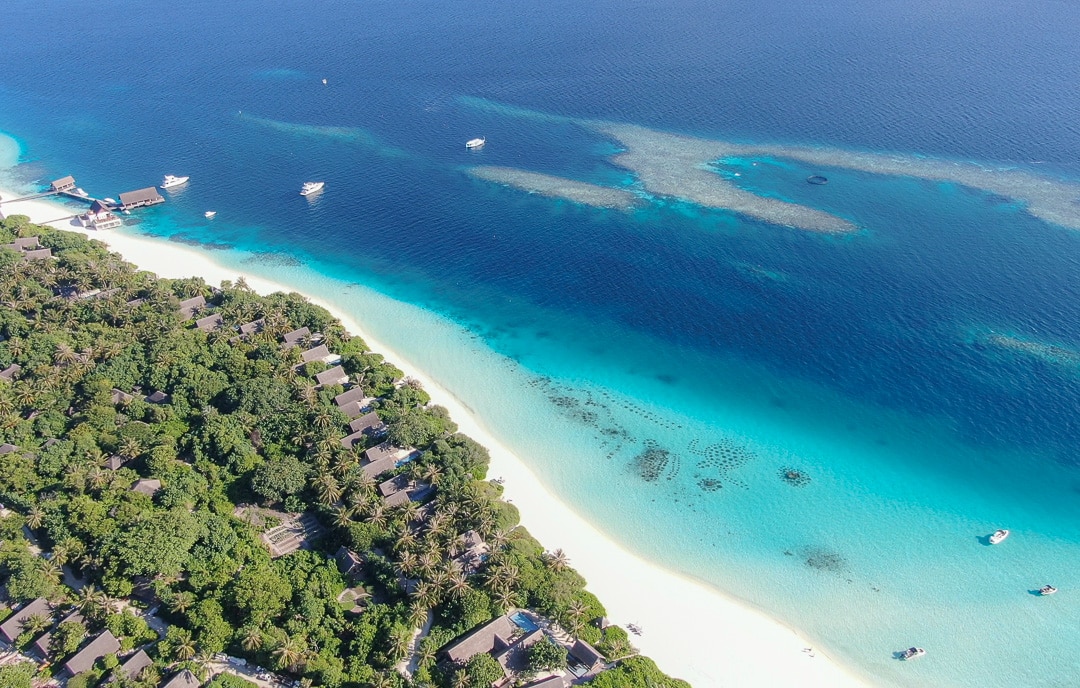 REVIEW – Four Seasons Landaa Giraavaru Maldives
July 24, 2022
Anantara Bazaruto
Room Type: Beach Villa & Deluxe Sea View Pool Villa
Typical Nightly Rate: $700 Beach / $1000 Sea View Pool (all inclusive)
Stay Type: Hosted stay
Loyalty Program: GHA Discovery
---
Intro
---
Mozambique isn't exactly top of the list when it comes to tourist destinations, for those of us living outside of Africa.
However, I'm never one to pass up the opportunity to visit a new country and I thought that a stop here would make for a great contrast with our visit to Sabi Sabi Earth Lodge in South Africa. Heading to Zanzibar after a Tanzanian safari is a tried and tested combination and I figured this would be much the same.
Best of all, there are direct flights from Kruger Airport (MQP), meaning that there's no time wasted backtracking and connecting in Joburg (JNB), if you're heading to Anantara Bazaruto after a Kruger safari.
As a brand I've always found Anantara to be fantastic. Having visited a number of their properties in the Maldives, I had seen first hand how the Thai service ethos translated into an island setting and was really interested to see if the service in Mozambique could compete.
As a standalone proposition, the idea of visiting a hotel on a national park island, featuring gigantic sand dunes, crocodile filled lakes and a local population of dugongs also sounded incredible!
---
Booking
---
Our clients are able to enjoy additional Virtuoso benefits when booking Anantara Bazaruto:
Upgrade on arrival, subject to availability
A complimentary 50 minute massage for up to two people, per room, once during stay
One sunset private dhow cruise per person per stay. Not transferable to cash value or alternative activities.
Early Check-In / Late Check-Out, subject to availability
Prices and payment terms match Anantara.com exactly, with payment taken directly by Anantara. The only difference between this and a direct booking is that you get preferential treatment for being our clients!
You can book a Virtuoso rate at Anantara Bazaruto using our online booking portal:
BOOK ANANTARA BAZARUTO WITH VIRTUOSO BENEFITS
If you're booking with us for the first time, here's a quick guide on how to use the booking portal:
If you are planning an itinerary involving multiple rooms or properties, please get in touch for immediate booking assistance:
---
Arrival / Speedboat transfer
---
After a very quick and easy flight from Kruger (MQP) to Vilankulos (VNK) we entered the immigration hall and realised that we'd made a rookie mistake.
Visas had to be purchased in brand new USD bills and could not be paid for with a credit card. Also the airport doesn't have an ATM.
Thankfully after a quick call to Anantara, one of their representatives came into the immigration hall and negotiated for us to leave our passports behind and drive to an ATM 10 minutes away.
Unfortunately the ATM didn't work with any of our cards…so it was decided that the immigration officers would keep hold of our passports and Anantara would arrange a wire transfer. Once this was complete, our passports would be released to Anantara staff, coming to collect the next days' passengers.
This was proactive and thoughtful service at a time when we would have been utterly lost without it. So, we were off to a great start before even getting on the boat to the island.
Getting to Anantara Bazaruto is a slightly complicated affair but no more so than heading to the Park Hyatt Maldives, for example.
1. We were taken by minibus from VNK airport to Vilanculos Beach Lodge resort.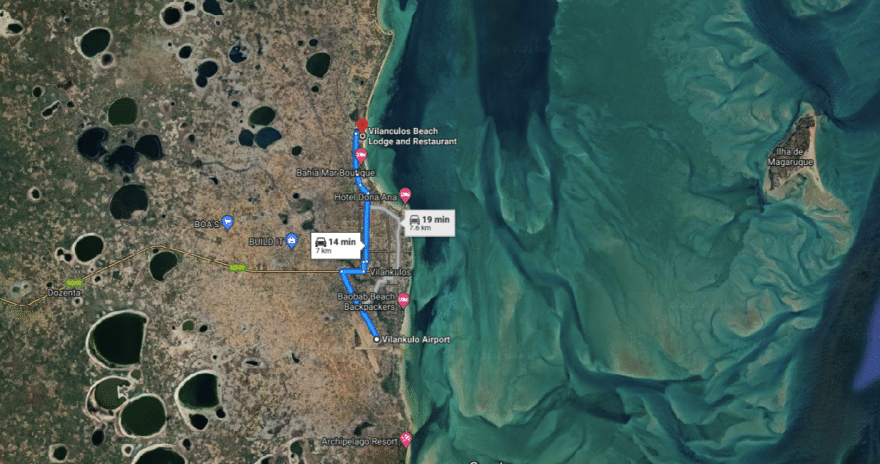 2. We waited at Vilanculos Beach Lodge for our bags to be loaded onto Anantara boats by porters.
We also had to remove our shoes and place them into baskets as we were required to wade, given the lack of piers at either Vilanculos Lodge or Anantara Bazaruto.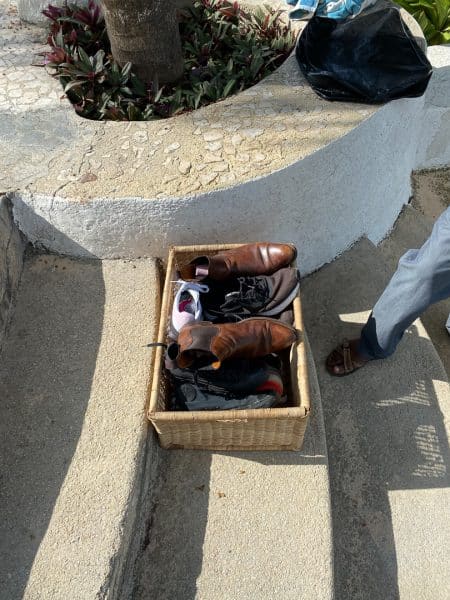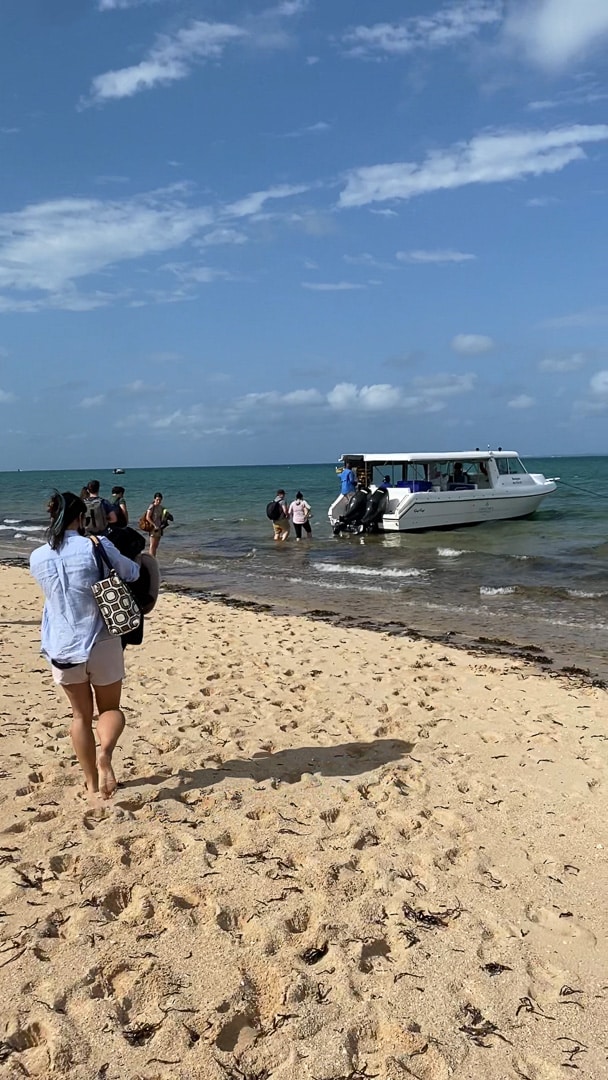 3. The boat ride took around 30 minutes and was very scenic. We were offered water and beach towels on-board but there was no wifi, fruit, or cold towels – which you would ordinarily expect at island resorts, at this price point.
As we approached the island it soon became clear just how enormous and unspoilt it was. In other parts of the world you'd expect coastlines with similar beaches to be filled with high rises. Here, there was nothing but nature and a smattering of single story buildings; a true island paradise.
Our speedboat traversed the full length of the resort before pulling up to the Clube Naval bar, where we climbed into the water and waded to shore.
A full arrival party was there to great us, singing, clapping and drumming as we stepped onto dry land. We were also greeted by various members of management who welcomed us all to the resort and offered us some (incredibly sugary) welcome drinks.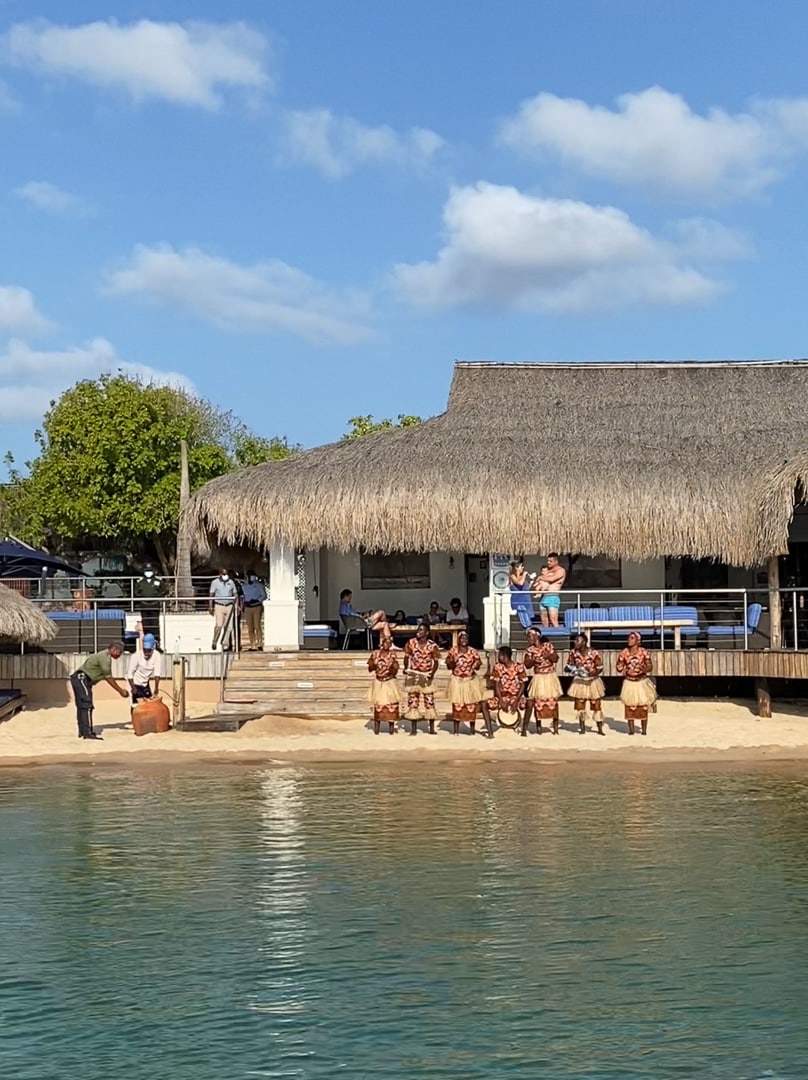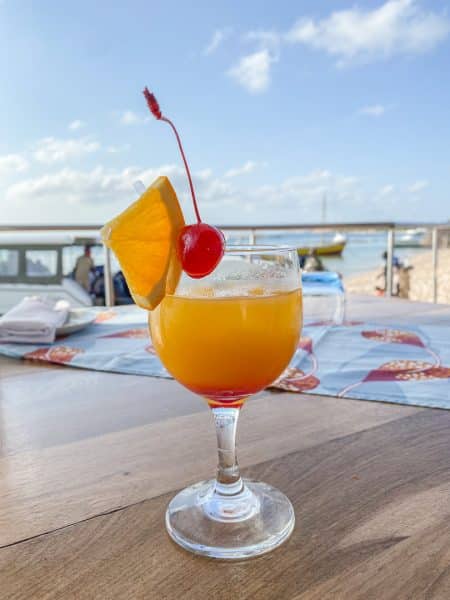 Check in took place in our room, since reception is located up at the very top of the resort. It is only the select few who arrive by plane, landing on the island's private airstrip, that will pass through reception upon arrival.
From the beach, we were escorted along some wooden walkways which led to the villas.
A crossroads was located in front of Golfinho Restaurant and Bar, which operated as the central hub of the resort. The reception was located directly behind the bar and downstairs from here was the main resort pool, with swim up bar.
---
Beach Villa
---
Entrance
As we first entered our villa we were greeted by a console table in front of a view of the beach. I really liked this design feature, which served to immediately showcase the waterfront location of our villa.
As we faced the beach, a walk in wardrobe area was on our left. This had clearly been recently renovated and featured ample space for our 3 suitcases and all of the contents therein.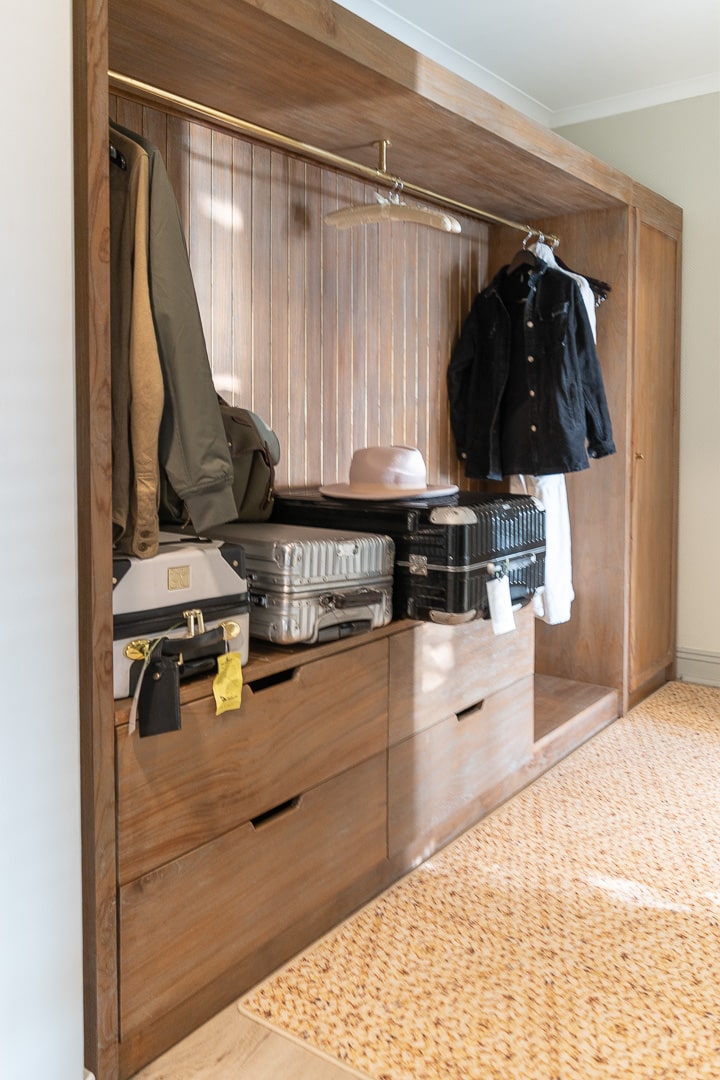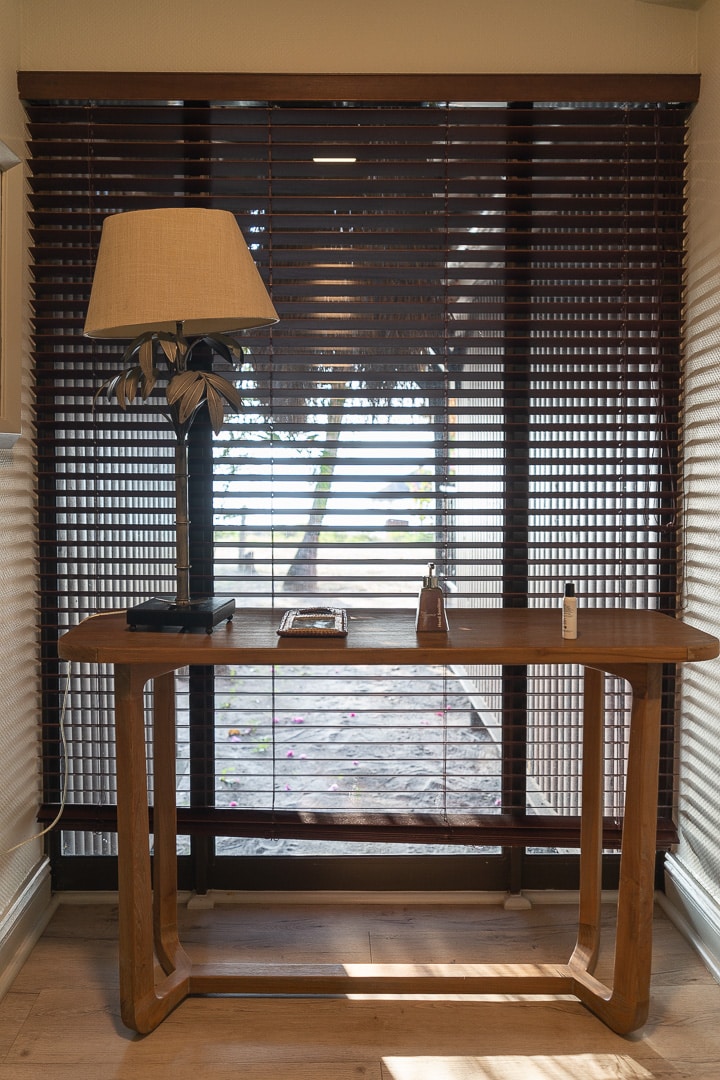 Bedroom
On the right of the entrance foyer was the bedroom. Again, this looked brand new, with Anantara using the pandemic closure as an opportunity to dramatically refresh the design.
The clean and minimal beach-chic worked very well in the context of these surroundings, with modern design touches like USB charging ports and a Bose speaker being much appreciated.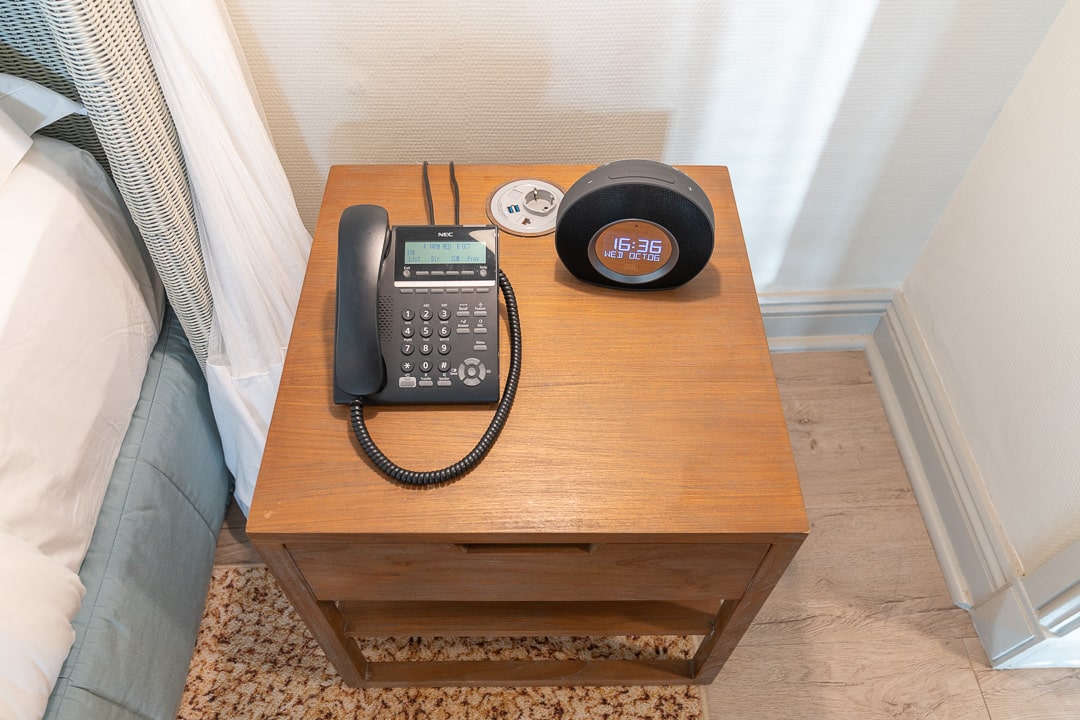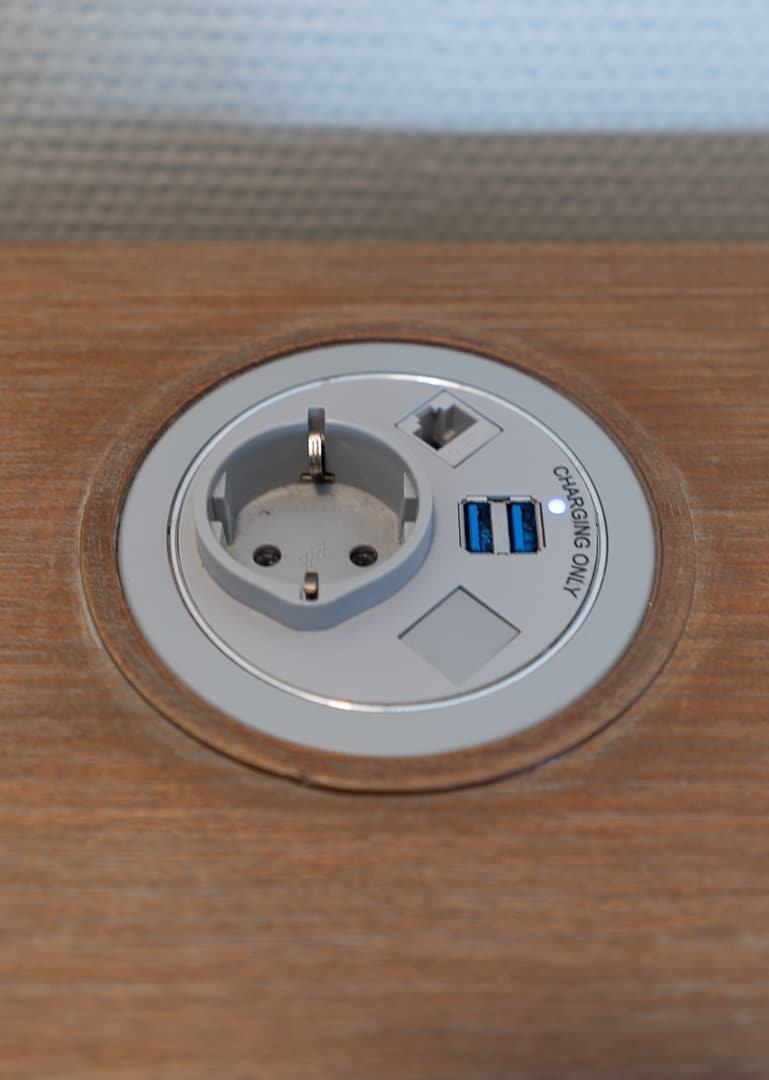 The bedroom was very spacious and featured a minibar area with a full sized desk on one side. Again, the small design touches like the border on the mirror and the legs on the desk really made it feel like attention had been paid to the renovation. Given the size of the room though, the TV did feel a little small.
Since Anantara Bazaruto is an all-inclusive resort, the minibar was complimentary and refilled on a daily basis. I was also delighted to see that there was a high quality Segafredo coffee machine in the room, infinitely superior to Nespresso as far as I'm concerned.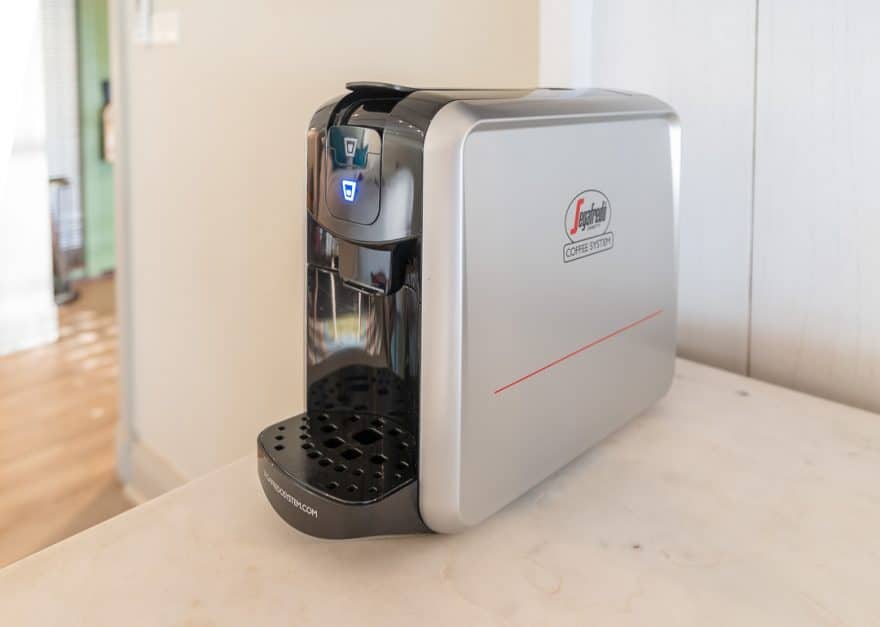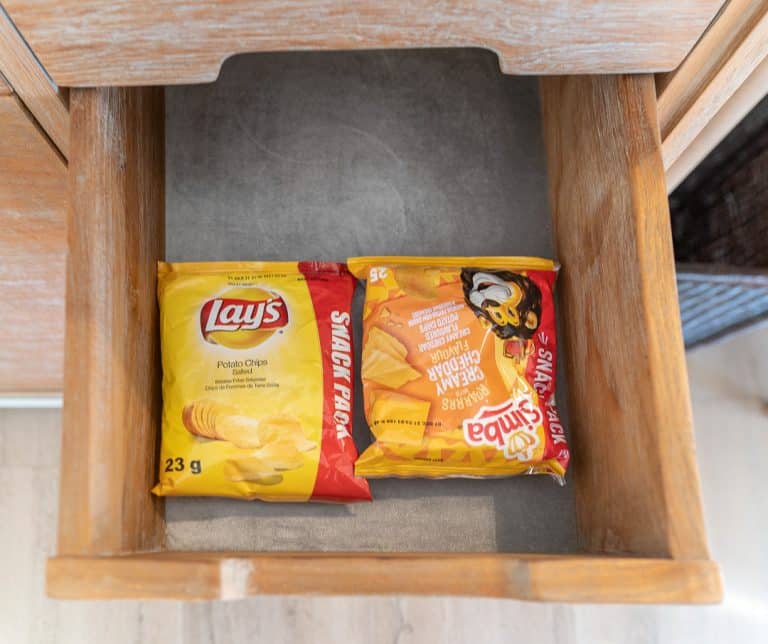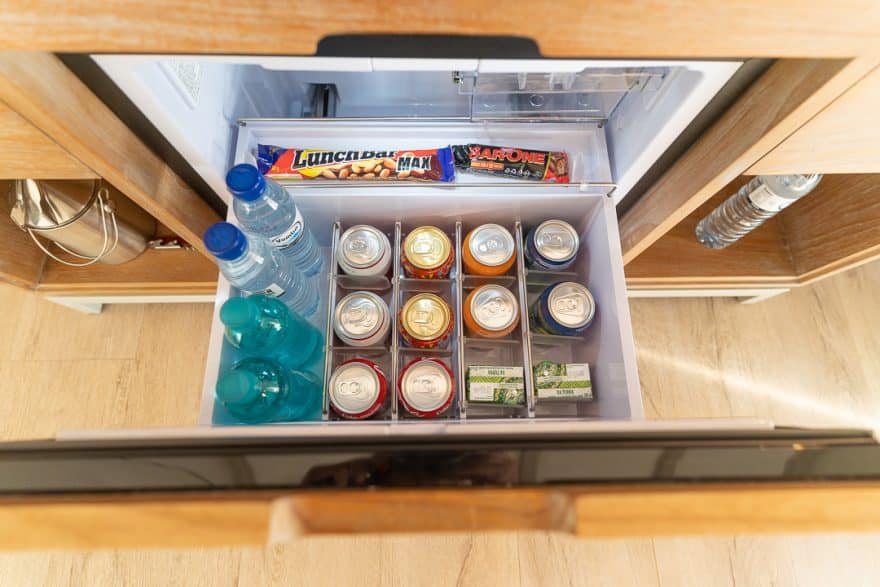 Opposite this was the villa's living room area, featuring an L shaped sofa, dotted with colourful cushions, atop an enormous woven rug. The welcome amenity featured a selection of dried fruit and nuts, together with a bottle of the resort's house sparkling wine: Nederburg (which retails for around 7USD).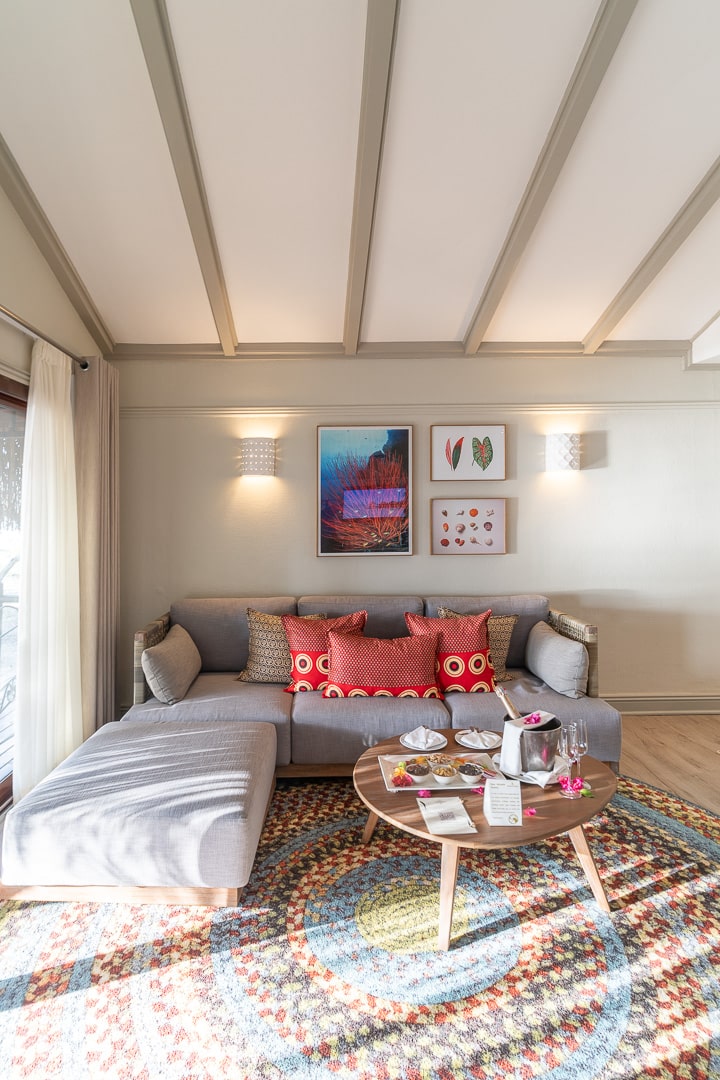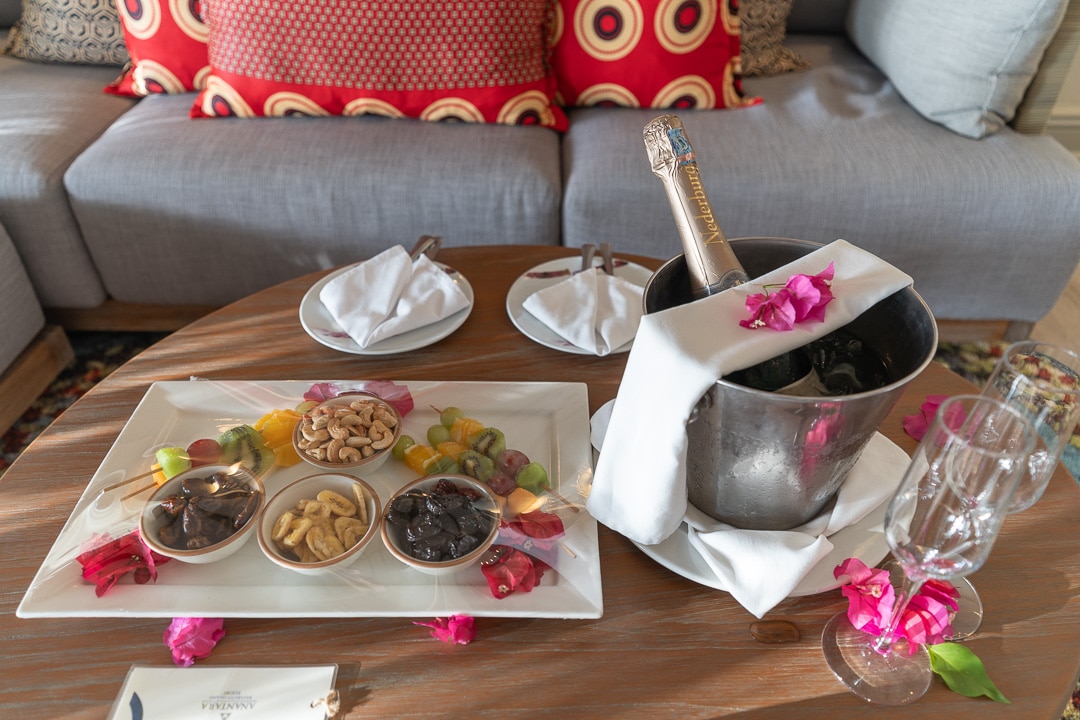 Bathroom
Unfortunately it seems as though the owners used up the entire renovation budget on the bedrooms, with the bathrooms still retaining a rather old fashioned style of decor, awash in brown and beige.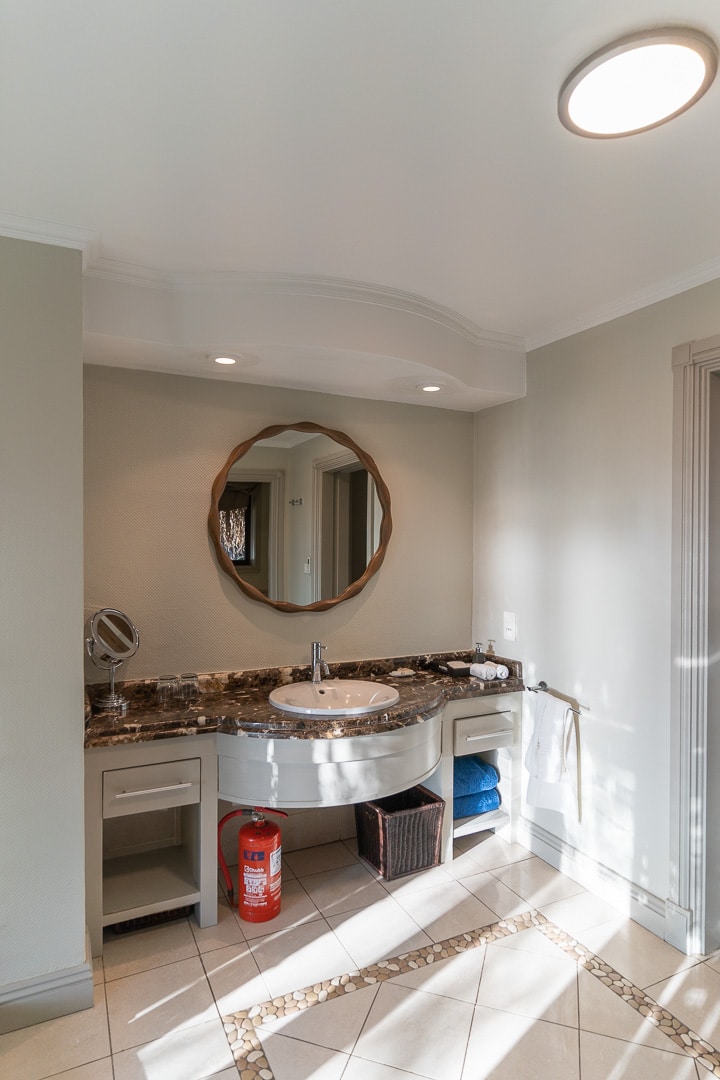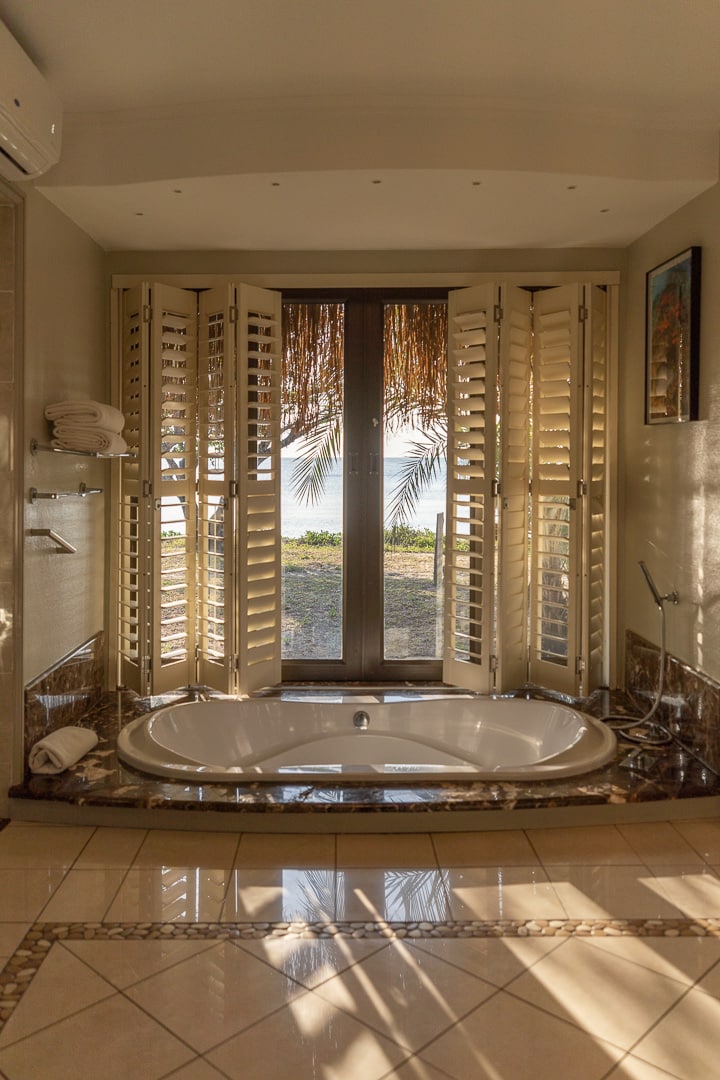 The sunken bathtub looks like a great idea but we found that it didn't really feel private enough to use without drawing the shutters closed.
Both the indoor and outdoor showers were fantastic though, with really powerful water pressure and Anantara's own signature bathing amenities provided in refillable bottles.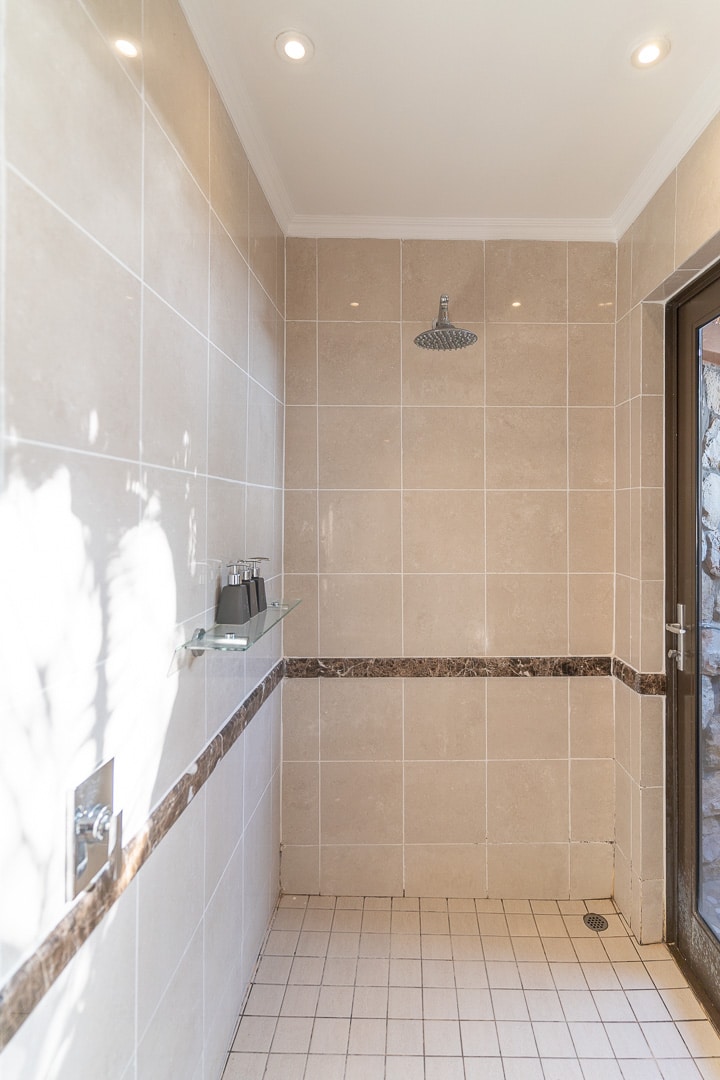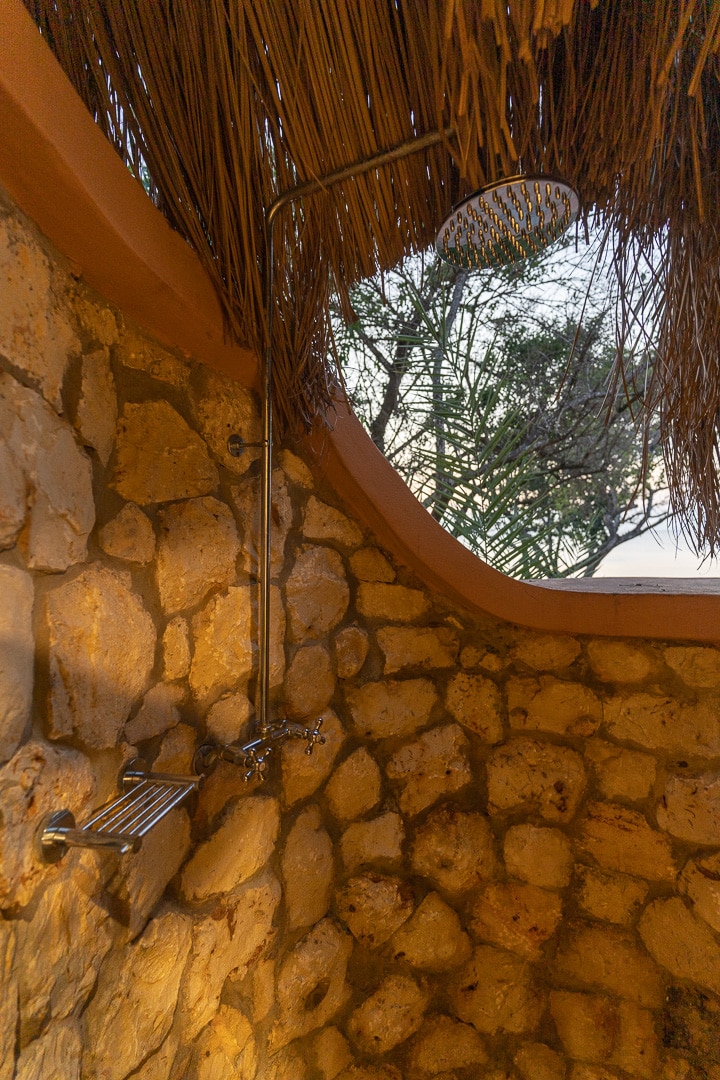 The toilet featured a bidet, which I'm convinced nobody ever uses. It also featured the best toilet paper I've ever seen in my life. I honestly still think about this at least once a week and smile.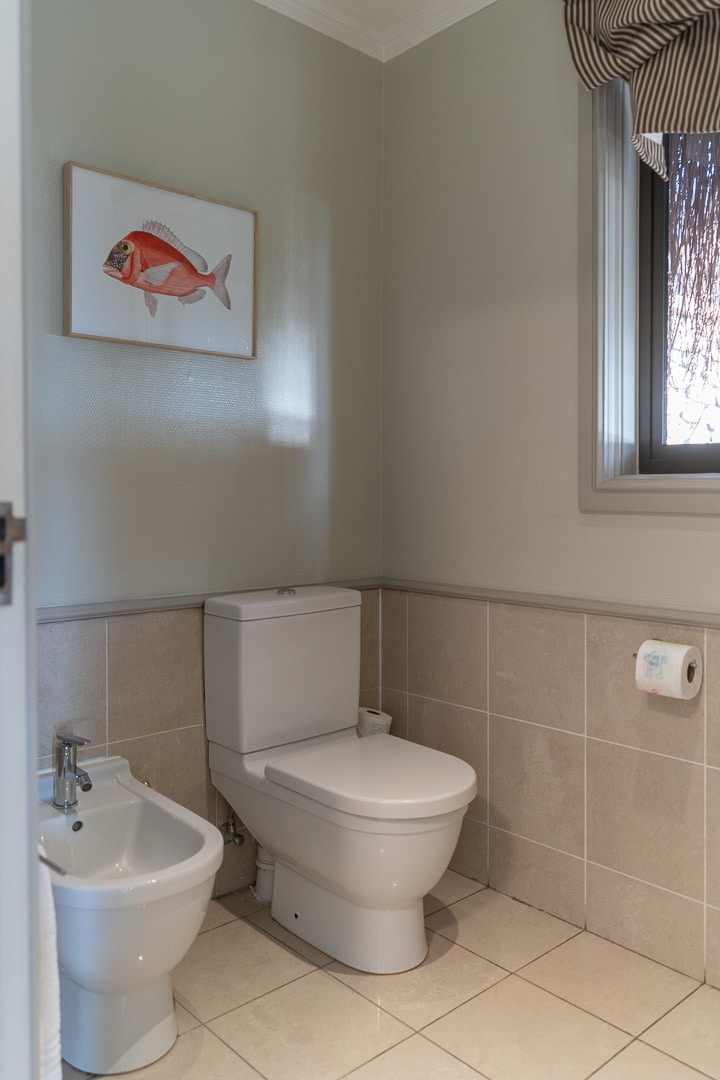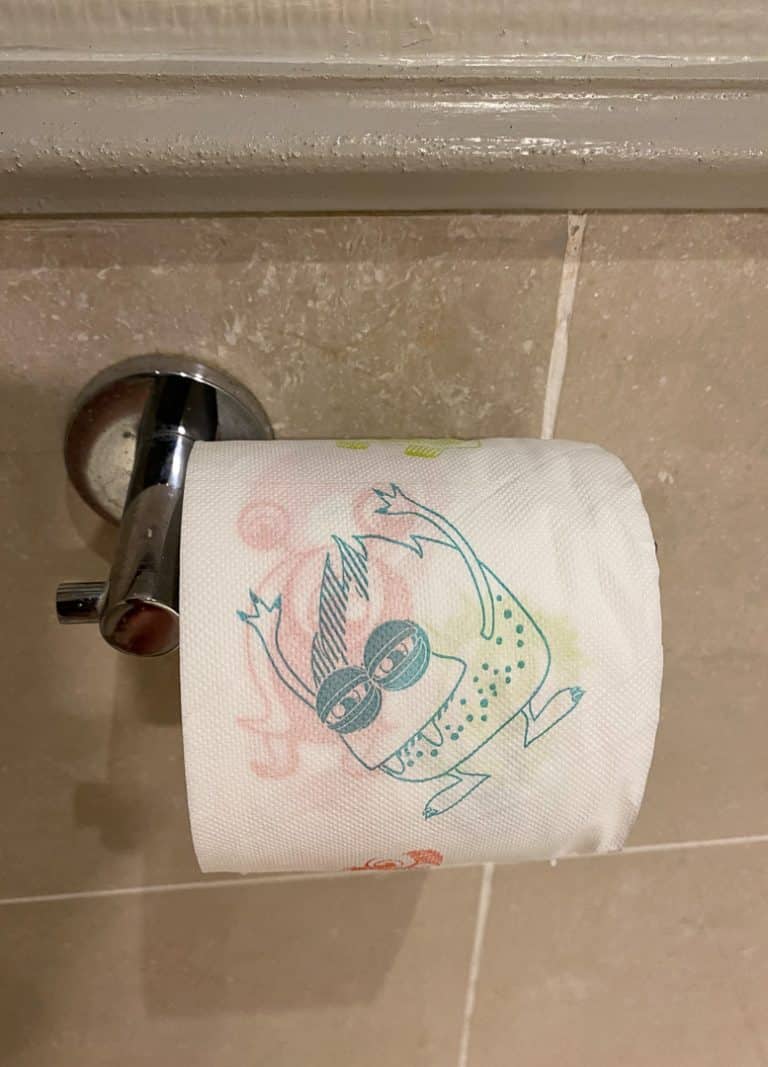 Outdoor Space
The setting of our villa was wonderful, a secluded and unspoilt beach surrounded by ancient trees. The kind of thing that man-made islands in the Maldives really can't come close to capturing.
I was pleased to see the modern furniture outside, in keeping with the theme of the furniture in the bedroom. This was a fantastic spot to sit and watch the sunset.
The modernisation of the villa once again felt a little unfinished though, with this ancient looking drying rack and old tap being clear candidates for replacement.
Still, this was a minor point and hardly enough to detract from the spectacular setting!
Each villa had its own sun lounger and thatched sun shade directly in front, affording guests a very convenient base of operations from which to enjoy the pristine, lake like water.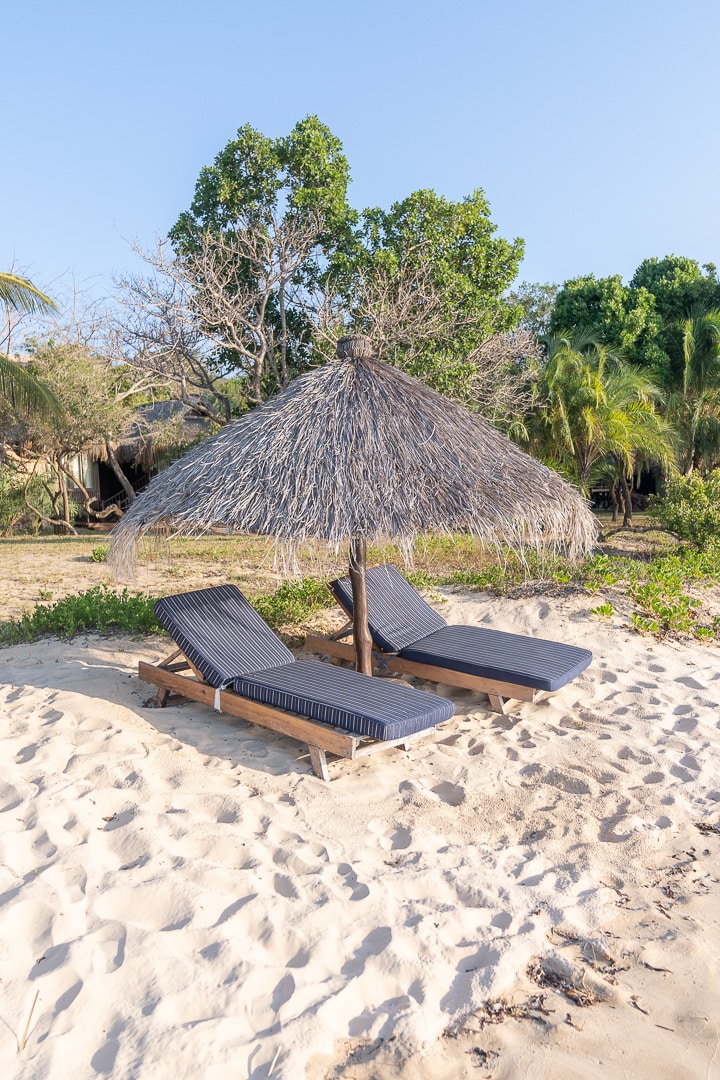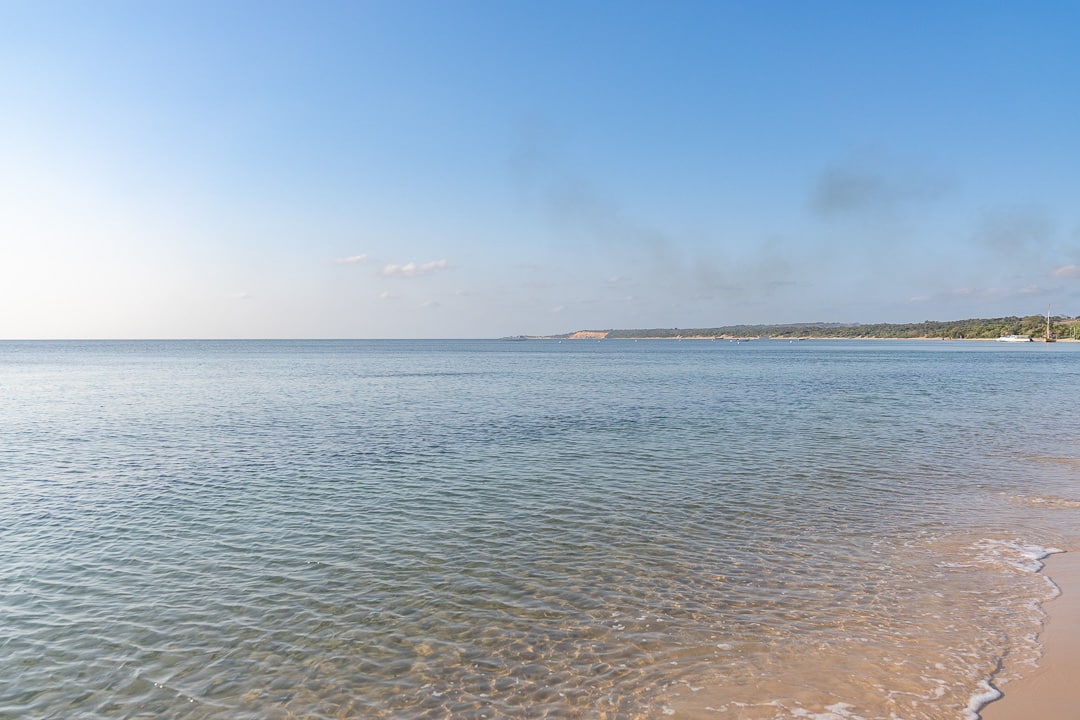 One small thing to note though is that the beach isn't 100% private – local school children and passed en masse twice a day, on their way to classes. There were also a few local fishermen that crossed from time to time.
---
Deluxe Sea View Pool Villa
---
After spending one night in the newly renovated Beach Villa, we moved up to one of the older Deluxe Sea View Pool Villas, perched on the hillside above.
Despite being attached to one another in blocks of two, these villas felt a lot more private than the beach villas. There was no possibility of anybody walking in front of your room and the connecting point between villas was via the entrance halls – so living spaces and bedrooms were well separated from neighbours.
Room Tour Video
Entrance Hall
The entrance hall of our villa contained a large wardrobe, which we never used. There was also a door to a second bedroom, which was locked during our stay since we were only occupying the master suite.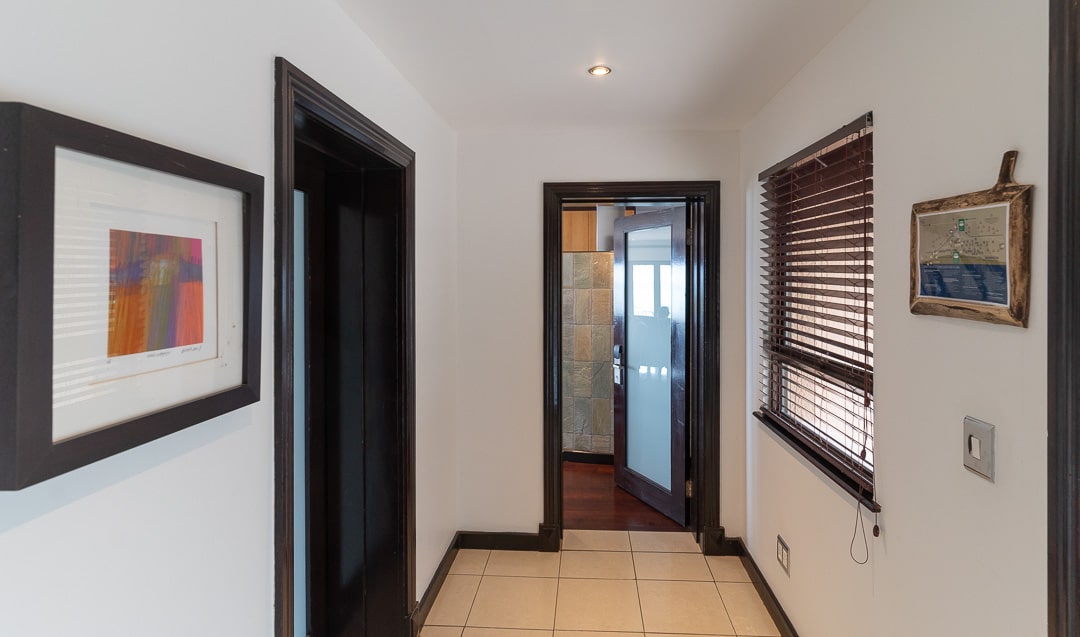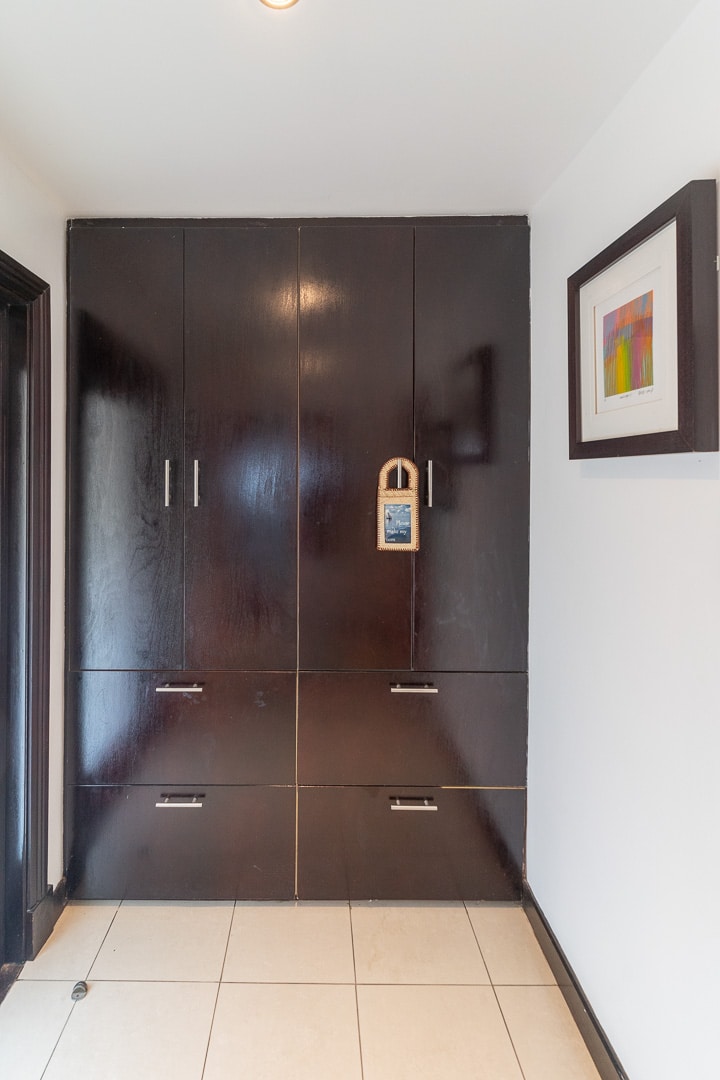 Living Room
Walking into the living room it was clear that this wasn't the most modern of villas, certainly not when compared to the design of the Beach Villa. Still, in terms of overall space it was in a whole different league – especially when you consider that this villa retails for only 50% more!
The living room was very spacious and featured lounge chairs and an oversized ottoman, in addition to the large sofa.
I couldn't help feeling once again that the TV was a little too small for the space though. Although arguably the view was more important.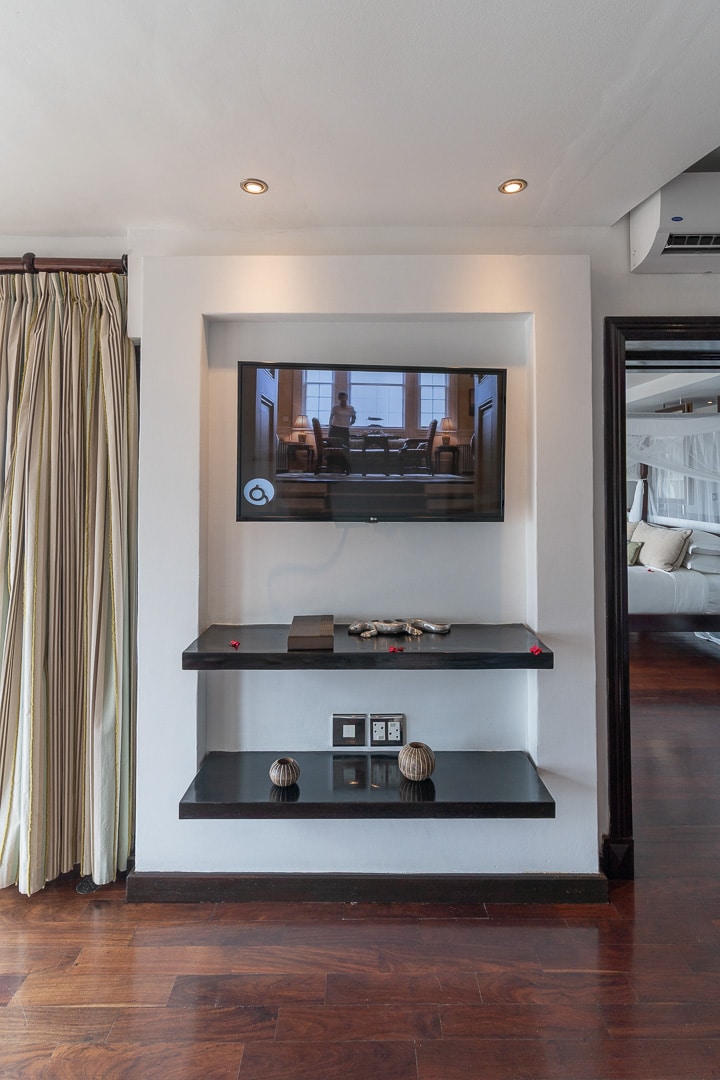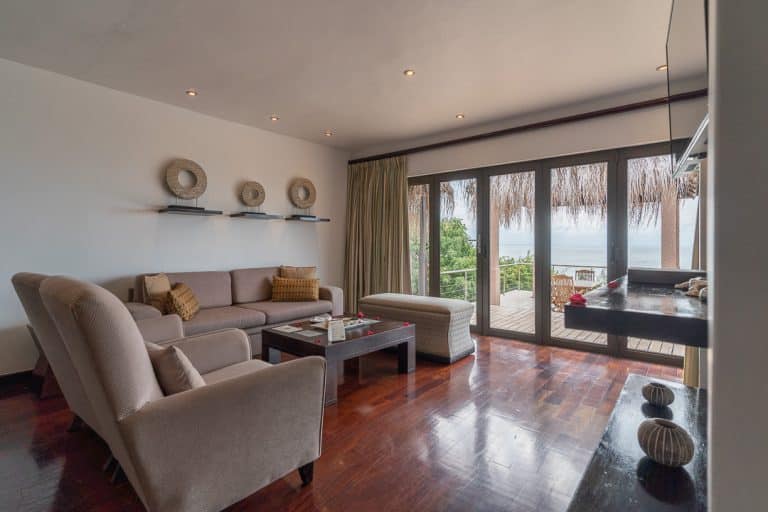 Kitchen
In addition to the living room, the villa also featured a complete kitchen, which even had a breakfast bar and double sized American style fridge with an ice dispenser. I'm not sure how much use the kitchens in these villas get, given that the resort is all inclusive.
However we did enjoy having fresh ice whenever we wanted, together with our complimentary 'mini bar' drinks.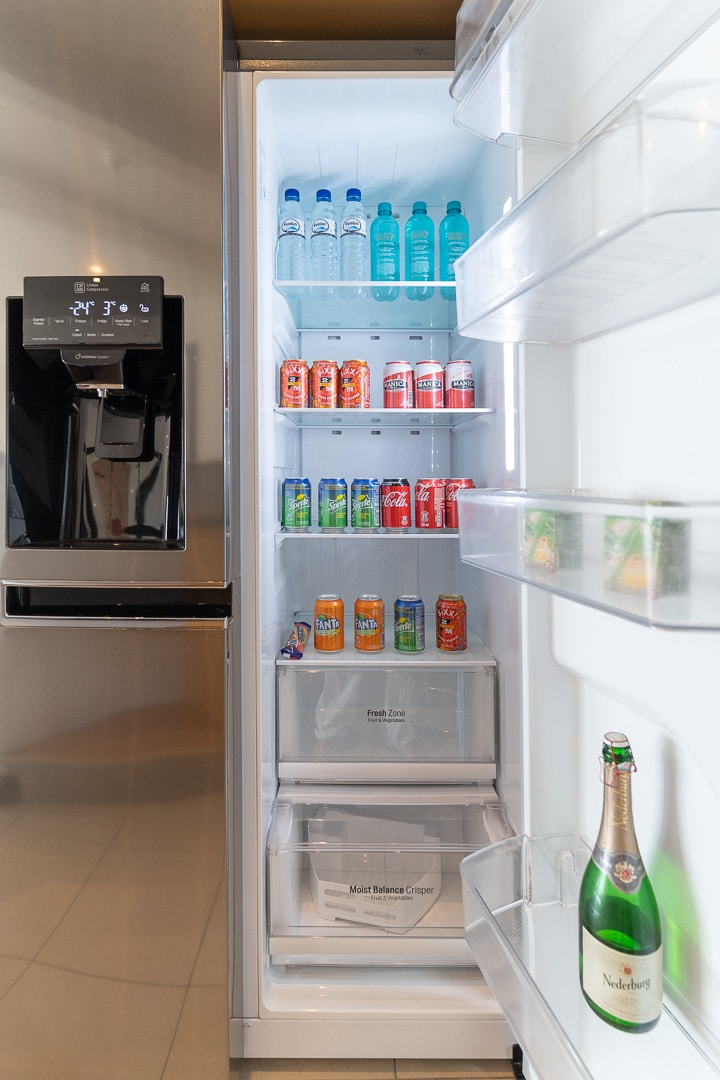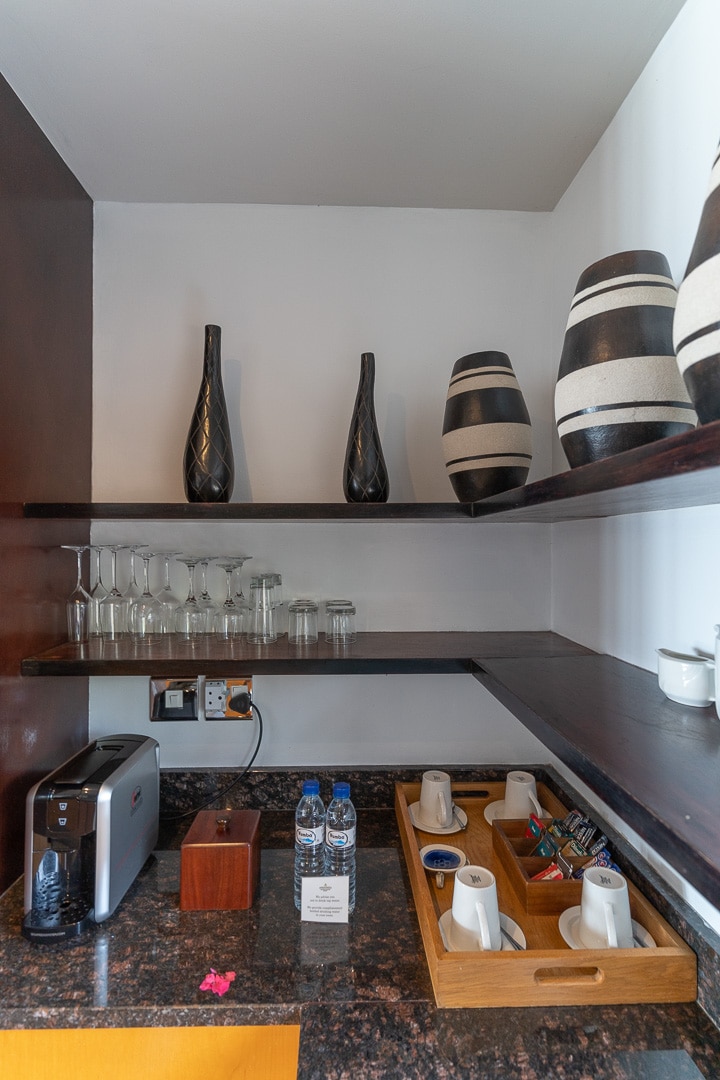 Bedroom
The bedroom was a real showstopper, with wraparound windows that framed an incredible, unspoilt view of the ocean beyond.
Tucked into one corner of the room was a standalone soaking tub. I think there's a time and a place for a bathtub in a bedroom (as I mentioned in my Ritz Carlton Maldives review). However we never encountered a cooler, rainy day – where turning off the A/C in the bedroom made sense.
Since these villas haven't been renovated yet, there were no in built USB ports, although local power sockets were available on both sides of the bed and there was a USB port on the Bose radio on one of the bedside tables.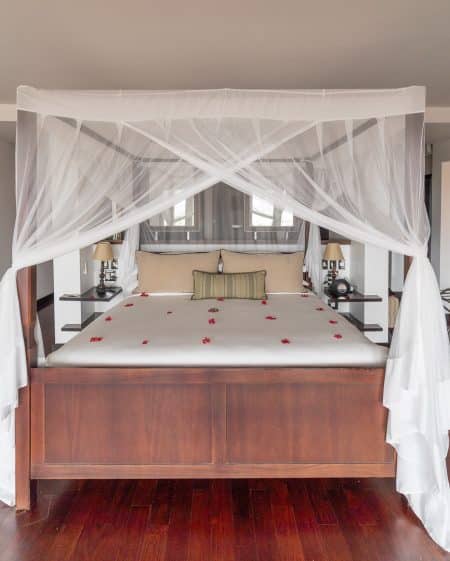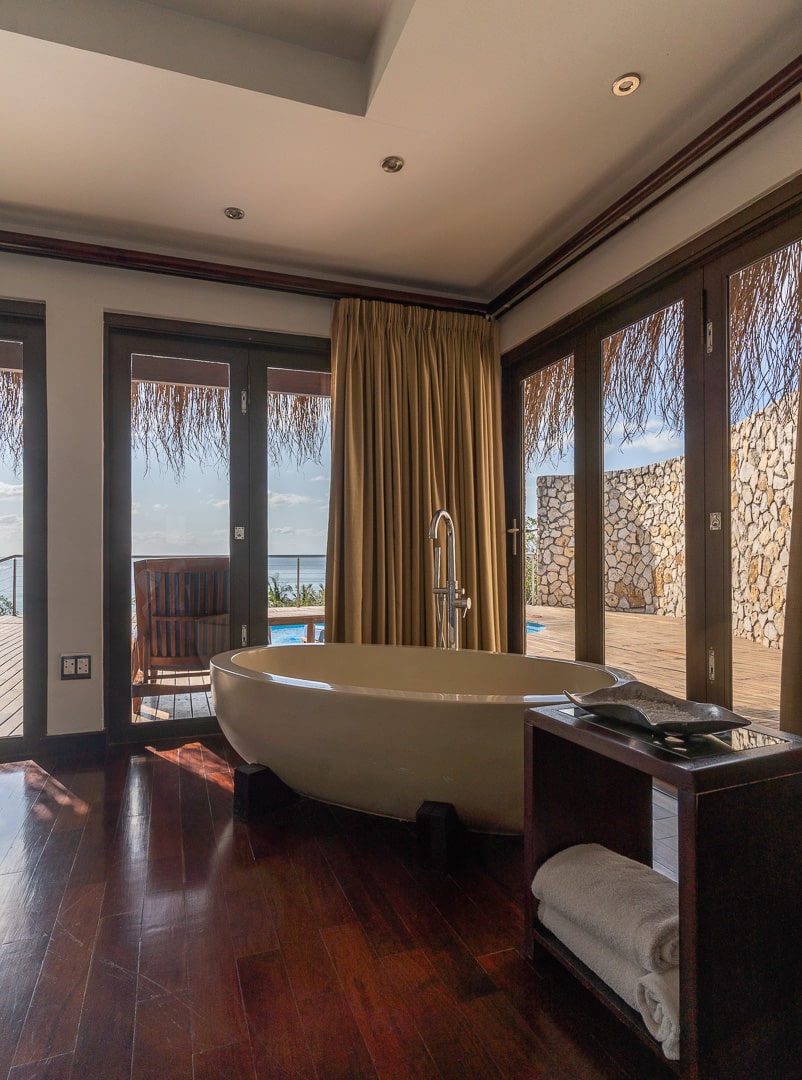 Behind the bed there was a makeup area, which received some natural light and also featured a bright light either side, as well as multiple power sockets.
There were also two large wardrobes here, with ample space for all of our clothes, although no set space in which to open a suitcase.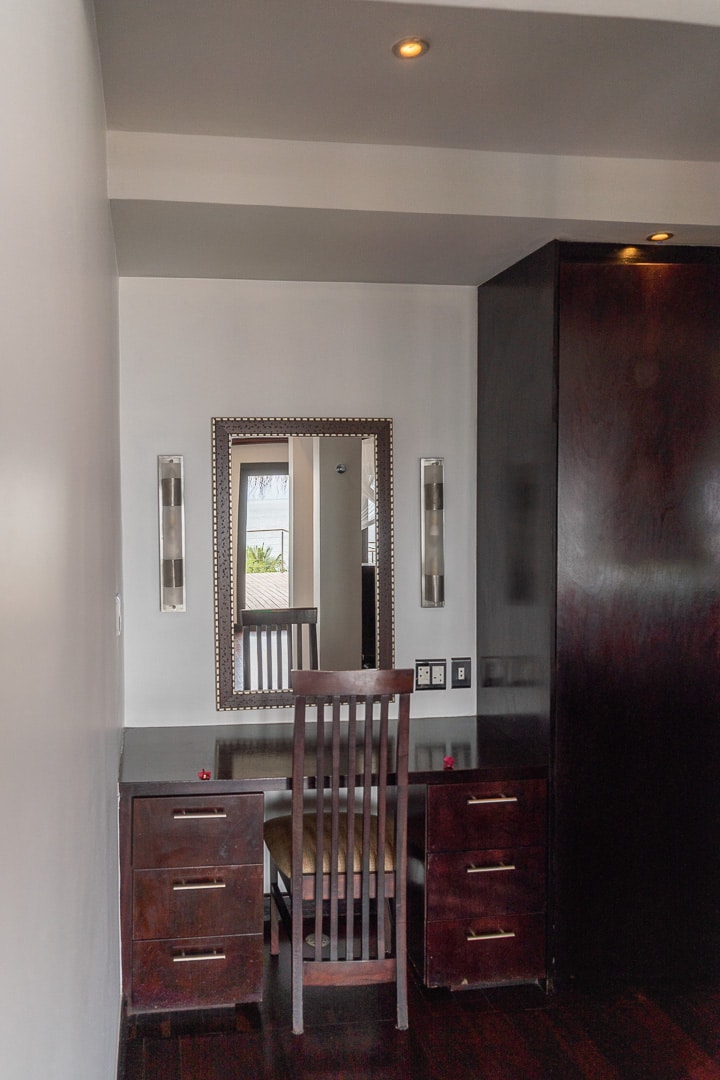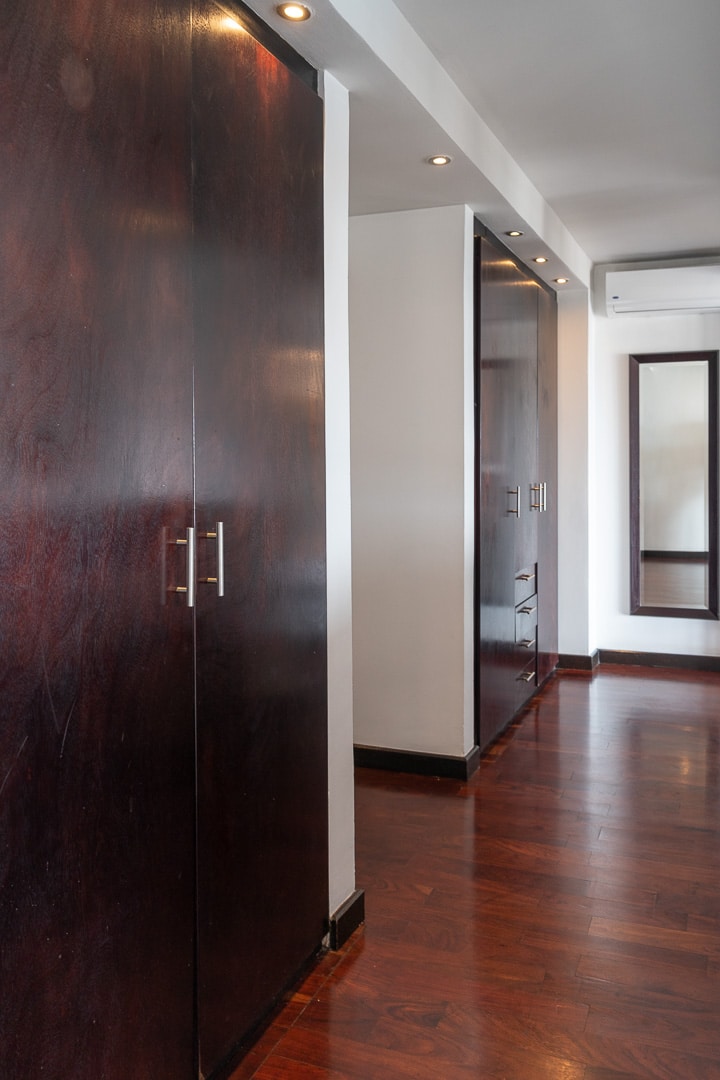 Bathroom
Dual vanities were located directly behind the bed, in a spot where many resorts place a desk. I actually quite liked this setup and enjoyed looking out to the ocean as I brushed my teeth in the mornings.
The rest of this scattered bathroom was located down a small hallway, directly behind the sinks.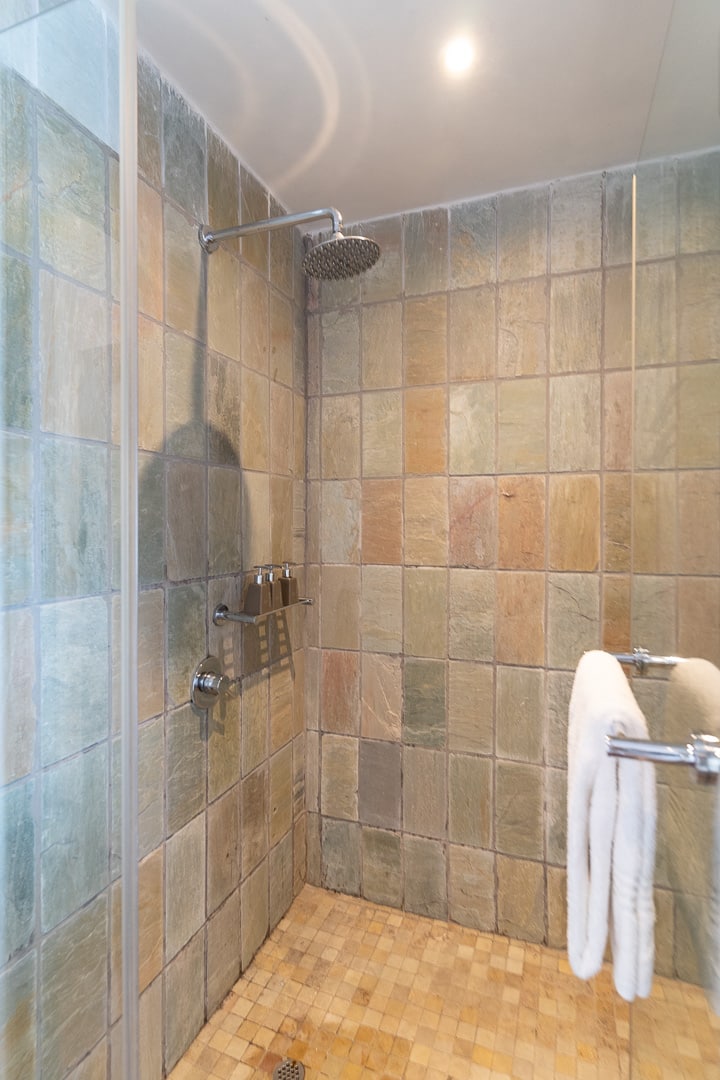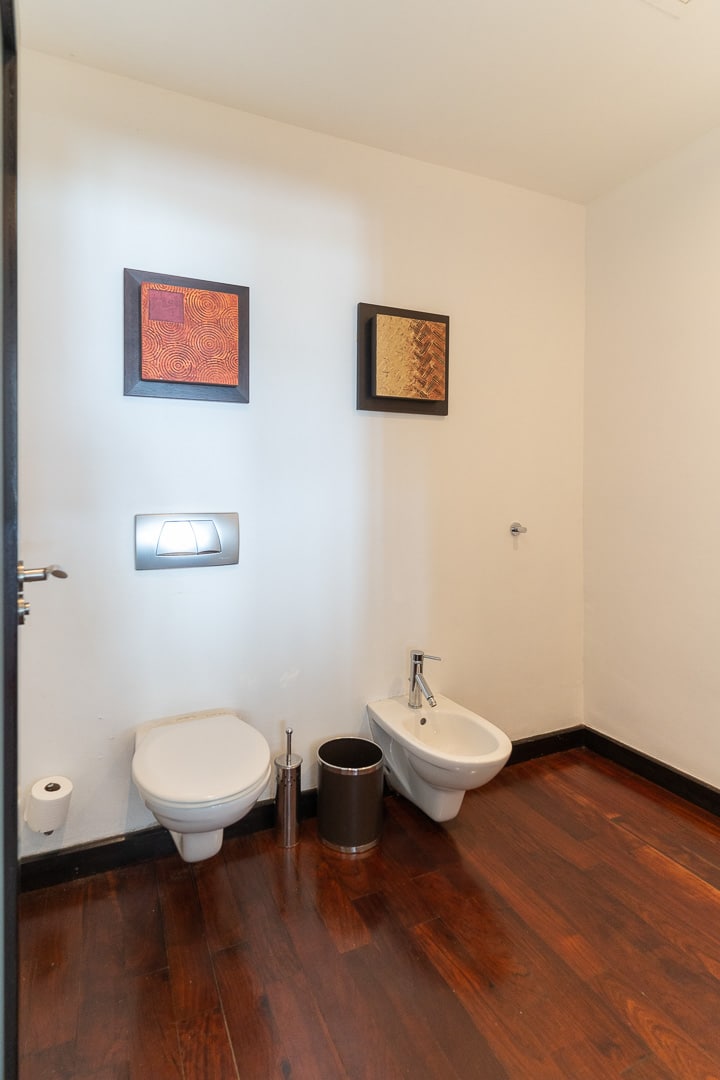 Outside Deck
Unquestionably the standout aspect of the Deluxe Villas, our outdoor deck was gigantic and featured a variety of different seating areas, an outdoor shower, a plunge pool and breathtaking views.
I loved the detail of the light stone walls, which wrapped around either side of the deck and gave shape to the outdoor shower. I couldn't help feeling however, that the pool felt undersized for the available space.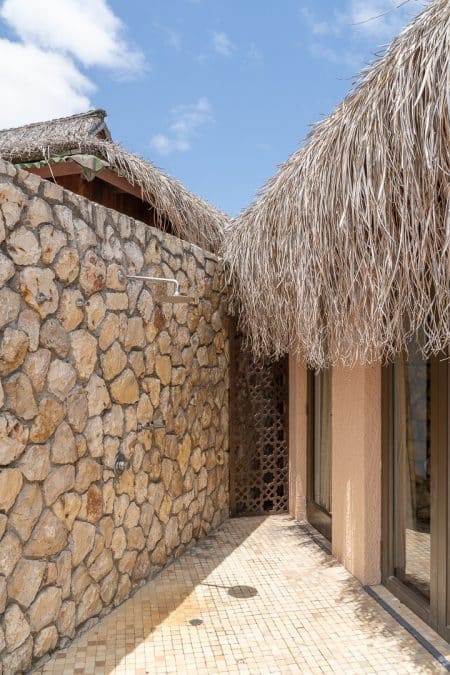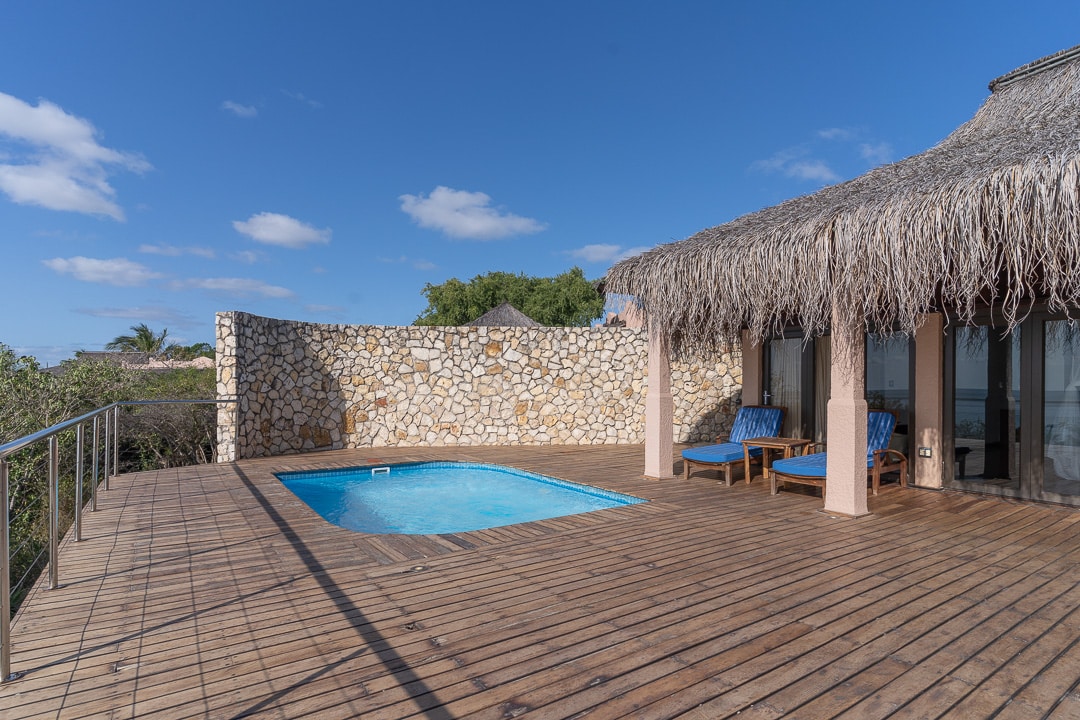 Still, did I mention the views?
Looking out to the right, in the direction of our neighbours, the privacy was absolute too.
I loved the fact that there was proper shade in which to place the very comfortable sun loungers, with the gazebo casting a shadow later in the day as the sun began to set in front of the villa.
At night time, the opportunity to see stars and indulge in a little astrophotography was fantastic too! (shot at f2.8, ISO 1250, 18mm, 13s)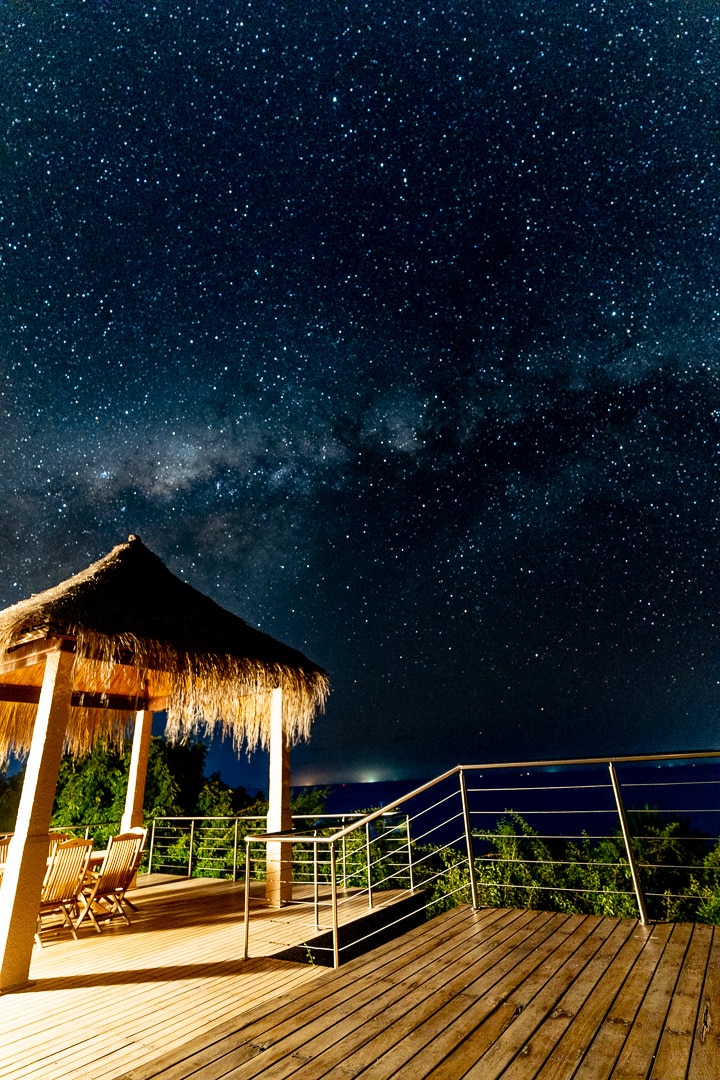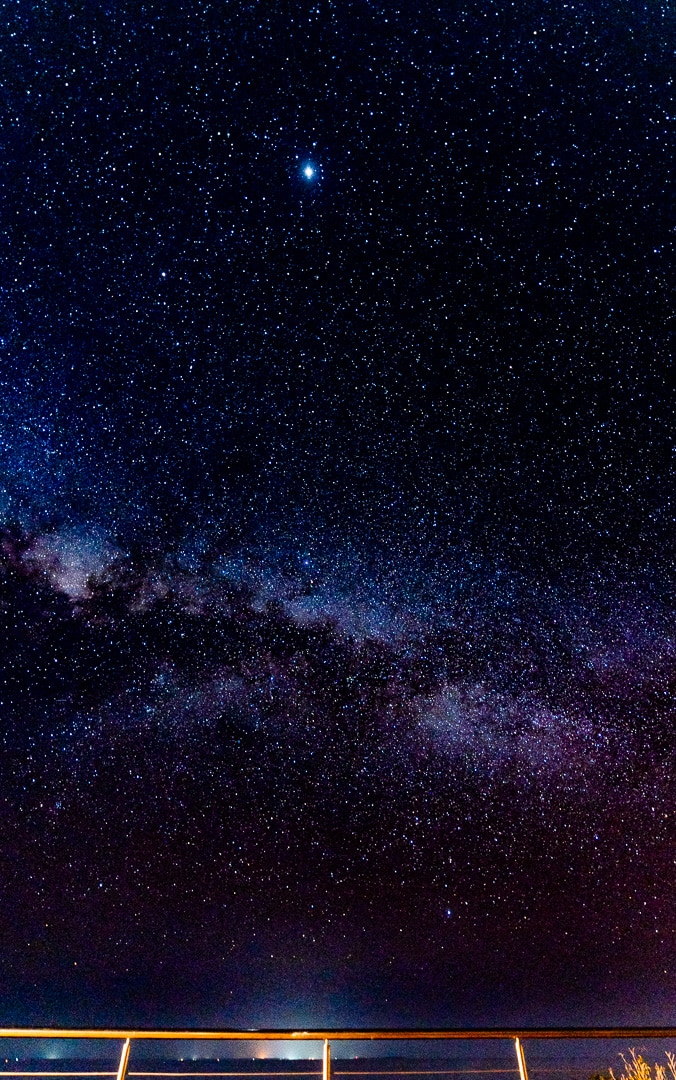 ---
Facilities
---
Main Pool
Since half of the resort's 44 villas don't have pools, the main hotel swimming pool, located on the beach, tended to be quite busy. So much so that this is the closest I ever got to taking a picture of it without any people!
The fact that it was sunset facing and featured a swim up bar were big plus points.
Family Pool
The family pool was located all the way along the beach at the opposite end of the resort – next to Clube Naval where we first waded ashore.
As the image below illustrates, the dramatic tides here meant that swimming in the ocean wasn't always a viable option.
Despite this ostensibly being the family pool, it was located quite far away from the central hub of the resort, meaning that it tended to stay relatively empty. Families instead opted to stay at the more convenient main pool.
Still, the family pool did feature a water slide and shallower kids pool, which the main pool did not.
Kids Club
The Kids Club was located just above the family pool and looked fairly basic when compared to similar facilities in other island properties that we've visited.
Gym
Located amongst the foliage, near to the resort's main hub, the gym featured a variety of older generation Technogym machines and dumbbells.
Maintenance left a little to be desired though, with wobbly seats and loose cables left unfixed.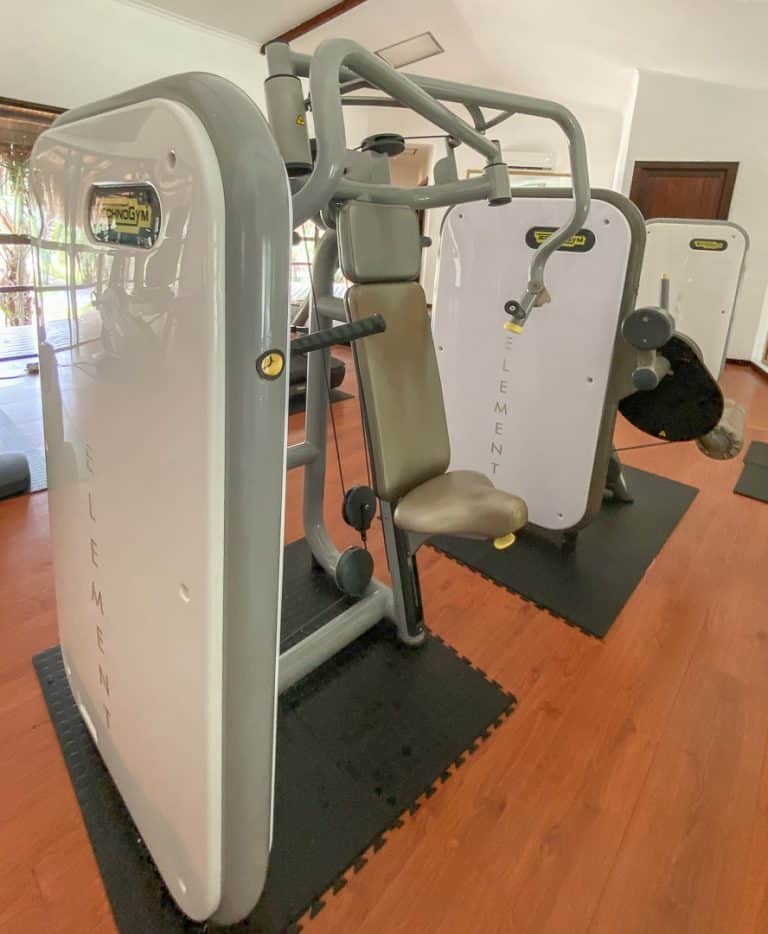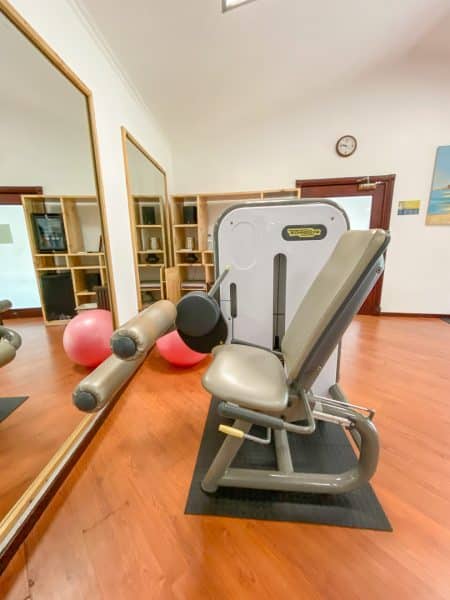 Dumbbells went up to a fairly measly 26kg, which is not unusual for a hotel gym.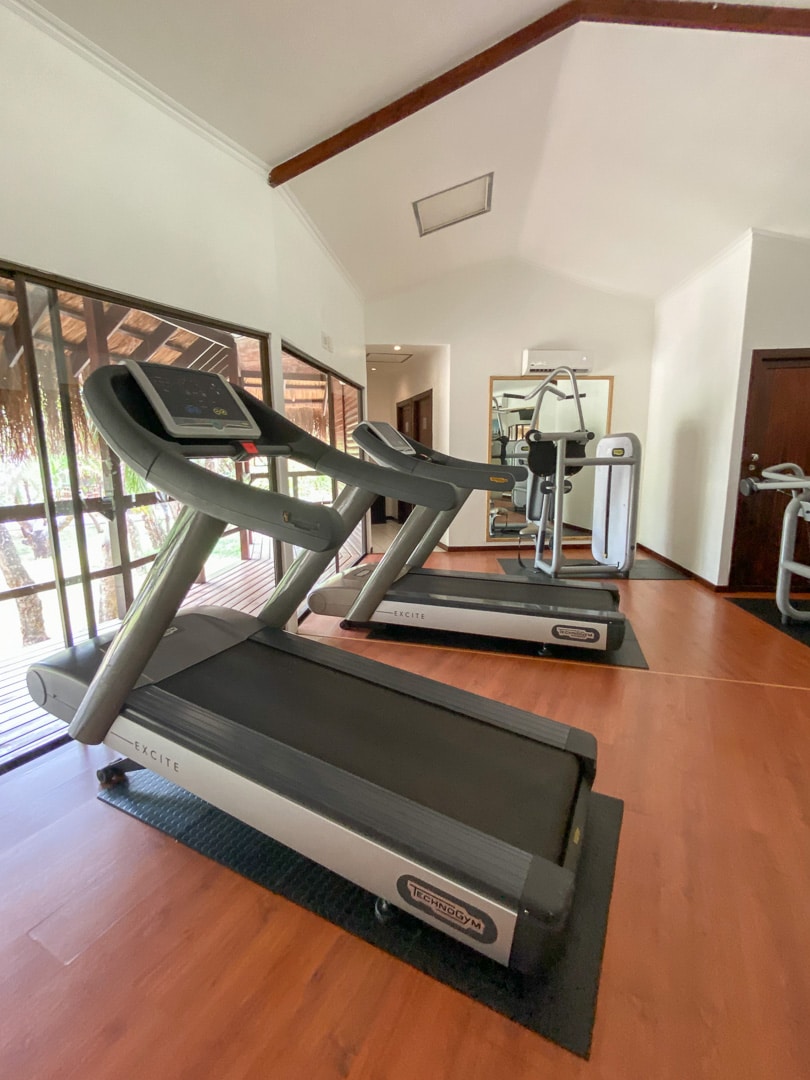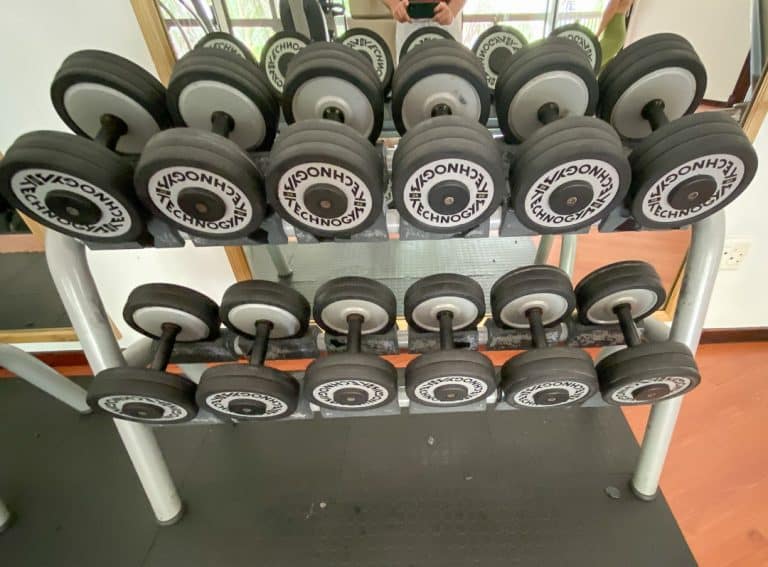 Spa
Located at the very top of the hill, beyond the last of the Deluxe villas, the spa was a true oasis of tranquility. I'm honestly shocked it doesn't feature more heavily in the resort's promotional material, since it is such a beautifully tranquil space.
Being at the very top of the resort meant that the views from the spa were incredible.
The main reception hall felt grand and cavernous and was open on three sides to allow the ocean breeze to sweep through.
Treatment rooms were dotted around a central courtyard 'village' of sorts.
The treatment rooms were bathed in light and enjoyed incredible views, as well as some very thickly padded massage tables.
The spa's green lagoon is purely ornamental (understandably, as you wouldn't want the noise of people swimming to disturb treatments), however there was a jacuzzi pool available….
…with plenty of spots available to sit and relax when using it. For guests in the beach villas, the spa offered the perfect opportunity to sample the experience of the Deluxe Sea View villas.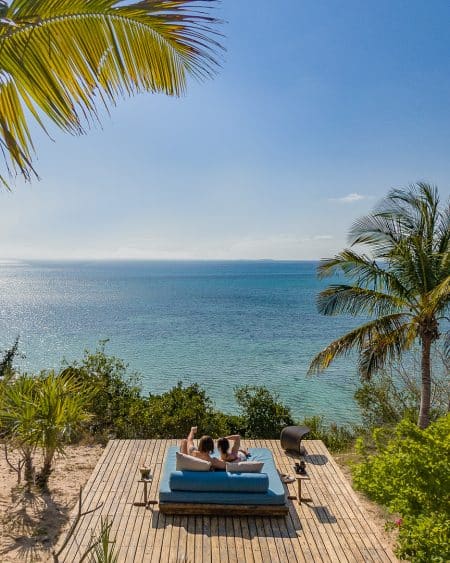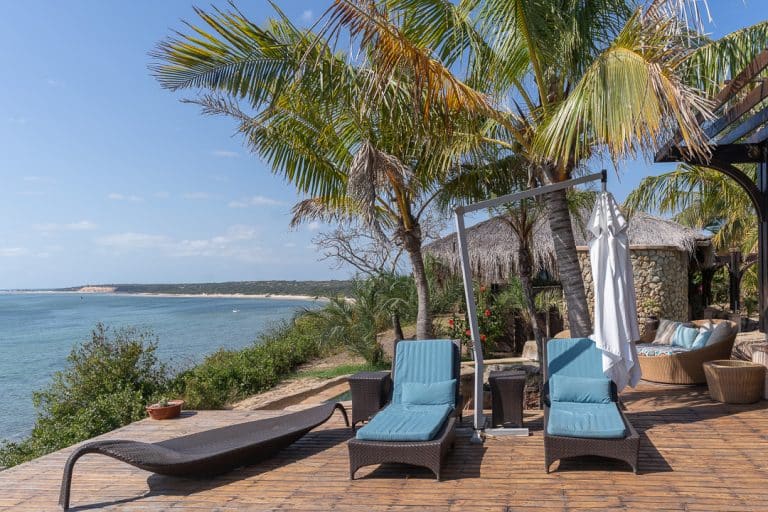 ---
Activities
---
Diving
Bazaruto is famed for the health of the coral and for the fantastic diving, as well as a local population of dugongs.
The dive centre featured very modern equipment and staff were great at getting everything prepared for us in advance and getting our equipment loaded onto the boat.
The dive boat was rather small and basic compared to the extravagant ships used by properties in the Maldives, with not a lot of shade on offer.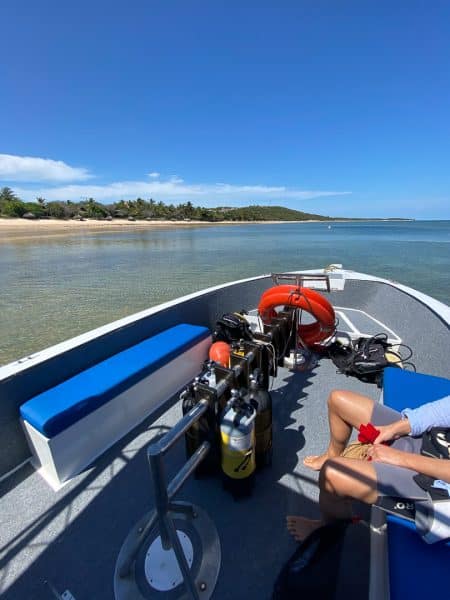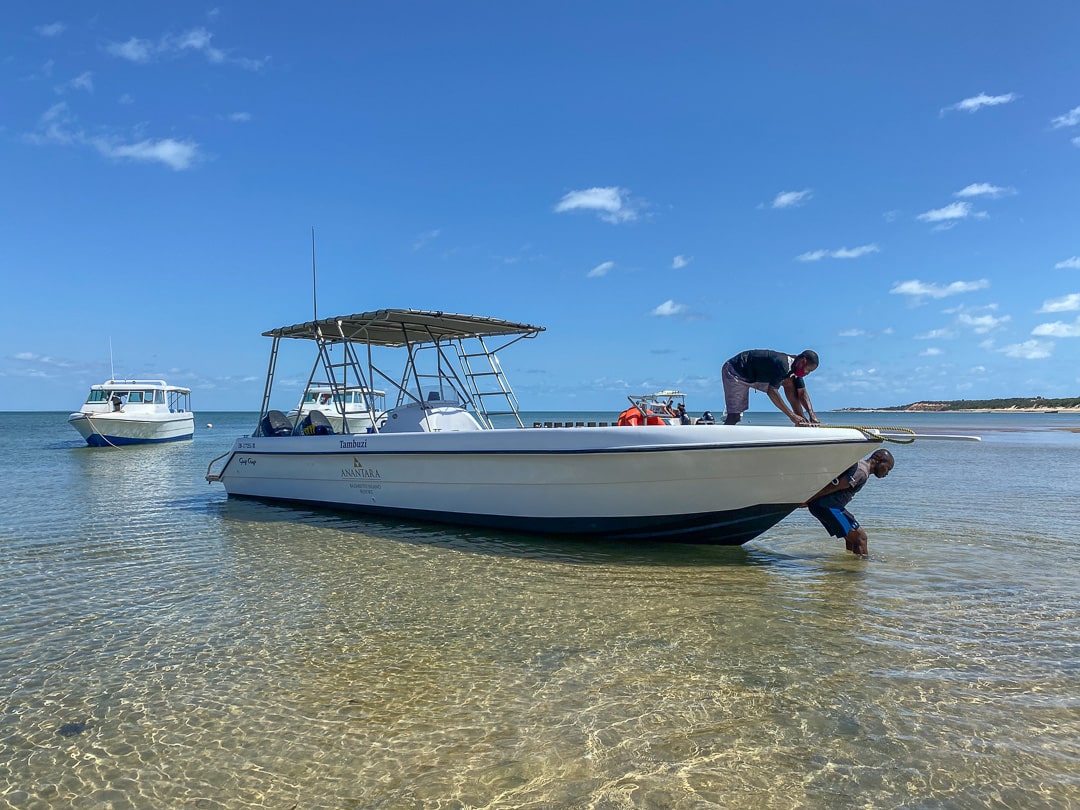 Thankfully the dive sites were very close by and the scenery on the way was incredible.
We didn't spot any large pelagics but the coral was healthy and visibility was great on our two dives.
Sunset Cruise
This activity is complimentary for all guests booking a Virtuoso rate with TheLuxuryTraveller.com.
A bit of a mix up with times (they changed the departure time and forgot to tell us), meant that we had to take a speedboat to reach the traditional dhow boat.
Once on board it was a very relaxing affair, with guests mingling and drinking wine as the sun slowly set into the ocean.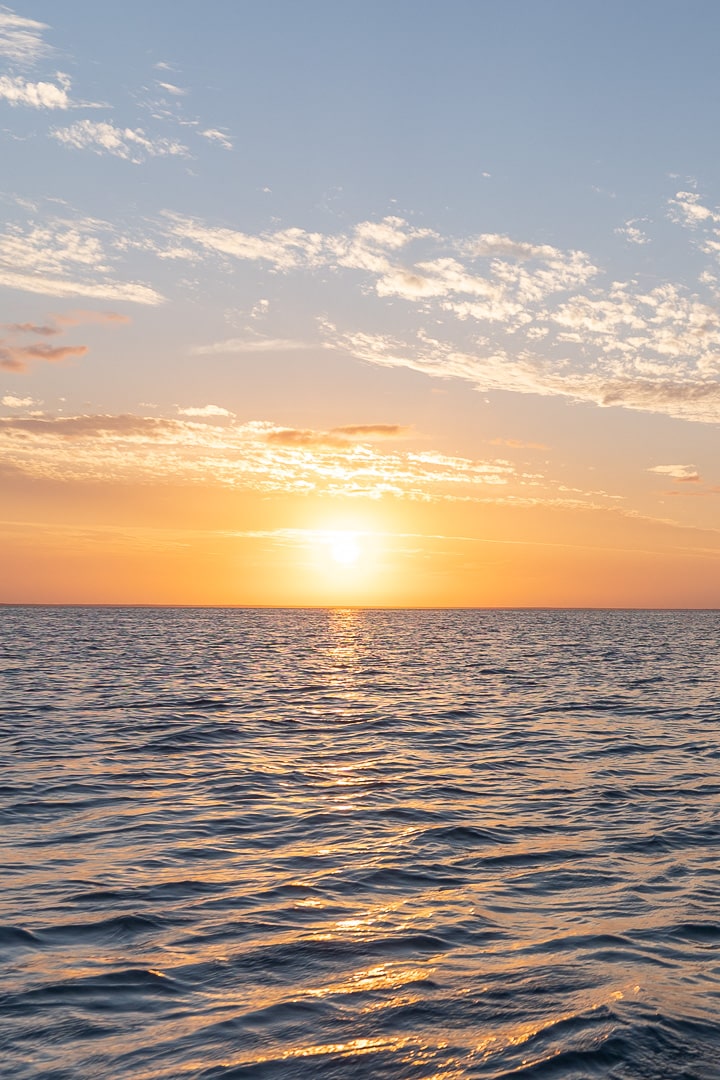 Horse riding
One of the most incredibly striking features of Bazaruto island is that it is flanked by a series of gigantic sand dunes, with a fresh water lake at their base.
In order to fully appreciate the scenery, we decided to go on a sunset horse trek. Some horse riding ability is necessary but the terrain was not at all challenging until we reached the dunes, where the horses really showed what they were capable of!
Unfortunately the sky was uncharacteristically grey on the day we rode the horses, so we didn't really get to appreciate the sunset.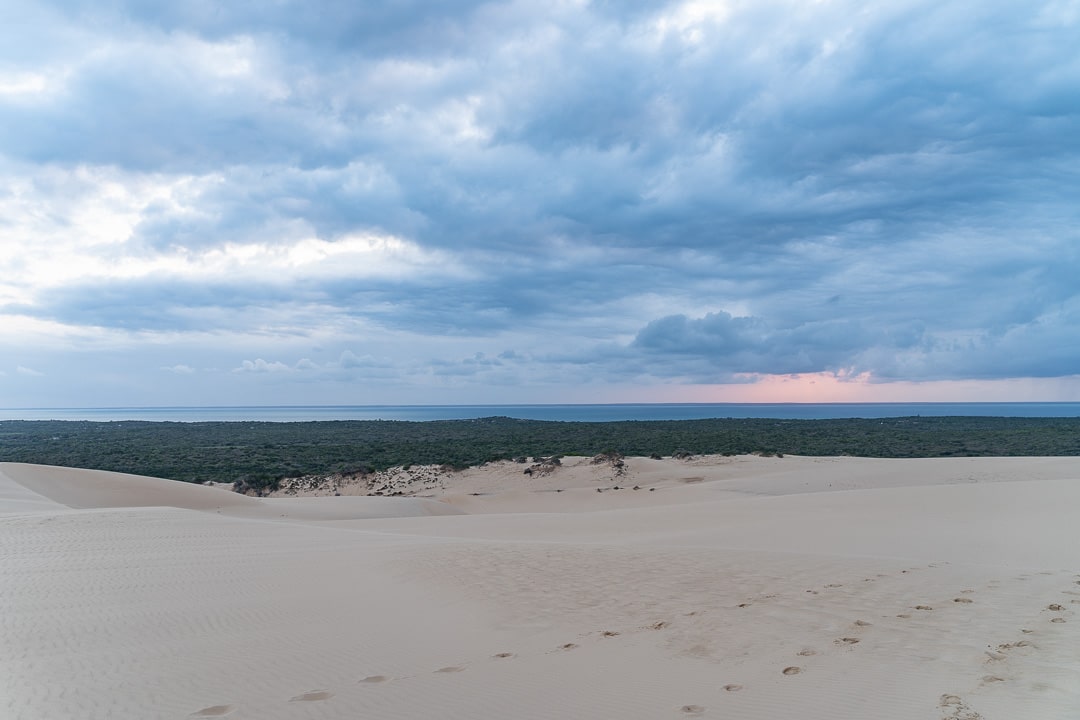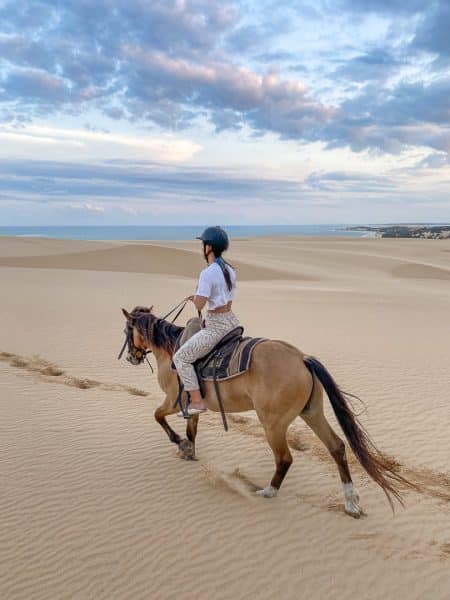 Dune boarding
Thankfully the next day we had a second shot at enjoying sunset on the dunes, as we signed up to go dune boarding!
This time, we were driven directly to the base of the dunes, with a steep 10 minute walk at the end.
It's hard to describe just how majestic and peaceful the dunes are. Being somewhere that looks like a desert whilst surrounded by water seems completely counterintuitive – like a topographical baked Alaska.
Initially we were told to sit on the boards but once we got a feel for this, we decided to try standing up.
This wasn't quite as easy as snowboarding at Lefay Dolomiti , since sand provides a lot more friction than snow – making it harder to turn. Still, we soon got the hang of it and were comfortably riding all the way down the dune by the time the sun set started to set.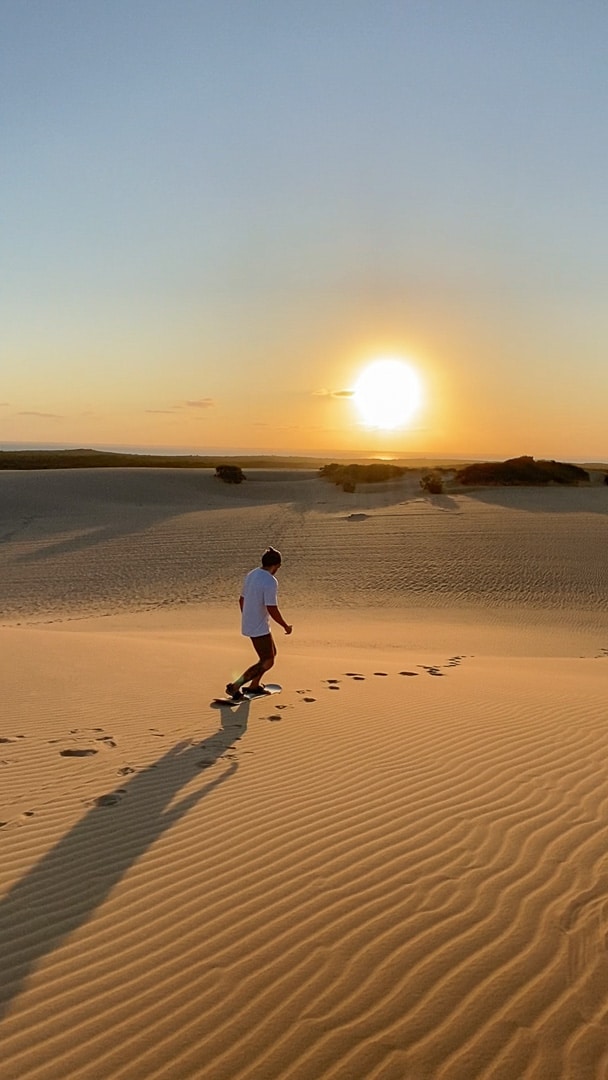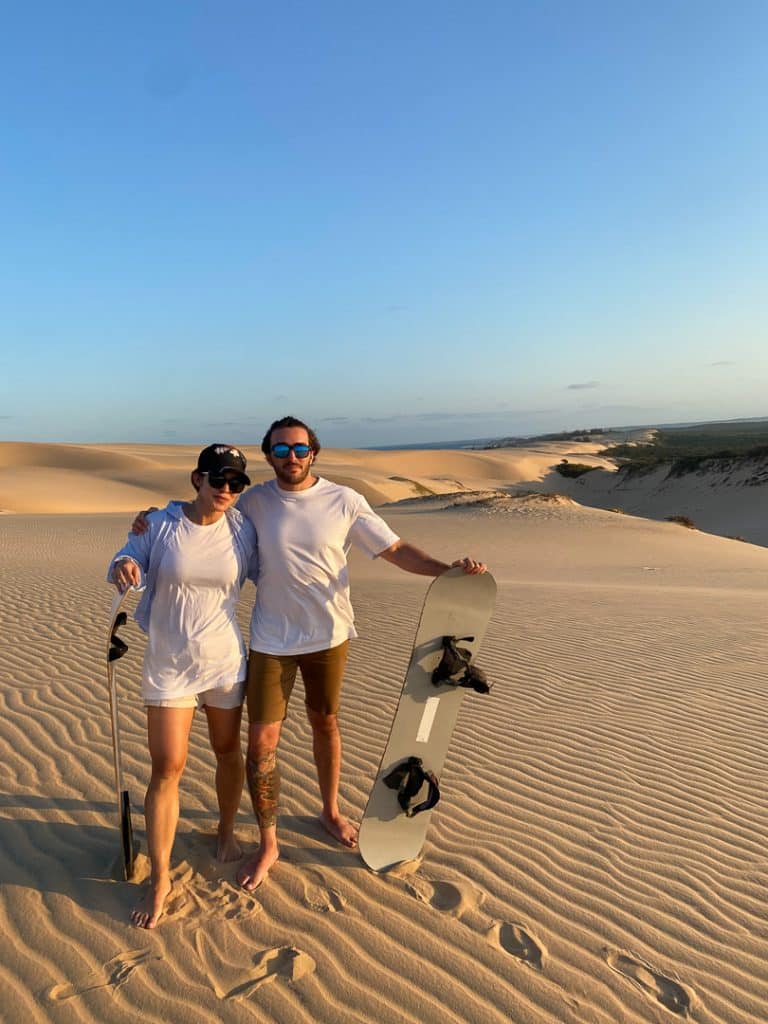 ---
Food and Drink
---
Breakfast at Golfinho
We tended to wake up early and really enjoyed arriving at Golfinho each morning, just as staff were opening the place up.
This meant that we would invariably have the entire place to ourselves, with nothing but the sound of birdsong and chirping of lizards to keep us company.
There was plenty of indoor seating too, for those in need of overhead ventilation.
Staff were very friendly and would immediately ask us if we wanted tea or coffee, as soon as they caught sight of us. The coffee was properly strong too, similar in style to what you'd receive in a Mediterranean country.
Food was served in a buffet, with a wide variety of both hot and cold options on offer.
Charcuterie, cheese and salads:
Prepared fruit salads:
Cereal and dairy:
Oatmeal, mushrooms, potatoes and beans:
Sausages, bacon and hashbrowns: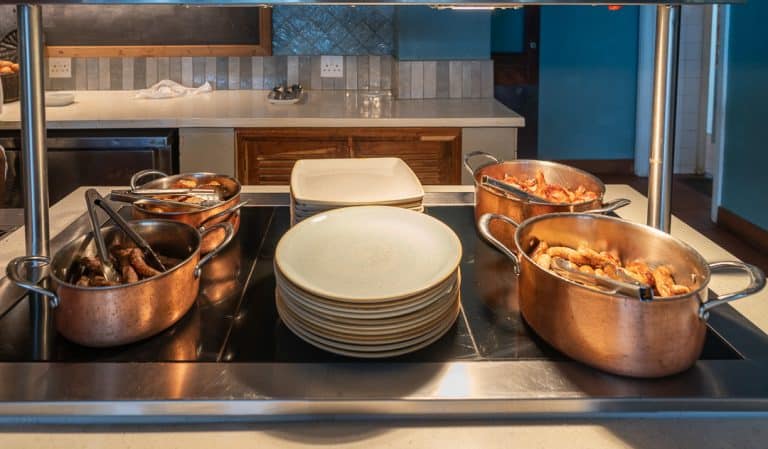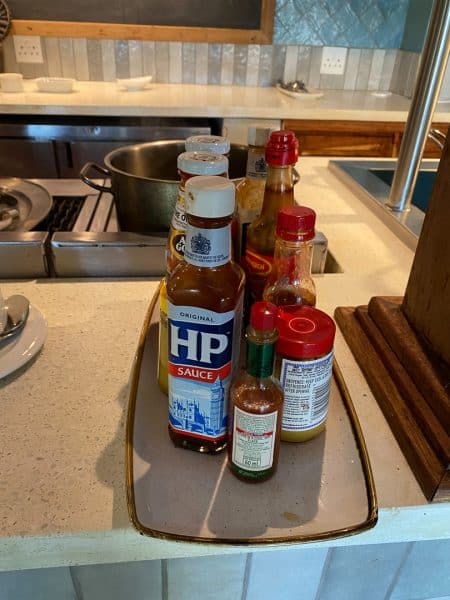 In addition to the buffet there was also an egg and pancake station and staff would serve pastry baskets alongside the coffee order.
Travel can be at once enlightening and truly surprising. I never thought that I'd taste the best hash browns in the world in Mozambique…but I did. They were perfectly crispy little hockey pucks with fluffy centres. The ideal ratio of crunchy to soft. So, so good.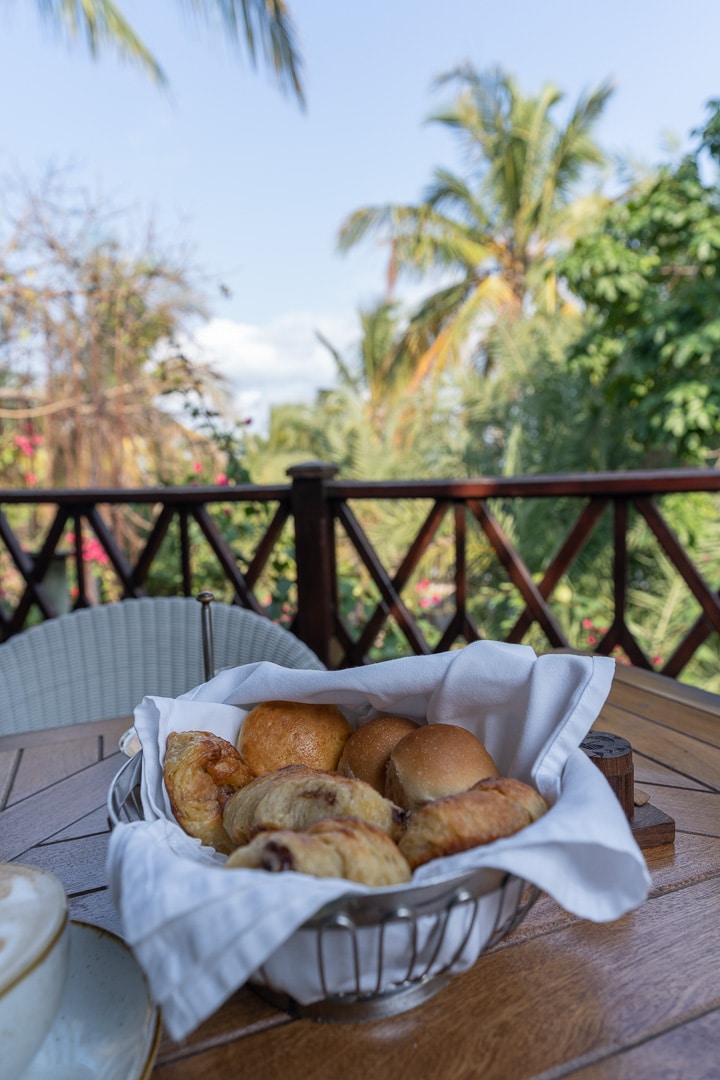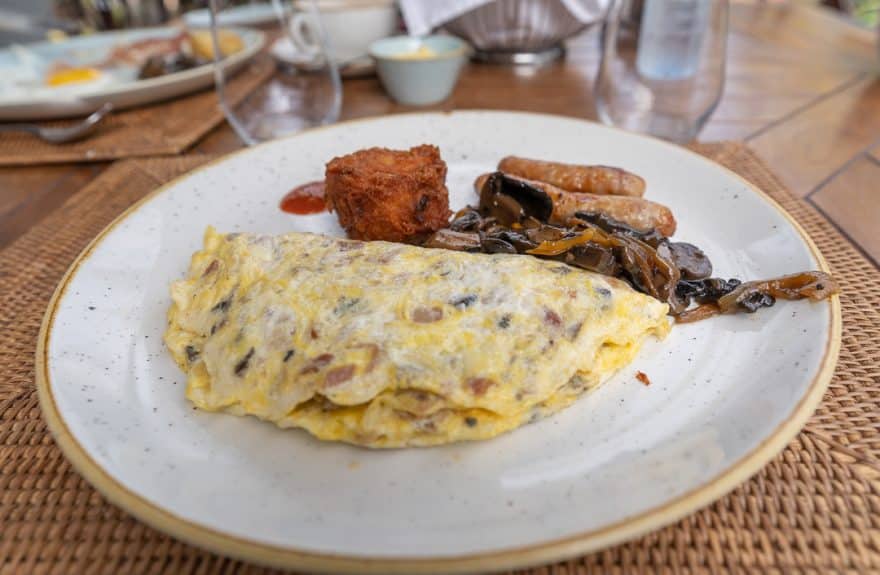 Lunch at Clube Naval
This was the only a la carte option at the hotel and despite the limited selection, the food was truly excellent.
Menu
Drinks List
The drinks list featured a wide variety of included drinks, as well as a range of paid upgrades.
Although coconuts weren't on the list, the staff were happy to retrieve some for us and even added a little of their own presentational flair!
Our go-to drink to start lunch was a Tom Collins with no sugar, a perfect way to beat the heat.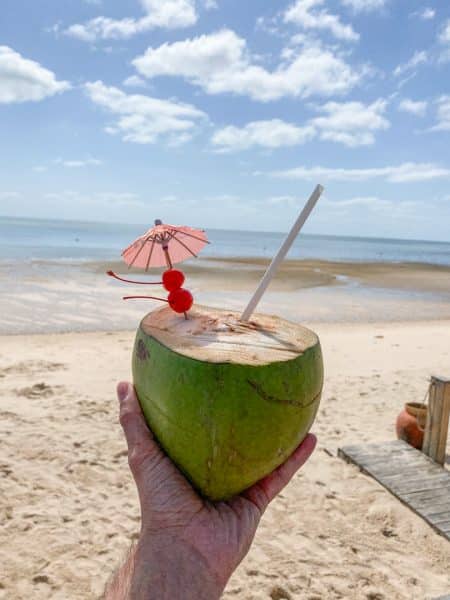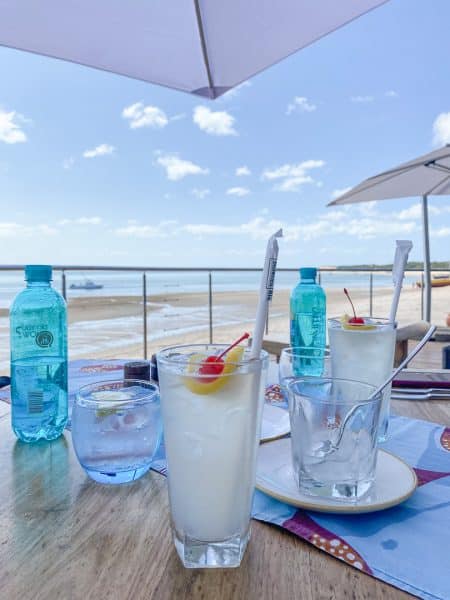 We ended up trying most of the menu during our time here. The quinoa and avocado salad and the seared tuna were both fantastic. The greek salad seemed a little flimsy and the substitution of green olives for the usual black made it a bit too salty for my liking.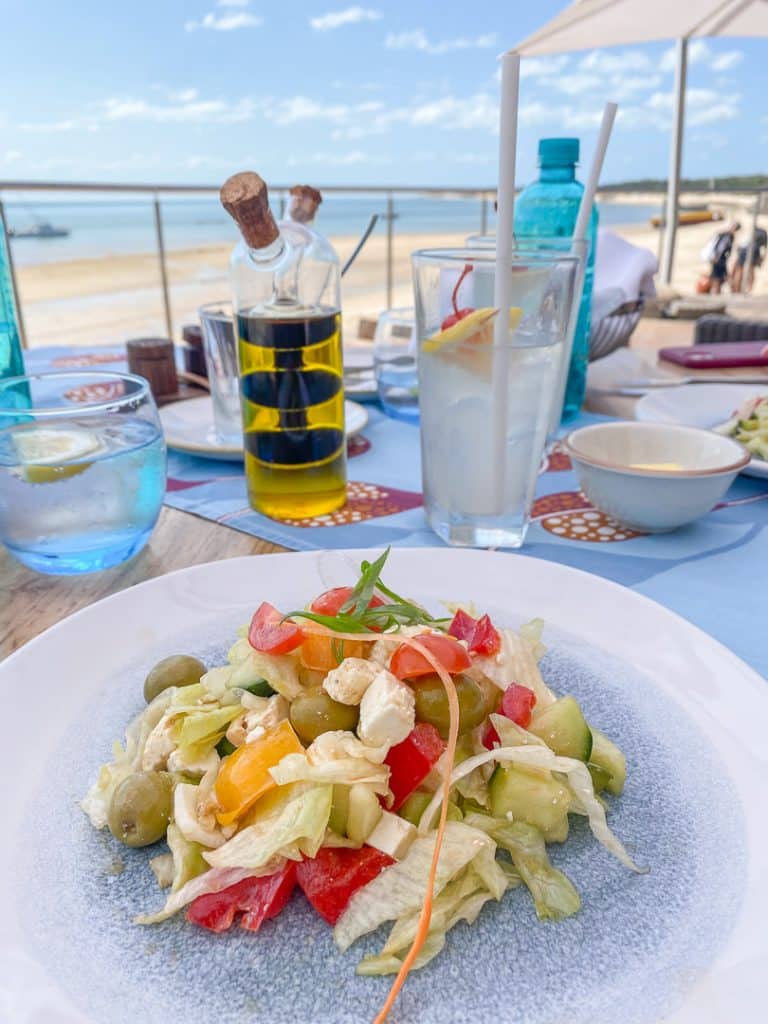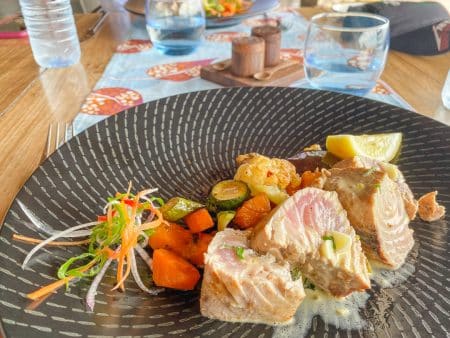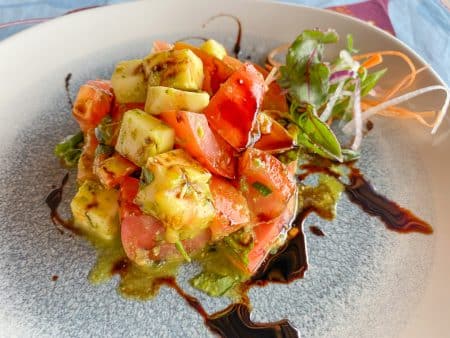 Undoubtedly Mozambique's most famous export, the enormous grilled prawns were amazingly fresh and grilled to perfection. Meanwhile the seafood pizza was tantalisingly thin and balanced perfectly, with just enough cheese to not overpower the seafood.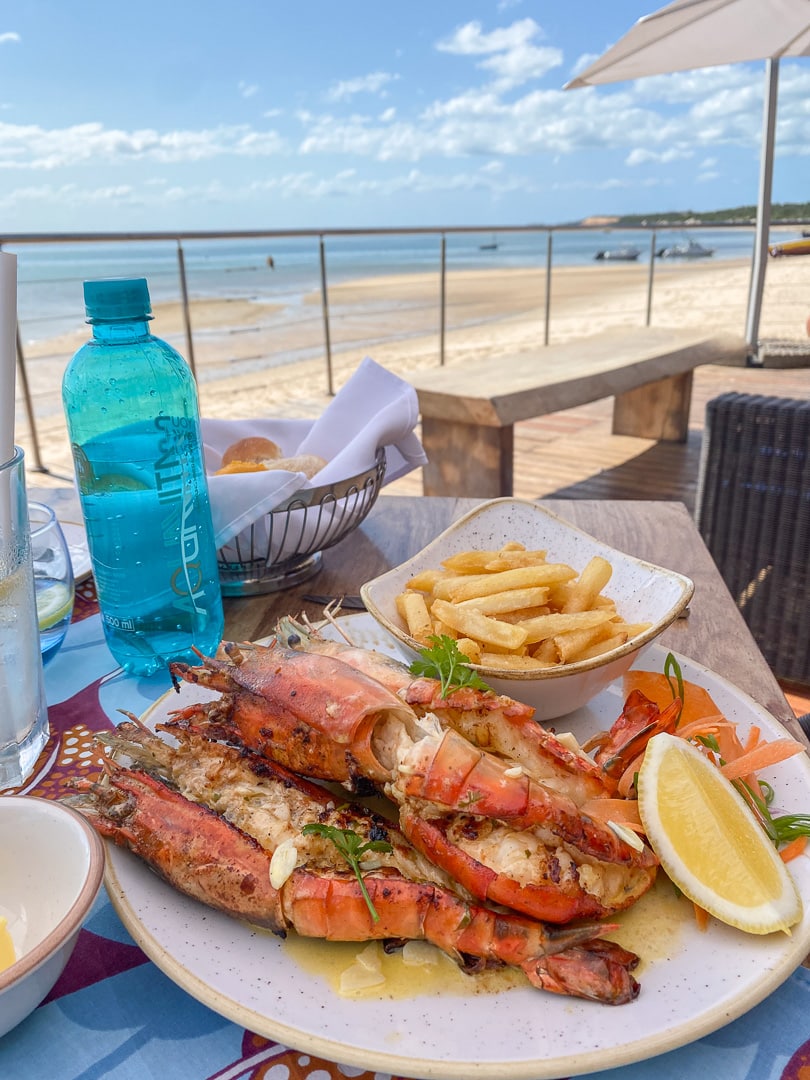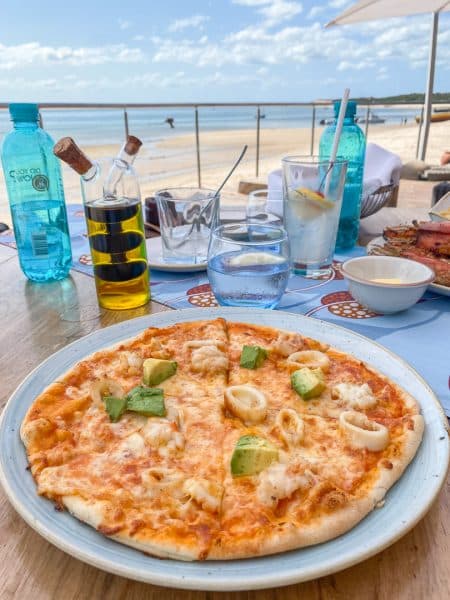 Lunchtime Cooking Class
On our second day at the property we were invited to take part in a 'cooking class' at the resort's vegetable garden.
A permanent pagoda structure had been set up with ornamental drapes and a beautifully set table for us. This area had a completely different feel to the beachside setting of Clube Naval or the treetops of Golfinho.
Not only were a huge number of different herbs and vegetables grown here, brightly coloured tropical flowers were also dotted amongst them.
I put the words 'cooking class' in inverted commas because this was really more akin to a five year old 'helping' to cook. Chef Carlos did absolutely everything (superbly I might add) and we basically just watched. My one contribution was seasoning the prawns before they were grilled.
Chef Carlos prepared an amazing feast for us, including not only prawns but also a delicious chicken curry, coriander and chilli rice as well as a huge bowl of ultra spicy molho magico.
Molho magico is the resort's own secret recipe hot sauce and it is amazing. I am no stranger to spicy food and I'd say that this is the first time I've ever encountered a genuinely spicy sauce at a hotel on my travels (including trips to India and Thailand).
Dinner at Golfinho
Dinner changed location between Golfinho and the waterfront platform: Tartaruga. The menu also changed around a bit each evening, to ensure better variety for guests on longer stays.
The theme on the night that we visited was sushi:
This was served alongside a selection of individually plated salads and random starters, like guacamole with a single chip.
The main courses consisted of a variety of grilled meats, curries and stews:
For dessert there was a selection of afternoon tea sized parfaits, cakes and flans:
Dinner at Tartaruga
Tartaruga is an overwater platform located just by the main hotel pool.
The buffet selection here was a lot more extensive than at Golfinho, with many more individual ingredients offered – as opposed to pre-made salad and starter plates.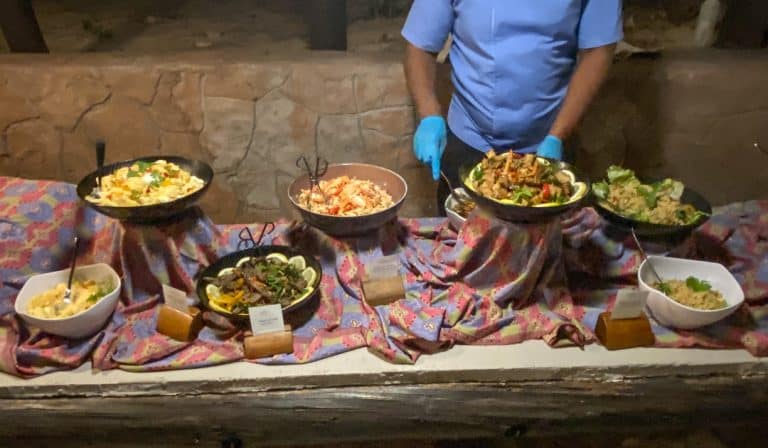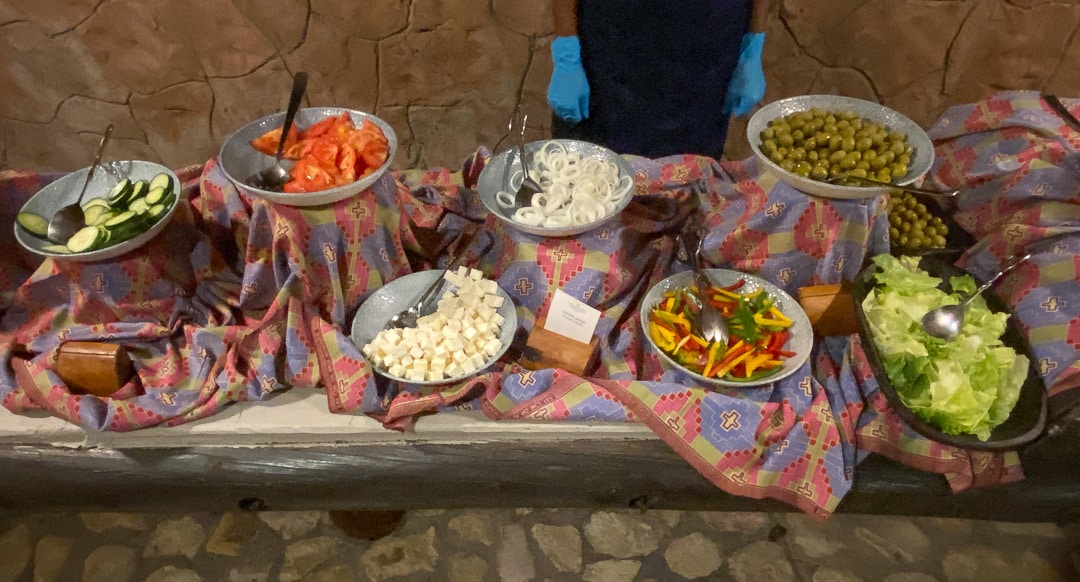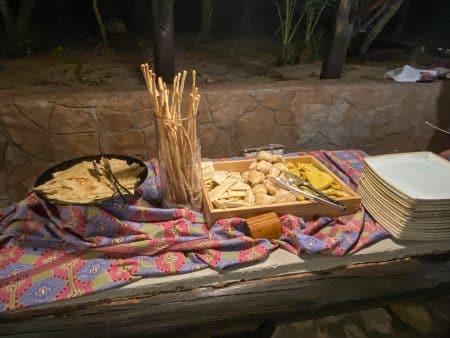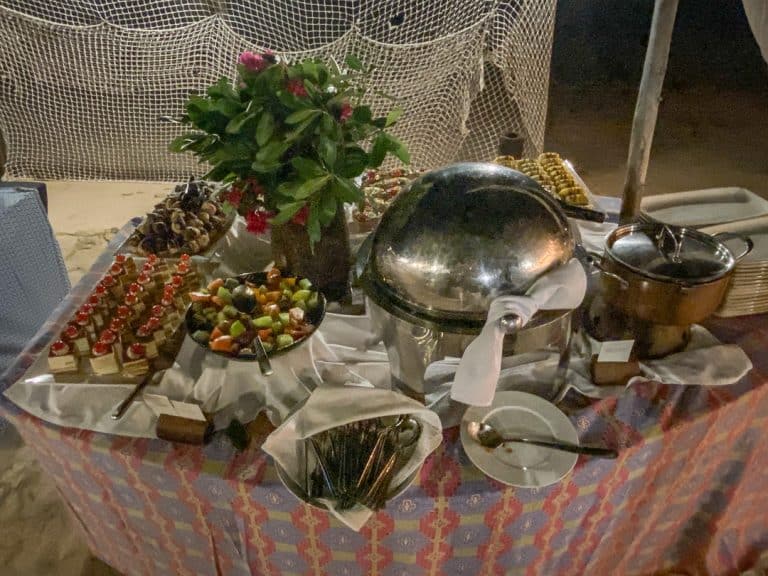 The star of the show was the live grilling station though, where we ate Mozambican prawns like they were going out of fashion.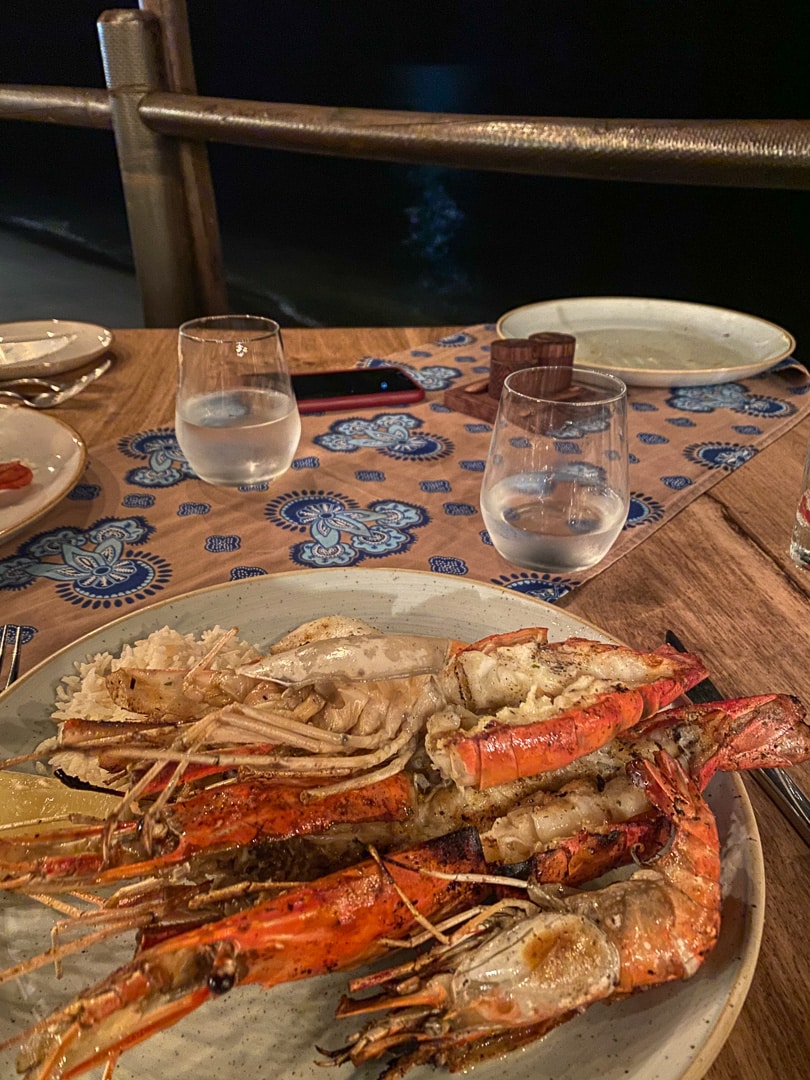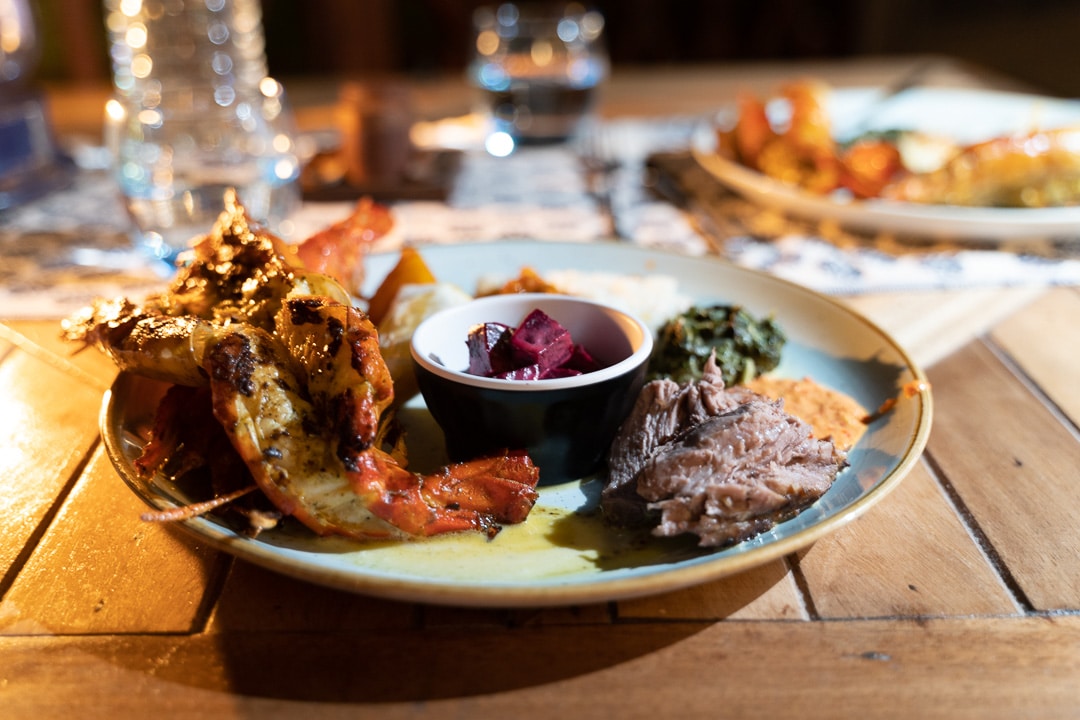 There was a greater variety of desserts on offer here too, including freshly baked Portuguese pasteis de nata.
Dining by Design
On our final evening the resort arranged a Dining by Design experience for us. This is a signature of the Anantara brand and something which we really enjoyed at both The Royal Livingstone in Zambia and Anantara Veli in the Maldives.
A private pavilion was set up for us on the edge of the beach, with dedicated wait staff arranged to run food down from the Golfinho kitchen.
The meal started with a champagne cocktail that appeared to be approximately 50% sugar. The first dish we were served was a prawn and avocado salad with fresh dill. This was the final night of our stay and we were still in no way tired of eating prawns.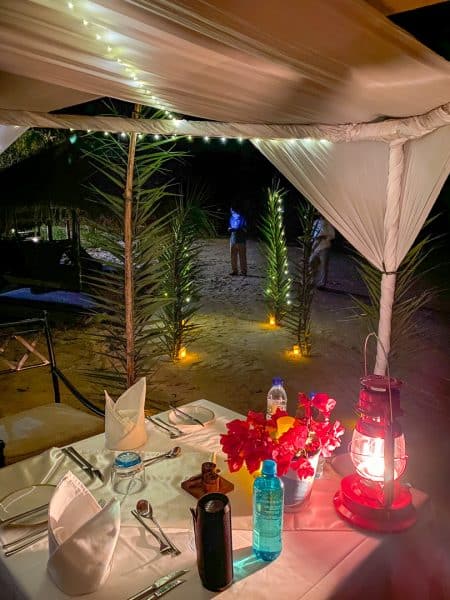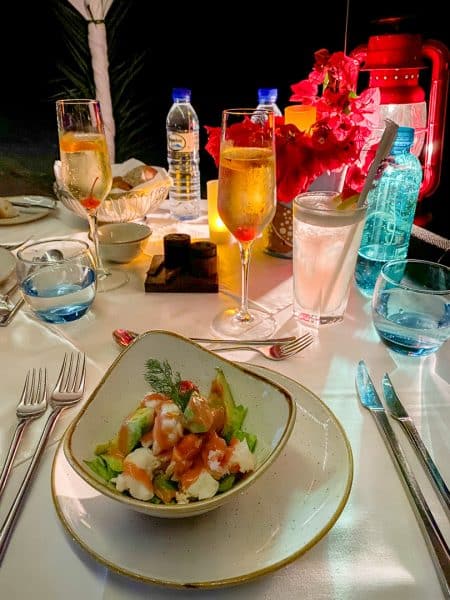 After this, the kitchen threw us an absolute curveball. We've all had slightly sweet palate cleansers in the past, perhaps a single scoop of lime sorbet. This helps to reset your taste buds after a particularly rich dish.
The chef here took rather a lot of artistic license with the concept, giving us what amounted to a full dessert: two scoops of vanilla ice cream with a chocolate truffle and raspberry sauce.
We checked with the waitstaff to ensure that a mistake hadn't been made. They assured us that this was a normal part of the process and that guests are served this after a seafood starter, before the main course.
The sesame crusted tuna steak was a lot less challenging and was cooked beautifully.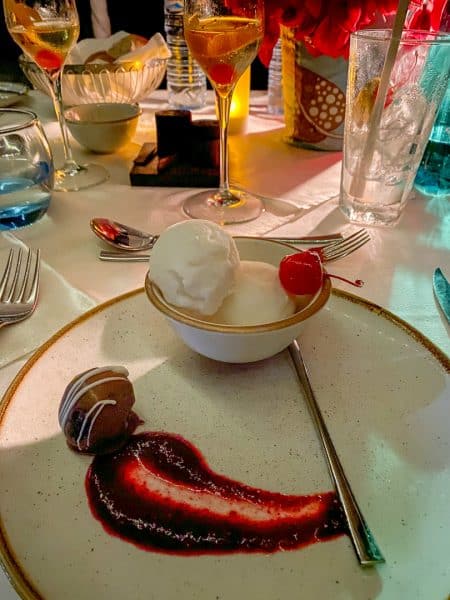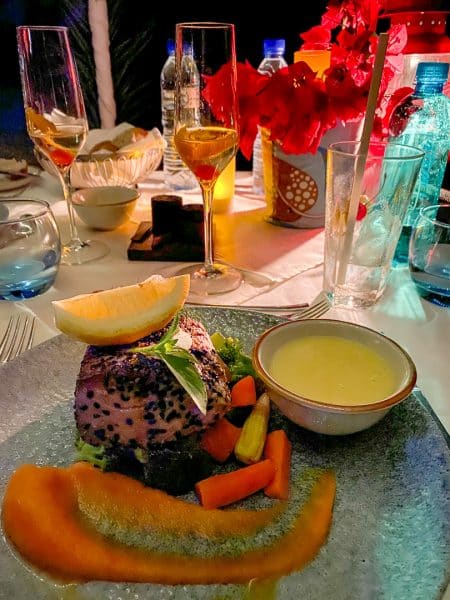 The meal then ended with a dessert which looked almost identical to the 'palate cleanser'.
Golfinho Bar
In many ways this was the beating heart at the centre of the resort's social scene. In the evenings, every single bar still was occupied from before dinner until late at night.
Sports were playing on the TV above the bar although nobody seemed to pay much attention and around the corner, teenagers spent their evenings at the pool table.
This was a far removed experience from the elegant detachment and tranquility of resorts in the Maldives but I quite enjoyed chatting to the almost entirely South African clientele here. There was a real party atmosphere and it was fun to get to know everybody over the course of our stay.
The espresso martinis were also excellent.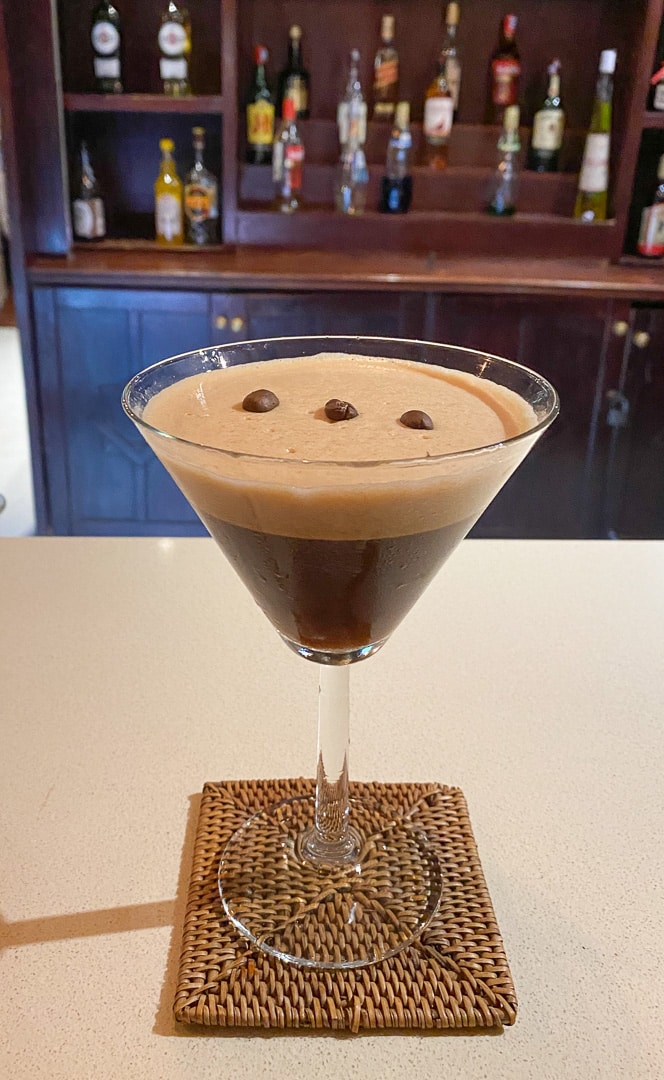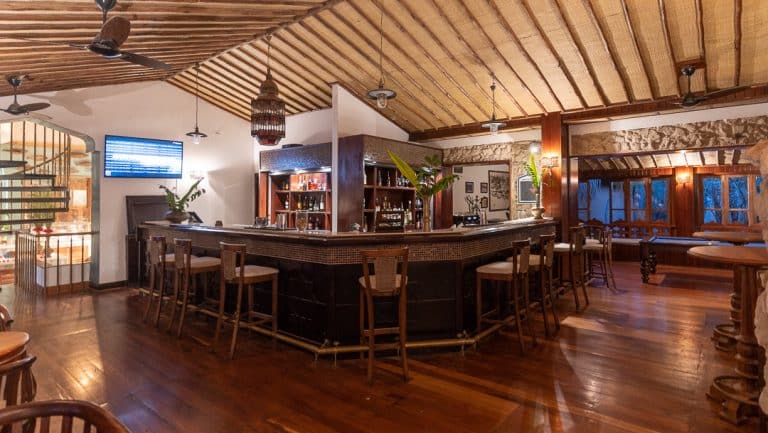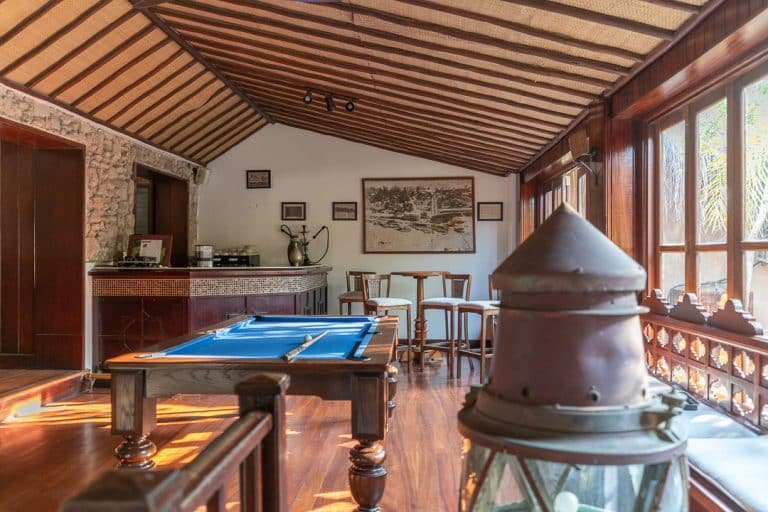 ---
Conclusion
---
Basics Checklist
☑︎ Power sockets near the bed
☑︎ Easy to understand light switches
☑︎ Coffee machine
☑︎ Separate shower and bath
☑︎ Blackout blinds
☑︎ Stable, fast and free Wifi
☑︎ Feather pillows
☑︎ Quiet and powerful aircon
I honestly had very little idea what to expect from this stay. I was picturing a deserted beach, grilled seafood and great diving.
All of which I got.
Beyond that, I figured that the service would be a little patchy and in places it was. However, for the most part, the staff were great and a few of them clearly had a high degree of polish. The overall tone from the service was friendly and helpful and this goes a long way, even when staff are less experienced.
The resort is clearly rather old in places and it feels like a full refurb would work wonders here. The new room design in the Beach Villas is great and if applied across the resort, this would be amazing.
Having said that, the older Deluxe Sea View villa was enormous, had a private plunge pool and spectacular views. In Southern Africa there really aren't many beach destinations that compare.
Indeed I'd say that there are few places on earth that can compare to the natural beauty of Bazaruto and the unique topography that the island offers.
In my completely non scientific and highly subjective analysis, I'd also give major bonus points to this property for not only having very high quality coffee machines in the room but also one of the best hot sauces I've ever had.
If only the gym had more and better maintained gym equipment, this place would basically have all that I personally need to keep me happy for weeks.
If you're on Safari in South Africa and looking for the perfect destination to pair this with (on a direct flight from Kruger, no less!) I really don't think you can go far wrong with Anantara Bazaruto.
---
Book Anantara Bazaruto with Additional Benefits
---
Our clients are able to enjoy additional Virtuoso benefits when booking Anantara Bazaruto:
Upgrade on arrival, subject to availability
A complimentary 50 minute massage for up to two people, per room, once during stay
One sunset private dhow cruise per person per stay. Not transferable to cash value or alternative activities.
Early Check-In / Late Check-Out, subject to availability
Prices and payment terms match Anantara.com exactly, with payment taken directly by Anantara. The only difference between this and a direct booking is that you get preferential treatment for being our clients!
You can book a Virtuoso rate at Anantara Bazaruto using our online booking portal:
BOOK ANANTARA BAZARUTO WITH VIRTUOSO BENEFITS
If you're booking with us for the first time, here's a quick guide on how to use the booking portal:
If you are planning an itinerary involving multiple rooms or properties, please get in touch for immediate booking assistance: